Reading Time:
10
minutes
Whenever you come across the name 'Switzerland', your mind immediately picturizes the chocolates, cheese, stunning landscape, and of course, the gorgeous Swiss Alps. What are the Swiss Alps, you ask? The vast mountainous Alpine region of Switzerland is called the Swiss Alps. Known as the land of mountains, Switzerland is nothing less than a pure paradise. And, the Swiss Alps are some of the most scenic places to visit in Europe. High rising, snow-covered peaks and a constant harmony between lush greenery and pristine snow are the specialities of these mountains. They have a knack to enchant you with their beauty and leave you spellbound.
Let us take a quick look at the top 10 most gorgeous peaks in the Swiss Alps:
1. Matterhorn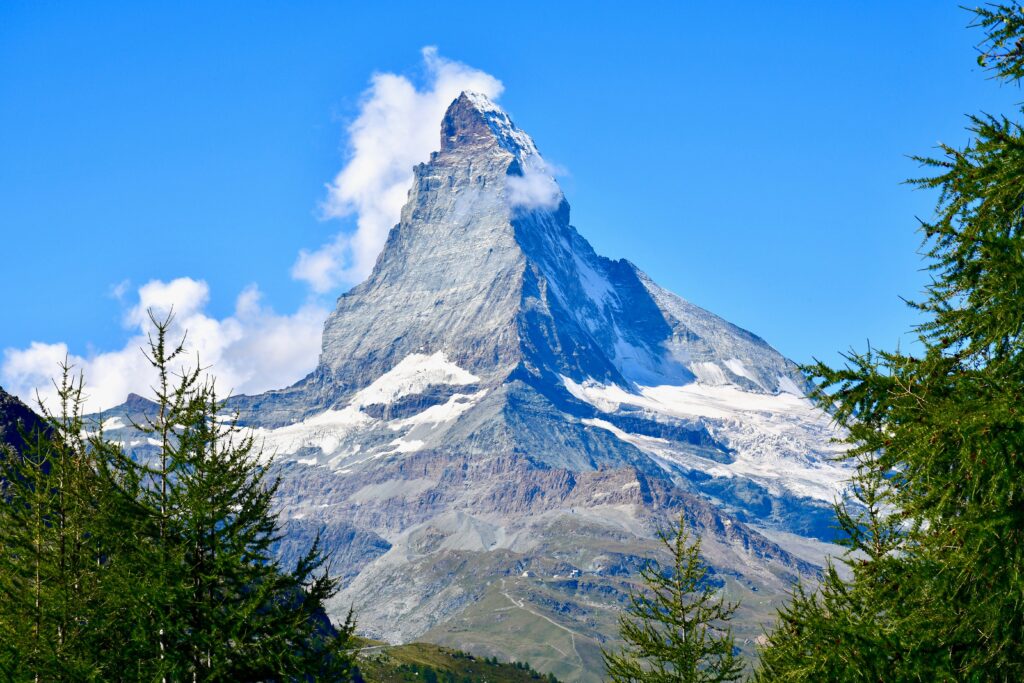 Known as the "Mountain of Mountains" and "Jewel of the Swiss Alps", the Matterhorn is easily one of the most preferred peaks to visit. Famously featured on the logo of the famous Toblerone chocolate, this mountain is one of the most visited and photographed in Europe. It is well-known for its almost perfect pyramid shape and also for its stunning landscape. At the foot of this mesmerizing mountain lies the picturesque car-free village of Zermatt, one of the most sought-after holiday destinations in Switzerland.
2. Rigi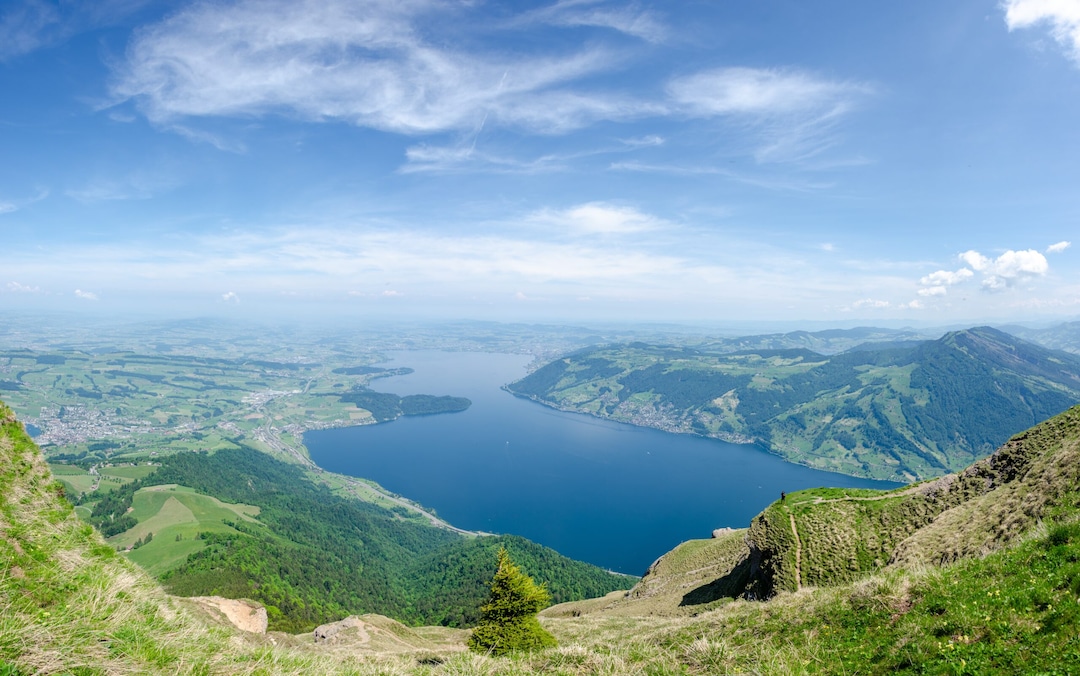 Surrounded by Lake Lucerne, Lake Zug and Lake Lauerz, Rigi is the "Queen of the Mountains" in all her glory! The mountain is a popular summer excursion and is located close to Lucerne. It has been attracting tourists for almost 150 years now. Located amidst the breathtaking scenery of lakes and mountains, this place is sure to leave you in awe. With so many adventures and gastronomical activities happening throughout the year, Rigi truly is "Nature's Amusement Park" and should definitely be on your bucket list!
3. Pilatus
Want some more adventure? Mount Pilatus is the place for you! It is located close to Lucerne and is an excellent option for a day excursion. Towering above the region at a height of 2128 m above sea level, it can be reached by the steepest cogwheel train in the world. Once you reach the summit you get an unforgettable view of Lake Lucerne and the Alps. You can cherish the stunning view of the various restaurants available there. There is also an interactive tour of the Dragon World that takes place at the summit. At Fräkmüntegg, there are various adventure activities like hiking, a rope park, a toboggan run and more available.
4. Mount Titlis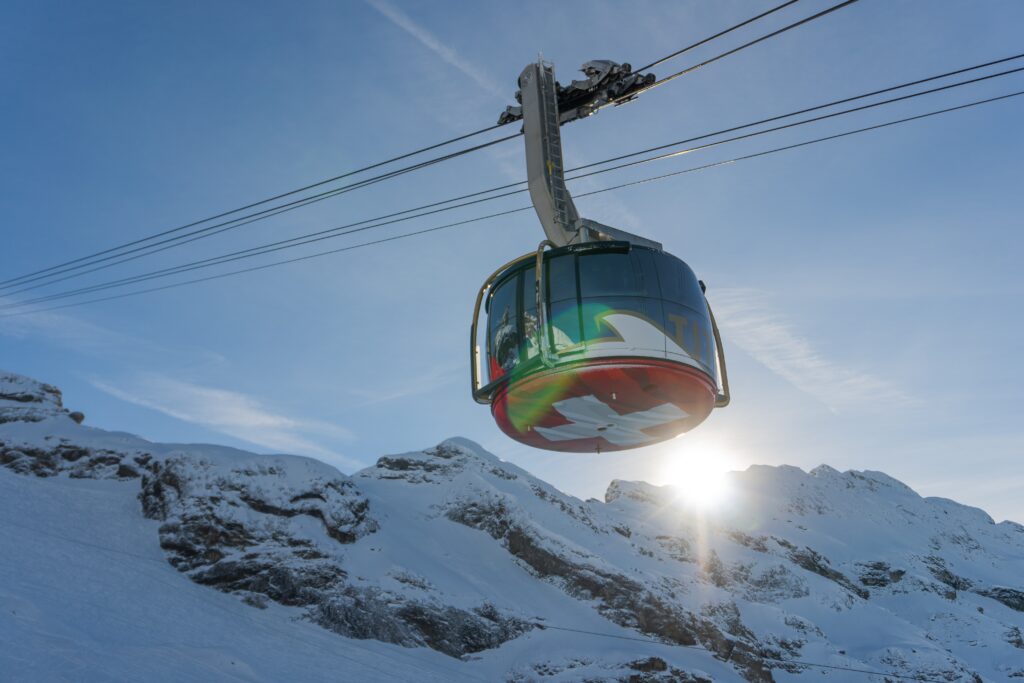 Speaking of unique cableways and aerodynamics, how can we leave out Mount Titlis? Mount Titlis takes the crown for having the world's first revolving cable car known as the Rotair Titlis, and for being the only glacier publicly accessible in that area. With its surreal landscapes and views to the thrilling experiences, Titlis never disappoints. It also has various snow activities like the Ice Flyer – a chairlift that takes you over the glacier to see it up close, and the Glacier Cave – a world of ice and snow. At the Trübsee station, one can find a paradise for adventure lovers with activities such as ziplining and rowing during the summer, and skiing, tubing and snow biking during the winter. Enjoy a slice of heaven at this place and return home with a suitcase full of memories.
5. Jungfraujoch – Top of Europe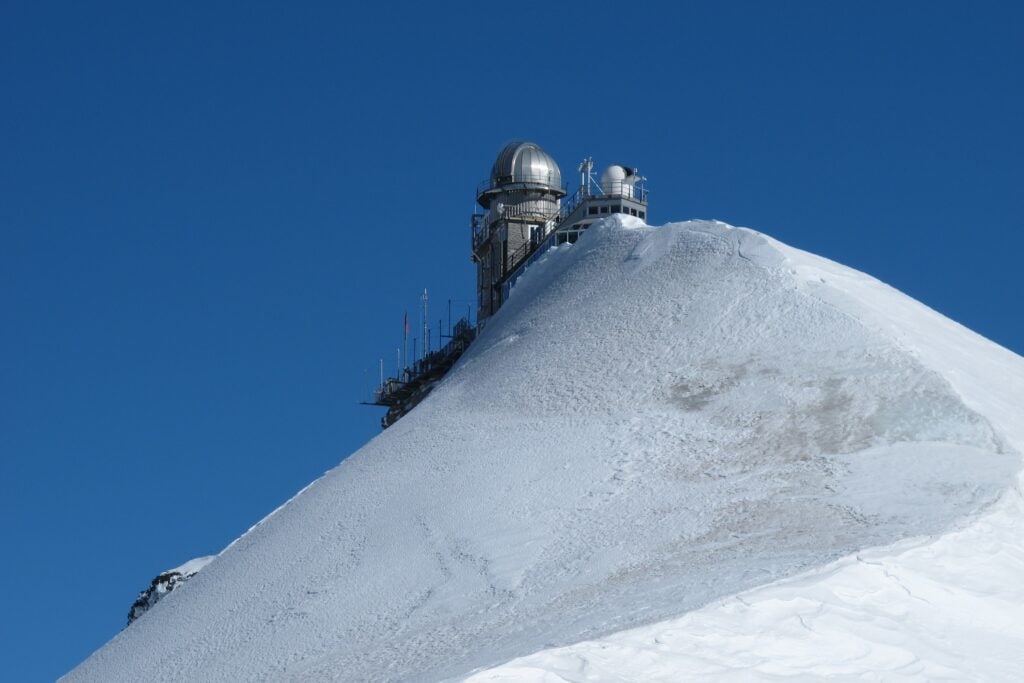 Ever wondered what it feels like to be on top of the world? Well, you can experience it when you visit Jungfraujoch. Located at 3454 m above sea level and offering unforgettable views, Jungfrau is simply a must-visit. It is well-known for having Europe's highest altitude railway station. Ergo, it is also known as the "Top of Europe". To reach there from Grindelwald, you board the Eiger Express – The most modern tricable gondola of the world. You get to play in the snow, get to view the stunning Aletsch Glacier which is a UNESCO World Heritage Site. A lot of activities like Ziplining, visiting the Ice Palace, Sphinx Terrace and more. Perhaps, that is the reason why are ranked among the top places to visit in Switzerland. Don't miss out on this experience!
6. Schilthorn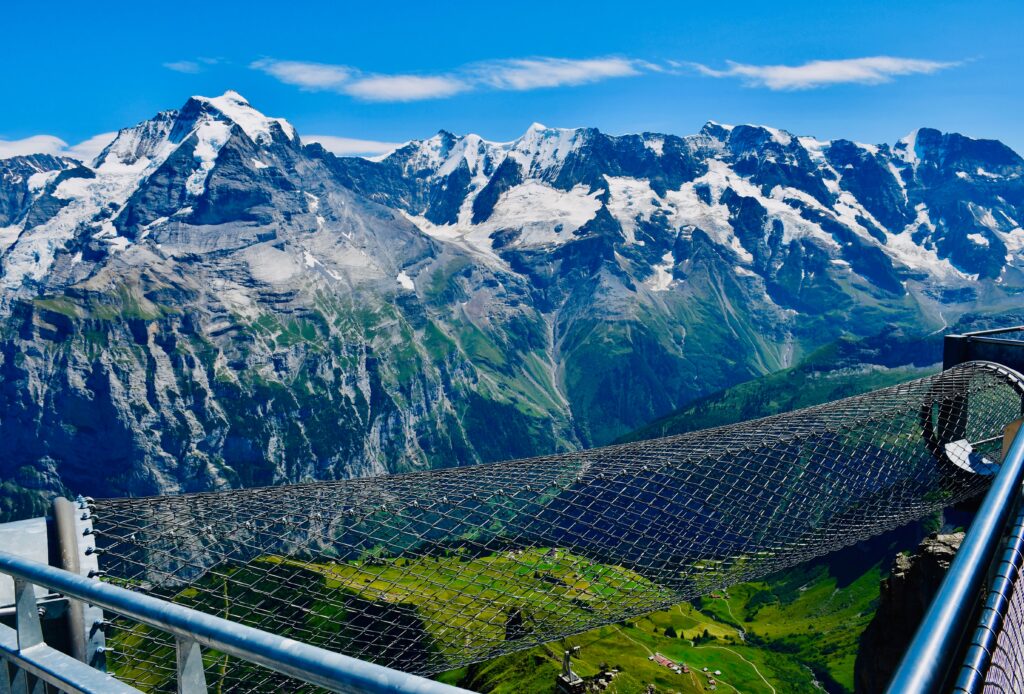 Schilthorn, located at a height of approximately 2970 m above the sea level, is a destination that is an absolute spectacle in itself, and also offers a 360-degree view of the region and surrounding peaks such as Jungfrau, Mönch and Eiger., Schilthorn came into limelight when the James Bond movie "On Her Majesty's Secret Service" was shot there. Some of the highlights at the Schilthorn include the "Bond World" audio-visual exhibit and "007 Walk of Fame". At the Piz Gloria revolving restaurant visitor s can experience the sumptuous James Bond Brunch or the famous 007 Burger.
7. Grindelwald-First – Top of Adventure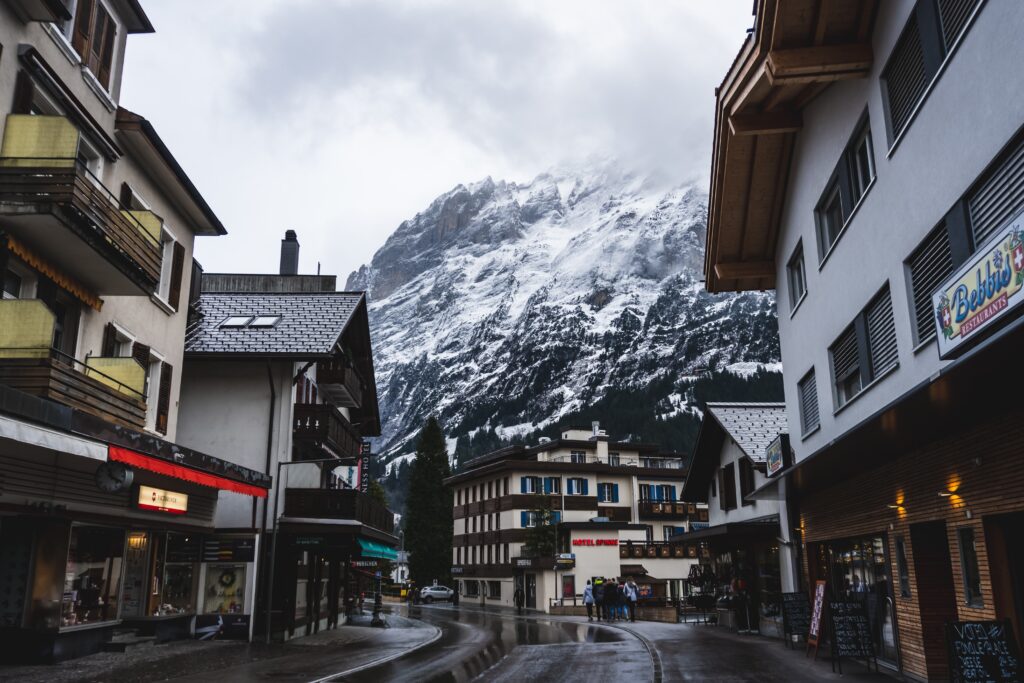 Located at a height of approximately 2,168 m above sea level, Grindelwald-First is a cable car journey from the base station. The summit beckons the visitors with its breathtaking views of the surrounding region, especially that of the Eiger North Face. It is a well-known area for adventure and hiking. Amongst the hiking trails, the Bachalpsee lake trail is a must-visit for anyone visiting the Grindelwald First area. Activities like the 800-metre First Flyer zipline, a high-octane scooter ride, or a 700 m playground at the Bort middle station are some of the key attractions. The Restaurant First on the summit is a fantastic dining option for visitors. Make sure to add this excursion to your Swiss bucket list.
8. Glacier 3000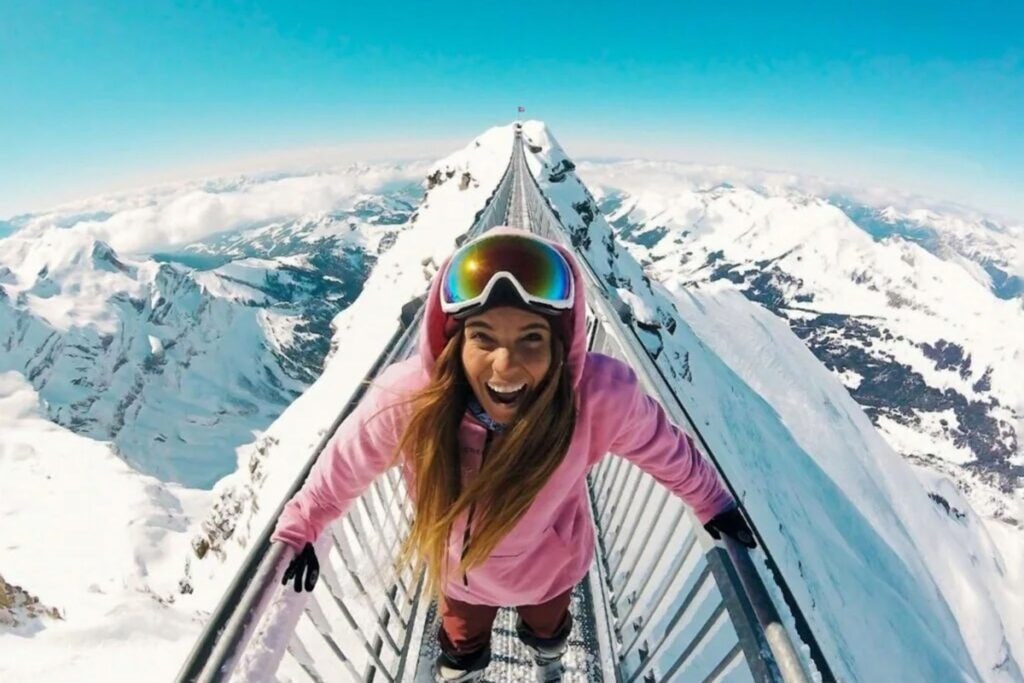 Glacier 3000 is located along the Vaudois Alps and offers stunning views of 24 Alpine Peaks, including the Matterhorn and Jungfrau. A wide range of activities which include the Peak Walk, a unique suspension bridge that links two mountain peaks, a helicopter ride for a unique glacial view is available year-round! To add icing to the cake you get to savour a delicious meal while being surrounded by the gorgeous scenery. What an experience!
9. Muottas Muragl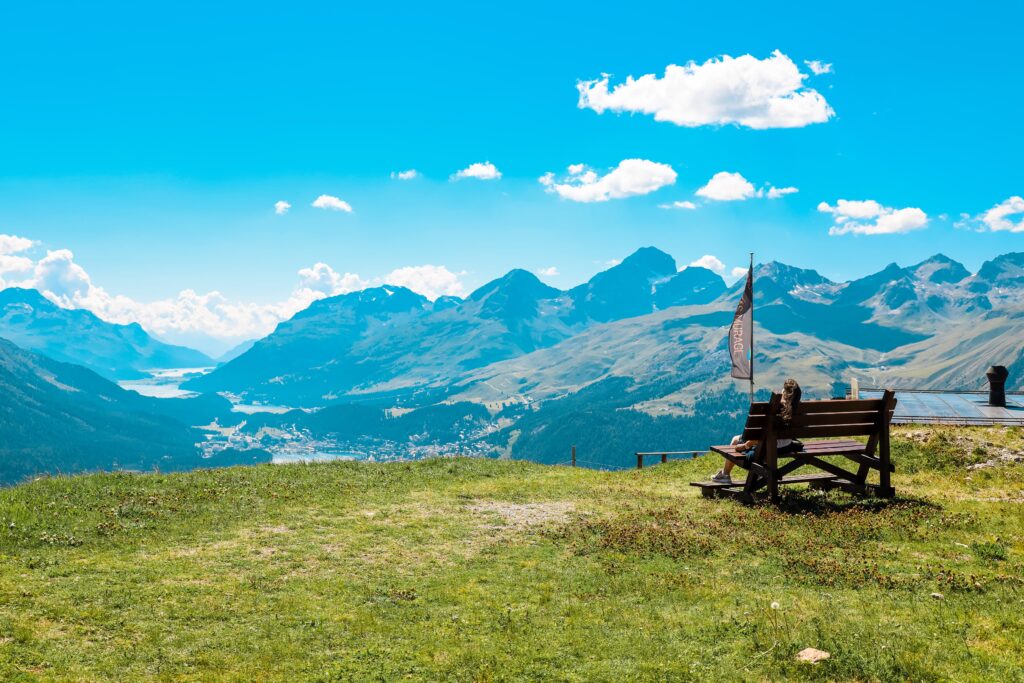 Located at a height of 2454 m and offering stunning views of the Lakelands of upper Engadine, St. Moritz and Piz Bernina with Biancograt, Muottas Muragl is an absolute wonder. Known as the "Engadin's pleasure mountain", this is well known for its funicular railway that climbs the 700-meter climb from Punt Muragl up to the Muottas Muragl and is a treat for all scenic lovers. Sunsets from Muottas Muragl are a sight to behold. In winter, activities like sledding, snowshoe hiking and more draw people towards the summit. There is also a restaurant on top offering delectable food while the hotel offers a unique accommodation option for travelers. This is an experience you wouldn't want to miss.
10. Gornergrat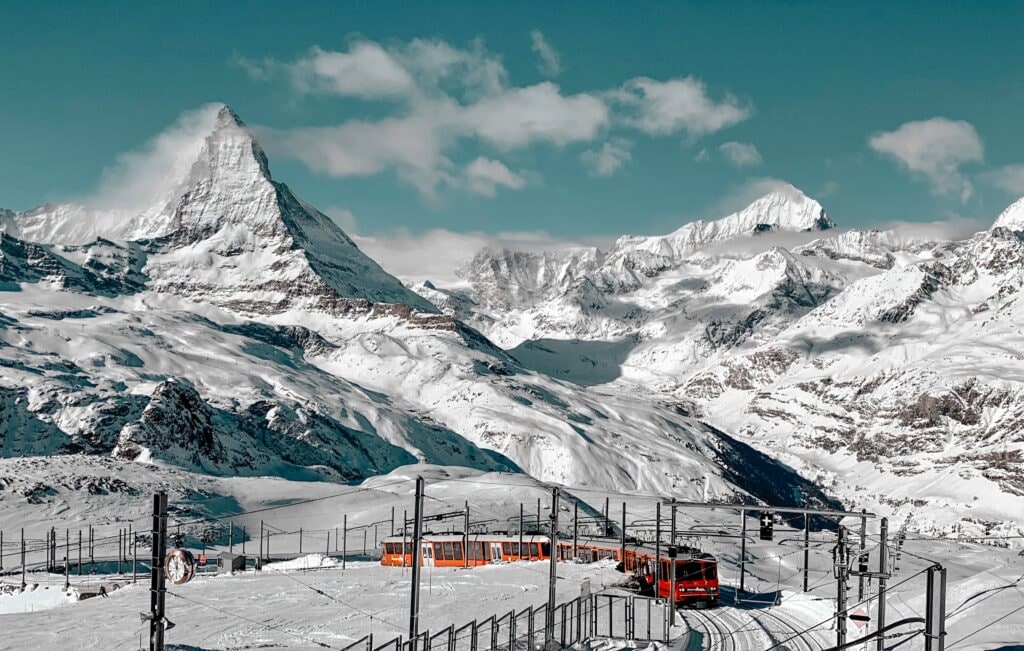 Ready to ride the highest open-air cog railway in Europe? Let's get going to Gornergrat then! Gornergrat near Zermatt has been one of Switzerland's top excursion destinations since 1898. It offers a stunning view of the glorious Matterhorn and is well-known for its sunny observation platform which is accessible all year round. This mountain panorama is one place everyone should visit at least once in their lifetime.
Switzerland with its picturesque views is an experience of a lifetime. The food, the culture and the iconic Alpine landscapes make Switzerland a perfect holiday destination for travellers. Open yourself up to a world of new experiences and adventures with My Switzerland. We're sure that after reading about it, you are very excited to go to Switzerland to experience all the breathtaking Alps.
This is why, we, at Veena World, would like to welcome you on the Swiss holiday of your dreams. And the fact that there is no quarantine for the travellers who have been vaccinated with W.H.O. approved vaccines is such good news. Visit your nearest Veena World office or reach out to us on the toll-free number for more details about Swiss Tourism Packages. We are waiting to go on this wonderful journey with you!