Reading Time:
12
minutes
Extravagant is just an understatement when it comes to describing one of the biggest festivals, celebrated in Kolkata, and the Durga pandals in Kolkata, the Durga Pujo. The gusto with which the whole city transforms itself into the biggest festival of the state and comes alive to celebrate Durga Pujo is a sight to see. The festivity is in the air during Durga Puja, which is simply unmatched. The grandeur and popularity of Durga Puja are such that in 2020, the Government of India nominated the festival of Durga Puja for UNESCO Intangible Cultural Heritage (ICH). During the festival, the city explodes with more than a thousand thematic and colourful Durga Puja Pandals in the entire Kolkata that attract millennia from not only the state but also across India and overseas.
If you are visiting Kolkata during its full festival season, then you might hear the word "pandal" used everywhere which simply means a temporary structure, made of bamboo and cloth, which is used as a temple for the Durga Pujo. You will be amazed to see some of the most expensive Durga puja pandals in Kolkata which draw millions of devotees each year from India and overseas. Pandal hopping is an age-old annual tradition where locals and tourists visit the city's different displays, many of which are enormous and highlights intricate work of art. Before we begin talking about some of the best and top Durga Puja in Kolkata, region-wise, let's see why Durga Pujo came into existence and why the celebration is more than an emotion for the devotees.
The Mythological Story Behind Durga Puja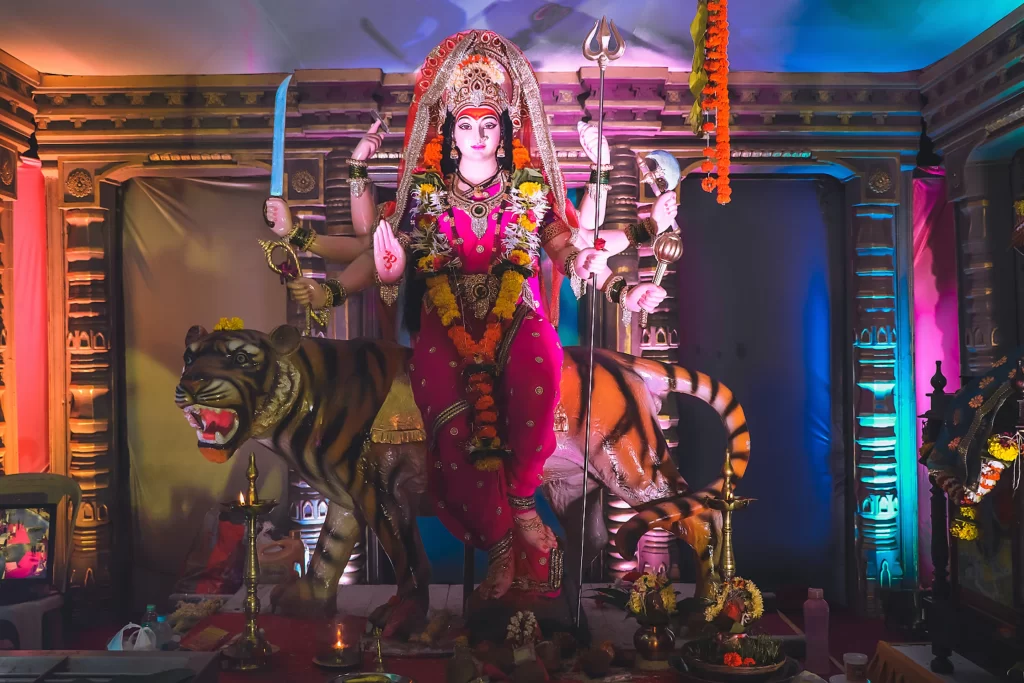 If you begin reading about the story behind Durga Puja, you will be flooded with different stories but we are highlighting the most popular story here. It was believed that Mahishasura, who was the biggest and most powerful demon on earth made the life of people unbearable along with his other gang of demons. He prayed to Lord Brahma to grant him life till eternity, which ultimately made him more powerful and arrogant and started all gods of heaven and people on earth. Unhappy with this, all the gods went to Lord Brahma, Lord Shiva and Lord Vishnu and prayed to them to save them from danger. This is when the trio created Goddess Durga who was fondly named Devi Durga.
Goddess Durga was blessed with different weapons on each of her ten hands to fight the deathly Mahishasura. The Goddess lured the demon with her beauty and killed Mahishasura and his other demon along with her mount lion. There is also a folktale which says that Durga Pujo is the celebration of the homecoming of Goddess Durga to her father's house on earth from her husband's house in heaven along with her children. On the tenth day, which is known as Vijayadashmi, Lord Shiva comes from heaven to take Goddess Durga back with him.
Best Durga Pujo Pandals in North Kolkata
When you visit Kolkata during the Durga Pujo, it's quite overwhelming to visit all the Durga pandals in Kolkata. Hence, here's our list of Durga Puja pandals in North Kolkata.
1. Bagbazar Durga Puja Pandal
Bagbazar Durga Puja pandal, Kolkata is reckoned to be one of the oldest puja pandals in the city which is over a century old. The traditional ancient puja pandal is famous for its simple yet elegant design and architecture which is surrounded by carnival rides and stalls during the Durga Puja.
Location: Near Bagbazar Launch Ghat, North Kolkata
2. College Square
The College Square puja pandal was established in 1948, which is a non-missable opportunity once you plan to visit Kolkata. The Durga puja pandal in Kolkata is located along the lake shore and is famous for its surreal light decoration and kumara puja.
Location: Near Kolkata University, Off MG Road, North Kolkata
3. Kumartuli Park
The Durga Puja pandal at Kumartuli showcases a fusion of old-fashioned grandeur and art. Kumartuli Park is one of the oldest and best Durga puja pandals in Kolkata that is also home to hundreds of artisans. Kumartuli, with its narrow lanes, is a sight to behold before the arrival of Durga Puja when the artisans start making the Durga idols and the whole lane is filled with beautiful sculptures.
Location: Sarbojanin Durgotsab Committee, Kumartuli, North Kolkata
4. Nalin Sarkar Street Sarbojanin Durgotsab
Nalin Sarkar Street Durga Puja Pandal, Kolkata is one of the perfect combinations of nature and heritage in Durga puja. Every year, the Durga Puja Samiti puts all its efforts to uphold the simplicity of the Durga idol with assorted pottery work. Nalin Sarkar Street Sarbojanin Durgotsab has also won many prestigious awards including Best Artisan by Asian Paints Sharad Samman in the year 2004, 2006 and 2010.
Location: 175, Grey St, Hati Bagan, North Kolkata
5. Santosh Mitra Square Durga Puja Pandal
Hosting Durga puja for more than 80 years, the Santosh Mitra Square Durga Puja Pandal, Kolkata is one of the popular names when it comes to the best Durga puja in Kolkata. In the year 2017, the Durga pandal became famous for its unique theme, where Goddess Durga was shown sitting in Buckingham Palace with London as a theme. Once in Kolkata, don't miss a chance to creativity of the artisans and their stunning brilliance.
Location: Natabar Dutta Row Road, Lebutala, Bowbazar, North Kolkata
6. Dum Dum Park, Tarun Sangha
If you want to see the magic of sheer creativity with an edge of social concern, then Dum Dum Park, Tarun Sangha is one of the best Durga puja pandals in Kolkata. The main attraction of the Dum Dum Park, Tarun Sangha is not its pandal, but the beautifully crafted Durga idol placed inside the pandal. Decked in colourful outfits and intricately crafted jewellery, the colour schemes of the Dum Dum Park, Tarun Sangha have played an important role in making the pandal into such a beautiful piece of art.
Location: Dum Dum Park Rd, South Dumdum, North Kolkata
Best Durga Puja Pandals in South Kolkata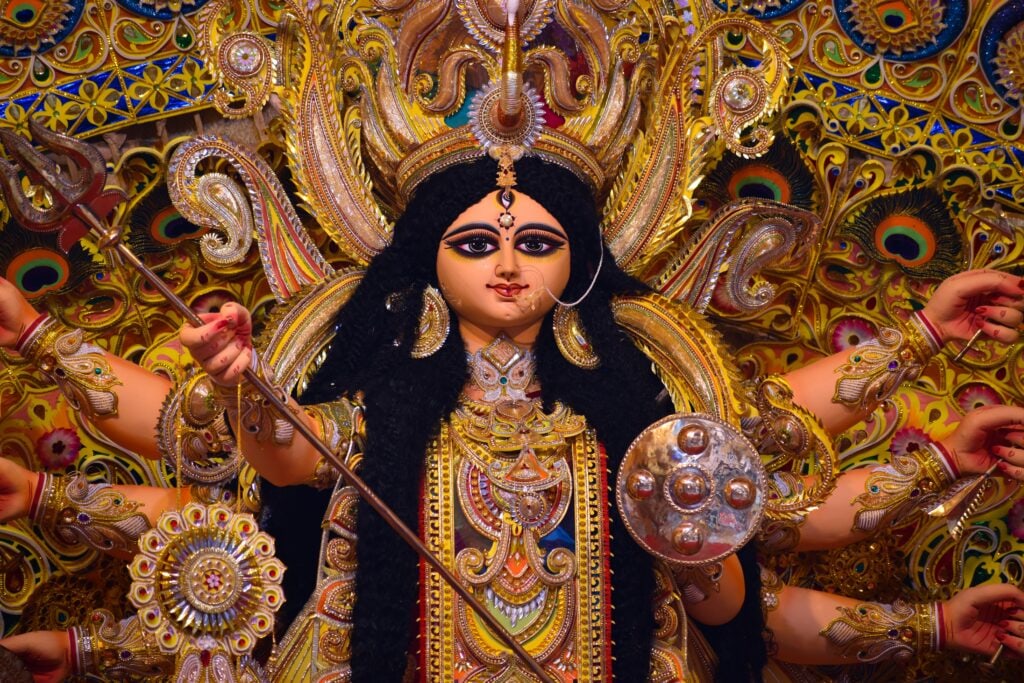 South Kolkata is the hub for one of the best Durga Pujo Pandals in the entire city. Here is our list of the best Durga Puja pandals in South Kolkata to make your trip easy and joyful.
7. Sreebhumi Durga Puja Pandal
Sreebhumi Durga Puja Pandal, Kolkata has always caught the attention and has created quite a frenzy among devotees with its unique theme each year. The splendid work of art has been the talk of the city. With Dubai's Burj Khalifa theme in the year 2021 to the Vatican City theme in 2022, the Durga puja committee has left the people in deep awe with its unique yet splendid beauty. Sreebhumi Durga Puja Pandal is one of the biggest Durga pujas in Kolkata.
Location: Canal St, Sreebhumi, Lake Town, South Dumdum
8. Ekdalia, Gariahat
Ekdalia in Gariahat is famous for having one of the tallest Durga idols in the entire city of Kolkata. The decor, lighting and simplicity of the Ekdalia puja pandal are what attract millions of devotees to the pandal each year. Every year the Ekdalia puja committee creates one unique element to create a buzz for their pandal.
Location: Ekdalia Rd, Ekdalia, Ballygunge, South Kolkata
9. Singhi Park Sarbojanin Durgotsab
Gariahat's other iconic Durga puja pandal in Kolkata is the Singhi Park Sarbojanin Durgotsab which attracts hundreds of devotees each year mainly because of the enormous Durga idol and the intricate jewellery which are on display. The Singhi Park Sarbojanin Durgotsab has bagged several awards in different categories and is one of the most famous Durga puja pandals in Kolkata.
Location: 5 Ramani Chatterjee, Dover Lane, South Kolkata
10. Hindustan Park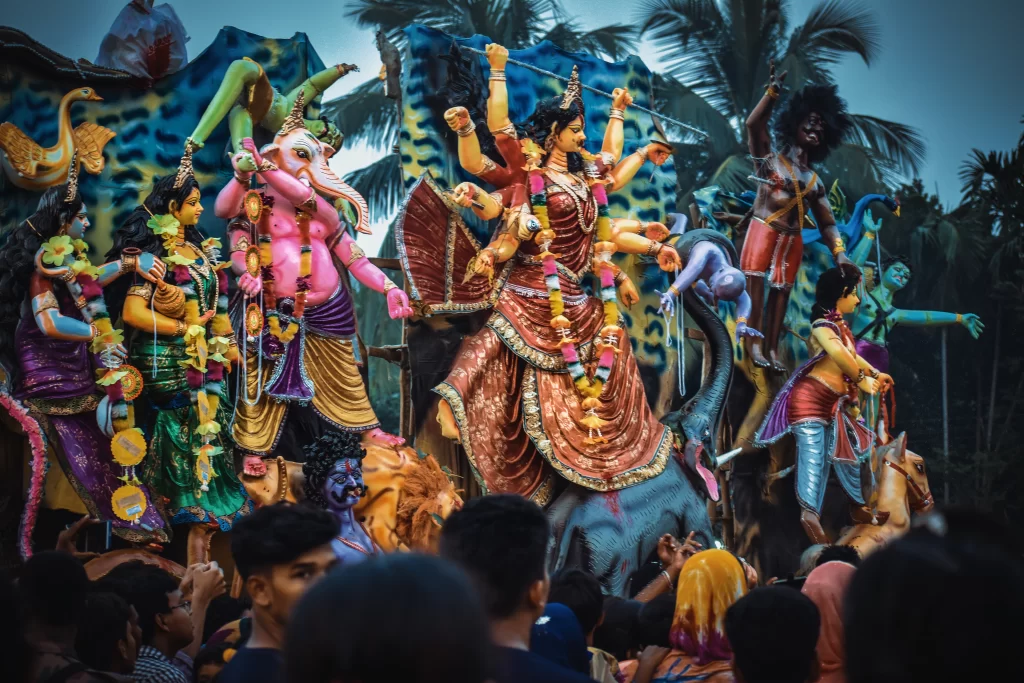 The Hindustan Park puja pandal in Kolkata is known for drawing thousands of devotees each year during the Durga puja, the reason being its gorgeous themes. Hindustan Park puja committee has been hosting Durga puja since 1932 and is known as one of the biggest Durga pujas in Kolkata. Ever since the inception of Hindustan Park, the pandal has been able to grab the attention of people, being one of the most beautiful pandals in the entire Kolkata. Each year, the Hindustan Park puja committee comes with a unique theme which is meticulously chosen and skilfully incorporated into the Durgotsav.
Location: Golpark, Hindustan Park, Gariahat, South Kolkata
11. Suruchi Sangha
The Suruchi Sangha Durga puja pandal is located in the New Alipore in South Kolkata and is more than 50 years old. The puja pandal is famous for entertaining devotees with its unique cultural extravaganza and outdoor display. Every year during the Durga puja, the pandal is decorated with a theme of a country. The artwork at the Suruchi Sangha is exquisite.
Location: Station Rd, Block M, New Alipore, South Kolkata
12. Jodhpur Park
Jodhpur Park Durga puja pandal is one of the oldest and one of the most expensive Durga Puja Pandals in South Kolkata and in the entire of Kolkata. Every year, the theme of the Durga Puja varies from traditional themes to hi-tech technologies. It is an absolute bliss to visit the Jodhpur Park puja pandal when in Kolkata.
Location: 1/D, Jodhpur Park, South Kolkata
We hope you enjoyed reading some of the best Durga Puja Pandals in Kolkata as much as we loved sharing them with you. Every year, the entire city of Kolkata comes alive to celebrate the homecoming of Goddess Durga and is enjoyed with great zeal. If you are planning a Kolkata trip, do check out the various Kolkata packages listed on Veena World for you. In case you want your trip to Kolkata in your own way, Veena World customise holidays is a wonderful option for you to customise your holidays according to your plan and budget.