A hamlet in Tirthan Valley that has caught the eye of travellers in India and abroad is Jibhi. This is a village with scintillating streams, gorgeous waterfalls, and outstanding views of the Himalayas. Once you visit Jibhi, the chances of going back for more are very high! Most Himachal holiday packages for couples, families, and even solo travellers include Jibhi for its enigmatic aura. Nowadays, several tree houses and cottages are becoming quite popular in this part of Himachal Pradesh. If you are eager to make stay at a tree house in Jibhi any time, check out the top 13 properties below:
1. Jibhi Heaven Tree House
Are you looking for a tree house in Jibhi to unwind? This one's perfect for you! Touted as one of the best tree houses in Jibhi, it is ideal for accommodating six to seven people easily. So, planning a trip with your friends or family to Jibhi is possible if you choose this tree house! You will be able to spend some quality time with your loved ones and get enough privacy to introspect and reboot yourself. After all the hard work you do, having some me-time at this tree house in Jibhi is something that you owe yourself.
Address: Tehsil, VPO JIBHI, Jibhi, Himachal Pradesh
2. No Society Tree House
Imagine waking up to a view of snow-capped mountains and dense forests every morning. Tantalising, isn't it? No Society Tree House in Jibhi offers you an experience like no other. It is an eco-tourism accommodation that allows its guests to relish nature at its best. Listening to the sound of the winds, water, and birds all day long is what your soul needs to rejuvenate. Treat yourself to a stay at this tree house in Jibhi without contemplating anymore!
Address: No Society Cafe and Achru HomeStay, Jibhi, Shoja, Himachal Pradesh
3. The Treehouse, Jibhi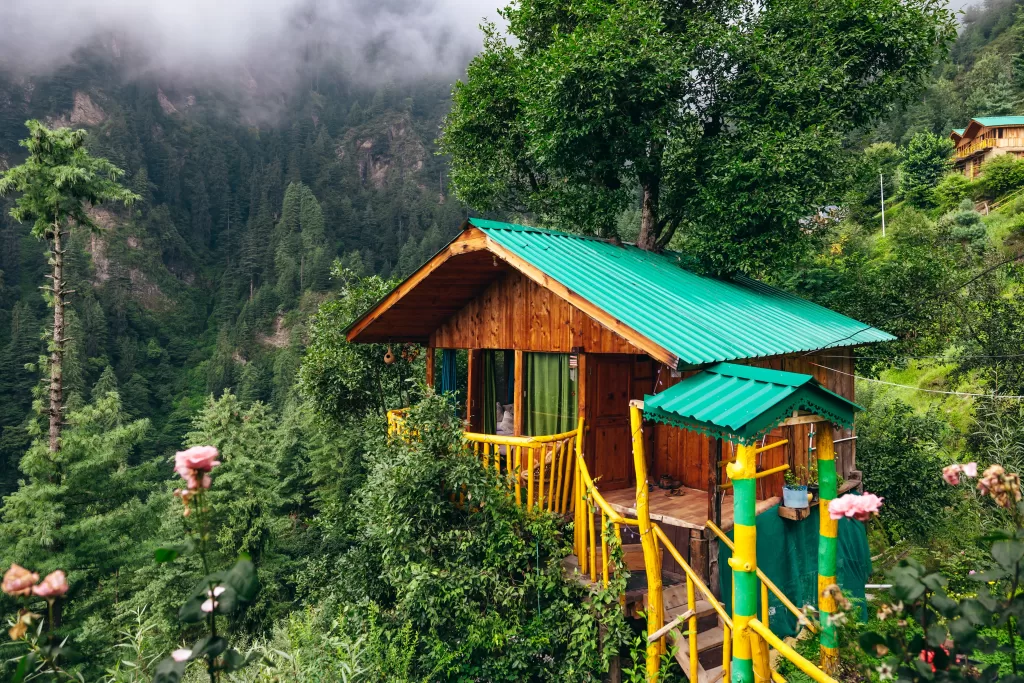 Whether you wish to bask in the sun or explore the Jibhi village on foot, this tree house will give you everything to make your vacation a dream come true! Nestled on a hilltop, this accommodation is perfect for nature lovers, trekkers, and everyone in between. You can choose a double occupancy tree house or book a cottage for four people, based on the number of people travelling with you.
Address: Jibhi, Himachal Pradesh
4. Oak Suite Tree House
An affordable-priced tree house in Jibhi, located 4 km from Shoja in Tandi, is Oak Suite. Offering panoramic views of the Himalayas from private balconies, this is a one-of-a-kind property that you need to stay at on your next vacation. What's more? You can get guided trekking tours, explore nearby villages, and pay homage to local deities at various temples while staying at Oak Suite.
Address: Village Kandhi, Tandi Tehsi, Banjar District, Kullu
5. The Hidden Burrow
Set along the mesmerising Jibhi River is a treehouse for people who appreciate solitude and peace. It is an ideal accommodation for folks who like to explore offbeat places in Himachal Pradesh and then relax at a secluded tree house of their liking. This does not mean that your rendezvous with nature would come to a stop here. The Hidden Burrow is surrounded by waterfalls and dense forests. Can it get any better than this? We don't think so! Pro tip - Try out authentic Himachali delicacies at their in-house eatery called Hobbit Cafe.
Address: Ani - Banjar - Aut Road, Jibhi, Himachal Pradesh
6. Jannat Tree House
This is a tree house by The Hidden Burrow that you and your partner can enjoy on a romantic getaway. By now, it is quite evident that Jibhi is a tree house hub. So, what makes Jannat special? Let us enlighten you! If you are an Ella Enchanted and always wanted to sing to the birds, Jannat Tree House can make you experience at least some part of this fantasy. Moreover, its wooden interiors are to die for. You can get unlimited pictures for your Gram without a doubt.
Address: Ani - Banjar - Aut Road, Jibhi, Himachal Pradesh
7. Raabta Tree House
Raabta is yet another tree house by the Hidden Burrow that deserves a mention in the list. It's a unique concept that the management has come up with the tree house literally shaped like an octagon. Due to its distinct architecture, it is the most preferred accommodation among groups of friends as well as medium-sized families. This duplex-style tree house in Jibhi has made a place in the hearts of avid travellers who like to stay at properties with character.
Address: Ani - Banjar - Aut Road, Jibhi, Himachal Pradesh
8. Swastika Ashiyana
Strategically located a kilometre from the town centre, this tree house is the most sought-after in Jibhi. Needless to say, booking a tree house here in advance is highly recommended because it is sold out all year round. The best part about Swastika Ashiyana is that you can bring along your furry friend with you! That's right. This is a pet-friendly property; however, it is vital to inform the staff members beforehand. Also, they only take cash payments, so hit the ATM if you plan to clear your dues upfront.
Address: Village Thanah, Tandi, Road, Jibhi, Himachal Pradesh
9. Little Wood
This quaint little treehouse In Jibhi is cosy, warm, and always welcoming. Once you are at the Little Wood, it would be very challenging to go anywhere else! The sheer amiability of the management will make you fall in love with this tree house, we ensure you. For the explorers, this treehouse is aptly located close to many streams, waterfalls, the Jalori Pass, and the Great Himalayan National Park.
Address: Village Kandi Post, Tandi Tehsil - Banjar, Jibhi, Himachal Pradesh
10. Whispering Pine Cottages & Tree House
With pine trees spread across the forest and the Himalayas in all their glory, the Whispering Pine is a sight for sore eyes. The charming aesthetics of this tree house are so appealing that most travellers end up staying for a longer duration! You can enjoy a piping hot cup of chai on your private balcony with a bun-maska and all will be well. Since it's only 60 km from Manali, you can even extend your trip per your preference.
Address: H8PR+P6, Tandi, Himachal Pradesh
11. Wilderness Home
If you read The Little House in the Wood by the Brothers Grimm in your childhood, then The Treehouse Wilderness Home will make your imagination come to life! Nestled in a forest area with cedar, pine, and oak trees, this tree house is quirky in its own right. Along with this, it is one of the most peaceful areas in Jibhi, so you can be away from all distractions easily.
Address: Sainj - Ani - Banjar - Aut Rd, Jibhi, Himachal Pradesh
12. Latoda Eco Lodge
A bed-and-breakfast property with eco-friendly hospitality, ​​Latoda Eco Lodge is named after the family that constructed it. Travellers who appreciate sharing stories from all corners of the world would love staying here because of its chief founding member, Mr Jagdish Thakur. Not only does he teach art to students, but also shares vivid stories of the area in and around this tree house. Enchanting is the only word that best describes the experience you can have at Latoda Eco Lodge.
Address: 0 Point, Latoda Eco Lodge Jibhi Gadagusheni Road, Jibhi, Himachal Pradesh
13. Cliff Haven Treehouse & Cottages
Encircled by apple trees, Cliff Haven Treehouse & Cottages is a property located 4 km from Jibhi village. Its off-the-beaten-track setting is the main reason why it is preferred by truly committed travellers. After making the most of your Jibhi-Teerthan Valley trekking expedition, you can take a break at Cliff Haven Treehouse & Cottages!
Address: Village Mihar, Jibhi, Himachal Pradesh
With so many tree houses at your disposal in Jibhi, what is stopping you from booking a holiday package? Don't you want to make your living-on-a-treehouse dream come true? Don't wait any longer and make Jibhi your next destination with Veena World.