Ranthambore is largely known for its tiger reserve, which earns it a spot on the list of tourist destinations. However, the area has a lot more to offer in terms of sightseeing and excursions. Ranthambore is nestled on the Thar Desert's border and is encircled by the Vindhya and Aravalli Hills. Because of its location, it benefits from the richness of fascinating desert regions as well as the plain areas surrounding the hills. The vegetation consists mostly of evergreen forests.
Ranthambore was the Maharaja of Jaipur's hunting grounds till 1955 when it was declared a wildlife sanctuary. With the commencement of Project Tiger, it was declared a wildlife reserve and included among the country's protected reserves in 1980. It has turned into a wildlife photographer's paradise as it allows them to photograph tigers in their natural surroundings.
A Jeep safari in the wildlife reserve, a traditional and cultural experience with the wonderful Meena tribes, and for some of the more excitement, a night out in the park's hideaways make Ranthambore a fascinating location. If you want to travel to Ranthambore from Jaipur, read this Jaipur to Ranthambore travel guide for detailed information.
Jaipur to Ranthambore - How to Reach
There are many ways by which you can reach Ranthambore from Jaipur:
1. By Air
Sanganer Airport, based in Jaipur, is the closest airport to Ranthambore. The distance between Jaipur to Ranthambore is around 180 kilometres. Regular flights to Jaipur are available from all cities across India, allowing tourists to arrive safely. Tourists arriving at Sanganer Airport can take a cab or a bus to the spot. The bus fare is within an affordable range.
2. By Train
The closest railway station, Sawai Madhopur, is 10 kilometres away. The Sawai Madhopur railway station is prominently linked across all major towns and cities, thus tourists can easily travel there by train from anywhere. Visitors can easily access the RNP by taking a local bus, taxi, or cab from outside of the railway station.
3. By Road
Ranthambore is prominently linked with the state bus service from all major cities and towns, thus people may easily take buses from neighbouring residents to reach the location easily. Aside from the state bus service, travellers can also use buses operated by local, premium, and private operators. All of these buses make it easier for visitors to explore the place. Road travel from Ranthambore can take you to Jaipur (157km), Ahmedabad (657km), Jodhpur (450km), Delhi (417km), and Ajmer (274km). The availability of both public and private buses resolves the problem of how to get to Ranthambore.
Best Time to Visit Ranthambore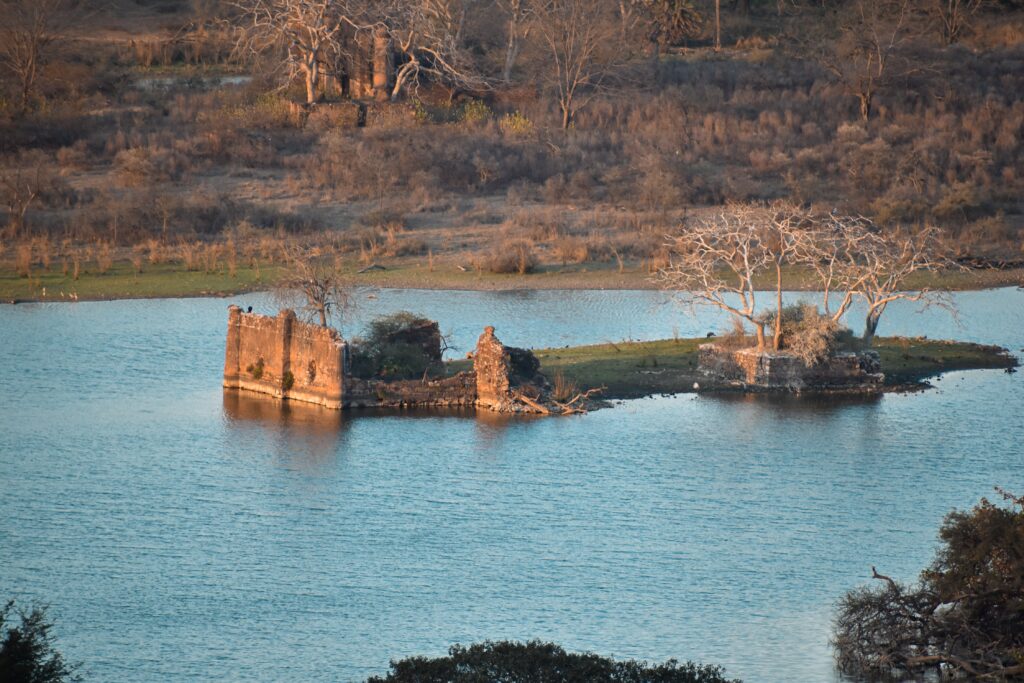 Understanding the best time to visit Ranthambore can help you in planning your trip to this amazing location effectively.
1. Summer Season
Ranthambore's summer weather is extremely hot. The maximum temperature is 46°C, and the minimum is 23°C. The humid environment makes tourists uncomfortable, but it is the best time to see the tigers of Ranthambore National Park. This is not a great time to visit Ranthambore if you can't stand the heat.
2. Monsoon Season
The monsoon season in this area begins in July and lasts through September. Heavy rainfall occurs in the area throughout the months of July and August, making the surroundings lovelier and worth seeing. During the summer, the temperature of the area drops. During the monsoon, the park's central area is generally closed.
3. Winter Season
The winter season starts in the month of November and lasts until the month of February. Tourists can feel the cold atmosphere at the location throughout the month of December. The coldest temperature is around 4°C, and the highest temperature is 32°C. Tourists visiting this location will have a great time during this season.
Events & Festivals
Ranthambore features some of India's most well-known and popular events. Ganesh Chaturthi, Saraswathi Puja, Holi, and Diwali are the most well-known festivals in the location. All of the local festivals are celebrated with great zeal. The Ganesh temple on Ranthambore fort is quite popular and brings in a lot of locals.
Must-Visit Places in Ranthambore
While there are a lot of amazing things to do in Jaipur, you should definitely visit these places when planning your trip from Jaipur to Ranthambore.
1. Ranthambore Tiger Reserve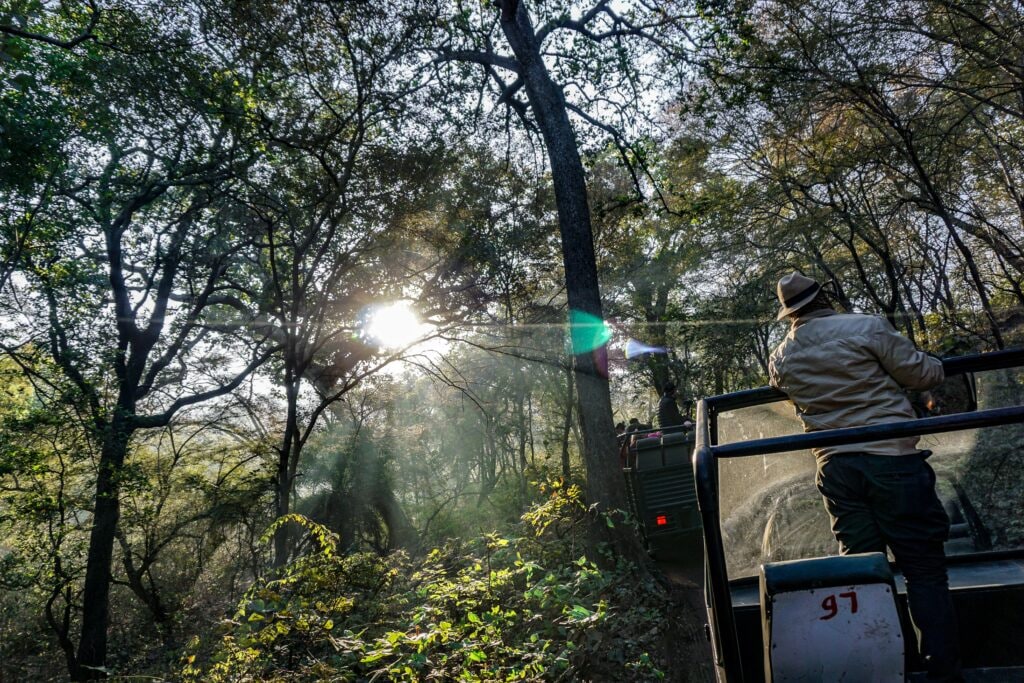 The Ranthambore Tiger Reserve is first on the list of places to visit in Ranthambore. It is a popular destination for many nature enthusiasts and thrill-seekers. This is one of the top national parks in the country for seeing tigers. The Tiger Reserve is ideal for jungle safaris, nature walks, bird watching, and a number of other interesting Ranthambore activities.
2. Ranthambore Fort
Ranthambore Fort is regarded as one of Rajasthan's most prominent tourist attractions. The Chauhan monarchs built this fort in 944 AD, and it perfectly restores that era. You can visit this incredible fort for an unforgettable experience!
3. Surwal Lake
Surwal Lake is another gem perfect for anyone seeking solace in a serene and tranquil environment. The breathtaking view of the unique collection of wild creatures here will undoubtedly take your breath away.
4. Jogi Mahal
Another famous landmark in Ranthambore is the Jogi Mahal, which is located near Padam Lake. It is well-known for its magnificent architecture and sculptures. It was originally meant for visitors to stay, but Jogi Mahal is now only open for sightseeing. This place also has one of the largest Banyan Trees in the country.
Shopping Attractions in Ranthambore
Tourists who want to go shopping can take a ride to Ranthambore National Park's nearby town. The paintings in the tradition of the Ranthambore School of Art, together with other traditional Rajasthani souvenirs like tie and dye and batik linens and traditional cultural silver jewellery, are popular among tourists. The paintings usually depict tigers, which were inspired by the Project Tiger, which seeks to save the species.
Along with the biodiversity, Ranthambore's culture and customs hold absolute significance. Enjoy the amazing art and craft of rural women working under the wonderful idea of Village Women Craft. Also, while in Ranthambore, indulge yourself in Rajasthan's special cuisine like Dal Bati churma, Mawa kachori, and Ker Sangri for a taste that will not leave your taste buds! A vacation to this Rajasthani paradise will be something to remember, with so much to see. If you want to travel from Jaipur to Ranthambore without any hassle, book your Jaipur packages now!