Reading Time:
7
minutes
If you have 2 days in Jaipur, here are the top places that you should most definitely visit. With Veena World's foray into Destination Weddings, it has meant that in the last three years I have made a total of 15 trips to Jaipur. More often than not, I will find some free time and go exploring with my colleagues and we always end up finding some true gems in the process. When it comes to Rajasthan, the food & drink is always something that we look forward to. For those who know me, they know that I often have one rule when exploring a city, 'we cannot go eat at the same place that we have been to before, however good it may be'. With this rule in tow, it just becomes easier to stumble upon some incredibly breathtaking places and experiences. Here are my top 9 things that one should most definitely do when in Jaipur. 
1. Hawa Mahal
One of the most popular Instagrammable spots in Jaipur, Hawa Mahal is a palace, which sits on the edge of the City Palace in Jaipur, and is built from red and pink sandstone. These photos clicked by our very own Veena World Tour Managers say it all, so add it to your list of places to visit in Jaipur right away.   
2. Lassi at MI Road
Lassiwala
At MI Road since 1944, this Jaipur 'Lassiwala' has been serving Jaipurites for more than 70 years now. Served in a wooden cup called 'kulhad', the lassi comes in 2 sizes, 200ml and 400ml, and in two flavours: sweet or salted, with only recently, a healthy sugar-free version coming up. A point to note, there are 3 or 4 other Lassi shops that have sprung up over the years at MI Road, but the lassi is nowhere close to the one found here. Open from 7am to 4pm, my suggestion would be to visit early in the morning when the lassi tastes the best ?  
3. A
mber Palace
Amber Fort, or Amer Fort as it is popularly called, is among the most well-known and most visited Forts in India. Featuring on every traveler's itinerary, the fort used to be the residence of Rajput rulers in the past and is now a UNESCO World Heritage site.  
4. Nahargarh
Fort
You will remember this Fort from the Movie, Rang De Basanti. Nahargarh Fort stands on the edge of the Aravalli Hills, overlooking the city of Jaipur in the Indian state of Rajasthan. Along with Amer Fort and Jaigarh Fort, Nahargarh once formed a strong defense ring for the city. Although not as well maintained as Amer Fort, for Aamir Khan & Rang De Basanti fans, this site is worth a visit.   
5. Jaigarh Fort
Jaigarh Fort is situated on a high point called the Cheel ka Teela of the Aravalli range and overlooks Amer Fort and the Maota Lake, near Amer in Jaipur. The fort was built by Jai Singh II in 1726 to protect the Amer Fort and its palace complex and was named after him. One of the interesting things about Jaigarh is that you can drive your car all the way up to the Fort and involves minimal climbing. There is a historical site atop the fort which houses the Jaivana cannon, a large 18th-century weapon that at the time of its manufacture in 1720, was the world's largest cannon on wheels.   
6. Ra
wat 
Mishthan
Bhandar
ki
 Kachori
My travel itinerary to Jaipur is always incomplete if it doesn't include a visit to the famous Rawat Mishthan Bhandar. Located in a busy market area, the order at Rawat is always the same, one Pyaaz Kachori and one plate of hot Jalebis. Started in 1972, Rawat Mishthan Bhandar has come a long way since, and today, the Kachoris from here are not only popular within India, but across different parts of the world too. A notable thing about the Kachoris from here is that the dish is served without any chutney, something the founders always emphasize so the eater can enjoy the taste of the Kachori itself and that an ordinary condiment like a chutney is not needed to go with it. One of the city's oldest landmarks, make sure you pack some Kachoris from here for your loved ones back home.  
7. City Palace
The City Palace in Jaipur City was established at the same time as the city of Jaipur, by Maharaja Sawai Jai Singh II, who moved his court to Jaipur from Amber, in 1727. Flanked by the picturesque Hawa Mahal close by, the City Palace features huge entrance gates, beautiful doorways, murals, and museums showcasing the colourful history of Jaipur.  
8. Jantar Mantar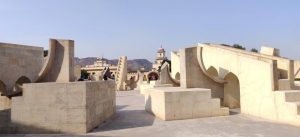 A UNESCO World Heritage Site, the Jantar Mantar is a collection of nineteen architectural astronomical instruments built by the Rajput king Sawai Jai Singh II, the founder of Jaipur, Rajasthan. The monument was completed in 1734 and features the world's largest stone sundial.  
9. Jal Mahal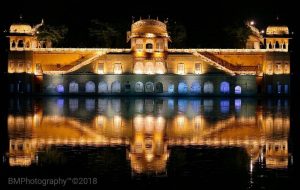 Jal Mahal is a palace in the middle of the Man Sagar Lake in Jaipur city, the capital of the state of Rajasthan, India. The palace, a favourite among visitors to this town, was renovated and enlarged in the 18th century by Maharaja Jai Singh II of Amber. Although visitors are not allowed to enter the Palace, you can enjoy the view of the palace with a leisurely boat ride in Man Sagar Lake. 
So, there you go, those are some of the things that should definitely be on your Jaipur itinerary. Whether you are looking for a café in Jaipur like Rawat Mishthan Bhandar or whether you are a history buff, make sure your Jaipur tour package covers all or most of these places. Happy holidays ?