Reading Time:
8
minutes
When someone thinks of Ibiza, the very first thing that comes to mind is the vibrant nightlife (which is true, of course). With the International Music Summit, this iconic port city is known for hosting some of the most happening and lively events in the entire country. However, Ibiza, the third-largest of Spain's Balearic Islands, has a lot more to offer than these parties and festivals. Blessed with natural beauty in abundance, this place is a true paradise for nature lovers. On the other hand, a large number of restaurants serving authentic Spanish food make it an ultimate destination for foodies as well. All in all, Ibiza is a place that you should definitely include in your Spain tour itinerary for a fun-filled vacation.
Now that you have enough reasons to visit this scenic town on a trip to Spain, the main question arises: where to stay in Ibiza. Being the popular destination that Ibiza is, it has plenty of accommodation options. Whether you are looking for a luxury resort or a decent hotel on a budget, you will find everything here.
The Best Hotels in Ibiza
To make things easier for you, here is a list of some of the best places to stay in Ibiza:
Ushuaïa Ibiza Beach Hotel
This is one of the best luxury hotels in Ibiza, located on Playa d'en Bossa Beach. The Ushuaïa Ibiza Beach Hotel features a total of 415 rooms and suites, all of which are tastefully decorated and equipped with modern amenities. Here, you get a chance to enjoy free entrance to live DJ performances, which also makes it one of the best party hotels in Ibiza. The major attractions of this hotel include a luxurious spa, an outdoor pool, and a poolside cocktail bar.
If you choose to stay in this hotel, make sure to visit the in-house Minami Japanese fusion restaurant with a Zen Garden. Other than this, it also houses the Beach Club restaurant with Mediterranean cuisine and the Montauk Steak House restaurant, which specialises in steaks and other grilled meats. If you are looking for some good hotels on the beach in Ibiza, there can be no better option than this.
Six Senses
Located on the northern tip of the town, Six Senses is one of the most luxurious hotels in Ibiza. With a strategic location, modern décor, and a classic vibe, this beautiful resort has everything that you may look for in an accommodation. Perched on a bluff overlooking Xarraca Bay, this property offers stunning sunset views. It is also the first sustainable BREEAM-certified resort in the Balearic Islands. The main attractions of this property are two bars and four signature restaurants, which offer organic, seasonal, and nutritious food. The amenities offered with your stay include an outdoor pool overlooking the sea, free high-speed internet, free parking, and a luxurious spa with five treatment rooms.
The Standard
The Standard is the latest addition to the list of the best hotels in Ibiza, and it completely justifies its name. With 53 guest rooms and suites, this adults-only hotel provides a distinct sense of exclusivity. It has a number of nooks and crannies and lounges where you can laze around after a long, tiring day on the beach. The main attraction of this hotel is Jara, the street-level restaurant and lounge, which has outdoor seating. Other than this, this hotel also houses a rooftop restaurant named Up. Here, you can enjoy a drink or two while admiring the beautiful panoramic views of the old town.
If you are someone who wants to spend some time away from the hustle and bustle, you can book a room at Casa Privada. Located one block away from the main hotel, this complex has 14 rooms with outdoor hot tubs and a rooftop pool. It also houses a yoga studio and private lounge that are exclusive to Casa guests. With so much to offer, The Standard is definitely one of the best hotels in Ibiza, with a 5-star rating.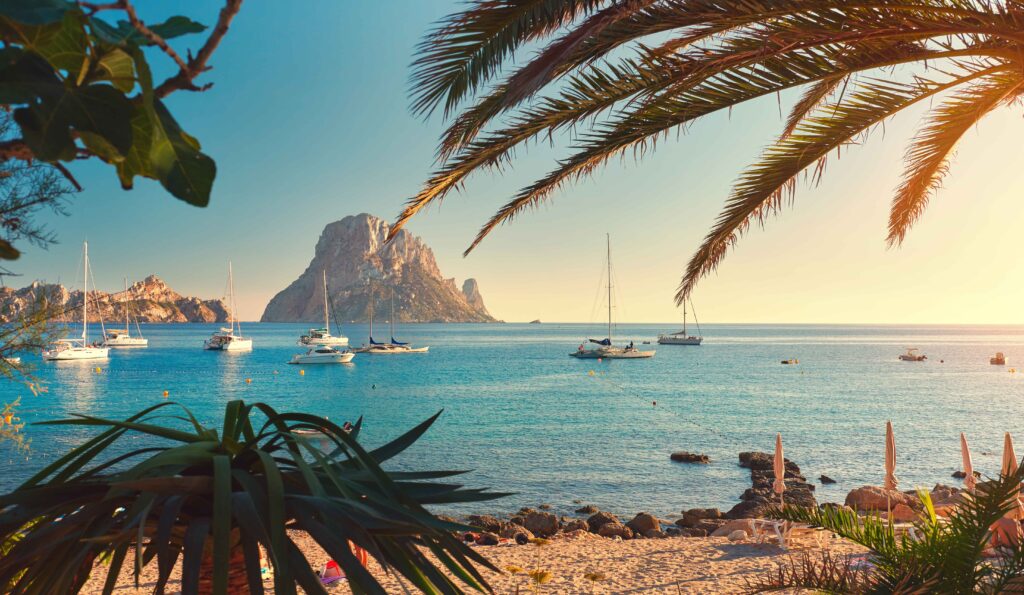 Sud Ibiza Suites
Located at the heart of the beautiful port city, Sud Ibiza Suites is one of the most popular hotels in Ibiza. With beautiful, modern architecture, this beautiful property has a unique touch of elegance. It features a total of 34 rooms, which are divided between 30 executive rooms and 4 grand suites. The amenities offered here include free high-speed internet, a private beach, a rooftop terrace, a fitness centre, etc. In short, by booking a stay at this property, you can take your holiday fun to the next level.
Vibra Marítimo
Hotel Vibra Marítimo is a beautiful property featuring more than 70 spacious and modern rooms. This hotel is extremely popular among leisure travellers for all its offerings. Here, you get all the modern amenities, including free Wi-Fi, a 24-hour front desk, free parking, etc. The best thing about staying in this hotel is that most of their staff members are multilingual, so you will not face any communication-related problems. This hotel also houses a restaurant where you can enjoy some delicious, authentic Spanish food.
Eurostars Ibiza
If you are looking for a good hotel in Ibiza but don't want to go overboard with your budget, this is one of the best options you have. This small, trendy hotel has a number of lovely, spacious rooms with modern amenities. Major common amenities include a pool, a lounge area, a 24-hour help desk, and free parking. The best thing is that this hotel is located a few minutes away from the Convento de San Cristobal, Benimussa Park, and other major tourist attractions. Other than this, a number of cafes and restaurants are also in close proximity, so you can go there to enjoy a meal.
El Hotel Pacha
Located in one of the most exclusive localities in the town, this is one of the best places to stay in Ibiza. This strategically located property offers a perfect amalgamation of entertainment, fun, and comfort. Major amenities offered with the stay include free vehicle parking. Free high-speed internet, an outdoor pool, airport transportation, meeting rooms, etc. Other than this, guests can also enjoy exclusive DJ nights as the hotel hosts a number of events every now and then.
With this comprehensive list of the best hotels in Ibiza, finding an accommodation shouldn't be a challenge anymore. To plan a trip in a hassle-free manner, explore Veena World's extensive range of all-inclusive Spain tour packages.