Reading Time:
10
minutes
Thailand, a tropical country in Southeast Asia most visited by tourists, borders Myanmar, Cambodia, and Malaysia with coasts on the Gulf of Thailand and Andaman sea. The place is rich in cultural and natural beauty, with the friendliest of people, scrumptious cuisines, and the greatest of the beaches. Along with it, Thailand offers the greenest jungles, bluest of waters, and pulsating nightlife. A destination so safe, affordable, yet bustling with all modern amenities & luxury; it has something for everyone out there in any price bracket.
For visiting a place like Thailand, the know-how of things is a prior requirement, for if you're looking for the best place to party, without knowing the real deal, you may miss it!
This article highlights all about the world-famous, and on top of every traveller's bucket list – the full moon party in Thailand.
What is a Full Moon party?
Every month, across the globe, there comes a day or two when the earth reaches exactly between the sun and the moon, giving people of earth a chance to see the moon gleaming with a full face. It happens because the sun illuminates the moon fully at this time of the month, owing to their positions being totally opposite of each other. This celestial event is globally named a new or full moon. The moon may appear like this for two to three days, depending on the position of the country you are watching from.
An open-space party on this day, starting from dusk till dawn, is known as a full moon party globally.
About the Full-Moon Party in Thailand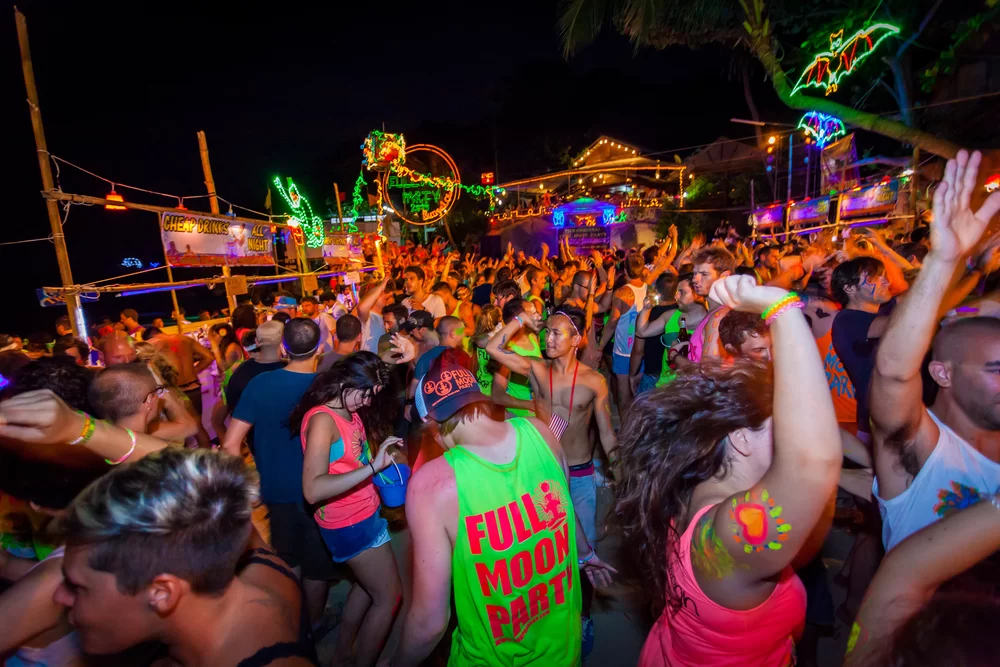 In the early 1980s, a group of gypsies started partying on the full moon days at Koh Pag-Ngan, one of the famous islands in Thailand. Soon people started to join them, dance away the night, doing chores and activities, and with food and drinks flowing throughout the night until the event became a crazy cult. Today, around 10,000 to 30,000 people attend the full moon party in Thailand at Haad Rin Nok beach of Koh Pha-Ngan Island. The cost-free event takes place the night before, on a full moon night, or the next night.
Venue for the Full Moon Party in Thailand in 2022 – Haad Rin Beach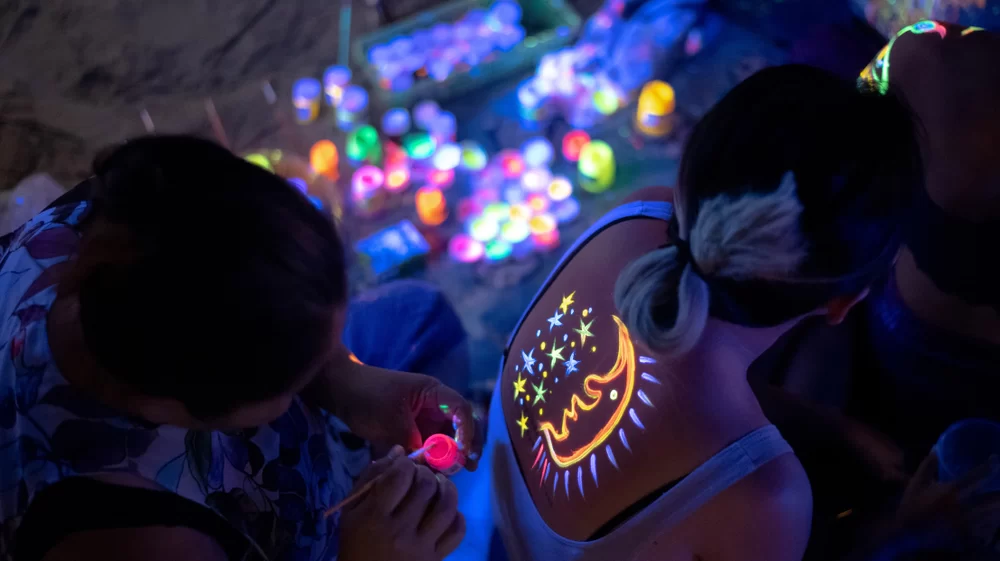 Amongst the best places to visit in Thailand, Koh Pha-Ngan tops the list. Situated on the southern side of Koh Pha-Ngan is Haad Rin or Hat Rin beach, which is a traveller's paradise. This gorgeous white-sand beach is mainly divided into two sections – Haad Rin Nai, also known as Sunset beach; and Haad Rin Nok, or Sunrise beach. The Haad Rin Nok section is more lively and famous amongst revellers, and also holds the infamous full-moon party up till sunrise. While Haad Rin Nai is a quiet, serene place, with a bohemian feel to it where sunbathers flourish by the day and flock to nearby Haad Rin Nok to party hard at night.
With plenty of activities to do in the day like fishing, sunbathing, sailing, diving, beach volleyball & football that build up the evening twilight and blasting speakers calling out the moon, people get ready for a night of surreality, colouring themselves with glow-in-the-dark body paint. The festival of music, madness, and light builds up as the night progresses, with many beach-facing nightclubs, bungalows, and small huts nearby welcoming you, in case you need a breather!
How to Reach the Full Moon Party in Thailand?
Reaching Haad Rin is easy as it is connected well with Koh Samui and Koh Tao, two closed islands to Kho Pha-Ngan. Economical ferries run regularly between these islands.
From Bangkok, there are flights, overnight buses, and boat options to reach Koh Samui, one of the loveliest islands in the country. From there, one can reach Kho Pha-Ngan and Haad Rin easily.
4 Best Hotels to Stay During the Full Moon Party in Thailand in 2022
If you are planning to attend the full-moon festival in Thailand, it is wise to choose your accommodation thoughtfully while booking your Thailand trip package. Below are a few suggestions:
1. Le Devine Comedie
Set up at one of the prime locations in Haad Rin, this boutique hotel is quite near the sunrise beach where the full moon party commences. It is also near the point of arrival on the island and gives utmost convenience to tourists. It is most preferred by families and couples.
2. Electro Hostel
A budget place to stay that is famous amongst solo travellers visiting the island. It is just 5 minutes walk to Haad Rin Nok. The hostel, owing to its proximity to the full-moon party, sells out fast. Make sure you have prior bookings for this hostel if you are looking for an economical stay option.
3. Buri Beach Resort
Some places are hard to believe if they are truly budget hotels; Buri beach resort is one of them. A little outdated, yet full of modernity and opulence. This 102-roomed setup is just a 10-minute walk to the full-moon party venue. With 2 pools and an onsite spa facility, it will pamper you after an all-nighter for sure.
4. Pariya Haad Yuan Resort
Located at a small beach called Haad Yuan, it is just a 20-minute boat taxi (speed boat) away from Haad Rin. One of the best stay options for couples and honeymooners, as the location, amenities, prices, and hospitality are simply praise-worthy here.
No matter if it is a little away from the buzz and the epicentre of the full-moon party, this beautiful resort will be a nice break from your all-night musical jazz, the next day.
When is the Best Time to Attend a Full Moon Party in Thailand 2022?
Rain and summer heat may play a spoilsport to a night of drinks and dance. It is best to attend this festival of music in pleasant weather from November to January in Thailand. The second-best time window would be between February to April when it is not so hot yet rainy.
Dates for the Full Moon Party in Thailand in 2022
Monday, 17th January 2022
Thursday, 17th February 2022
Thursday, 17th March 2022
Saturday, 16th April 2022
Monday, 16th May 2022
Tuesday, 14th June 2022
Friday, 15th July 2022
Saturday, 13th August 2022
Saturday, 10th September 2022
Tuesday, 11th October 2022
Tuesday, 8th November 2022
Thursday, 8th December 2022
Saturday, 31st December 2022
Best Tips to Follow Before Heading to the Full Moon Party in Thailand in 2022
Always book your hotel in advance to get the best property in proximity to the party. It will help prevent any inconvenience such as last-minute price hikes, late-night returning to the hotel, etc.
Carry only a sufficient amount of money to the party. With hoards of party poppers present at the venue, theft instances are not uncommon.
Immerse yourself completely in the charismatic and peppy aura for a once-in-a-lifetime kind-of affair. Yet, be aware and stay alert about what you consume. Rely on vendors providing near bars and clubs.
Eat less. Drink less. Move more. The party starts early and goes on until the sunrise. Too many hours it is. Go slow on the food and drinks and you will stay long, lively, and joyful.
Fire rope shows are show stealers. Fun to look at, risky to think about, damaging to try out. Avoid fire rope jumping, no matter how many people are doing it.
Avoid going to the sea for swimming at night. One, you may hurt your feet as the area around the water is full of rocks and corals. Second, drunk party poppers are seen urinating near the shore.
Dancing is a form of expression and an exercise for the body. Sweating is common while dancing. Go light on the make-up, ladies.
Drugs are illegal to sell and consume at the full-moon party. Police also keep a close watch on it. It is best to avoid indulging in such an act.
If you are someone who likes to refrain from too much noise and thumping music beats, yet wants to attend the party, consider a full-moon party in Koh Sumai.
So, gear up for the most happening full-moon party on the planet that happens every month in Thailand. If you are a couple visiting Thailand and looking to unwind in an unconventional way, check out our couple tour packages for Thailand to get great deals and offers with the finest itineraries.