Reading Time:
9
minutes
Situated in Karnataka, Mysore is one of the most popular tourist attractions in the Southern Part of India. The city was a part of many significant empires in the past that include Cholas, Pallavas, and Kadambas. The rich culture of this city is reflected in its gorgeous palaces, royal gardens, glorious temples, and magnificent museums. The history of Mysore is stretched back to the 13th Century. Apart from that, the vastness of the city is also reflected in its culinary delicacies and gourmet delights. Mysore is an incredible place to enjoy many mouthwatering dishes.
Ranging from the most famous Mysore Masala Dosa to Uttapam, Biryani, Vada, and Khara Bath, the list has a variety of dishes that are enticing to look at and delicious in taste. The flavour of Mysore food is unique and different from other parts of India. Here is the list of the top dishes that you must try during your trip to Mysore.
Mysore Masala Dosa
The most famous food of Mysore, Masala Dosa, has everything good for the health. It looks like a think crispy pancake prepared with a mix of rice and black lentils. While Dosas in other parts of India are thin and crispy, Mysore Dosas are crispy and spongy with red-rust marks on the inside. Traditionally, this famous Mysore food is served on a banana leaf with red coconut chutney and sambhar. Your Mysore sightseeing is incomplete without trying this authentic dish in the city.
Mysore Idli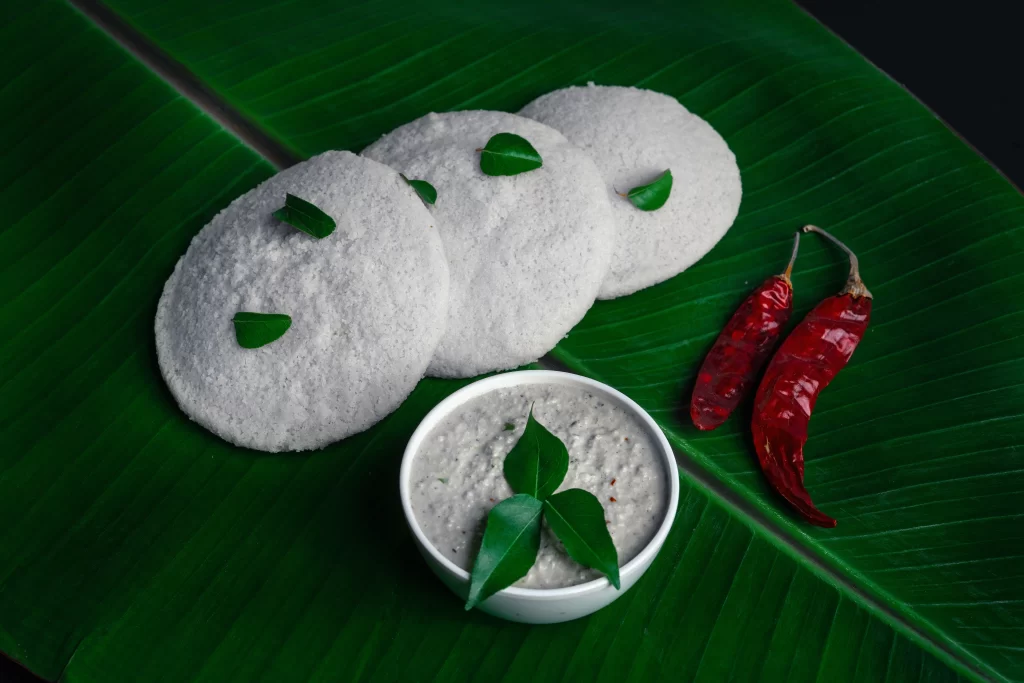 A dish that is loved by everyone in Mysore, Idli is made by steaming the batter of fermented rice and black lentils. Soft and fluffy, these steamed rice cakes are a perfect dish if you want to have something lighter and calmer for your taste buds. While Idlis are the most famous breakfast option in South India, especially Mysore, you can find people enjoying them as snacks throughout the day. Mysore Idlis are served with broth, sambhar, and chutney. The tangy and spicy flavour of the broth varies, giving you the best texture with the combination of soft idlis.
Kori Gassi
A lip-smacking dish that can leave you salivating for more, Kori Gassi, is a trendy food for non-vegetarians in Mysore. Korri means Chicken, and Gassi is for curry. Originating from the native of the Bunt community, Kori Gassi has now become the favourite food option for non-veg lovers in Mysore. For this scrumptious curry, tender chicken pieces are cooked with fresh coconut and diverse spices. It is garnished with chopped tomatoes, onions, and cilantro leaves and served with steamed rice. You can also have it with Neer Dosa in Mysore. So, if you are in Mysore, or planning your visit soon, don't miss trying this delicious dish.
Vada
Another Mysore food that is a must try, Vada is a savoury dish, usually served as an evening snack along with spicy coconut chutney. These are crisp fried patties made with chickpeas or lentils. Black gram (lentil) flour, onions, green chillies, curry leaves, and cumin seeds are combined to make a batter and deep-fried to create a crisp and crunchy exterior. The idli-vada combo is the most popular breakfast option in Mysore. You can spice them up with red coconut chutney and sambhar or combine them with other street foods.
Bisi Bele Bath
Love eating rice preparations? If yes, then Bisi Bele Bath is for you! One of the most popular rice preparations in Mysore, Bisi Bele Bath, is translated as lentil rice, cooked with tomatoes and spices, forming a spicy porridge-like dish. It is not only delicious but healthy and comforting, leaving you with a satisfied stomach. This rice-based famous food of Mysore is said to be originated from the royal palaces of Mysore that have now become a staple in the city. When you are in Mysore, Bisi Bele Bath is something that you just cannot miss!
Khara Bath
Also known as Rava Bath, it is a popular breakfast option in Mysore. This famous food of Mysore is prepared using sooji (semolina), onion, tomato, mixed vegetables, and cashews. It is also called Uppittu or Upma and can be found in every restaurant and street vendor in the city. You can enjoy this delicious dish with a variety of condiments and side dishes as per your choice.
Mysore Pak
A traditional sweet dish, Mysore Pak is made of gram (lentil) flour, sugar or jaggery, ghee (purified butter), and cardamom. These unique ingredients give the dish a soft and fudgy flavour, making it literally melt in your mouth. This delicious dish is known as the most welcoming dessert of Mysore, and you can find it in any sweet shop in the city. It is said that Mysore Pak was first made as a royal delicacy in the Mysore palace, and later it became an iconic and famous sweet in Mysore.
Mysore Bonda
One of the best food options in Mysore, bonda, is served as a snack and breakfast across the state of Karnataka. It is typically aloo bonda, prepared with mashed potato, all-purpose flour, vegetables, and spices. While traditionally, the dish is served with hot tea, you can enjoy it with a bowl of sambhar and coconut chutney. The bondas are deep-fried and have a crisp exterior but light, fluffy and soft texture inside.
Neer Dosa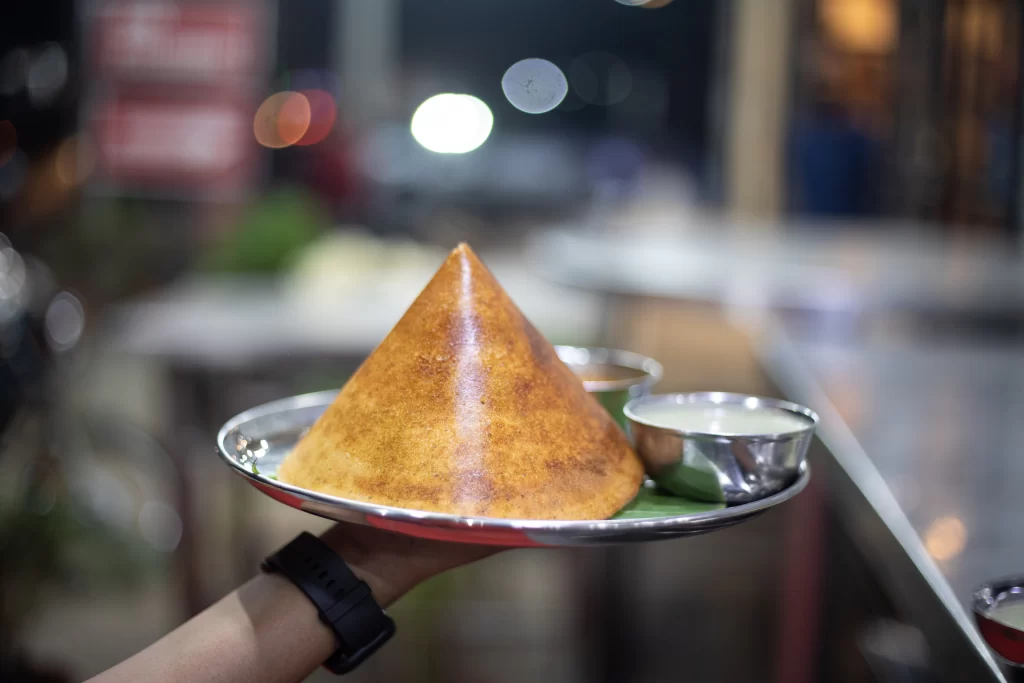 The next famous food of Mysore, Neer dosa, is popular due to its light texture. Unlike Mysore masala dosa and other types of dosas in South India, Neer dosa is known for its lack of fermentation and simple cooking method. It is made with two basic ingredients, including rice flour and salt. Thin and soft, Neer dosa, can be served with sambhar, coconut chutney, saagu, and many non-vegetarian dishes like Kori Gassi, mutton, and egg curries.
Polihora or Puliyodhara
If you want to enjoy the most authentic rice dish in Mysore, go for Polihora or Puliyodhara. It is a traditional rice-based recipe and a famous Mysore food found in all local restaurants and kitchens in Mysorean homes. Since this dish is prepared with tangy tamarind and rice, it is also called tamarind rice. It is also seasoned with a thick paste of lentils and a variety of spices. Polihora is one of the famous food items in Mysore that is perfect to have in between your trips to satiate your hunger pangs.
Uttapam
The next in the list of the famous foods of Mysore, Uttapam, is made of fermented dough from lentil and rice flour (dosa batter), green chillies, onions, and spices. Uttapam looks like a thick pancake topped with many vegetables, including carrots, tomatoes, coconut, onions, etc. When planning a trip, make sure to include it in your Mysore sightseeing packages.
The food options in Mysore are great, especially if you love South Indian cuisine. This royal city should not be explored for only history and archaeological wonders but for its authentic food options too. Plan your trip now and be ready to savour the assortment of delicacies in Mysore!