One of the Char Dhams in Uttarakhand, Kedarnath, is a beautiful town in Rudraprayag, around the sacred Kedarnath temple. One of the 12 Jyotirlingas of Lord Shiva, perched at an elevation of 3,583 m (11,755 ft) above sea level, the Kedarnath temple is visited by a huge number of devotees every year from across the country. Dedicated to Lord Shiva, the most revered deity among Hindus, Kedarnath is a part of Char Dhams, with others being Badrinath, Gangotri, and Yamunotri. The name of the town, Kedar, is one of the many names of Lord Shiva, the most powerful, the protector and destroyer. Set up near the gorgeous Mandakini River, this sacred town has a spectacular aura and breathtaking landscape, attracting both spiritual seekers and adventurers through many beautiful places to visit near Kedarnath.
Here is a Dehradun to Kedarnath travel guide to help you plan a memorable trip to this sacred town.
Modes to Reach Kedarnath
There are many options to pick your travel modes while planning a Dehradun to Kedarnath tour. These options are:
Kedarnath by Flight
The distance from Dehradun airport to Kedarnath is 109 Kms. Kedarnath does not have a public airport, but the nearest airport is Jolly Grant Airport in Dehradun, which is well-connected to Delhi with daily flights. From the airport, you can book a cab or taxi to reach Kedarnath in a few hours.
Dehradun to Kedarnath Flight
The most comfortable and easiest way to reach Kedarnath is via air travel. If you wish to skip the strenuous trekking, you can opt for helicopter service from Dehradun to Kedarnath. For helicopter service, you have to reach Shastradhara Helipad in Dehradun, from where the helicopter will drop you at your destination in just 40 minutes.
How to Reach from Dehradun to Kedarnath by Road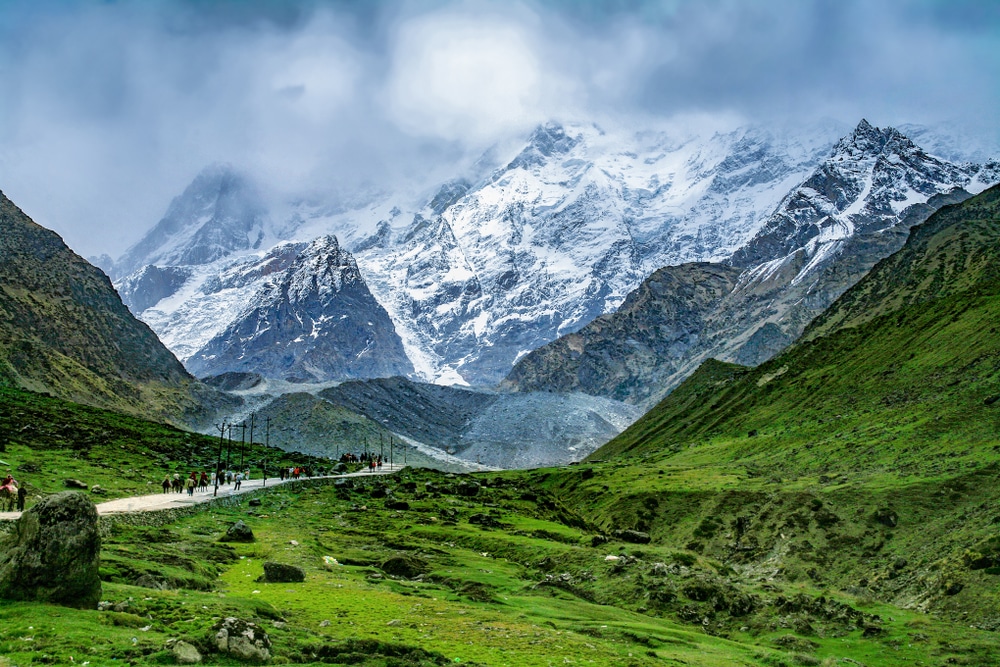 Kedarnath via Train
You can book a train from your city to Dehradun, and then take a taxi or bus to Kedarnath. There are many trains that run between diverse cities to Dehradun on a daily basis. At present, there is no rail route from Dehradun to Kedarnath, but trains will be available till Rudraprayag after the completion of the Chardham rail project.
Kedarnath via Buses
You can choose an interstate bus service run by Uttarakhand Transport Corporation to reach Kedarnath via road. However, if you are coming from Delhi, you can board a direct bus from ISBT Kashmiri Gate to Gaurikund and further trek to reach the temple. The same goes for self-driven cars and hired taxis as there are no other options from Gaurikund. However, you can opt for Kandi or Palki service and Ponies. You can book these services at Sonprayag or Gaurikund.
Dehradun to Kedarnath Buses
You can easily find a bus towards any preferred stopover on the route to Kedarnath from the bus stand of Dehradun. The last bus stop for Kedarnath is Sonprayag which is in 5 Kms distance from Gaurikund. Before the tragic incident in 2013, buses used to go up to Gaurikund, the origin of the route to the Kedarnath trek. But, now buses go till Sonprayag, and you have to hire shared taxis or jeeps to reach Gaurikund.
A Guide for Trekkers
Kedarnath is situated in the Wildlife Sanctuary, so the people are not permitted to trek after a specific time. The trekking is open from 4:00 AM to 01:30 PM. The timing is fixed, so make sure to plan your trekking between this duration. There are many shops, restaurants, and tented accommodation en route to the temple to ensure comfortable trekking for pilgrims. However, visitors have to get themselves checked before commencing the trek to ensure their fitness level.
Best Time to Visit Kedarnath
Kedarnath remains closed from November to March every year due to heavy snowfall in the region. Winters are extremely cold here due to sub-zero temperatures. However, the months of May till September are perfect as the weather is more pleasant. You can find detailed information about the best time to visit Kedarnath and plan your trip accordingly.
Dehradun to Kedarnath Tour – Attractions
Kedarnath Temple
The main attraction of this holy town is the Shiva Temple, situated in the mid of the picturesque landscape. The 1000 years old temple is dedicated to Lord Shiva, the embodiment of mysticism, love, fear, and death, expressed through his different forms. The temple has exquisite architecture with inner walls carved with images of many deities and the exterior adorned with large but evenly shaped grey stone slabs. It is believed that visiting this temple and seeking the blessings of Lord Mahadev can free devotees from the cycle of life (Mukti).
Vasuki Tal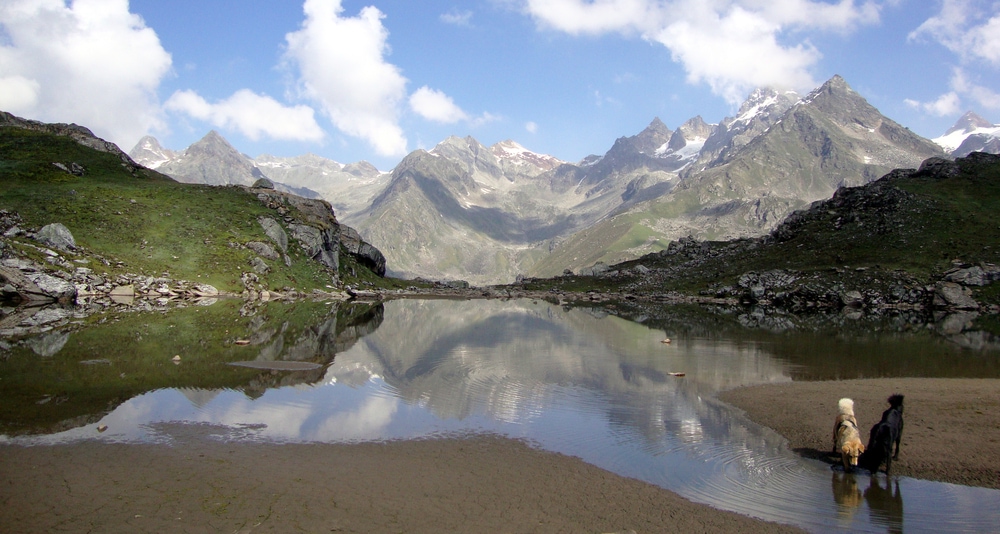 Perched at an altitude of 14,200 feet above sea level, Vasuki Tal is a high glacial lake offering magnificent views of the Mandakini valley and Chaukhamba peaks. According to Hindu Mythology, Lord Vishnu had taken bath in this crystalline lake on the auspicious occasion of Raksha Bandhan. One of the most beautiful destinations, Vasuki Tal, is a pristine lake where you can spot rare Brahma Kamal and many other Himalayan flowers blossoming around the lake, giving it a divine vibe. It is a famous spot for trekking and camping, allowing you to get a glimpse of Chaturangi and Vasuki glaciers on your way up.
Triyuginarayan Temple
Situated at a short distance from Gauri Kund, at the height of 1,980 meters, Triyuginarayan Temple is a major pilgrimage site and a famous tourist attraction in Uttarakhand. It is a place where Lord Shiva married Parvati, and the divine union was witnessed by Lord Vishnu and many other deities. The second interesting fact about this temple is the continuous fire burning in front of the temple, believed to burn since the marriage of Shiva and Parvati. Also called the Akhand Dhuni Temple, Triyuginarayan Temple is a major attraction on your way from Dehradun to Kedarnath.
Gaurikund
An important pilgrimage site, Gaurikund is famous for its hot water spring where pilgrims come to take a dip in it. The hot water spring lies at an elevation of 6,000 ft in the Himalayas. One of the holiest places for Hindus, Gaurikund, is a place where Goddesses Parvati performed penance to marry Lord Shiva. Surrounded by panoramic views, Gaurikund is the base point for trekking to Kedarnath Temple. Here, major attractions are Pony Rides, Trekking, and enjoying incredible views.
Syalsaur
A small yet picturesque village in Uttarakhand, Syalsaur is a paradise for nature lovers. Located on the banks of the Mandakini River, this gorgeous hill station is a budding attraction for tourists yet it is saved from overcrowding footfall. The greenery and the vibes in this region make it a must-visit place, especially if you are on your way from Dehradun to Kedarnath. A part of the Rudraprayag District, this quaint village is heaven for bird lovers too.
Chopta
A trekker's heaven, Chopta is a small hamlet and all-year holiday destination for travellers. Also known as Mini Switzerland of Uttarakhand, Chopta is a base for trekking to Tungnath-the third temple of Panch Kedar. This beautiful small region is perfect for camping in the open grassy meadows and evergreen forest area. Surrounded by pine, deodar, alpine, and rhododendron trees and the snow-covered peaks of Chaukhambha, Nanda Devi, and Trishul, Chopta promises a soul-fulfilling experience.
To make your Dehradun to Kedarnath trip simpler, you can book a Kedarnath tour package. Get ready for a blissful trip and an exhilarating experience by visiting one of the most sacred ancient temples.