Reading Time:
12
minutes
The lockdown is getting on our nerves now… But hey, let's not forget… It's not for the government's, but our own safety. The more strictly we follow the rules laid down by the authorities, the earlier we'll be able to beat the pandemic. However, in times when we can't travel far and wide, physically, at least for some more days, we can certainly do so virtually or go back in time cherishing the beautiful memories we have made on our holidays earlier. At the end of the day, when it's an intangible thing like travel, is it supposed to do anything different?! It's memories we bring back from our holidays, only to be cherished for a lifetime, from wherever and in whatever circumstances we are at any given point in time. In this series of blogs, we bring to you some amazing stories of travellers who were left speechless when they travelled to their dream destinations, but have indeed turned out to be storytellers while narrating and sharing their experiences.
In this blog, we bring to you the story of Sanjiv Nandodkar, who goes back in time and shares his memories of the last trip he took before the lockdown.
My last trip before the lockdown was to the divine pilgrim centres of Kedarnath – which is one of the most famous Shiva temples in India, in fact, one of the 12 Jyotirlingas, and Badrinath – which is a temple dedicated to Lord Vishnu. Both these temples along with Gangotri and Yamunotri together form the Chota Char Dham.

1. What did you love the most?
I loved the fact that I could make it to my dream destinations. Haha. Actually, it's true. Many times your journey itself becomes your destination, and something similar happened with me on my trip to Kedarnath and Badrinath. My trip wasn't a smooth highway but I enjoyed its crookedness just as I enjoyed the crooked roads up to the mountains on my journey. With train schedules going haywire, it led some strangers into my travel experience and they only added to the bliss. It was my solo trip, and I must say, as we wander about, looking for ways out of certain challenging situations we might find ourselves into, we get to meet so many new people, most of who are so friendly, helpful, and indeed come across as angels.
I had visited Kedar-Badri in the month of October. While in the nights the temperature in Kedarnath used to be sub-zero (the winters, we Mumbaikars always dream about), the morning weather used to be quite relaxed and pleasant.
From Rishikesh, on our route to Kedarnath, we passed by Devprayag, Shrinagar, Rudraprayag, Augustyamuni, Guptakashi, Sonprayag, and finally reached Gourikund, from where the actual journey towards Kedarnath begins, which is the Kedarnath temple trek. I reached Gourikund in the evening and was supposed to begin the trek the early next morning. In the hotel, where I checked-in in Gourikund, I happened to meet two travellers, who informed me that the weather at Kedarnath was quite cold and the temperature was at freezing 0 degrees Celsius. I geared up myself and my mind for the challenge of both the freezing cold and even the Kedarnath trek distance of a steep 16 kms. The next day when I started with the trek, I was quite determined that I will walk all the way, but it so happened that just 500 mts. into the trek and I was already out of breath and was feeling exhausted. I was wondering how am I going to ever reach Kedarnath. However, I continued with my resolve and my trek. As I was ascending further, nature was turning magical with every step. Be it the surrounding mountains, trees, the gushing Mandakini river below… I felt as if mother nature was re-energizing and charging me up to make it to the temple. I tasted magic for real when I spotted the temple's dome with snow-capped mountains in its backdrop.  This very visual drained off all my exhaustion and after having taken almost 10 hrs. to complete the Kedarnath trek, I wouldn't have minded trekking for 10 more hours.
So, be it the tedious steep trek up to the temple, which of course, later on, turned into one of the most cherished memories of my life along with the magical sunrise; a visit to the delightful Mana village – which is the last Indian village towards the eastern border of Uttarakhand; the divine darshan at Kedarnath and Badrinath temples; the vibrant Ganga Aarti that I attended in Rishikesh; the scenic vistas that I took in from atop the mountains; my beautiful bus journeys across the state of Uttarakhand; the small yet cosy hotels I stayed in; the unexpected truck journey that seemed to be straight out of a Bollywood movie; even the piping hot Maggi noodles I eat along my trek to Kedarnath… I may just lose count of things I loved on my trip. All in all, it was magic unfold, and just as they say, 'When it's magic, it's ought to be all so lovely'. Being in the travel industry, I have had opportunities to travel to many exciting places, both on the professional and personal front, however, I must say, this trip of mine has been not just a trip of a lifetime but indeed an experience of a lifetime, so far. Uttarakhand is my second home and it'll forever remain so.
2. More about your trip

My aspiration of visiting Kedarnath and Badrinath had its roots back in 2014. I had worked on a project on Uttarakhand when I was studying tourism back then. Co-incidentally, Uttarkhand was also the destination where I happened to do my on-field internship and also my first job as a tour manager. Somehow, I never had an opportunity to visit these two destinations, as, even some of the best Uttarakhand tour packages used to take us along a fixed route of Haridwar – Rishikesh – Mussoorie – Nainital – Jim Corbett National Park – Delhi.
At Rishikesh, I always used to see the boards which read Kedarnath 216 Kms. and Badrinath 297 Kms. Meanwhile, when my dream of visiting both these places was still growing stronger after taking roots in my heart, I was promoted to become a tour manager for the international tours in 2018. It was in September 2019, when I had just returned from Bali and was travelling home from the office that I happened to call Pundirji – our associate local guide in Uttarakhand, with whom I used to work back then. I made up my mind to visit Kedarnath and Badrinath in a matter of just 30 minutes. It was that instant. And yes, I must mention it over here… It was the 'Qaafirana' song from the movie Kedarnath that triggered my long time wish of visiting there and now there was nothing that was to hold me back.
Moreover, had it not been for the recommendations by Pundirji, I would have missed out on smaller joys of travelling, which at the end of the day, prove to be the sweetest memories of the place we visit. The biggest example being the sunrise at Kedarnath. Even the 'Mana' village was a sweet accident. I just happened to read a milestone mentioning its name on my way and it instantly found a place on my bucket list.
I couldn't thank the almighty enough, for making it all possible. I never lost faith and things just fell in place… Be it finding someone or other unexpectedly to help me out with the transportation on my way or even with regard to the natural phenomenon, like that of sunrise, which I had a strong desire to see in all its glory and which I could, in the clear skies, even when it was cloudy the evening before. This was my one solo trip on which I indeed lost my heart and found my soul.
3. The best thing about living in the mountains…
The biggest perk of living in the mountains is the peace of mind that we badly miss amidst the hustle and bustle of our urban life. It's in the mountains that we get to disconnect with the world and reconnect with ourselves. Being in the mountains never gets boring for me, rather it makes my soul happy. Every turn on the road has something to say. I think, if you want to get close to nature and need to experience every bit of it, mountains are the best places to be in.
4. Will travelling in the post-Covid-19 world be still the same?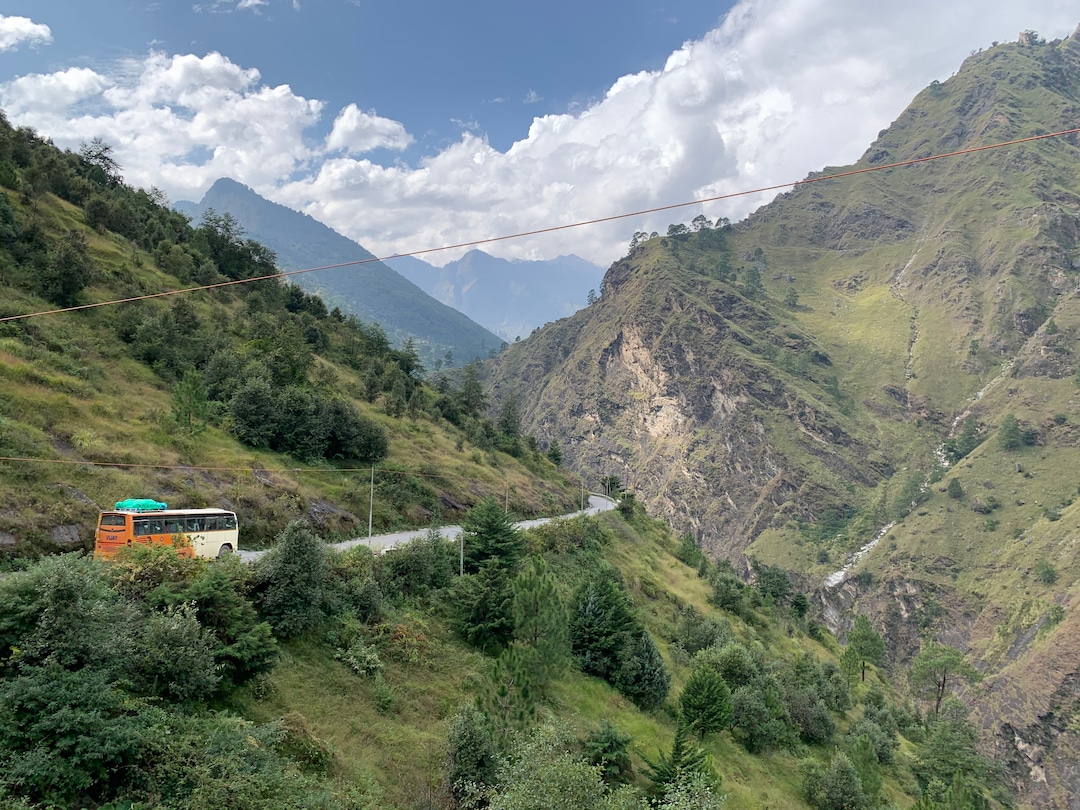 My answer to this question is both Yes and No. Travelling in the post-Covid-19 world won't be the same immediately, and will certainly take some time to get back to normal, with the 'new normal' in place. Having said this, travelling with friends would more or less be the same, because, I think, travelling is a kind of a stress buster for most of us. We travel to escape our normal routine life. I think nothing can ever replace the feeling of boarding a train, bus or flight on a trip. Wanderlust is something that's eternal, be it in the pre-pandemic or post-pandemic world. Therefore, with all of us being more cautious and alert hereafter, personal hygiene and social distancing would be everyone's top priority. One major difference that we would get to see is that most of our friends and family will probably be 'masked' out in pictures and selfies clicked on our trips
So this was Sanjiv Nandodkar, sharing his travel diary with us today. Stay tuned for many more such exciting and captivating stories in the days ahead.