"Every man has two countries: his own and France"
— John F Kennedy
One of the oldest and most culturally diverse countries in Europe, France has been a leader in almost all facets of global culture, including food, winemaking, politics, philosophy, music, art, film, fashion, and literature. This alluring country on the west side of the European continent is known for more things than one can count. Home to 40,000 castles scattered across its thriving landscape, the country has so much to offer, as a nation, as a group of people, and as a part of the European continent. It is one of the world's most culturally diverse, historically significant, and vibrant nations that tourists love visiting.
France is a vital ingredient that adds a charm to the quintessential European landscape. Its deep cultural roots transcend the boundaries of language and culture, making it the jewel of Europe. It is famous for its world-class art and architecture, spectacular coastline, stunning beaches, gorgeous countryside, a staggering amount of history, romantic language that rolls right off the tongue, and the culture and tradition of its countryside, France is what artists and poets dream about.
Whether you are looking for a gentle way of living, rich culture, delectable cuisine, or unforgettable sites, a trip to France promises all that in addition to a relaxing, romantic and thoroughly unforgettable getaway.
The Vibe
Picture yourself walking along the Mediterranean coastline of the French Riviera in Saint-Tropez - with its harbour full of luxury yachts and sailing boats, sandy beaches surrounded by pine groves, and pastel-painted houses on the coastal slopes - or strolling across the drawbridge and drinking in the iridescent glow reflecting off of the wall of the dreamy Château du Haut-Koenigsbourg located in the commune of Orschwiller, atop the Vosges mountains.
Or better yet, cosying up in a hotel room after an especially busy afternoon, sipping from a glass of sparkling wine and popping a piece of perfectly aged cheese in your mouth as the song La vie en rose softly drifts through the open windows overlooking the Eiffel Tower. Sounds dreamy right!?
French soil has an undeniable quality to it that cannot be described so easily - je ne sais quoi as the French say.
France Food Culture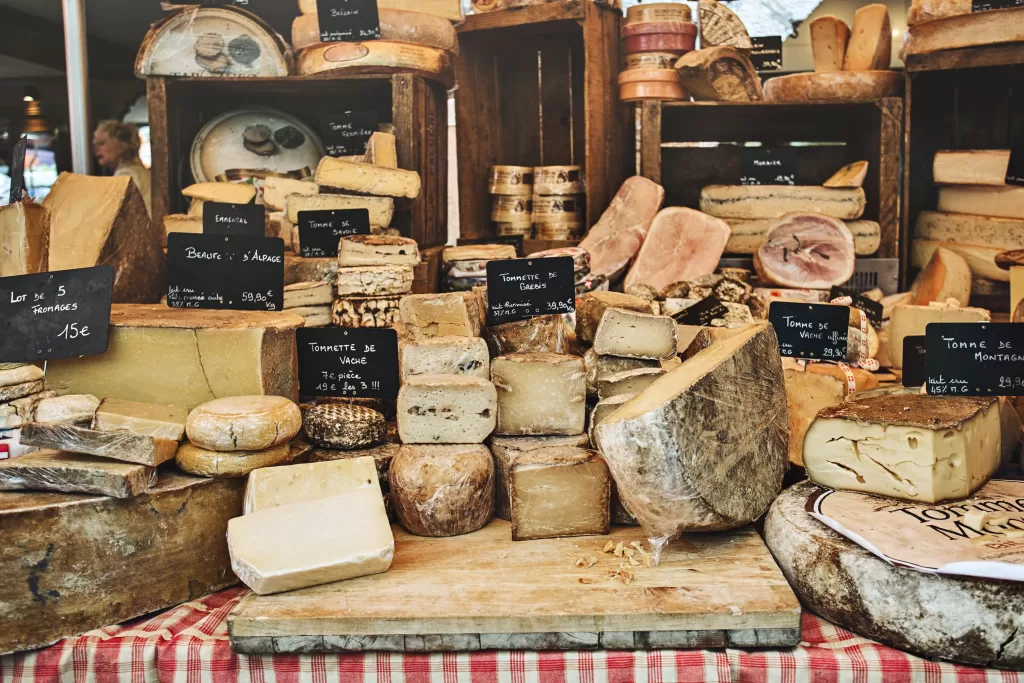 French people celebrate cultural traditions. One of the things that the French adore is their connection to the world of arts, cuisine, style, sophistication, and equality.
One of the main reasons tourists visit France is for the food, but it's not just about what's on the plate. There is a whole world of etiquette and culture surrounding French food and dining. French place a great value on food, and meals are frequently shared with close friends and family members whenever possible. Food is enjoyed and savoured and not rushed like in some countries.
The taste of aged cheese and a piece of bread slowly melting in your mouth as you savour it with a spoonful of Potage Parmentier seasoned with salt and freshly ground black pepper and garnished with chopped chives, delicate parsley or basil leaves.
French cuisine is rich with aromatic herbs and the food is made with the same reverence it is eaten. It is regarded as one of those "French things" French people do. From Salmon En Papillote cooked with fresh-cut vegetables and topped with parsley and star anise to delectably delicious Ratatouille (ra-ta-touil-le), with creamy polenta and a fat piece of grilled baguette toasted in olive oil and sprinkled with rosemary. Bon Appétit!
Whether you are sitting at a refined and upscale restaurant like the 6 New York overlooking the Eiffel Tower or simply taking pleasure sitting in a quaint little cafe somewhere downtown eating a warm Croissant (kva-son) with herbed tea and watching the world go by, each place will connect you to the food culture of France.
The French have a saying that goes, "The stomach rules the mind" and they will always, always find an excuse to gather around food and wine. A reason you will find most cafes and restaurants crowded by local folks. Our advice - book in advance!
And if you prefer to prepare your own meals, you are in luck. The French people are extremely helpful when it comes to food. All you have to do is tell the cheese lady you are doing a traditional plate and she will set you up with the best cheese for the day. Next, go to a wine shop and tell them which cheeses you have, and they will recommend a fantastic wine to go with them. Add some baguette slices, olive oil, garlic, and some flavourful herbs; and you have got yourself a delicious plate.
Also, if you want to discover the depth of the French passion for food and explore the food culture of France, a visit to the many local markets with their incredible array of bread, cheese, oysters, wines, fresh produce etc. is a must.
Art and Culture of France
Art and culture go hand in hand in France.
Regarded as the centre of high culture, French customs, and styles, greatly affect their national pride. And in comparison to a century earlier, the French now not only devote far more time to leisure activities but in the pursuit of diverse cultural experiences as well.
French works of literature, film, and art have all contributed significantly to world history. Monet and Les Misérables to name a few. And this increased emphasis on cultural participation is widely evident and has greatly revived tourism as well. Not to mention that not only tourists but French people delight in visiting the historical sites, art galleries and museums like The Louvre and Musée de l'Armée.
In fact, a trip to France is never complete without a visit to The Louvre Museum. Home to the portrait of the Mona Lisa, Virgin of the rocks, Cana by Veronese, Venus de Milo sculpture, and other most revered art forms.
Other than food and art, literature is also an important part of the culture in France. With the birth of novels as a popular form of writing in the 16th and 17th centuries, there were many novels and plays written that are still performed today in French theatres. Literature and theatre enthusiasts will enjoy a trip to the Théâtre de la Ville in Paris with its countless theatre act, dance and musicale. This is among the most integral facts about France.
As you experience France and French culture you will discover amazing food, incredible art, fashion, history, wine and a new variety of cheese. Every visit to France is a new adventure. The nation and its people are intimately familiar with the concept of art de vivre - the knowledge of how to enjoy life and it reflects in the culture of France.
Afterword
"In France, we have a saying, 'Joie de vivre,' which actually doesn't exist in the English language. It means looking at your life as something that is to be taken with great pleasure and enjoy it."
— Mireille Guiliano
The land of romance, an idyllic European vacation spot with its Chocolate Éclairs, the whimsical City of Light, the iconic Eiffel Tower, unspoilt countryside, rich culture and tradition, France has always been a source of inspiration for many.
From exploring the humongous castle ruins in Les Baux-de-Provence to watching the sound and light show in Carrieres de Lumieres or hiking along the beaches of Etretat to cycling around the market streets Gordes, each part of France will keep calling you again and again. As people say, if you are lucky enough to have taken a France tour, even for a short while, then wherever you go, for the rest of your life, France will stay with you.
Bon Voyage!