Reading Time:
9
minutes
Chilika Lake, located in Odisha is a pear-shaped saltwater lake spreading across around 1100 square kilometres. It is the largest saltwater lagoon in Asia and the second largest in the world. Connected to the Bay of Bengal by a 32 kilometres long and 1.5 kilometres wide channel, the exact location of Chilika Lake is in the middle of coastal Odisha. The total length of this lake is 64 kilometres and the maximum breadth is 20 km. Being the paradise for bird watchers and nature lovers it is, you get a chance to visualize some rare, vulnerable and endangered species of birds, turtles etc. It is one of the major hotspots of biodiversity in the country and during the peak migratory season, you can see over 160 different bird species. Apart from being a highly productive ecosystem with rich fishing grounds, this place has a great cultural and heritage value as well.
Wildlife in Chilika
Chilika Lake region serves as a wintering ground for different species of aquatic birds that come here every year and it also hosts thousands of flamingos as they come in their breeding season. Other common species that can be witnessed here are purple moorhen, flamingo jacana etc. Apart from a large number of residents and migratory birds, this place is also home to wild animals and aquatic species like blackbuck, golden jackals, spotted deer, hyenas, prawns, dolphins, crustaceans etc.
Must-Visit Places
This saltwater lagoon is studded with a few small islands adding to its scenic beauty and every island has its own charm to enthral a large number of visitors. There are several must-visit places that are located in close proximity to this lake. Places that you can visit in and around Chilika Lake include:
Kalijai Temple: Located on Kalijai Island, this beautiful temple is surrounded by water from all sides. The presiding deity of this temple is Goddess Kali, worshipped by locals here and considered the goddess of good times. The maximum influx of visitors can be witnessed during Makar Sankranti.
Nalabana Island (Nalabana Bird Sanctuary): The Nalabana Island serves as the main refuge point for a large number of migratory bird species that come from colder regions like Siberia, Iran, Iraq etc. every year. The most common migratory bird species that can be seen during the peak season include some exotic ones as well like black-tailed godwit, spoon-billed sandpiper, regal flamingos etc. You can visit this island between October to April as it remains mostly submerged underwater for the rest of the year. It became a sanctuary in December 1987. The best way to reach here is by taking a boat ride from Barkul.
Satapada: Famous for Irrawaddy dolphins, Satapada is located 48 kilometres away from Puri. It is one of the only two places in the world where these dolphins can be seen. Other varieties of dolphins that you can witness here are white-nosed dolphins, bottlenose dolphins, etc.
Rambha Bay: Rambha Bay is a group of many small islands, located at the southern coast of Chilika Lake. Being an abode of picturesque landscapes, it is well known for its natural beauty. The major islands nestled in Rambha Bay are mentioned below:
Breakfast Island: Breakfast Island is a pear-shaped, bright yellow coloured structure in the middle of Chilika Lake. This island lies between Badakuda and Somolo islands and you have to take a 20 minutes boat ride from Rambha to reach here. The island got this name because the majority of tourists bring their breakfast and have it here while soaking in the beauty of its pristine surroundings.
Honeymoon Island: It is also a major island that is a part of Rambha Bay. Surrounded by clear, shimmering waters, this island has an enchanting surrounding of hills. Another name of Honeymoon Island is Barkuda Island. You can see red and green macro algae here in abundance. And, limbless lizards, an epidemic species, is another major attraction of this beautiful island.
Ghantashila Island: Covered with large rocks, this is another island in the Rambha Bay. Here, you can find a cave-like structure that is basically a narrow space under a huge stone. Locals consider it an abode of Lord Shiva and worship here.
Becon Island: Located in the southernmost region of Chilika Lake, this island houses a beautiful conical pillar and a small room constructed on a huge submerged rock. This structure serves as a great example of architecture.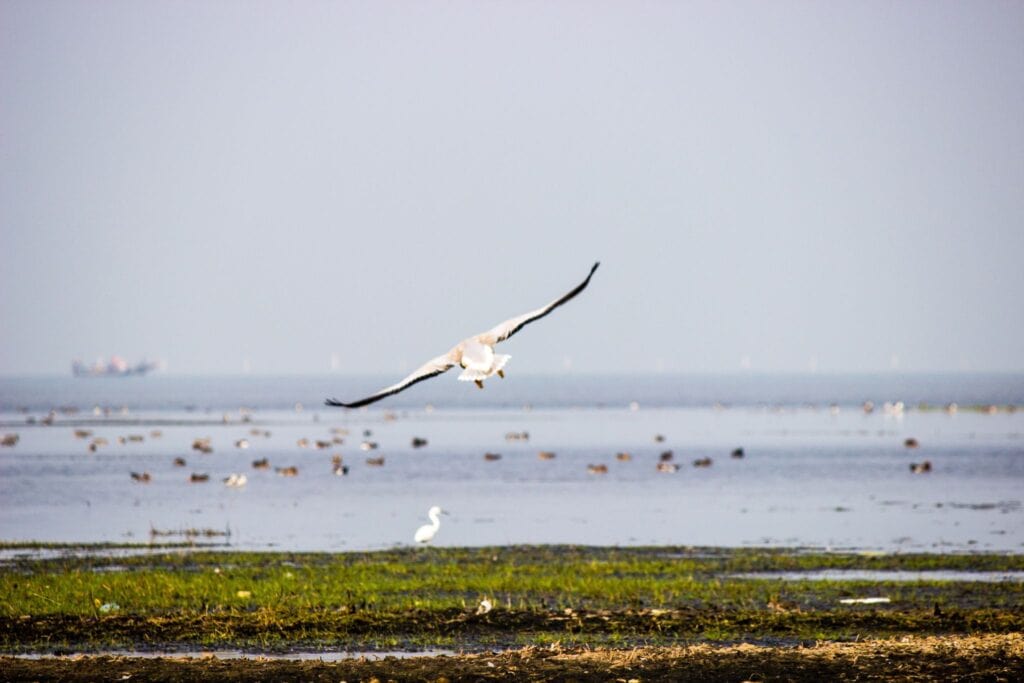 Birds' Island: Birds' Island is another perfect spot for bird-watchers. As the name suggests, on this island, you can witness a variety of birds nesting in their natural habitat. It is covered with a variety of herbs, shrubs and trees. The granite rocks you find here are the remnants of Eastern Ghats. You will also find some huge white rocks on this island, which have been coloured from the folic acid found in the droppings of various bird species that come here.
Rushikulya Beach: This beach is famous for being the nesting site of the olive ridley turtle. This turtle species can be witnessed here for a few weeks every year. It has now been declared as a protected area and in order to visit this beach, you will need special permission from the officials.
Rajhans Island: Rajhans Island is a perfect spot for people who want to escape from the hustle-bustle of urban life and need some quiet time with themselves. This place offers an enchanting view of swaying casuarina trees and the confluence of Chilika Lake and the Bay of Bengal that is definitely a sight to behold. Also, If you want to savour some famous dishes of Odisha with their authentic taste then Rajhans Island is your best bet. Here, you can find lip-smacking seafood to satiate the foodie in you.
Mangalajodi: Mangalajodi is one of the oldest villages in this region and another paradise for bird lovers. Here you can see quite a few species of migratory birds including some exotic ones too. Apart from this, Mangalajodsi is famous among the locals for its religious significance as well. It has a number of temples and the village's traditions include celebrations like Danda Yatrais and Paika Akhada.
Sea Mouth Island: The existence of this island depends on tides as it comes out when the tide is low and then gets submerged underwater during high tide. It is located where Chilika Lake meets the Bay of Bengal and you can reach here by taking a boat ride from the town of Satapada. The major attraction of this island is a beach where water is so clear and shimmering that it sparkles like diamonds under the sun.
Maa Tara Tarini Temple: Dedicated to two goddesses Tara and Tarini, this temple is situated along the banks of the Rushikulya river and on the top of a hill. These two goddesses are believed to be twins and to reach here, visitors have to climb around a thousand steps. This temple sees an influx of visitors throughout the year but an annual event is organized in the Chaitra month according to the Hindu calendar.

Best Time to Visit
Winters is the best time to visit Chilika Lake in Odisha. From November to March, the weather is extremely pleasant here and you also get to witness a variety of migratory birds.
Being home to a number of endangered species of flora and fauna, Chilika Lake in Odisha has been listed as a tentative UNESCO World Heritage site. There are a lot of things that you can do in and around this place.
While booking Odisha tour packages, Chilika Lake needs to be on your travel itinerary as it has something for everyone.