Reading Time:
9
minutes
Rishikesh is the charismatic city in the foothills of the Himalayas, located in Uttarakhand. The city has two distinct names that catch the essence of this alluring place- Land of God and The Adventure Capital of India. The sparkling holy Ganges, soul-touching Hindu prayers and peaceful environment for spiritual connection justify the name given to this marvellous city.
However, Rishikesh is also known for its adventure potential. Every year, the city welcomes thousands of adventure junkies to dive into thrilling activities from white water rafting to bungee jumping.
You can spend your time in emblematic adventure activities and have the most wholesome experience of your life besides the holy Ganges. Although, Rishikesh has a pleasant and favourable climate all year round the best time to visit Rishikesh depends on your travel purpose. The idle time for a spiritual trip, adventure-seeking trip, or wellness retreat is different. You can plan your visit to this serene city of Uttarakhand according to your travel goal.
Here is the list of recommendations about the best things to do in Rishikesh that you can include in your Rishikesh tour package.
River Rafting: Dash through the strong waves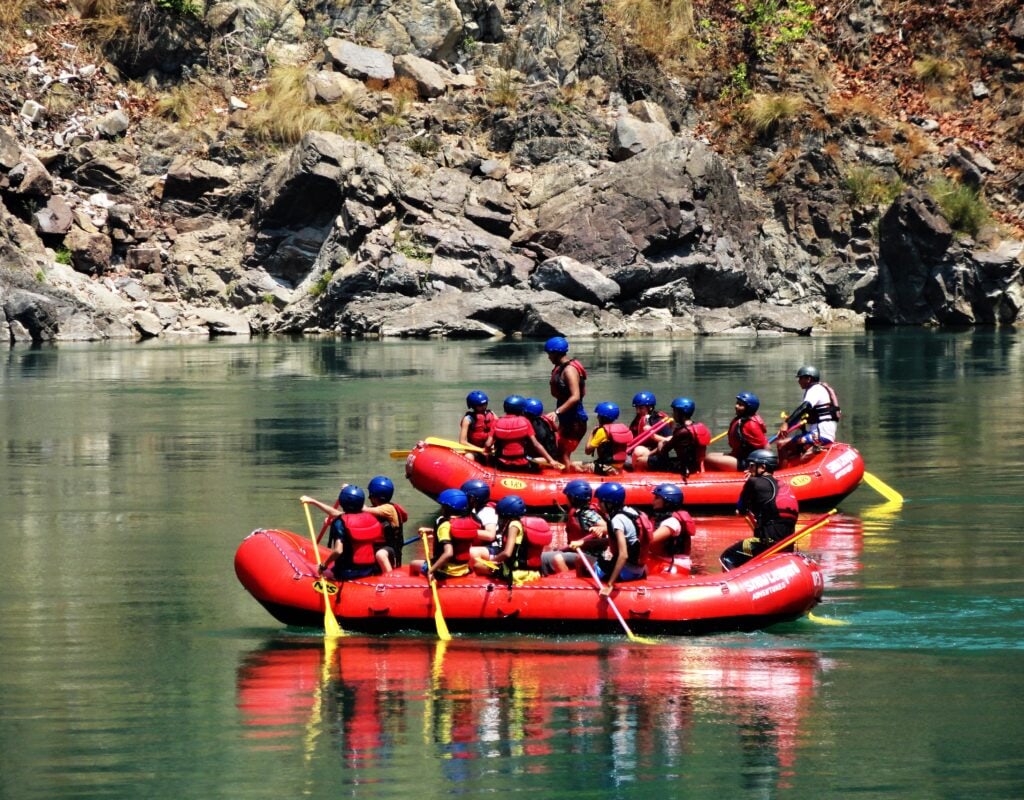 If you are a thrill-seeker, you must know that Rishikesh and river rafting is the most deadly combination when it comes to adventure. The strong waves of the holy Ganges offer the best white water river rafting experience you will ever have. It is not just another adventure, you get to ride the untamed waves of the Ganges as you raft through the river. River rafting in Rishikesh is a dream for many adrenaline junkies. Many young age crowds go to Rishikesh just to experience this water sport. The long stretch of the river is approximately 37km which is suitable for rafting.
The best time to visit Rishikesh for river rafting is between the months of September to June. Excluding the Monsoon season, you can try this water sports activity in all other seasons. The rainy season is not the best time for rafting in Rishikesh due to the sharp water current and high water level in the river.
Bungee Jumping: Dive into the nature
For those who want a dose of thrill and shrill, there is nothing better than bungee jumping in Rishikesh. You will get an adrenaline rush by jumping from 80m height above ground level. The bungee jumping point of Rishikesh is one of the highest bungee points in India.
This is a perfect place if you want to dive into the middle of the glorious green valley and enjoy the picturesque view of the ravishing Himalayas. You do not need to worry about safety during bungee jumping as the Bungy platform is safest in Rishikesh and the activity is performed under expert guidance. The best time to visit Rishikesh for bungee jumping is between March to June and September to December. Easily, winter and summer months are the best months to visit Rishikesh as most of the sports activities and tourist places are open during this time.
Camping: A stay in the lap of nature
Only when you experience camping in Rishikesh, you would understand the majestic beauty of this place on a cold starry night, by a warm bonfire. A weekend getaway to Rishikesh camping sites is one of the best decisions to take a break from a monotones lifestyle.
The clean air, magical surrounding, and panoramic view will take your mind off from all the worries and rejuvenate your soul. The best thing about camping is that you can pack your bag and leave for an adventurous journey where you can stay in a cosy tent and explore some breathtaking activities. The best time to visit Rishikesh for camping is late September to Mid-November and early March to the first week of May. Monsoons are generally not preferred for camping or water sports activities due to surges in the river Gange's water level.
Trekking: The uneven path of the Himalayas
Explore the trekking trails of Rishikesh, which is as exciting as any other activity at this astonishing place. A perfect vacation for a diehard adventurer is incomplete without trekking on the uneven terrain of the Himalayas. Rishikesh trekking routes have moderate to high level difficulty. Some trekking paths are suitable for seasoned trekkers while the newbies can explore the valley.
There are various popular places to visit near Rishikesh for trekking such as Kuari Pass Trek, Chandrashila Trek, and Valley of Flowers Trek. The best time to visit Rishikesh for an adventurous trekking journey is between November to March. Colder months are preferred for on-foot explorers due to favourable weather conditions for a trek.
Mountain Biking
Exploring the mountain roads around Rishikesh sounds quite fun! Mountain biking is an activity for the brave-hearted. The summer season is the best time to visit Rishikesh to try this thrilling sport, as it is very risky to drive around mountain tracks in winters and monsoon. Some of the tracks are open during the winter months for enthusiastic travellers.
You can try a few sports activities in the daytime and enjoy a cosy stay in camps for the most rewarding experience. The best time to visit Rishikesh for activities such as rafting, bungee jumping, and mountain biking is from November to March.
Rishikesh Temples: Pursue your spiritual calling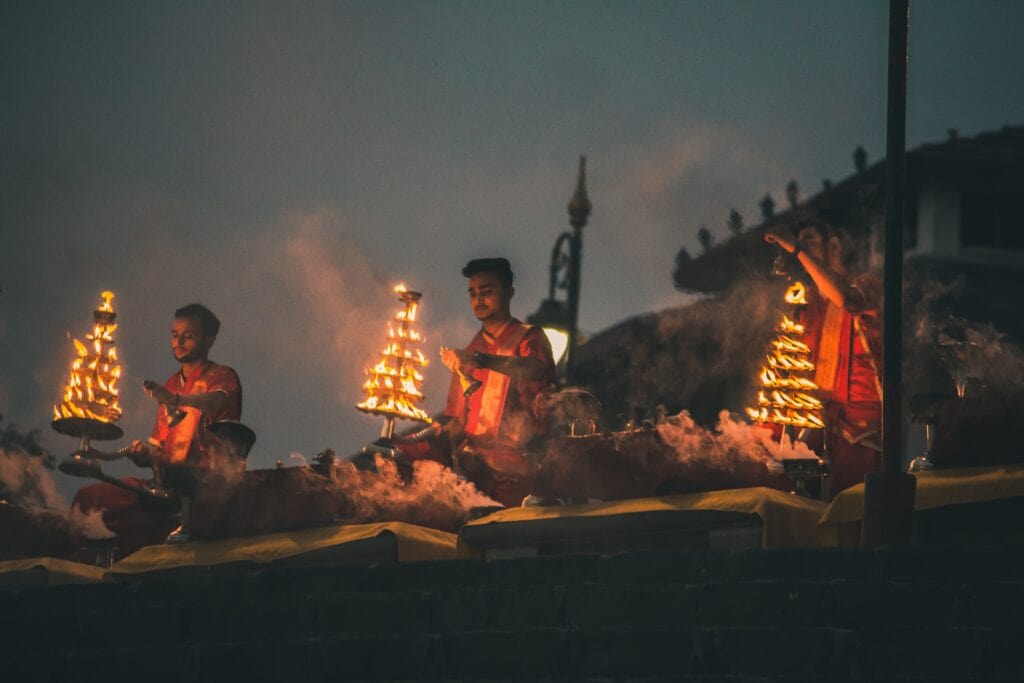 This Land of God is well known for its spiritual significance. There is something divine in Rishikesh's atmosphere that gives a sense of calmness and positivity. Rishikesh is studded with ancient temples built around the city. This place is a prime location for Hindu sages for meditation and worship. The temples in Rishikesh were built in ancient times and have a fine sculpture that is worth your attention. Raghunath Temple, Mahadev Temple, and Trimbakeshwar Temple are some of the most famous places to visit in Rishikesh. The traditional worship practice and the Ganga Aarti are the highlights of this place. If you want to plan a spiritual trip to Rishikesh, the best time to visit would be, the colder months.
Yoga and Meditation: Wellness Retreat
Famous as 'Yoga Capital of the World', Rishikesh is the perfect place for a calm and rejuvenating holiday. There are numerous yoga centers that teach minutiae of yoga and meditation. You can plan a stay-cation at these centers and enrol in a wellness course to benefit from the wisdom and experience of yoga teachers. There is no specific time to visit Rishikesh for a wellness retreat. You can plan a refreshing trip to this hilly area throughout the year. Whenever you feel choked up in the big city life, it is the best time to go to Rishikesh for an unparallel and spiritual experience.
Stay in Ashram
Rishikesh is famous for its healing vibes and people visit Ashrams to connect with God in the true sense. These ashrams have a holistic healing approach for mind and soul. You can spend a couple of days in such ashrams to disconnect from the outer world and center your mind. These places have a serene environment where you can interact with like-minded people. If you are looking for the best time to travel to Rishikesh, we recommend you plan your trip according to your travel goals. For a staycation in the ashram, you can easily go on weekends or stay for a whole week for a more intense experience.
Overall, Rishikesh is a traveller's delight. You can visit this mesmerizing place at any time of the year. The best time for visiting Rishikesh depends on your preference. This is a blooming place all year round for pilgrims and leisure travellers. Prefer to go in the winter and summer season to avail benefits of various adventurous activities.