Reading Time:
11
minutes
There is a saying "When you miss the beach, head towards Goa!"  Isn't it right? This place is known to be one of the most loved places in India. It's not a surprise that this tropical paradise is packed with tourists most times of the year. Whether you plan a trip to Goa in monsoon, summer or winter, it is always a good time to visit Goa. You can find tourists lounging on the beach during the day and dancing their heart out in popular night clubs of Goa. It is one of those destinations in India that gives tough competition to international tourist places. Also known as 'The Pearl of the Orient', Goa will rejuvenate your mind and relax your body. If a vacation in Goa is in your bucket list then here is the best time to visit Goa depending upon your travel plans:
Goa in Winter 
Peak Time: November to March
If you are visiting Goa for the first time then winter is the best season to witness its beauty in all its glory. Winter (November to March)  is known to be the peak tourism season of Goa. The destination becomes a giant celebration hub where people of all ages have a gala time. Cultural events, parties and festivals are lined up continuously during winter calendar months. It's a vibe that you shouldn't miss at any cost. When you visit Goa in winter, you will be surprised by the spirit of this place that is completely transformed by the illuminated streets and enthusiastic tourists. Besides this, you will also be spared by harsh sunlight during winter as Goa has pleasant weather in winter time, making it best weather to visit Goa. However, don't forget to apply your sunscreen as it is very easy to get tanned even in winters when you spend countless hours on the beachfront.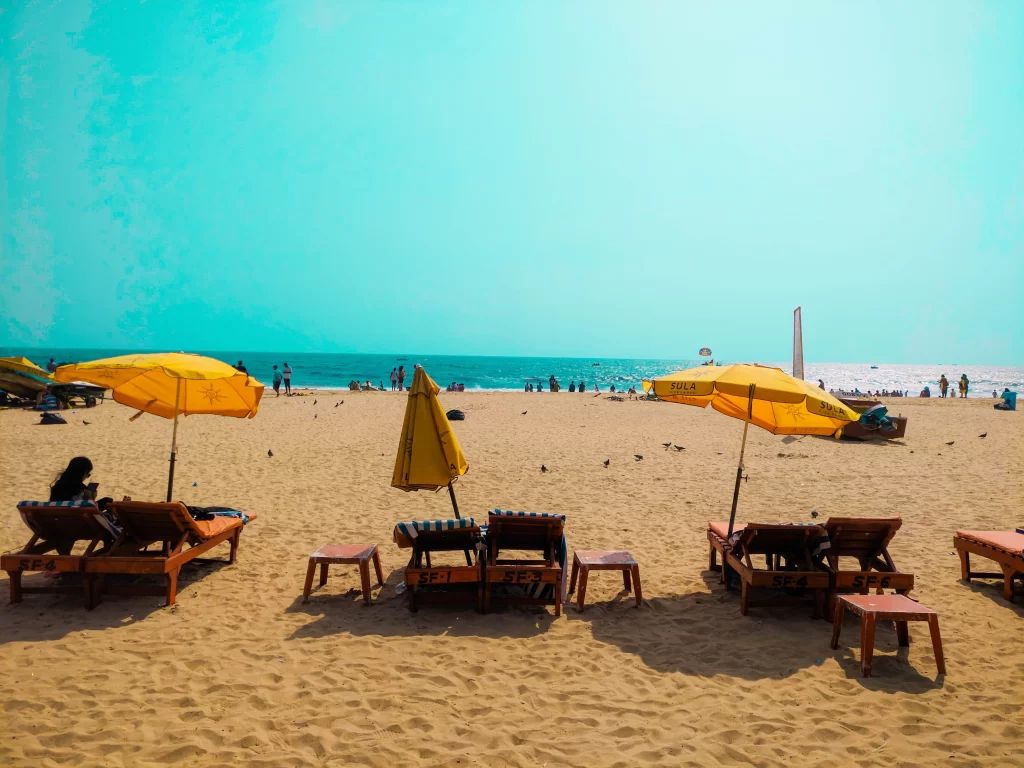 Why Should You Visit Goa in Winter?
Whether you are on a family trip, friends trip, travelling with your partner or solo, you cannot go wrong in planning a vacation to Goa in winter. Make sure to book your Goa holiday package in advance to avoid any surcharges on the hotel and transportation rates. The destination is buzzing with tourists at all places during winter, be it, beaches, restaurants or pubs. During Christmas and New Year time, the city dolls up to welcome the next year and say goodbye to the previous one. Many people visit Goa during this time to celebrate the arrival of next calendar year on a beach with booze, dance and celebration.
If you want a quiet and peaceful vacation, then heading to South Goa is your best bet. You can enjoy the laid-back and serene side of Goa and witness a lot of greenery and mangroves in this part of the city. Other than this, there are several top-rated restaurants in South Goa where you can have a soul-filling meal with your loved ones.
If you want to see the fun and energetic side of Goa, head towards the north. Here you can feel the vibrant energy and much talked about nightlife of Goa. Popular parties, events, and celebrations are happening on most of the North Goa beaches. You can go to any beach and let your inner child go wild.
Significant Events in Goa during Winter
Winter calls for numerous celebrations and events in Goa. Some of the highlights of this season in Goa are:
Goa Carnival Festival
This festival is one of the most famous events in Goa. Tens of thousands of tourists fly down to this beach destination to celebrate the Goa Carnival festival with zeal. Every year, this festival is organized in the month of February. You will be amazed by the spread of delicious food, party music and dance in Goa Carnival. People love to take the party to the streets of Goa and bring out the best of this place.
Christmas
Celebration is in roots of Goa. This place has many churches which light up for Christmas celebration. You can visit Church to hear the sound of carols, join morning prayers and witness their beauty.
New Year's Eve Celebration
One of the biggest celebrations in Goa happens on December 31st. This is the best month to visit Goa if you are a party lover. The beaches, restaurants, and bars are filled with tourists. The famous fireworks, karaoke, and live performances are happening at every place that will take your vacation to a whole new level.
Goa in Monsoon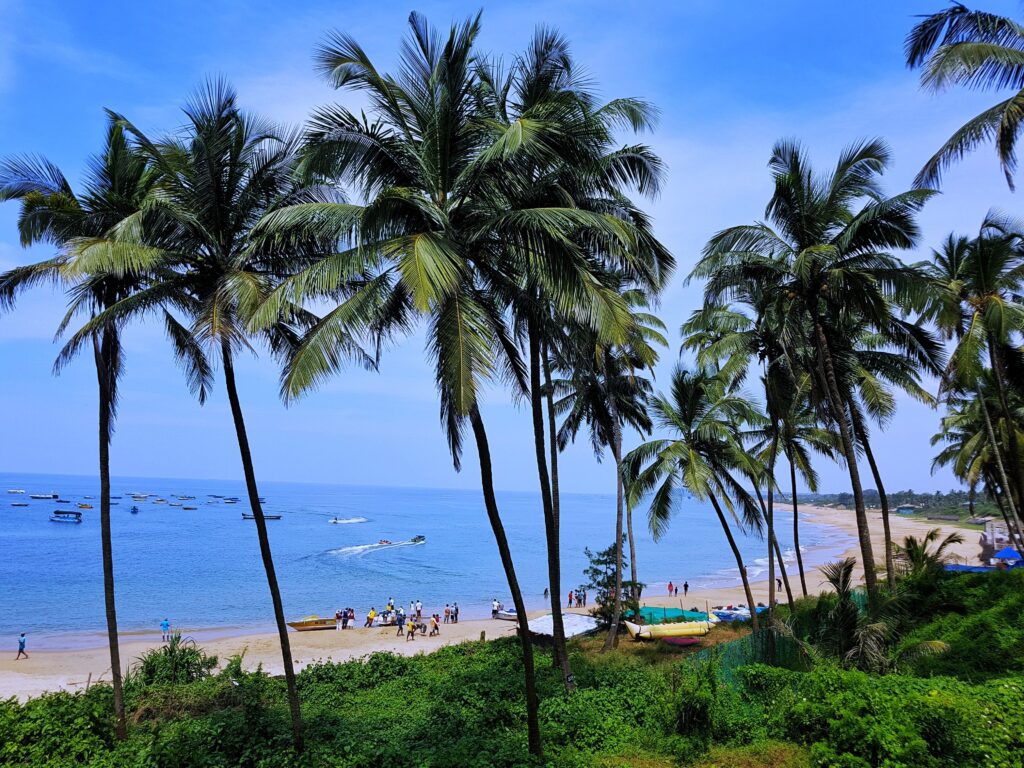 Off Season: June to September
Goa in the monsoon is a sight to behold forever. If you are an avid lover of nature and its beauty, you will fall in love with Goa in the rainy season. The entire city looks vibrant and green after taking a monsoon shower. Though the monsoon season is known to be a less popular time to visit Goa, the city feels fresh and rejuvenated during this season. It is the best time to visit for those who like a peaceful and intimate vacation. It is the perfect season for honeymooners as tourist places are not very crowded and one can get the best hotels at much lower rates.
Why Should You Visit Goa in Monsoon?
Monsoon brings out the best of Goa as the city receives plenty of rainfall during this season. You can enjoy a cozy vacation without the pounding music and crowded pubs. Quaint cafes, clean beaches, and five-star hotels are the perfect combination to grab and have a low-key vacation. You can take your time to enjoy a hearty meal in the restaurant, take a long walk on the half-empty beach or sit on the balcony of your room to enjoy a pleasant view. Besides this, if you are a shopaholic, then you are in great luck. Clothing, hats, and beach wear are available at unimaginable rates due to low demand in the market.
Goa is also known to be one of the best places to get tattoos and have spa sessions. The spa centers and tattoo shops give phenomenal discounts during this season.
Significant Events in Goa during Monsoon
Rain does not wash away the spirit of Goa. There are several celebrations during this season:
Patolleanchem Feast
This festival is celebrated on the 15th of August every year. If you are intrigued by the culture and tradition of any place, then visit Goa during this season to witness this unique celebration by the Goan people. Local handicrafts are displayed on this day along with a feast. In the celebration, Patollea is served, which is a sweet dish made of coconut, rice, and jaggery.
Bonderam Festival
This festival is celebrated on the Divar island near Panjim. At this festival, local people wear colourful clothes and traditional music is played. As a part of the festival, toys made of bamboo are used to knock down flags. It is done as a mockery to condemn the conflict between villagers in the Portuguese era.
Goa in Summer
 Shoulder Season: March to May
Watching the sunset on a Goa beach sounds like a perfect vacation, right? Goa in summer is nothing less than a glorious destination. This is that time of the year when the influx of tourists starts to reduce. You can find hotels and restaurants working at their optimum capacity and giving equal attention to their guests. This is a much preferred time to visit Goa for those who do not want to miss the party but also want a quiet time. The shacks are still on the beachfront, where you can lounge the entire day and soak in the majestic view of the land. A vacation in Goa in summer means golden sand, endless waves of the ocean and melodious music in the background.
Why Should You Visit Goa in Summer?
A beach destination is fabulous in summer, and Goa is no different. The place has the perfect balance of fun and peace. The weather is never unbearable as the tropical air swings its magic. When you walk on the road, tall palm trees sway in the direction of the wind. The beaches are clean and welcoming, where you can spend quality time with your family. When you visit Goa in summer, you can find everything at decent prices, from transportation to accommodation. However, you can eliminate the hassle by opting for a travel package.
Significant Events in Goa during Summer
Goa has several celebrations during this time of the year. Some of them are:
Shigmo Festival
This festival is a different version of Holi in Goan culture. The Shigmo festival is celebrated in Panjim for 14 days. It is celebrated to welcome the spring season. It is the best time to visit Goa if you want to get an insight into the Goan culture and heritage. Folk dances, firewalking, and feasts are the highlights of this festival.
Sao Joao Festival
This is a harvest festival celebrated in Goa. The celebration is unique in its own way, as people in Goa leap into wells on this festival. Local people pray for a good harvesting season and monsoon during this festival.
Goa is an evergreen destination in India that welcomes a countless number of people in every season. Go for a vacay whenever your wanderlust calls for it.