Reading Time:
9
minutes
Goa, India's smallest yet most beautiful state, is one of the favourite beach destinations in India. Situated on the southwestern coast of India in the Konkan area, Goa is a place mostly visited by people between October and May due to a range of water sports and activities. However, the monsoon season is a perfect time to relax and spend a quiet vacation with your loved ones. While monsoon is considered an off-season for Goa trips, less crowd, easily available better-priced hotels and resorts, and less noise on the beaches make this season an ideal time for tourists to enjoy their vacation without any disturbance. Goa in rain becomes more refreshed, secluded, and romantic, giving couples a reason to look for the best Goa honeymoon package. Here is everything to know about the rainy season in Goa.
Monsoon Season in Goa
Since Goa is in the coastal region, it receives plenty of downpours during the monsoon. Sometimes, it can be moderate rain or a brief shower, while on some days, there is a prediction of a thundershower or heavy rain. The monsoon here starts in late May and stays till September, but June to August is the peak period for downpours. While the days are a little hot and humid, evenings are cool and pleasant. If you love the rains and the green countryside that the monsoon season turns Goa into, plan your trip between July to August. Apart from the natural attractions, the monsoon season also reveals the cultural side of Goa, with many traditional festivals taking place in the state. Some of these festivals are Chikhalkala, Bonderam, and Sao Joao.
Things to Do in Goa in Monsoon
1. River Rafting in Mhadei River
While swimming is not recommended in the rainy season due to the rough tides and currents in the rivers, there are many adventure sports, including white water rafting. The heavy downpour makes the river overflow with water, making river rafting more challenging and adventurous. Located in the Sattari district, around 50 km from Goa, the Mhadei River flows through Valpoi village and provides a great opportunity for adventure lovers to enjoy the best river rafting experience in Goa during monsoon.
2. A Bicycle Tour to Rural Goa
One of the best things to do in the rainy season in Goa, cycling is the best way to explore the small rural hamlets, green plantations, and vast agricultural lands. There is nothing better than renting a bicycle and roaming around at your own pace. Cycling will also provide you with the opportunity to feel the cool breeze, explore magnificent structures, visit local markets, and so on.
3. Enjoy Trekking at Udaan Dongor
Situated in the Valpoi taluka in east Goa, the region around Udaan Dongor boasts rich biodiversity. The Udaan Dongor trekking is around 16 kilometres long and will take about 6 hours to finish. With mesmerising views of the greenery, fascinating wildlife, gushing streams, and challenging treks, this trip will be a memorable experience for you.
4. Long Walks Along the Beach
If you are not into rafting or trekking, do not worry, as you still have the chance to enjoy scenic attractions in Goa during the monsoon. Goa is famous for its beautiful sandy beaches like Agonda, Anjuna, Palolem, and Calangute. During monsoon, these beaches become empty and less chaotic, providing a perfect chance to enjoy a serene vacation. A walk through the calm waters combined with peace at Agonda beach in monsoon is just a next-level experience. Relax, enjoy walks on the quiet beaches and spend a memorable time with your loved one exploring the luscious green countryside of Goa in rain.
5. Visit the Dudhsagar Waterfalls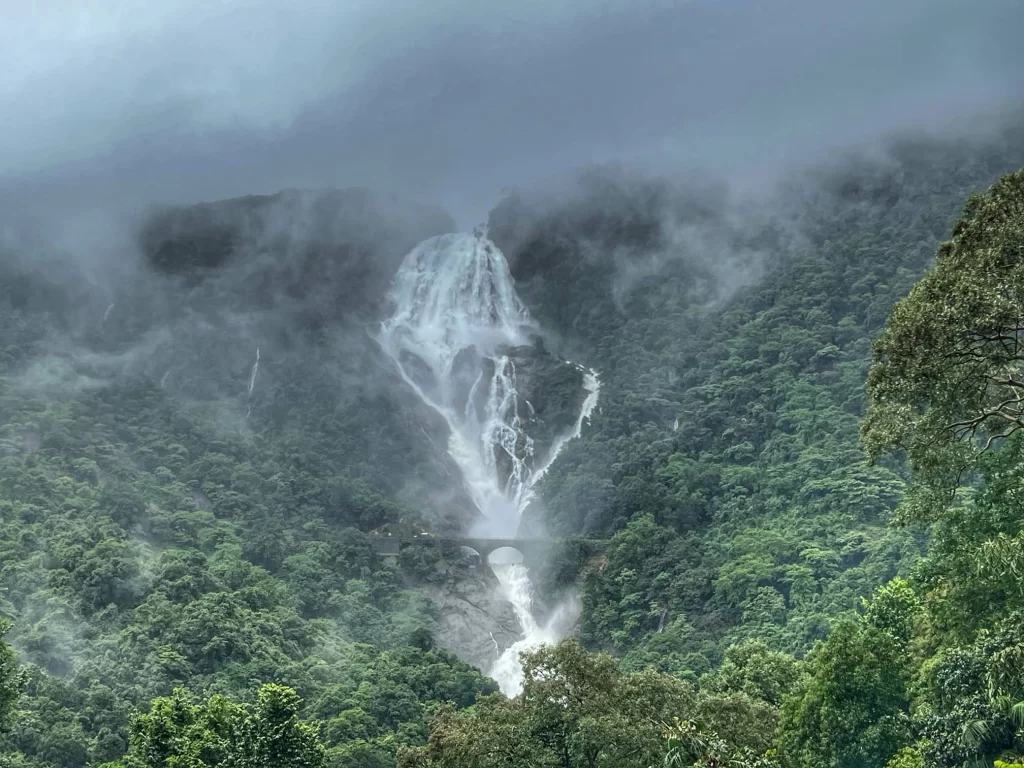 Situated 28 km from Goa, Dudhsagar Falls is ranked among the tallest and largest waterfalls in India. Surrounded by lush greenery, Dudhsagar falls in Goa attracts tourists from different corners of the world. One of the most popular sightseeing spots for nature lovers, this waterfall situated in the Bhagwan Mahavir Wildlife Sanctuary looks at its best in monsoon. You can easily reach this waterfall via train or road through Panaji.
6. Enjoy the Delicious Cuisine
If you are planning your trip to Goa in monsoon, do not forget to enjoy a variety of delicious dishes, including soups, tea, coffee, fish, prawns, and more. Monsoon is a great time to relish the amazing local food of Goa. While many beachside stalls and restaurants remain closed due to rain, the renowned ones remain open, serving guests seafood, cocktails, continental dishes, and more.
Places to Visit in Goa in Monsoon
During monsoon, Goa is not just about the beaches, nightlife, and parties, but it is about some amazing offbeat places that get life due to the lovely rains. Here's a list of some of the best places to visit in Goa during the monsoon.
1. Tambdi Surla Mahadev Temple
One of the oldest temples of Goa, the Tambdi Surla Mahadev Temple is situated amid a lush green lawn near the Surla River. Dedicated to Lord Shiva, the temple has been acknowledged as a protected historical shrine by the Archaeological Survey of India. The surrounding area is covered with gorgeous lush green grass during monsoon, enhancing the look of the grey-black structure of the temple and making it a delight to the eyes.
2. Fort Aguada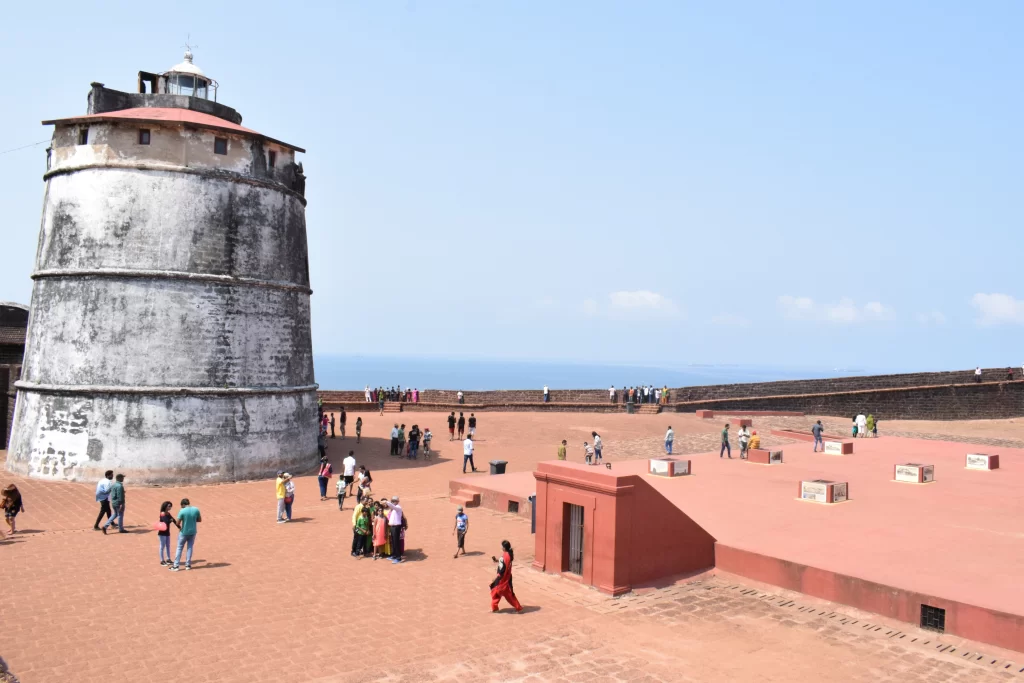 One of the best places to visit in Goa in monsoon, Fort Aguada, is a huge and marvellous fortress, reflecting a historical legacy of about 400 years. Located in Candolim, a prime tourist attraction in North Goa, Fort Aguada offers fascinating views of the surrounding areas. While it looks royal in all seasons, the monsoon makes the fort look more appealing with fresh greenery in the surroundings and a clean-looking structure.
3. Arvalem Waterfalls
Cascading down from a height of 50 m, Arvalem Waterfalls is one of the best tourist attractions in Goa during the monsoon. Also known as Harvalem falls, this waterfall is a popular picnic spot in Goa, especially in the rainy season, when the strong torrent falls madly into the lake below.
4. Archaeological Museum
One of the most popular attractions in Goa, Archaeological Museum is home to a vast collection of artefacts related to the prehistoric and late medieval Portuguese law in Goa. Situated at the back of the Church of St. Francis of Assisi, this Archaeological Museum and Portrait Gallery contain many beautiful artefacts showcased among eight galleries. The museum also houses an outstanding collection of religious artefacts, stamps, and more. While it is not necessarily a place to visit during monsoon in Goa, it is a great way to spend a rainy afternoon exploring history.
Where to Stay in Goa for Monsoon
When planning your trip to Goa in the monsoon, you need to think carefully about the accommodations you choose for your stay here. Since frequent power cut is very common during rain in Goa, you should avoid staying in low-budget places. It is wise to book your accommodation in an upmarket hotel or resort with a power-backup facility to avoid any inconvenience. You can also find some well-equipped hostels in Goa that provide guests with a comfortable stay with full power back, free Wi-Fi, and air-conditioned rooms. If you are planning to stay near the beaches, consider only developed beaches in Goa to find good accommodation options with amenities. The best beaches in Goa duringthe monsoon are Agonda beach, Candolim, Calangute, and Baga.
So, the monsoon season is an ideal time to visit Goa with your friends and family. Make sure to select the best Goa packages to ease your trip planning and have an ultimate travel experience in this emerald land on the west coast of India.