"Him: Where shall we honeymoon?

Her: Anywhere, under the sky!"
Rarely has a conversation about honeymoon planning been this easy! But yes, the idea of travelling anywhere across the world and making it special just for the two of you is indeed exciting and inviting. After all, you are not just paying for a honeymoon trip, you are investing in an incredible experience with your loved one and a lifetime of memories! When you plan your honeymoon, you want the absolute best for you and your partner; which is why you need all the information you can get your hands on to plan the perfect honeymoon trip!
It could be a romantic sunset cruise or a fun-filled adventure activity, a splendid dinner under the stars or a relaxed stroll at the beach, a couple's spa experience or a wildlife safari through the woods; whatever may be your choice or preference, you can enjoy these romantic escapades as you discover each other better and spend the best time of your lives on your honeymoon!
Here are some of the best exotic honeymoon destinations (World and India), that you can head off to in 2018; some are individual destinations while some are countries as a whole; Take your pick and plan incredible holidays for a wonderful honeymoon trip with your significant other.
1.) Andaman & Nicobar Islands, India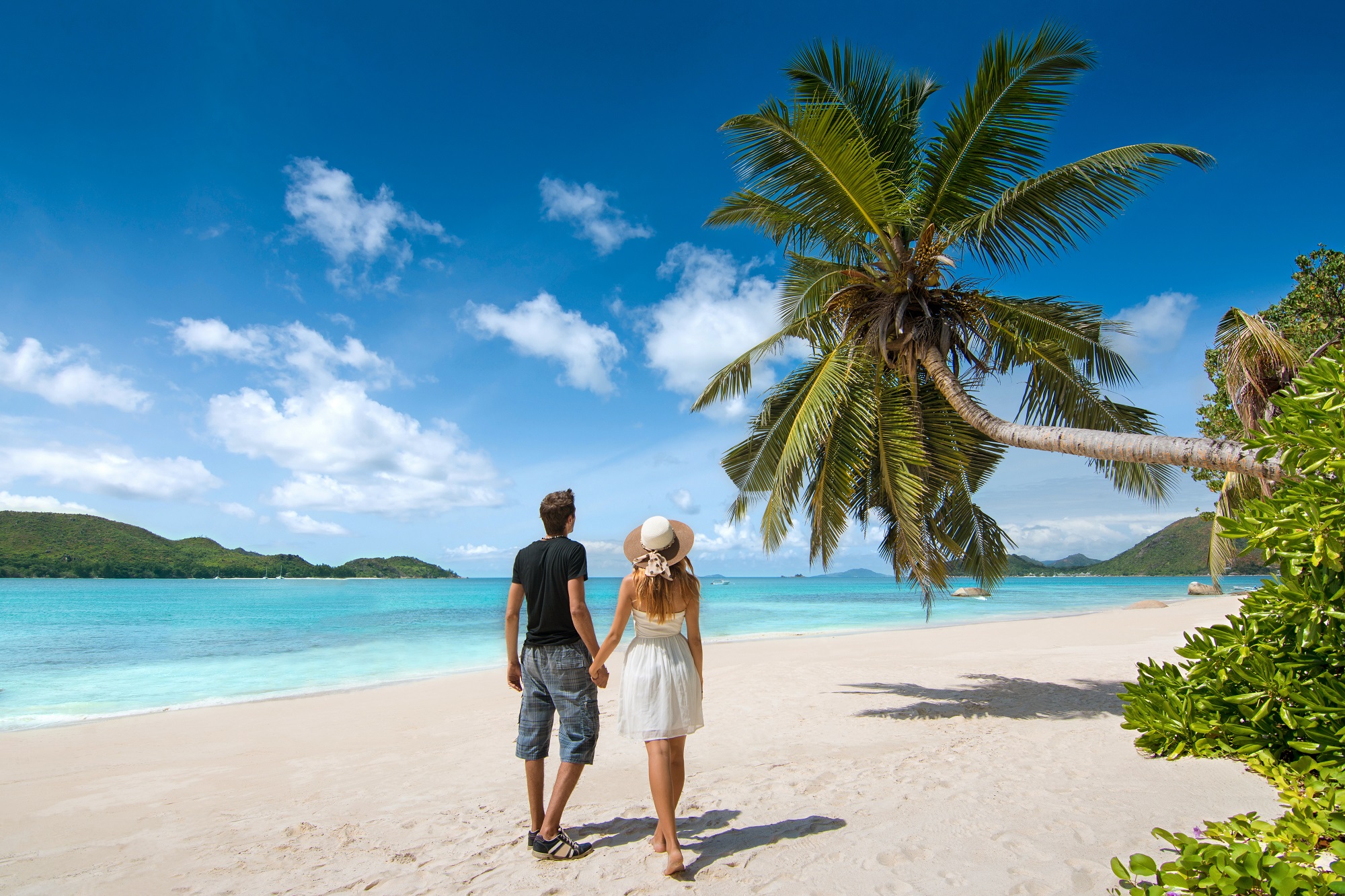 With unparalleled natural beauty and picturesque landscapes, the islands of Andaman & Nicobar, in recent times have become popular one of the best honeymoon destinations in India. Located in the Bay of Bengal, off the eastern coast of India, these islands present a scenic extravaganza unlike any other. Be prepared to be mesmerized by turquoise blue waters, stunning landscapes, palm-fringed coastlines, exotic underwater marine life and some of the best and cleanest beaches in Asia! Andaman is essentially an exotic dream come true, an ideal tropical escape, located just hours away from mainland India. So, get ready for an incredible experience and enjoy 'beach life at its best' with some of the best tour packages to Andaman!
Must-Do Experiences:
Visit Cellular Jail-Museum & Veer Savarkar Smarak at Port Blair
Enjoy Radhanagar beach & glass bottom boat ride at Havelock Island
Try the underwater sea walk at Elephant beach, Havelock Island
Witness the 'Mud volcano & Limestone caves' at Baratang Island
Experience the thrill of water sports such as snorkelling and scuba diving at Jolly Buoy Island or Red Skin Island
2.) Bali, Indonesia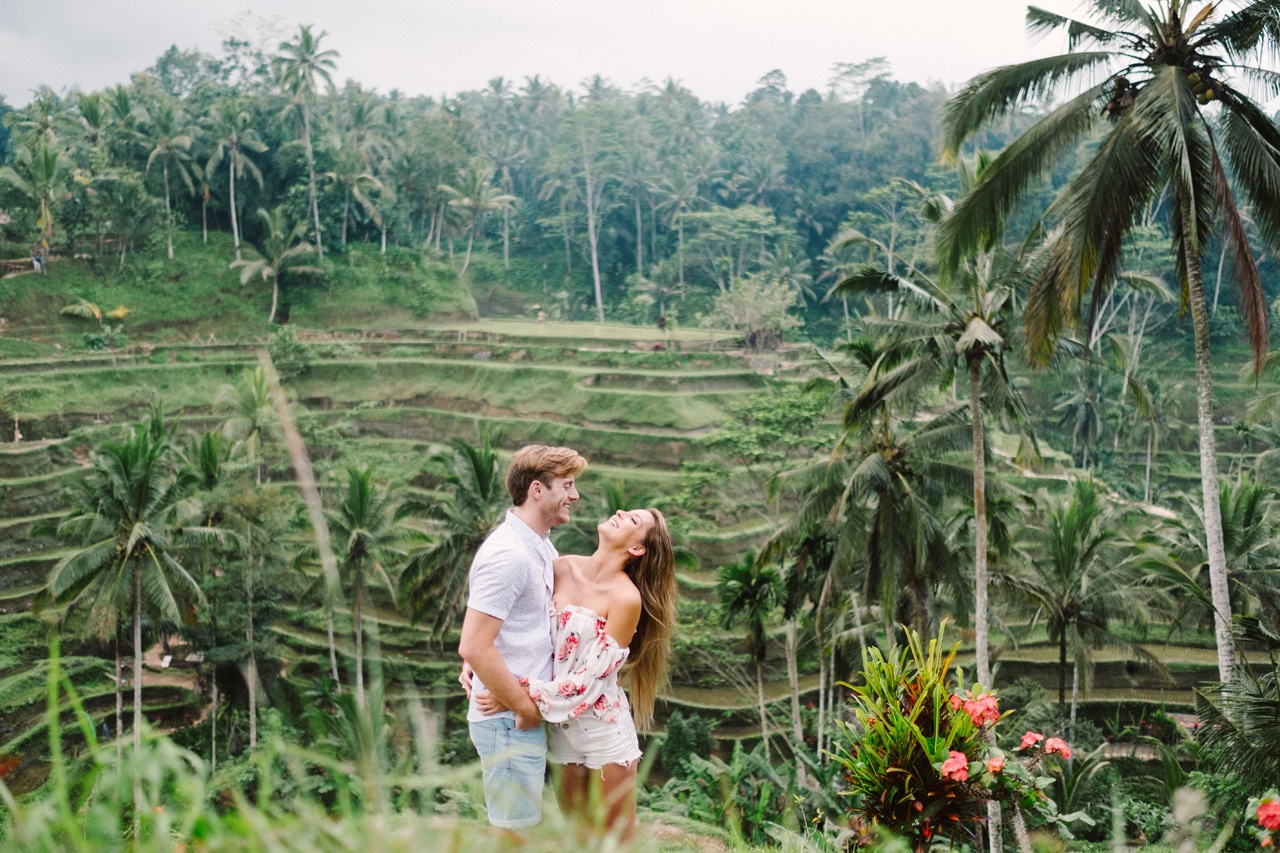 Welcome to Bali – Island of Gods! One of the most picture-perfect honeymoon destinations that beckon you to embark on a new journey of life amidst its enchanting surroundings. A beautiful forested island, Bali is part of the Indonesian province and is located in the Indian Ocean. Abundant with lush green rice terraces, rugged coastlines, forested volcanic mountains, stunning coral reefs and a collection of iconic religious monuments, Bali will enthral you with its scenic landscapes. Go snorkelling in the clear blue waters, enjoy island hopping near Bali, watch a Balinese traditional dance, marvel at beautiful sea-side temples and immerse in the peaceful culture of this land. Discover Bali, the land of unique experiences and fall in love with your special someone at one of the best international honeymoon destinations in the world!
Must-Do Experiences:
Visit Pura Tanah Lot & Uluwatu Temple at Kuta
Witness Mount Batur (Kintamani) Volcano and Lake Batur
Enjoy white water rafting at Ayung River, Ubud
Help yourself to some exciting water sports activities at Tanjung Benoa
Be mesmerized by the traditional Indonesian 'Devdan Show' at Nusa Dua
3.) Miami with Bahamas Cruise, USA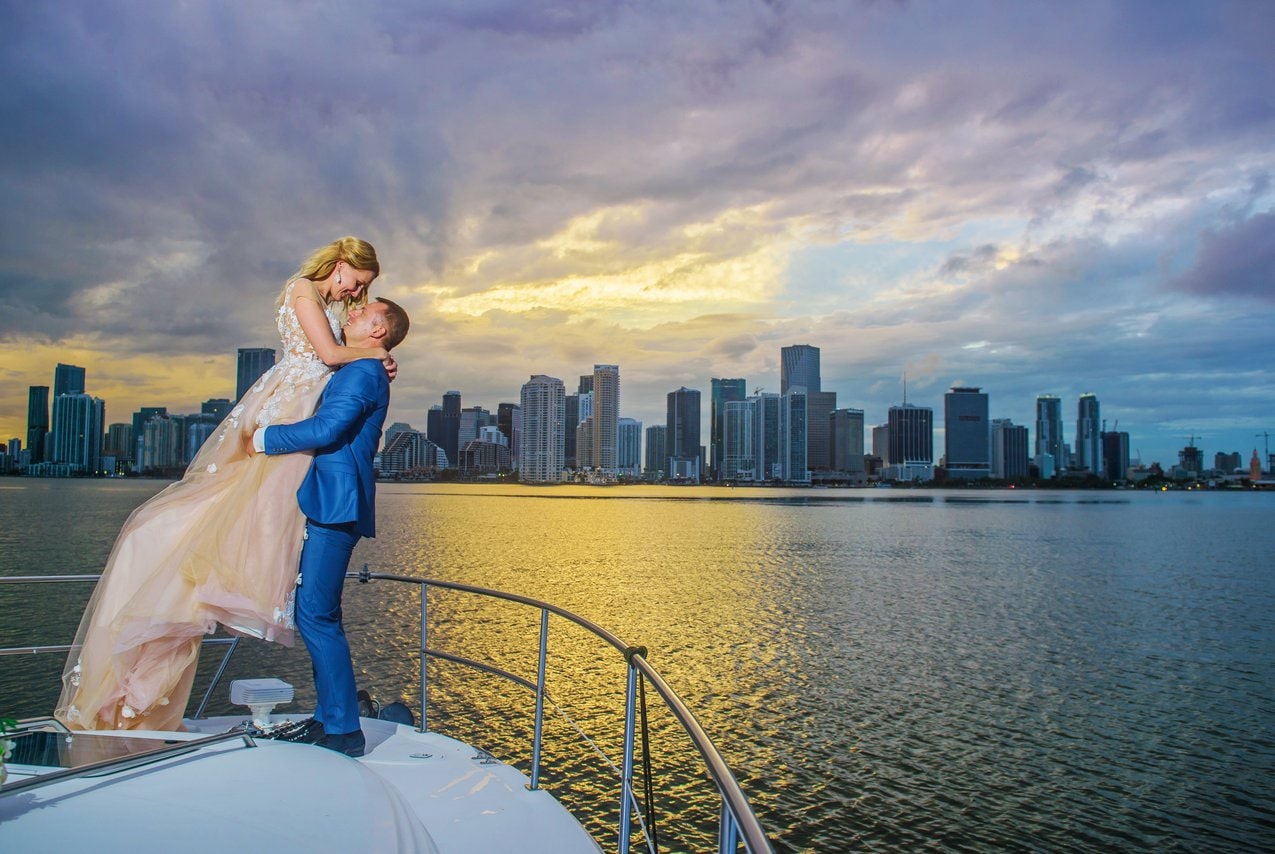 A popular beach city located at the southern tip of Florida, Miami is famous for its relaxed beach lifestyle, colourful artsy buildings, white sandy coastlines and glamorous nightclubs. With such a blissful setting, Miami proves to be the ideal exotic getaway for couples who wish to experience the sun, sand and surf on their honeymoon! Enjoy romantic couple spas, explore the culture and artful décor, simply relax and get tanned at the pristine beaches or have an exciting time dancing to tunes and sipping on daiquiris at the many happening nightclubs of the city. Cruise to the Bahamas Islands from Miami and make it an essential part of your international honeymoon packages, for an even more incredible and exotic experience! Explore the relaxed island of Coco Cay and discover the capital city of Nassau, for a tropical escape that can be only be described as a 'Paradise'! Possibly, one of the best honeymoon places in the world that you can experience…
Must-Do Experiences:
Visit the picture-perfect, Miami Beach & South Beach
Explore Art Deco District, Little Havana, Bayside Marketplace, Miami Sea Aquarium, Fairchild Botanical Gardens, Everglades National Park
Experience 'Pig feeding' at Pig Beach, Exuma Island
Enjoy various aquatic activities at Coco Cay Island
Try your luck at the Casinos in Atlantis Hotel, Nassau
4.) Seychelles, Africa
The exotic island of Seychelles, located in the Indian Ocean, has been making headlines as one of the best honeymoon places in the world in recent years! Pristine blue waters combined with palm-fringed coastlines and white sandy beaches complete the picture-perfect canvas of this dream destination, that has often been dubbed as a 'honeymooners haven'. Apart from the brilliant tropical landscapes, the island is also well known for its diverse & rare wildlife, stunning coral reefs and abundant nature reserves. The capital city of Victoria on Mahe Island, one of the smallest capital cities in the world, is so small that it can be explored within a day, on foot. Explore exquisite beaches, soak in the luxurious lifestyle of the beach resorts, enjoy fun-filled water activities and experience rare flora and fauna at this 'Slice of Paradise' island. Experience the best of this island when you book international tour packages from India to Seychelles for a heavenly honeymoon!
Must-Do Experiences:
Explore Vallée de Mai Nature Reserve & Anse Lazio at Praslin Island
Visit Anse Source d'Argent Beach at La Digue
Explore Freedom Square & Seychelles Botanical Garden at Victoria
Dive at Aldabra Atoll (prior permission required from Seychelles Islands Foundation)
Visit Beau Vallon Beach at Mahe Island
5.) Greece, Europe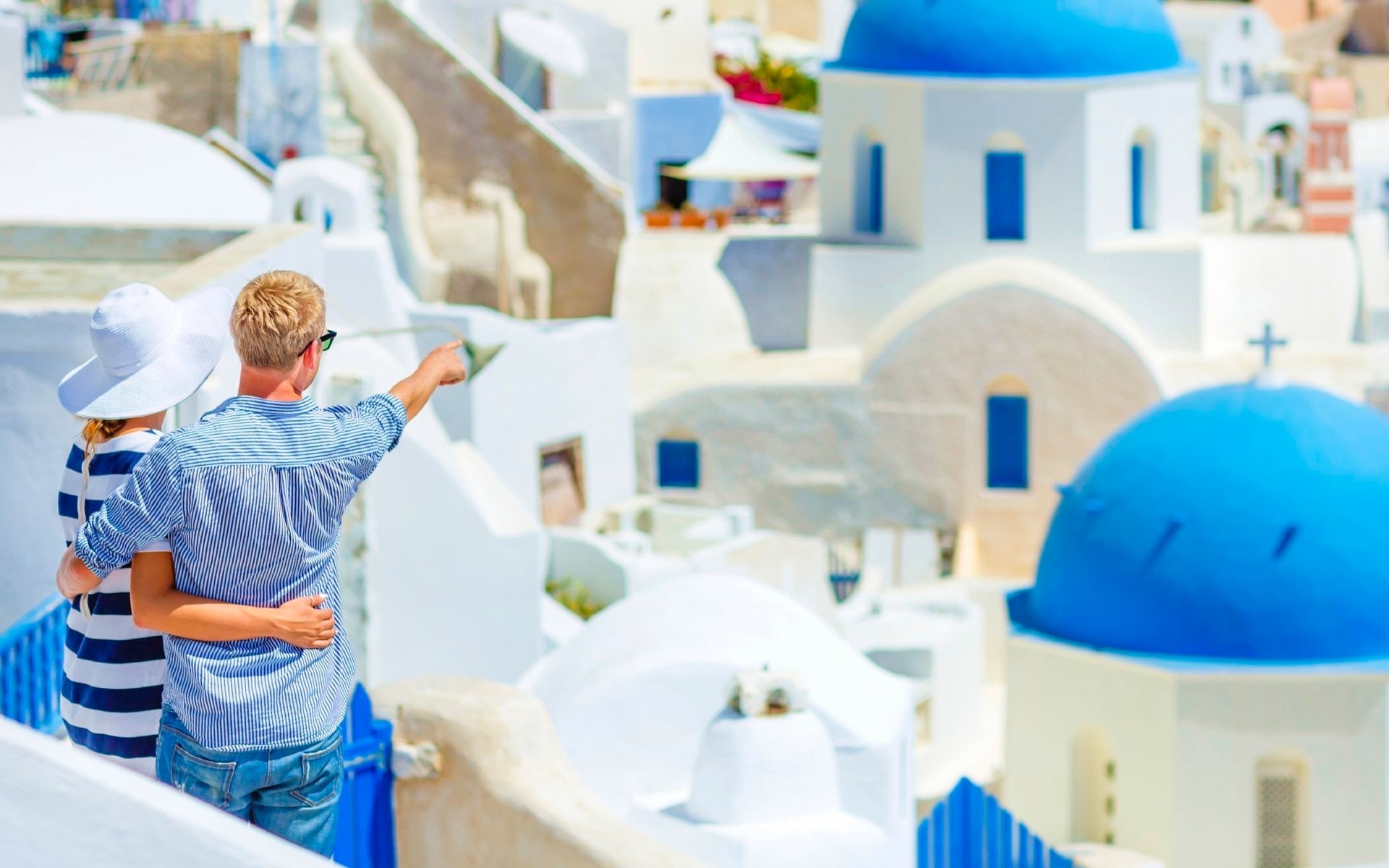 Greece is what you would call white 'n' blue perfection! It is home to some of the most picturesque islands, white sandy beaches, pristine blue waters, quaint towns, iconic monuments and a rich culture that is inspired by ancient Greek mythology. The Greeks have such a high regard for their unique culture that it unmistakably reflects in every aspect of their country. The language, performing arts, philosophy, entertainment, politics and even the sports of the country, have been greatly influenced by it. With its scenic panoramas and white-washed islands that dot the Aegean Sea, Greece presents itself as the perfect destination to fulfil your travel dreams of a perfect honeymoon trip! Give Greece a try and you will find yourself in the arms of an exotic paradise, replete with postcard-perfect locations and overwhelming experiences that will leave you wanting for more. Embark on the best adventure of your life with some of the most amazing international holiday packages from India!
Must-Do Experiences:
Hike to the Acropolis of Athens and explore the ruins
Spend a day or two at the leisurely, Santorini Island
Explore the picture-perfect island escape of Mykonos
Visit the UNESCO World Heritage Site of Delphi
Enjoy a Saronic Cruise and explore islands of Aegina, Poros and Hydra
6.) Hamilton Island, Australia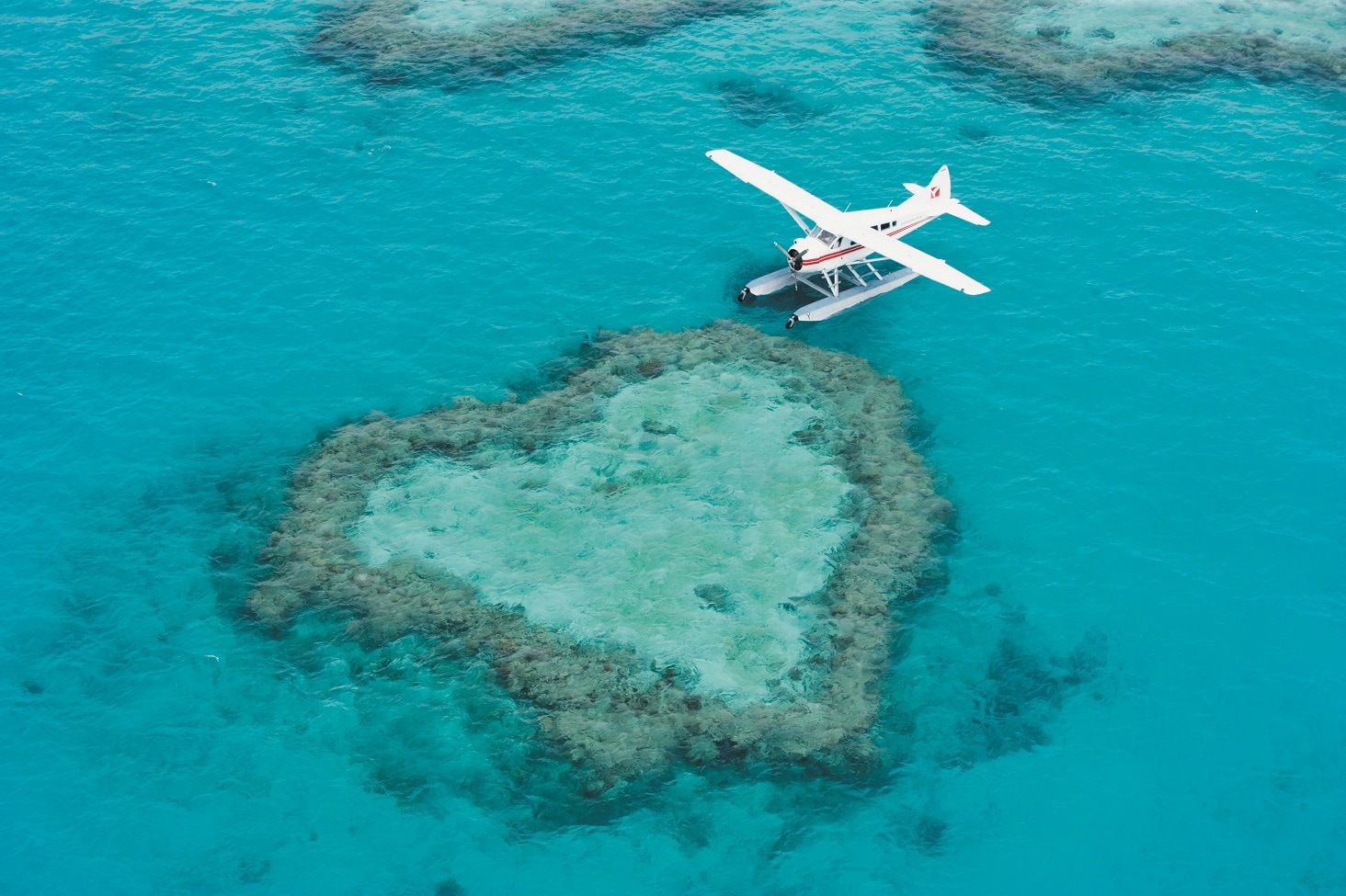 How is it possible that we talk about exotic locations & best honeymoon places in the world and not mention the wonderful island country of Australia? Probably one of the most scenic and exotic international honeymoon destinations makes its presence felt here, in this continent. Yes, we are talking about the Hamilton Island – one of the Whitsunday Islands of Queensland and a popular tropical getaway located on the Great Barrier Reef! The islands are synonymous with azure waters, stunning coral reefs, brilliant beaches and fine food & wines. With up-close sightings of animals such as kangaroos, koalas, wallabies and kookaburras, Hamilton Island is also the perfect excuse to engage in unique wildlife activities. Take your special someone on an amazing island journey that will let you experience the world-famous, Whitehaven Beach and Great Barrier Reef – the natural phenomenon that is said to be visible even from outer space. Explore international honeymoon packages to Hamilton Islands and experience the best exotic escape on your honeymoon!
Must-do Experiences:
Enjoy snorkelling and deep-sea diving at Great Barrier Reef
Unwind and relax by the stunning 'Whitehaven Beach'
Experience thrilling water sports at Cats Eye Beach
Spot the Heart Reef on a Helicopter tour
Get up close with koalas at WILD LIFE, Hamilton Island
7.) Coorg, India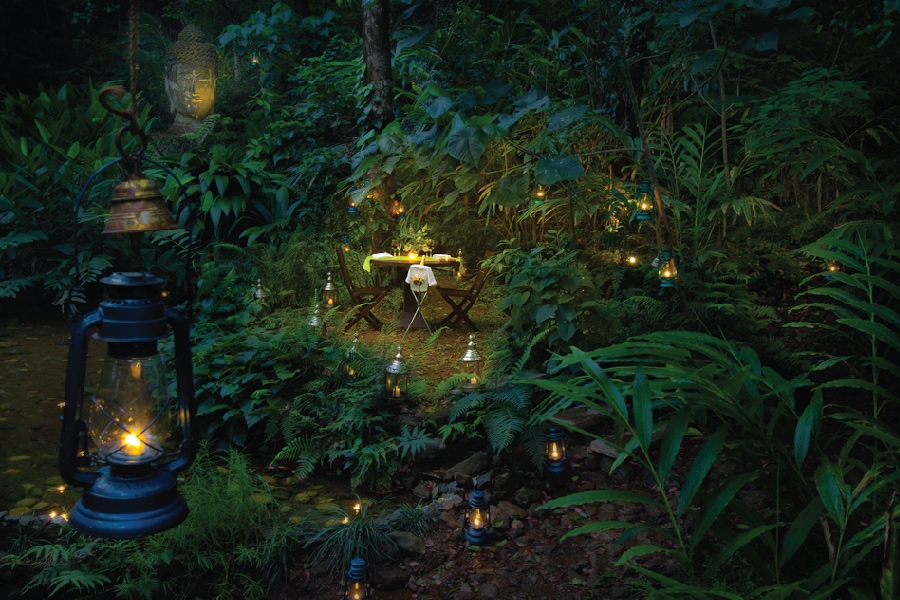 Coorg is aptly known as the 'Scotland of India'! One of the most breathtaking honeymoon destinations, Coorg, also known as Kodagu, is located amidst the hilly mountainous region of Karnataka. Lush green landscapes, stunning natural beauty, breathtaking waterfalls, abundant coffee plantations and a range of scenic spots define the very soul and character of this quaint yet picturesque hill station. Indulge in exotic nature resorts, if you will, and experience what it feels like to be in the lap of luxury amidst spellbinding nature! A holiday that can be truly defined as the best of both worlds. Coorg offers stunning landscapes and tranquil surroundings that are a real treat for nature lovers and a perfect escape for couples looking for a peaceful nature setting for their honeymoon. So, what are you waiting for? Immerse yourself in exquisite nature, book the best tour packages and make memories for a lifetime at Coorg!
Must-do Experiences:
Witness the stunning Abbey Falls in Madikeri
Trek to the breathtaking 'Brahmagiri Peak'
Visit Dubare Elephant Camp to observe elephants
View nature at its best from Raja's Seat Viewpoint
Make your stay memorable with a luxurious retreat at Taj Madikeri, Coorg
8.) Jordan, Asia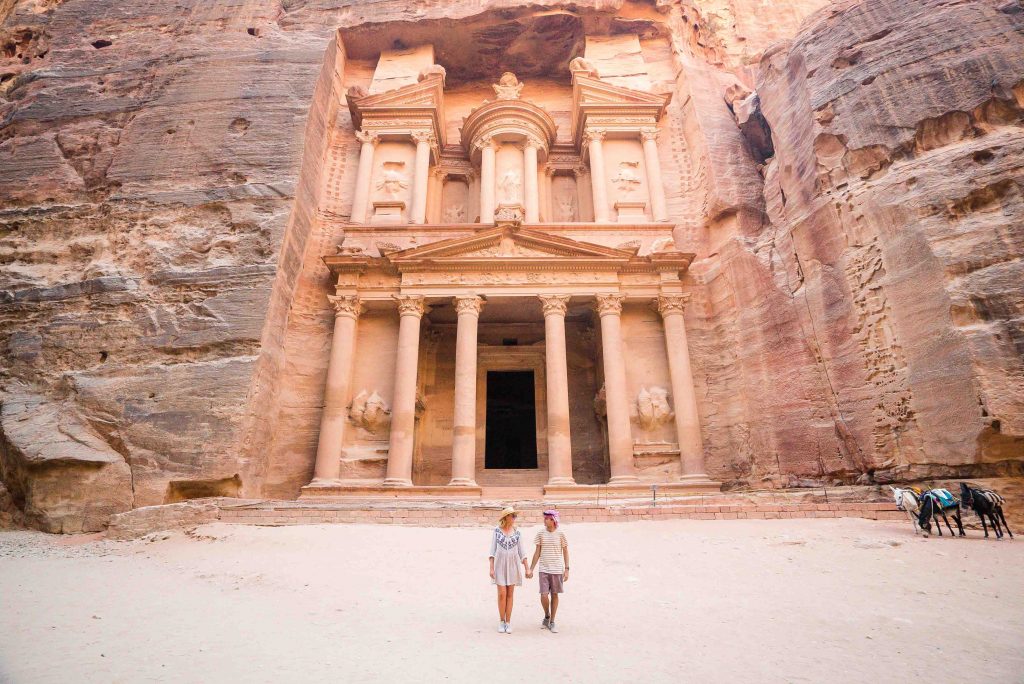 The only place on Earth where you can float on water! Isn't that reason enough to make Jordan one of the best honeymoon places in the world? But, the Middle Eastern Arabic land is much more than that and offers a plethora of unique experiences that can truly create an outstanding holiday for you. Jordan is home to spectacular world heritage sites, architectural monuments, ancient civilizations, incredible desert landscapes and some of the most exquisite natural wonders of the world. The Dead Sea, located almost 400 metres below sea level and one of the world's saltiest water bodies, enables the incredible phenomenon of 'Floating on Water'. Enjoy this unbelievable experience along with your significant other and indulge in mud-baths or therapeutic spa treatments with the mineral-rich black mud of the Dead Sea. A blend of interesting experiences combined with historical monuments and a brief glimpse into ancient history and civilization is what Jordan is all set to offer! Enjoy international tour packages from India to Jordan and have the time of your life as you float on the water along with your special someone.
Must-do Experiences:
Float on water at the 'Dead Sea'
Explore the new wonder of the world, Petra City
Visit the surreal landscapes of Wadi Rum Desert
Witness the 'Mosaic Madaba Map' at Madaba
Stroll through the iconic, 'Ruins of Jerash'
9.) Brazil with Argentina, South America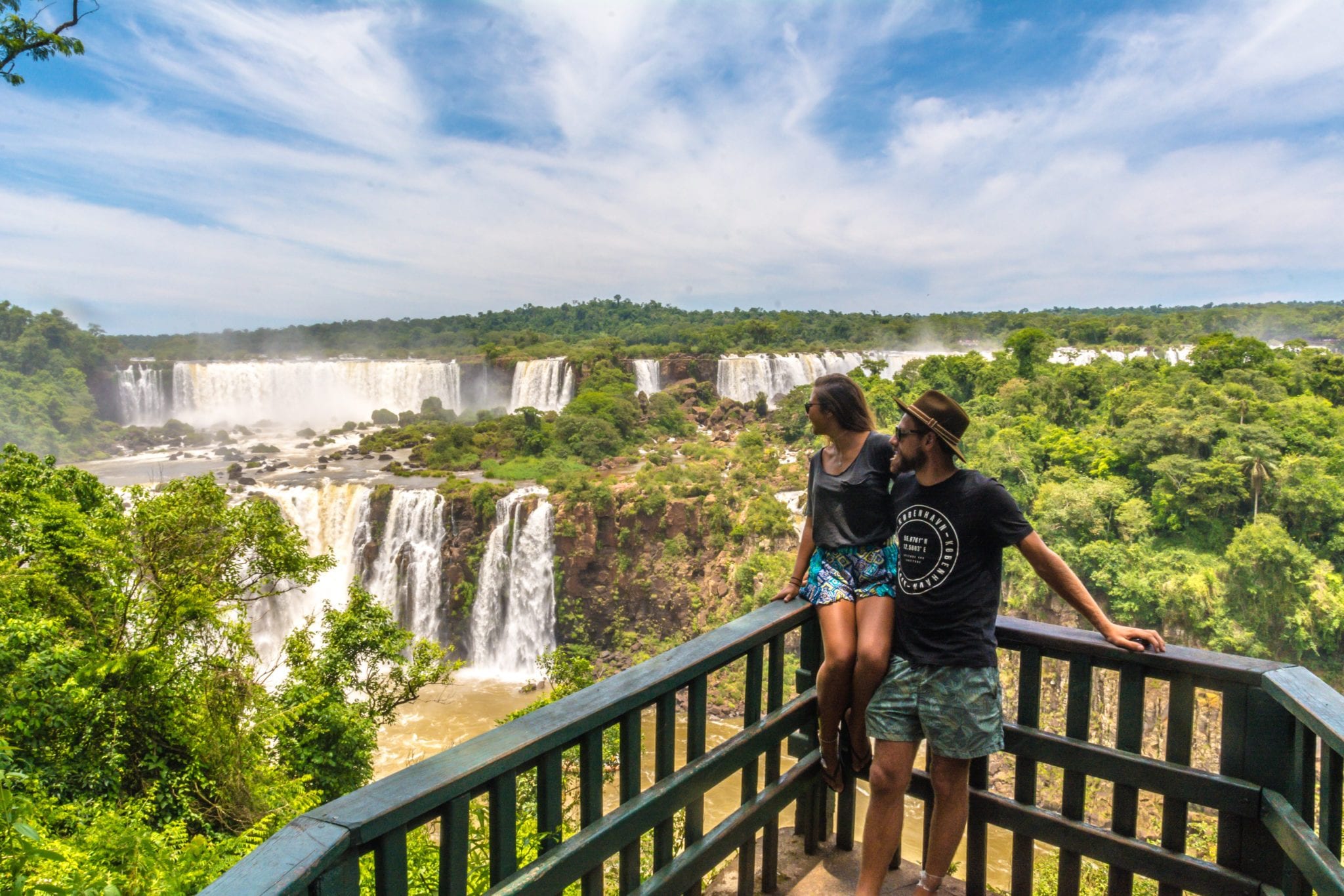 If adventure beckons you at every step and exploring exotic locations is your favourite thing to do, then South America is the perfect option for you! Plan international honeymoon packages to the countries of Brazil & Argentina and get ready to experience the best of both worlds. Brazil, the largest country of South America, is famous for its colourful city vibe, extravagant carnivals, Amazon rainforest and relaxed beach culture with a vibrant mix of locals, traditions and unique flavours. Combine this beautiful country with its equally enchanting neighbour, Argentina and escape into a world of breathtaking natural landscapes, culture-rich cities, iconic monuments and the fascinating dance of 'Tango'. Brazil and Argentina are sure to bring their 'A-game' as you get ready to dance and sway with your partner to the exotic beat and rhythm of these countries. Book international holiday packages from India to South America and experience the best of Brazil & Argentina!
Must-do Experiences:
Experience the extravagant 'Rio Festival' in Brazil
Visit 'Christ The Redeemer' statue in Rio De Janeiro, Brazil
Enjoy the awe-inspiring 'Amazon River Cruise'
Witness the mesmerizing 'Iguazu Falls' in Argentina
Dance to the beat of the 'Tango' in Buenos Aires
10.) Turkey, Europe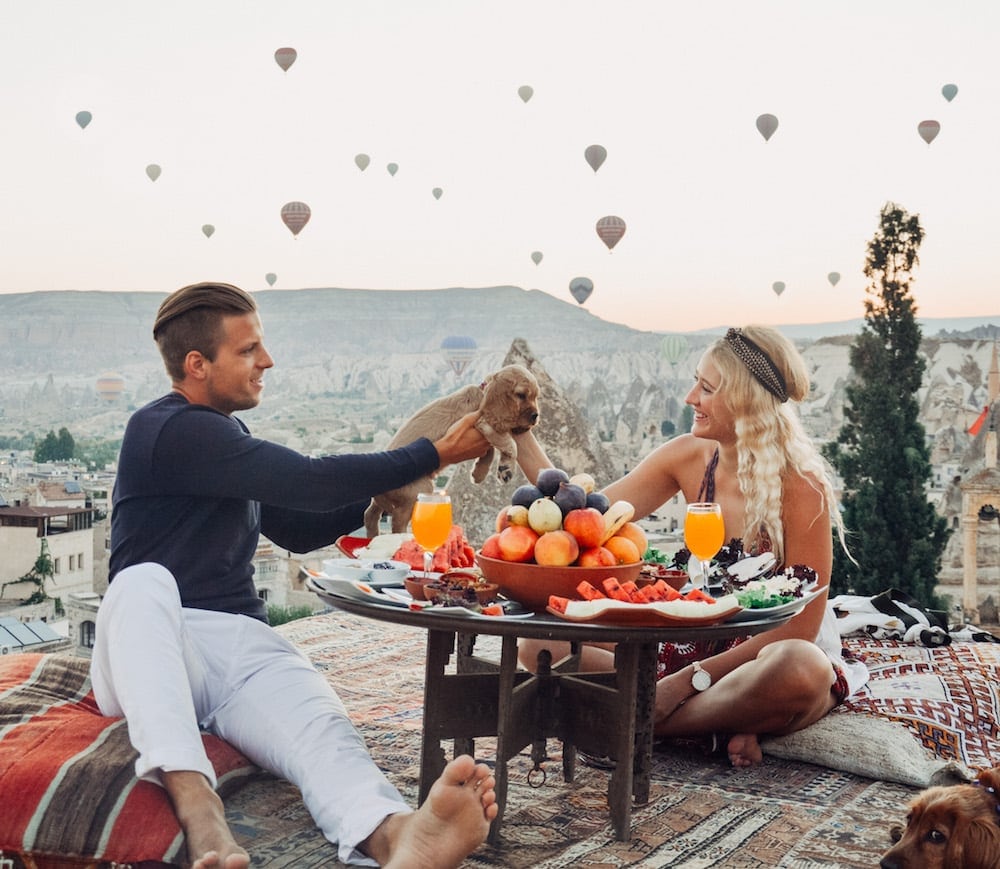 Turkey is 'Exotic Europe' at its best! It is strategically located on the eastern part of the European continent and western part of the Asian continent, making it the centre-point of Eurasia. Turkey is the land of surreal landscapes, great cities, ancient historical empires and delectable cuisines that will leave you wanting for more! The range of unique experiences and iconic cultural monuments that you will find here will definitely enthral you, as part of your international honeymoon packages. Stroll through colourful bazaars, historical sights, stunning natural beauty, turquoise blue beaches and enjoy fun-filled activities at this mesmerizing land. Feel on top of the world, as you experience a hot air balloon ride over the wondrous cave formations of Cappadocia and witness the natural wonder of the white travertine terraces of Pamukkale. Time and again, Turkey has been voted as one of the best honeymoon places in the world and its high time you figure out why!
Must-do Experiences:
Enjoy Hot-Air Ballooning over Cappadocia region
Bathe in the mineral-rich thermal pools of Pamukkale
Visit the spellbinding, Aya Sofya Museum (Hagia Sophia)
Experience a splendid cruise on the Bosphorus Strait
Explore the opulent Topkapi Palace
11.) Queenstown, New Zealand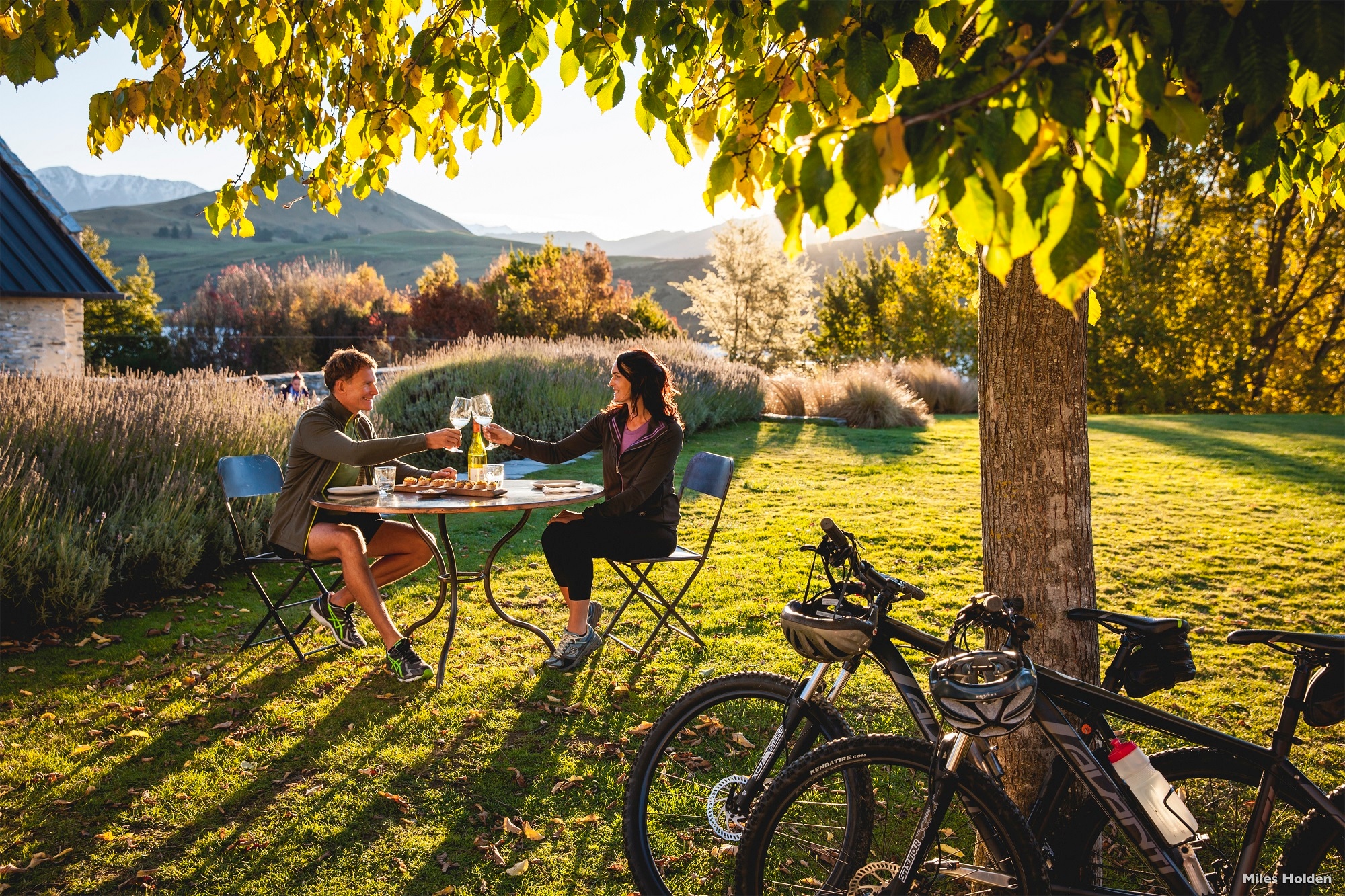 Did you know 'Queenstown' is known as the 'Global Adventure Capital' of the world? This amazingly beautiful honeymoon destination in New Zealand is filled with scenic landscapes, picturesque lakes, glacial mountain scenery, remarkable wineries and thrilling adventure sports. This could be the perfect spot for you to unwind and relax in the peaceful surroundings as well as feel your adrenaline rushing as you try various adventure sports such as bungee jumping, white-water rafting, skydiving, river surfing, canyon swinging and jet-boating. What's more? You can even enjoy the picture-perfect Queenstown trails where you can hike, trek or cycle through the spectacular scenery. There are leisure spas, cable car rides, boat cruises, cycle tours, helicopter rides and even 'Segway' tours to enable you to explore this beautiful town to its fullest. Queenstown somehow manages to tick all the right boxes when it comes to a relaxed honeymoon vacation or an adventurous thrilling experience! Enjoy this amazing ride today and explore one of the best honeymoon destinations with international tour packages from India.
Must-do Experiences:
Go Bungee Jumping from Kawarau Gorge Suspension Bridge
Enjoy the Milford Sound Cruise through Fjord National Park
Take a Skyline Gondola Ride to Bob Peak for amazing aerial views
Experience hiking at Glenorchy (featured in the movie, Lord of the Rings)
Have fun tasting wines at 'The Winery' wine bar in Queenstown
12.) Vietnam & Cambodia, Asia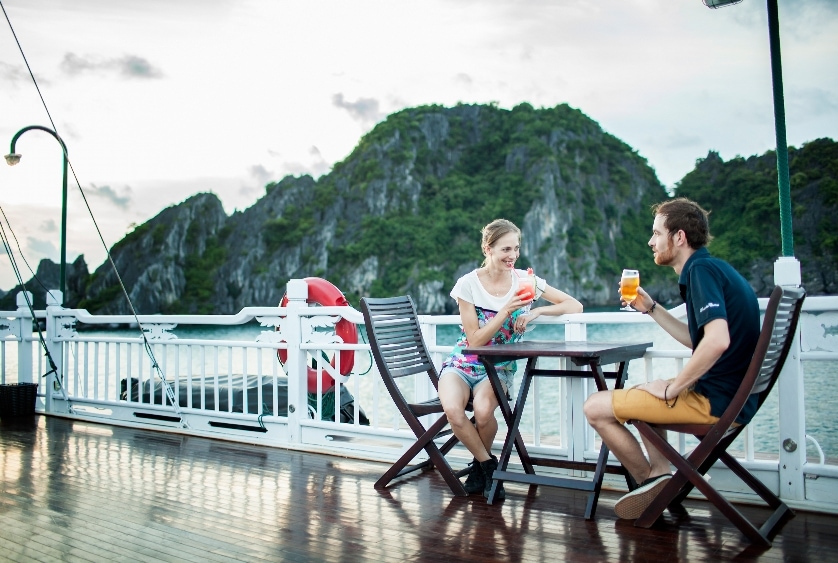 The picture-perfect lands of Vietnam & Cambodia can be described as peaceful treasures of Asia and one of the most exquisite international honeymoon destinations in the world today! Feast your eyes on the lush green rice terraces of Vietnam and explore the traditional temples of Cambodia to discover a unique historical and cultural experience. Vietnam is known for its stunning natural beauty, lush green paddy fields, ancient temples, iconic history and a food culture that is considered to be one of the best in South East Asia! There are historic cities like Ho Chi Minh, Hanoi, Da Nang, Hoi An and breath-taking exotic escapes such as Nha Trang and Halong Bay. Cambodia offers a historical escape with its centuries-old temples and ruins that display the remarkable and shining cultural significance of the country. Vietnam & Cambodia are neighbouring countries and combining the two on your honeymoon vacation can be an easy task. Together the two countries offer a sightseeing experience that is a treat to all the senses! Something which you can explore as part of your international holiday packages from India.
Must-do Experiences:
Enjoy a fantastic cruise in Halong Bay
Light colourful lanterns at Hoi An for Lantern Festival
Get invited to an exclusive experience, Hang Son Doong Caves
Visit the 'Angkor Wat' temple complex in Siem Reap, Cambodia
Explore Phnom Penh Palace and witness 'Apsara Show' at Phnom Penh, Cambodia
13.) Kenya with Zanzibar, Africa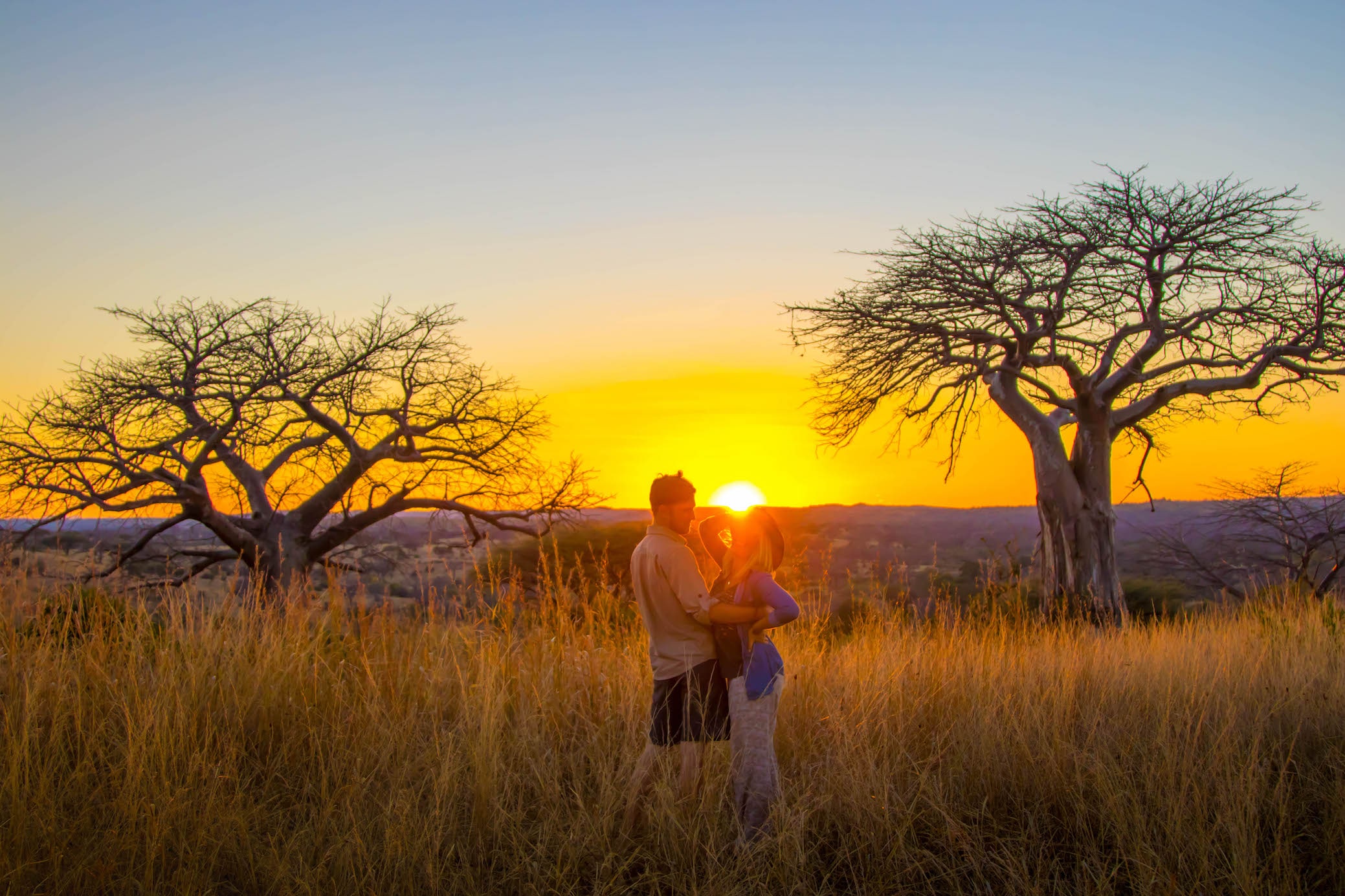 The best of Africa is right here! Enjoy a relaxing beach holiday with the thrill of wildlife safari when you combine the adventures of Kenya & Zanzibar as part of your international tour packages from India. Kenya is home to incredible wildlife experiences, scenic landscapes and extraordinary local culture. Game drives, animal safaris, annual wildlife migrations, vibrant bird spectacles are all inherent to this unique land. One can even say that exploring Kenya can feel like exploring nature in its purest form. Zanzibar, on the other hand, is pure tropical bliss! Locally known as 'Unguja', this exotic island is part of the main island of Tanzania in the Indian Ocean. White sandy beaches, turquoise blue waters, palm-fringed coastlines collude with historically significant cultural centres such as Stone Town (UNESCO world heritage site), to make this island the ideal spot for honeymoon vacationers. Get ready to make your experience a special one with the best tour packages that include Kenya & Zanzibar!
Must-do Experiences:
Witness the pink flamingo spectacle at Lake Nakuru
Enjoy a thrilling game drive and spot the 'Big 5' at Masai Mara
Visit the Amboseli National Reserve and witness 'Mount Kilimanjaro'
Explore the UNESCO world heritage site of Stone Town in Zanzibar
Experience great food and scenic views from 'The Rock' restaurant in Zanzibar
14.) Jaisalmer, India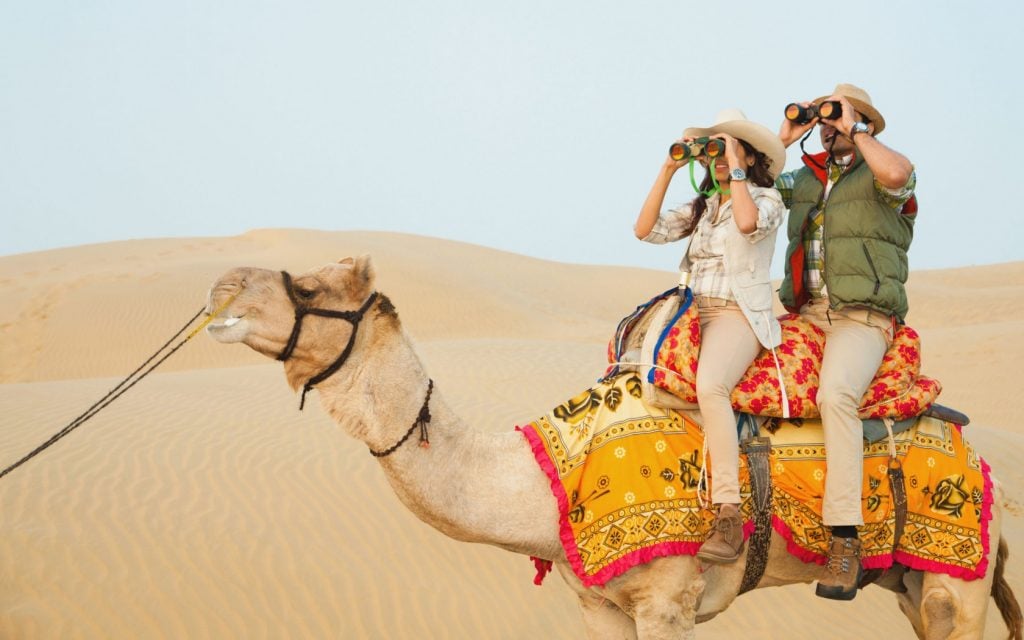 A city that looks golden, feels golden and lives golden! Jaisalmer is the shimmering golden hue in the palette of colours that is Rajasthan. Located in the heart of Thar Desert, this remarkable city is the prime example of how culture and royalty have seeped into the vast corners of this state. Magnificently adorned havelis, monumental forts, colourful bazaars, rich culture and an exquisite desert experience defines the very soul of this place, making it one of the best honeymoon destinations in India. Jaisalmer is the epitome of Rajput culture! Festivals, funfairs, traditional events and religious occasions are celebrated with great fervour and passion in this land. Discover the many aspects of this golden-hued land, while having a grand experience in the desert with your loved one. Be one with the sun and sand, as you explore the streets, lanes and by-lanes of the wonderful city of Jaisalmer. The sun-kissed land awaits to fill you with experiences and memories that last for a lifetime! So, why look for travel agents in India for international travel when you can opt for best tour packages in India?
Must-do Experiences:
Enjoy desert safari & camping at 'Sam Sand Dunes'
Explore Jaisalmer Fort, also known as 'Sonar Quila' (Golden Fort)
Experience a splendid boat ride on Lake Gadisar
Visit Patwon ki Haveli, Nathmalji ki Haveli & Badal Palace Complex
Raid the colourful local markets of Jaisalmer
15.) Japan Alpine Route, Asia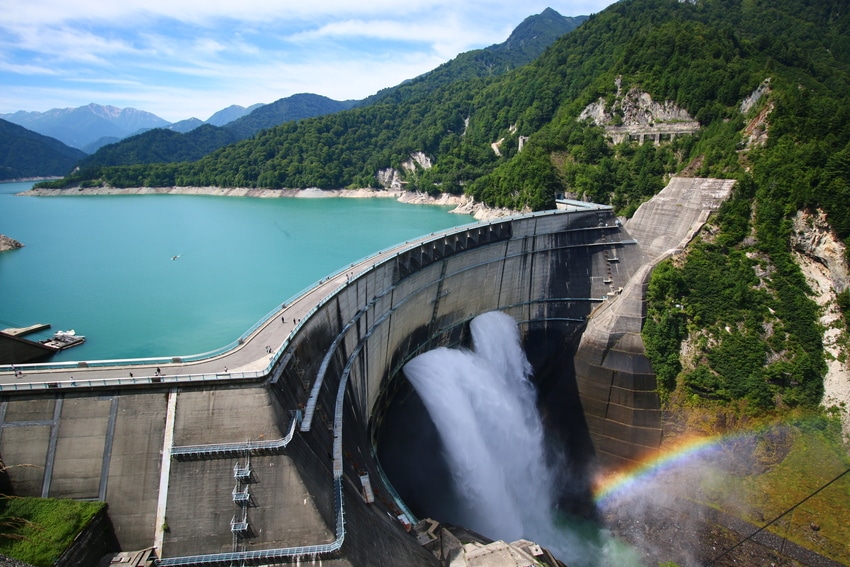 It is strange how we only think of high tech cities, traditional Buddhist temples and Hiroshima Nagasaki, when we think about Japan. Yes, the country is all that but it is also so much more; Mount Fuji, cherry blossoms, exotic food trails, bullet trains, Manga comics, Sagano bamboo groves, wisteria blooms and the very popular, 'Tateyama Kurobe Alpine Route', also known as 'Roof of Japan'. This route is a breathtaking sightseeing journey that takes you through the mountainous region of the Japanese Alps. There are about 7 different types of public transport are used to cover this route; they are mainly in the form of the funicular, buses, trolleybus, aerial tramway and then, our favourite, walking! There are amazing sights en-route such as the Kurobe Dam, Oyama Shrine, Murodō onsen (hot springs) baths, beautiful valleys, mesmerizing snow walls called Yukino-ōtani, Midagahara (plains with blue ponds) and Shōmyō Falls (the tallest waterfall in Japan). If offbeat is what you crave for on your honeymoon, then look no further… It doesn't get better and more exotic than Japan – one of the best international honeymoon destinations in the world!
Must-do Experiences:
Witness the tallest waterfalls of Japan, Shōmyō Falls
Experience Mikurigaike hot springs at Murodo Station
View Kurobe Dam, tallest dam in Japan
Visit Jigokudani Monkey Park to see wild monkeys and Japanese macaques
Explore the temple town of Nagano city
16.) Scotland with Ireland, UK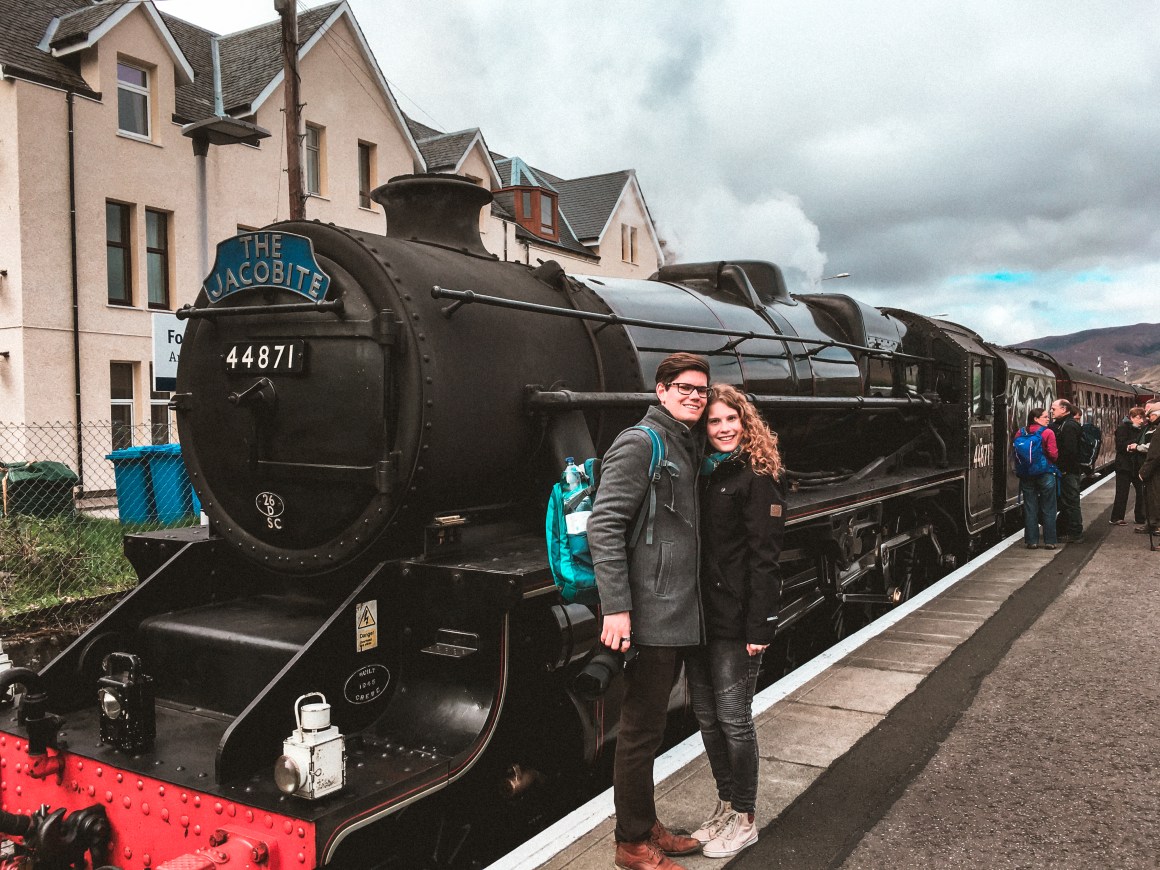 Enchanting, Extraordinary, Exquisite! Such is the characteristic charm and beautiful enigma of the Scottish moors and Irish countryside that it will leave you enthralled and longing for more. Combine the two heavenly countries of the United Kingdom for your honeymoon experience and be ready to discover breathtaking landscapes, a deep-seated culture and the quaint country charm of its cities. Scotland is well-known for its rolling moors, abundant lakes (Loch), formidable castles, dynamic cities and of course, Scotch Whiskey! The island country of Ireland is replete with glorious countrysides, historical forts, friendly people and ancient legends. Each country has unique elements that define the true nature of that place and yet contribute to an experience that is overwhelming yet enriching at the same time. The perfect escape and the best honeymoon destinations await you if you want to be at peace with pristine nature!
Must-do Experiences:
Ride on the 'Jacobite Express' (Harry Potter Train) at Scotland
Take a tour of the classic 'Scotch Whiskey' distillery
Explore the magnificent 'Edinburgh Castle' at Scotland
Visit the breathtaking 'Cliffs of Moher' at Ireland
View world-class stallions at Irish National Stud Farm
17.) Scandinavia, Europe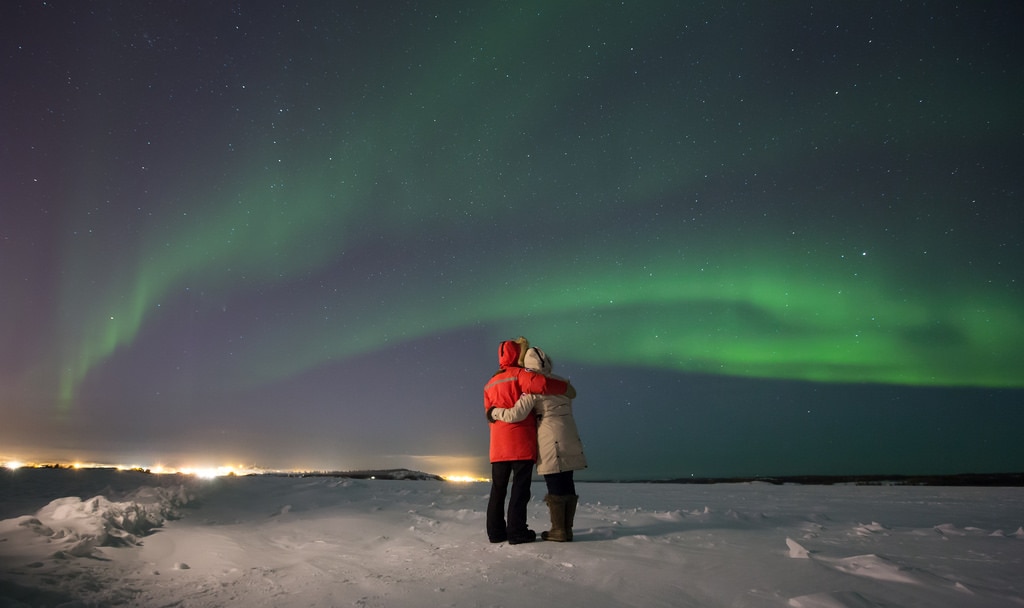 We couldn't bring ourselves to pick just one country from the spectacular region of the Scandinavian Peninsula! The breathtaking beauty and stunning natural phenomenon of this region are enough to make any traveller include these destinations on their bucket list. So why not experience these beautiful places as part of your honeymoon and make your special holiday even more memorable? The Scandinavia Peninsula consists of Norway, Denmark, Sweden, Iceland and Finland. Together, these countries host a cornucopia of such marvellous treasures that it becomes impossible to choose one over the other. Foremost being the Northern Lights or Aurora Borealis which can be witnessed in the Laplands of Finland, Norway, Sweden and Iceland. The natural phenomenon of Midnight Sun at Norway, black sand beach, glacial waterfalls and hot springs of Iceland, culture-rich cities of Sweden, the country charm of Denmark and the frozen wilderness of Finland, are all waiting to give you the incredible experience you have been waiting for! Chalo, Bag Bharo, Nikal Pado…
Must-do Experiences:
Witness the stunning 'Northern Lights' at Norway
Experience the magnificent 'Midnight Sun' in Finland
Visit the popular 'Vasa Museum' in Sweden
Explore the black sand beach, Reynisfjara at Iceland
Spot the colourful houses at the harbour of Copenhagen, Denmark
18.) Fiji islands, Oceania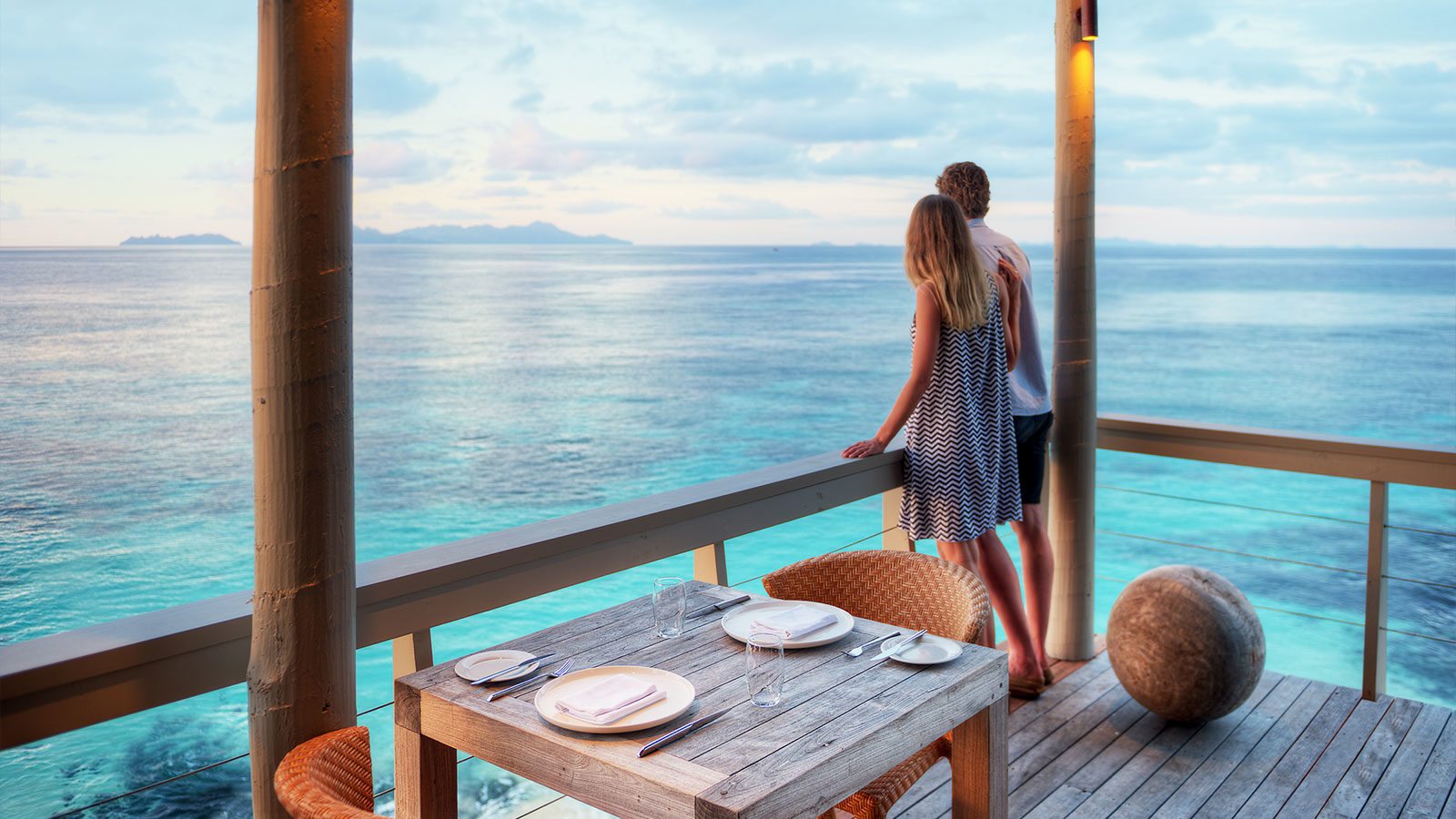 Fiji is fondly known as the 'home of happiness'! And, why not? An archipelago of 333 picture-perfect islands, Fiji is the perfect response to your exotic escape in the South Pacific Ocean. It is famed for its breathtaking beach landscapes, volcanic mountains, crystal clear blue waters, abundant coral reefs, coconut plantations and tropical rainforests. A laid-back beach lifestyle compliments the evergreen beauty of some of its secluded islands and gives the discerning traveller an escape into nature in its purest form! There are luxury resorts, private island accommodations as well as comfortable budget-stay options to choose from, for an enthralling Fiji experience. Go on nature walks, indulge in couple spas, enjoy adventure activities such as skydiving, dirt biking, river rafting, scuba diving etc., experience the culture of the islands or simply relax by the sun-kissed beaches. There is always a lot to see and lot to do when you are in Fiji!
Must-do Experiences:
Visit Taveuni Island, known as Fiji's 'Garden of Eden'
Enjoy a stay at overwater huts at Malolo Island
Go snorkelling or deep-sea diving or surfing at Mamanuca Islands
Witness 'Garden of the Sleeping Giant' at Nadi Island
Explore the capital city of Suva on Viti Levu Island
19.) Banff, Canada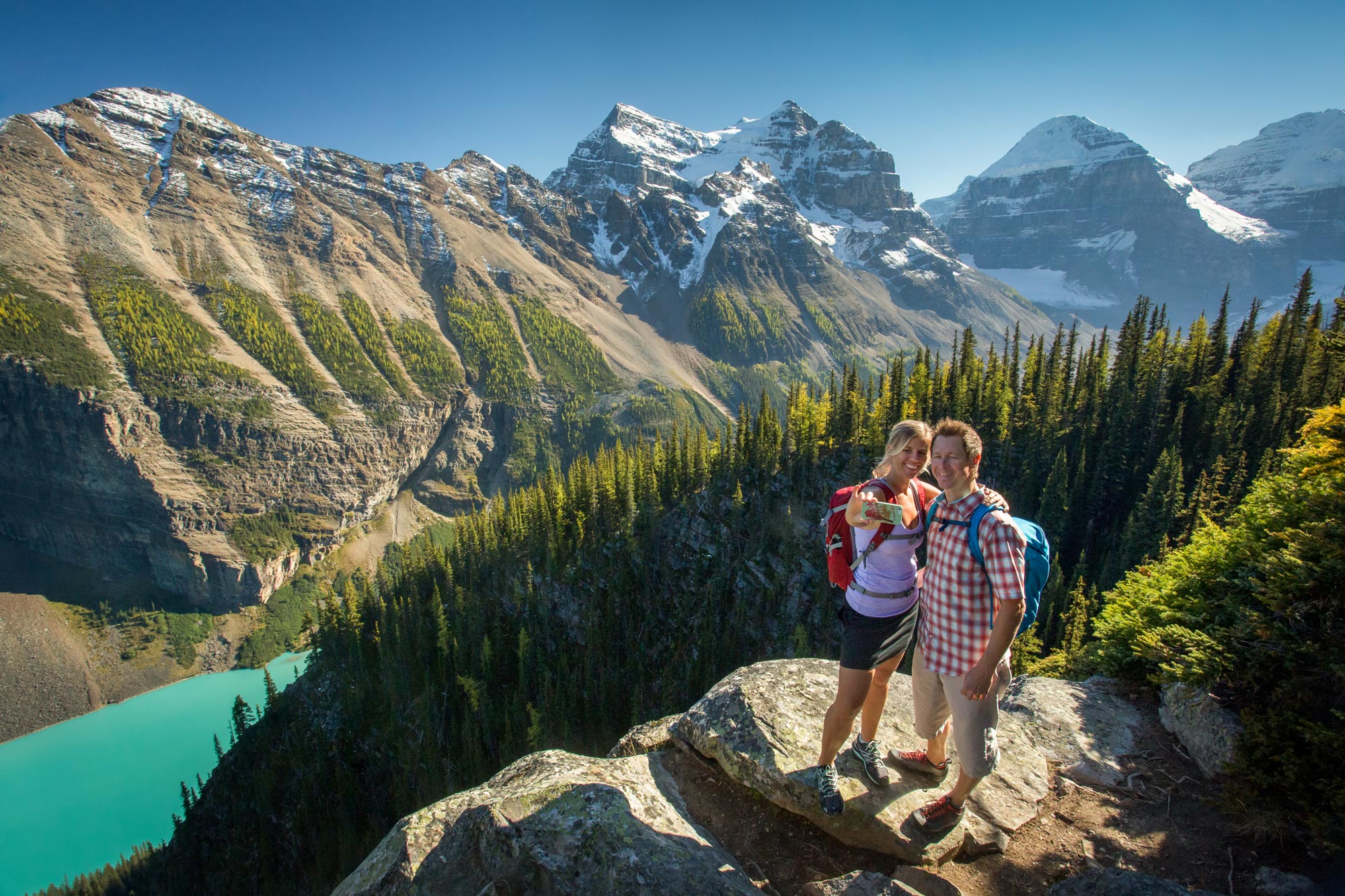 B for Beautiful… B for Banff! This is a stunningly beautiful resort town located in the Alberta province of Canada. The main attraction here is the Banff National Park which is a treasure trove of brilliant glacial lakes, majestic mountain scenery and amazing outdoor adventures. Banff and the quaint chalet town of Lake Louise are both located in the national park and offer the absolute best of nature and adventure to all travellers who wander through these pristine landscapes. What can you do, can very well be the wrong question here, because you end up asking yourself, what can you not do in such amazing surroundings! Emerald lakes, lush green meadows, snow-capped peaks, sparkling glaciers are some of the best features of this national park. Try white water rafting, canoeing, skiing, mountain climbing, hiking, bird-watching, fishing, golfing and many such incredible adventures with your partner when you sign up for an exquisite nature ride to the Banff National Park! So, catch hold of trusted travel agents in India for international travel and plan your honeymoon to Canada right away!
Must-do Experiences:
Take a Gondola (cable-car) ride up Sulphur Mountain for panoramic views
Enjoy canoeing in the insanely picturesque, Lake Louise
Stroll along the lovely pathways of Bow Lake and witness Bow Falls
Experience a splendid cruise on Lake Minnewanka
Visit the Columbia Ice Field and take a snow coach to Athabasca Glacier
20.) Lakshadweep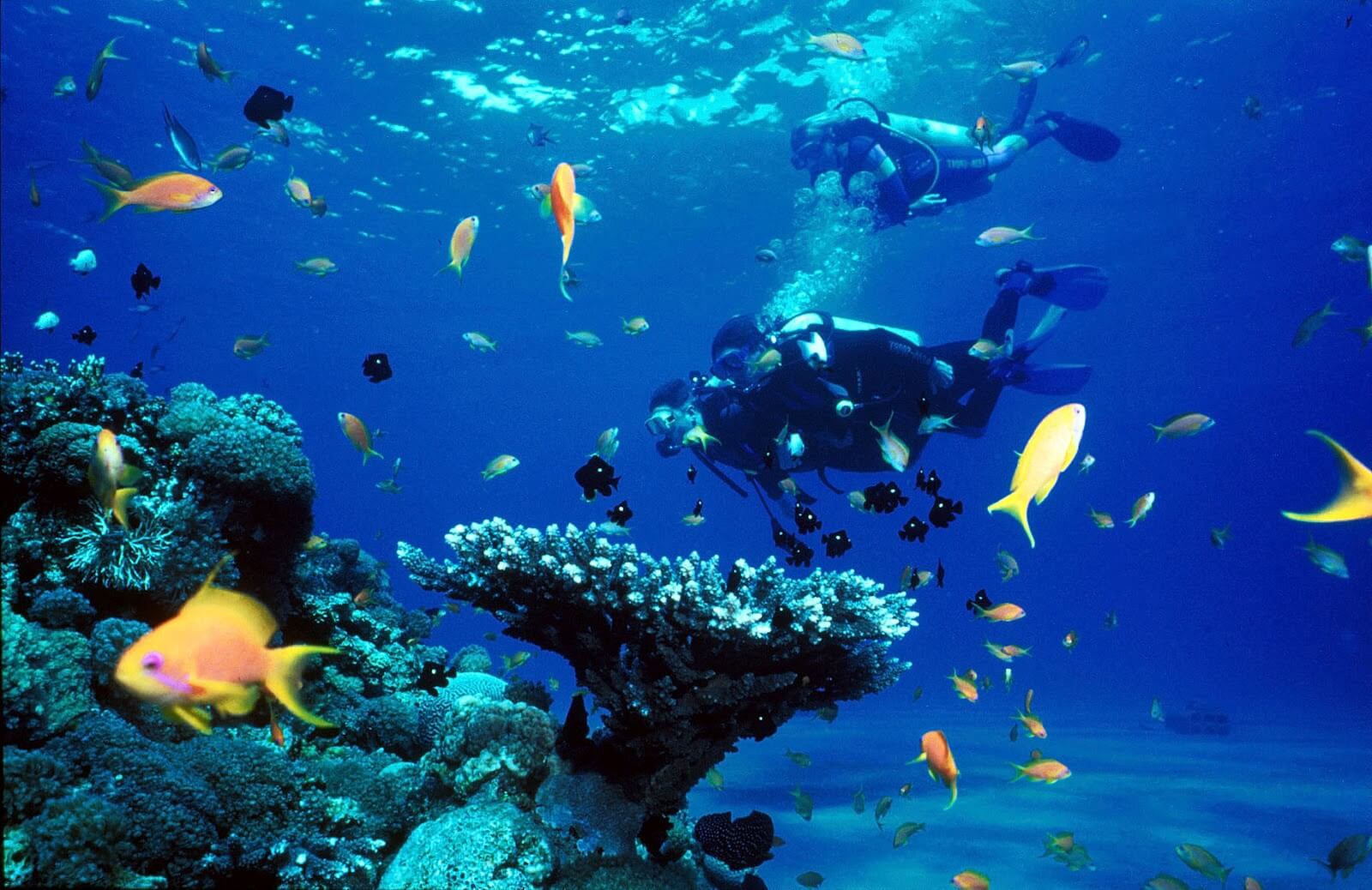 We end our list with a well-known but not yet, a very popular exotic destination in India that has fancied the imagination of travellers for ages! Lakshadweep, a union territory of India, is a group of 36 breathtaking islands and atolls, located off the south-western coast of mainland India, in the Laccadive Sea. The islands are famous for their pristine beaches and lush green landscapes with abundant flora fauna, exotic coral reefs and the remarkable existence of a calm and peaceful lifestyle. The entry, however, to these islands is restricted and one has to take prior permission from the Lakshadweep Administration to visit these islands (for Indian citizens as well). Once you reach here though, the experience is nothing short of mesmerizing! The stunning turquoise blue waters encourage you to try some adventurous water sports with your partner. The islands of Kavaratti, Bangaram, Kadmat, Agatti and Minicoy are perfect for your ideal escape where you can simply laze around the golden sandy beaches, witness the glowing beach phenomenon or experience the quaint local culture of these islands. So, embark on this epic journey to one of the most exotic honeymoon destinations in India, along with your loved one. Lakshadweep is waiting!
Must-do Experiences:
Enjoy scuba diving at Kadmat Island
Witness the phosphorous plankton (glowing beach) at Bangaram Island
Spot the 300-ft. tall 'Lighthouse' at Minicoy Island
Visit the ornately decorated 'Ujra Mosque' at Kavaratti Island
Go coral gazing at Kalpeni Island
Now that you have a complete overview of exotic locations around the world, all you have to do is pick one that suits your preference and get going! We are well into 2018 but as they say, the glass is only half full and the second half of 2018 is waiting for you to discover the world and create incredible memories. So, get planning and enjoy travelling with your loved one to these exotic destinations. After all, your honeymoon is an extremely memorable event and only the best will do for the best experience of your life!