Reading Time:
9
minutes
Beaches do have a calming effect on the mind and the body. Walking on the sand and watching the waves settling near your feet or gazing at a confluence where the sun meets the sea with the soothing sound of splashing water and caressing of moist wind can cause a ripple of happiness to anyone. There is no country like France when it comes to experiencing beach life.
Colourful towns, busy alleys, incredible history, stunning architecture, and distinct cuisines are what make France the most sought-after vacation place, but what makes it stand apart from the world are its beautiful coastline and beach towns with majestic coves. Be it the region of Provence, the island of Corsica, the French Riviera in southern France, St. Tropez, Nice, Cannes, Paris, Normandy shore or the Bay of Biscay, or a tiny nation of Monaco; each has plenty of scope for every traveller and a unique setting.
Summers of June to August see a hoard of tourists from worldwide coming to France for their beach vacation. The charming cities of Paris and Cannes especially get busy in the peak summer season. It is in the shoulder seasons of April to June and September to November is when it is best to visit France. With fewer tourists, less-crowdy cities, and quiet beaches, yet a perfect setting for a memorable staycation, you can experience France in its most-appealing form. If you are travelling from India, know all about France visas for Indians beforehand.
Also, did we tell you that France houses some of the safest and most stunning nudist beaches in the world, in case you want to unwind in your 'birth day' suit!
Let's dive deeper and find the most succinct list of the best beaches in France
Best Beaches in South of France
1. Palombaggia, Porto-Vecchio, Corscia
One of the busiest beaches on Corsica, a famous island between France and Italy, is a place no beach lover can miss. A soft, rockless sand bed welcomes you with a tinge of pink from the rosy granite rock bed and takes your gaze to clean and turquoise water until you find yourself inhaling a fresh breath of air perfumed by pine trees nearby.
The 2-Km long beach remains unsurprisingly crowded in peak season, and arriving here early in the day and settling straight to the southernmost point will find you a good spot and a quiet place to spend a lovely time.
How to reach: From Porto-Vecchio, take a 45-minute bus ride to Palombaggia
2. The Calanques, Provence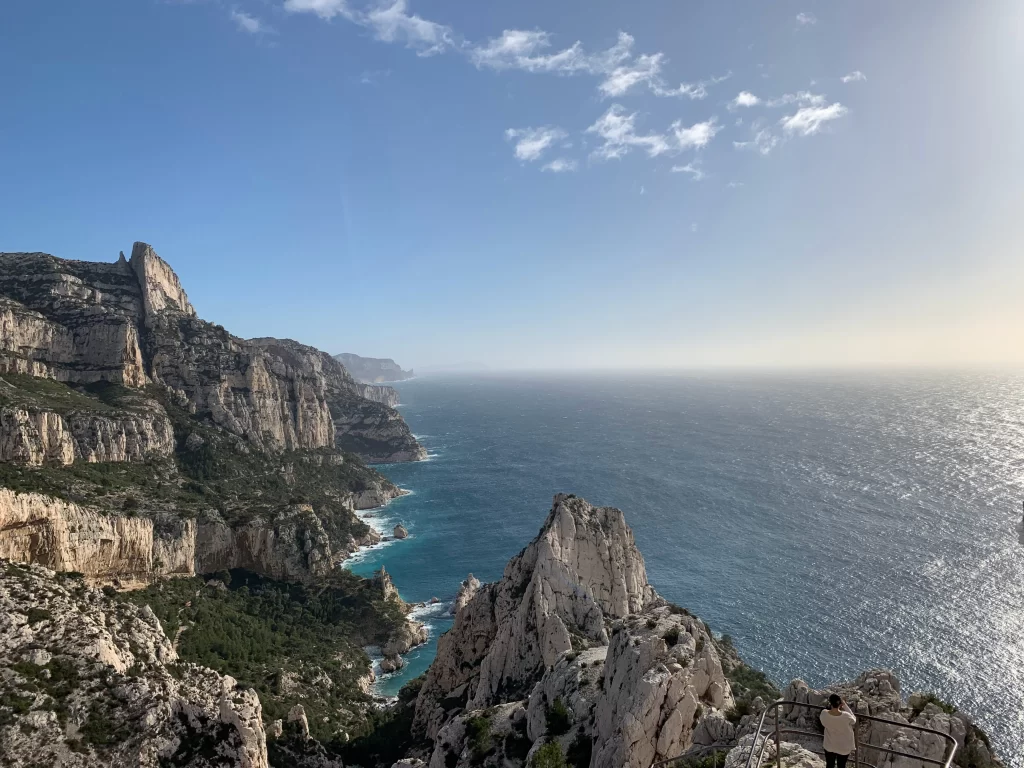 Between the port cities of Cassis and Marseille lies Calanques National Park. Calanques, or small inlets, sandwiched between tall limestone cliffs are unique and each has its own beach and name. Many are even inaccessible, which makes the place beguile and charming.
From the series of Calanques, one stands apart and finds a place in our list of the best beaches in France – Calanque d'En-Vau. Unspoiled and pristine, this spectacular white-sand beach is a result of slow and ancient erosion by rainwater along with tectonic movements that made the rocks fold. It was also a setup for a Hollywood movie. The cold and clear water allures you instantly to take your boat or canoe in and get going.
How to Reach: From Marseille, take a metro or a bus ride from Castellane to Luminy, followed by a mini walk.
3. Plage Mala, French Riviera (Côte d'Azur)
The famous French riviera is the most preferred choice of any holidaymaker and one of the best places to visit in France. Always bustling with travellers, it is not easy to find a pristine spot here. And that is why, Plage Mala, a tiny, exquisite, and unspoiled coastline is on our list of the best beaches on the French Riviera.
This hidden gem is a 15-minute walk down an easy and winding path from Cap-d'Ail, a contemporary seaside commune in Monaco. This spot offers mesmerising views of the expansive Mediterranean Sea and allows snorkelling, swimming, pedal boating, etc.
How to reach: Reach Cap d'Ail beach bytrain. From there, take a steep descent to Mala.
4. Beaches at Nice, France
True to its name, Nice is an extremely nice beach city in France owing to its location. Sandwiched between the mountain ranges of the Alps and the turquoise water of the Mediterranean Sea, the coastal city of Nice offers a unique setting for beaches in the form of many public and private spots along the pebbly stretch.
Artistic at heart and touristy most of the year, the city is a blend of old-world charm and cosmopolitan appeal. Being more affordable than its glitzy and glamorous neighbours, Cannes and Saint Tropez, Nice is unsurprisingly the top destination to visit in the french riviera and a perfect summer getaway.
How to reach: Nice is well-connected to Paris and France through the TGV, France's intercity high-speed rail service.
Best Beaches in North of France
5. Étretat, Normandy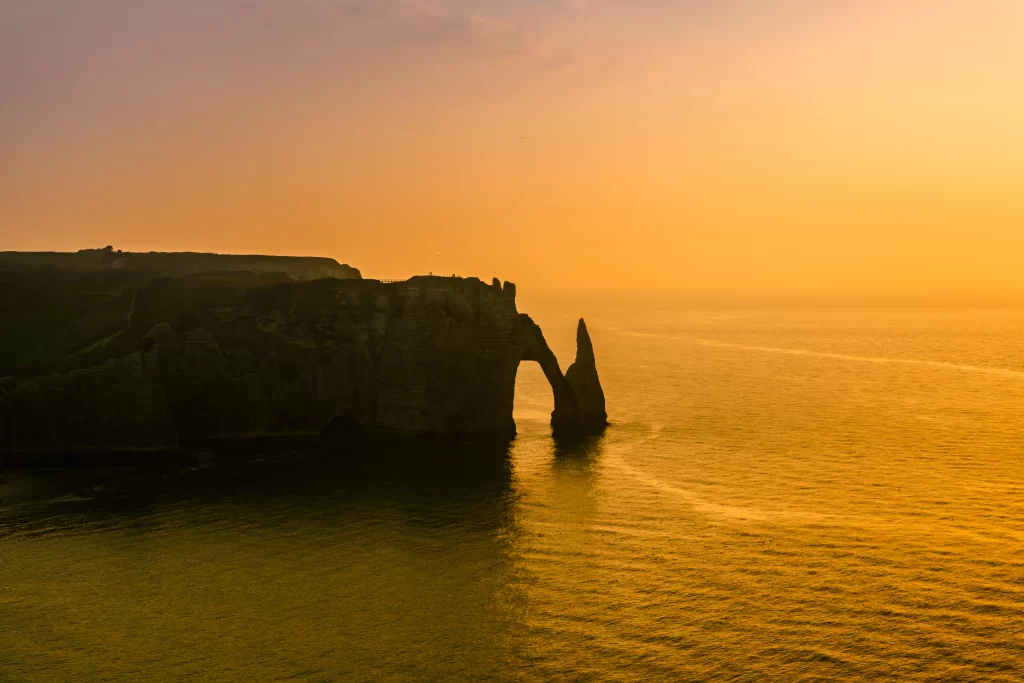 Famous among surfers and sailors, the pebble beach of Étretat is one of the most beautiful beaches in France in Normandy, near Paris. A part of the English Channel, it boasts of chilly water. Inspiring the tourists and artists for ages, the place is full of natural sculptures and rock formations, including the famed Aiguille (Needle) formation.
Enjoy a clifftop walk that offers jaw-dropping views of the Alabaster Coast. Watching a sunset here can melt your heart as you watch the sun bouncing off the pale grey cliffs into the glistening water.
How to reach: Take direct buses from Paris to Étretat. Alternatively, go for a train ride to Le Havre, followed by a local bus ride to Étretat.
6. Crozon Morgat, Brittany
Another gem from the Northern part of France, Crozon Morgat is a part of the Crozon Peninsula that represents Brittany, home to the loveliest and most famous beaches in France. Crozon Morgat offers a perfect setting for everyone. Whether you are in for a family picnic, looking for water sports, or simply want to walk, it has everything you need as a beach lover.
If you are travelling with children, set up a boat trip to the sea caves at Morgat for a fun and fascinating ride. The periphery of the Crozon peninsula sees a multitude of footpaths and is literally a haven for walkers. Go here for incredible scenery and postcard-perfect views.
How to reach: Direct transportation is available from Paris to Crozon. Nearby popular areas are Brest, Kerhuon, Dirinon, La Forest, and Landerneau.
7. Pornichet, La Baule
Pornichet is a seaside town and beach area in a lovely valley, La Baule. Regarded as one of the best beach places in Europe, the nearby area is hot and happening with bars, cafes, upmarket hotels, spa centres, casinos, etc.
Take to the sea and enjoy some adrenaline water sports like surfing, catamaran sailing, or windsurfing. The place also offers a beach club having a variety of activities like volleyball, table tennis, and horseriding, tennis on dry land around. La Baule holds a special place for every beach lover, and it is one of the must-visit destinations if you are in France.
How to reach: Direct transportation is available from Paris to Pornichet and La Baule.
The above list entails beaches in France that are the most unique, special, larger-than-life and continue to remain dazzling and incredible. Booking a well-planned France tour package and including these will ensure you have a delightful time amidst the sun and sand!