Reading Time:
7
minutes
The world is divided into two kinds of people, people that sleep at night and people that wake up at night. And here we are summoning the latter sect of people, the creatures of the night, the people for whom the life starts at day's end.
When you are into a goodnight's sleep, you go to bed and when you are into all-nighters, you go to Bangkok. Well, nothing brings forth the surreal charm of this world quite like nights and no place else complements it like Bangkok and Bangkok's nightlife. Ah, the bling on the streets, neon light washed avenues, and the exhilarating energy, Bangkok is probably the only place in the world where the nights resonate with kaleidoscopic life.
Some say that travelling and exploring places are activities to pursue in the daylight, for the view is clearer and better. They probably haven't been to Bangkok, one of the very few places in the entire world, famous for its nightlife. Bangkok is the capital and most populous city of Thailand. Bangkok is famous amongst travellers and tourists alike as it is home to some of the most important historical and cultural structures. However, the majority of the crowd visiting Bangkok is after the fun Bangkok nightlife has on offer. From Bangkok's best bars and clubs to Bangkok's finest street food, the nightlife in Bangkok promises to offer the best of The Big Mango alias Bangkok.
Let's explore what all a night in Bangkok has to offer:
Shop till you drop
Shopping has no timeline. You can shop during the day and at the night, there cannot be any schedule for retail therapy. And when you are in Bangkok, how can you not shop. Some of the famous places to shop at night in Bangkok are Khao San Road, Chatuchak Park, Patpong Night Market, Ratchadaphisek Road, 51 Srinagarindra Road, etc. You can buy a variety of things from these markets at very reasonable prices. From fun and tacky stuff to some utilitarian things, these markets have something for everyone. And one more amazing thing about these markets is that you have essentials such as internet cafes, convenience stores, etc at your disposal too. Long story short, without some good street shopping, your Bangkok nightlife excursion is incomplete. You just need an eye for it and lots and lots of baht.
In da club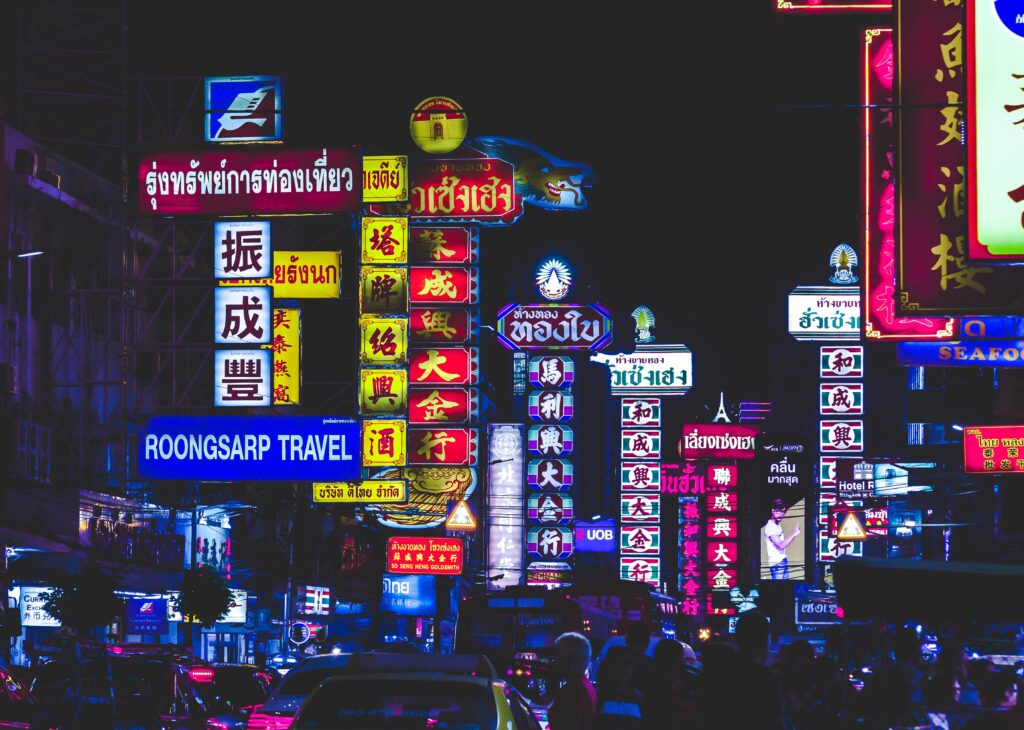 As they say, Bangkok nightlife is for the bachelors. How wrong they are! Bangkok nightlife is for singles, it is for couples, it is for everyone looking for a fun night. Night partying in Bangkok is an absolute must. As mentioned earlier, a majority of people visit Bangkok for its lively nightlife. There are so many nightclubs in Bangkok that you are spoilt for choice. You can not only enjoy drinks both alcoholic and non-alcoholic in these bars and nightclubs but also expect to enjoy good Thai food. From EDM to techno to house, there's nothing that these nightclubs don't play. And if you are more into quiet chitchat over some classy mix of alcoholic beverages, then you can head to one of the rooftop bars. Yup, that's an option too. All in all, the bars and nightclubs in Bangkok must not be missed.
Good Food is Good Mood
After some shopping, drinking and dancing, some food in the system becomes necessary. When it comes to food, a night in Bangkok can never go wrong. Start with the lip-smacking street food such as Pad Thai, Khao Pad, Guay Teow, and we cannot name them all, it makes us hungry. You just start from one food stall at Talad Rot Fi Night Market, Chatuchak Night Market, or Khao San Road, and after that, you go where your heart (nose) takes you. And if you are more into fine dining, then you can make a stop at a restaurant or hotel in Bangkok. Do try satays, a pia sod, and Kao Niew Ma Muang in the dessert. With good street and hotel food, your Bangkok nightlife experience will only get better.
Ladyboy Cabaret Shows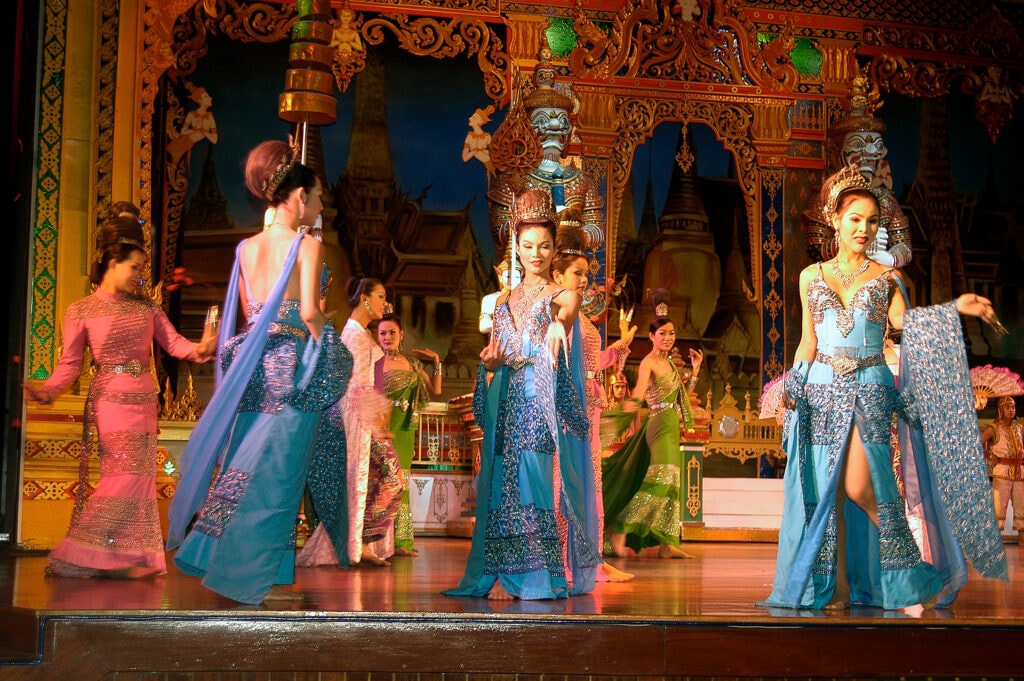 You do not come to Bangkok and miss out on ladyboy cabaret shows. The most iconic transgender cabaret shows in the entire, these ladyboy cabaret shows are best known for their celebrity renditions, ballads, traditional Thai dance and comical emcees. You can even expect ornate Broadway-style shows as well. To enjoy these cabaret shows, you have to book the shows one day in advance. A night, watching these uber-talented ladyboys performing on the stage can be one of the best experiences ever. Do give it a shot.
For the singles
If you are single and in Bangkok, the nightlife here has some very pleasant surprises for you. For bachelors, the nightlife in Bangkok can often be about just walking and exploring the streets and different places. Here, it is advised to take help of locals or guides. Bangkok nightlife is more than just partying, shopping, and eating. There are many places to visit in Bangkok at night time, you may just need company. For instance, for nightlife in Bangkok's red-light areas or to explore any famous street in Bangkok, it would be better to let someone accompany you. In some areas of Bangkok, the nightlife may entail live music shows, body painting, swimming shows, and so on. A guide will help you choose the best Bangkok place for the best nightlife experience in Bangkok.
When you are a nocturnal animal, the night owl, you can have the best nightlife in Bangkok. All you need to do is book a Bangkok tour package that allows you a guided tour to all the famous places for the best Bangkok nightlife experience.