Reading Time:
5
minutes
Go where the rain is born and the Gods rejoiced!
Yes, I'm talking about Kerala! When you are looking to go away from the city buzz and wanting to dive deep into nature's calmness, go to the God's own country – Kerala. A place that's a pure delight when you first see it. You will be amazed by the paddy fields and hilly ranges, massive coasts and calm backwaters, fascinating culture and mouth-watering grub and a lot more.
Said that this is God's own country, it doesn't matter where you go, you will find it worth visiting without doubt, for every destination is equally enchanting here! So rather than going for the places that fall into every itinerary, look out for unexplored places in Kerala.
Let me show you some of the destinations I came across and would definitely recommended if you're looking for Kerala travel packages:
1. Chembra Peak
When it comes to breath-taking destinations, this one will take the trophy. Chembra Peak is the highest peak in Wayanad and one of the highest peaks in Western Ghats. You can reach here by walking from the nearest village Meppady. If you are an adventure lover, this is perfect for you to hike up! When you reach here, you will truly be amid mesmerizing nature and something you'll definitely remember for years to come. One of the things that is must see here is the heart-shaped like, 'Hridhayathadakam' which has been believed to have never dried. It will take 3 hours to reach here, but trust me you will not regret.
2. Parambikulam Tiger Reserve
The most protected terrain of the Western Ghats, this Tiger Reserve is a place not many know of but is a must-visit. The wonderful mix of flora and fauna here is also the highlight and if you don't know much about the ecosystem, this place is your classroom. Kerala is not very much known for its safaris and hence this one place makes it worthwhile.
3. Kappil Beach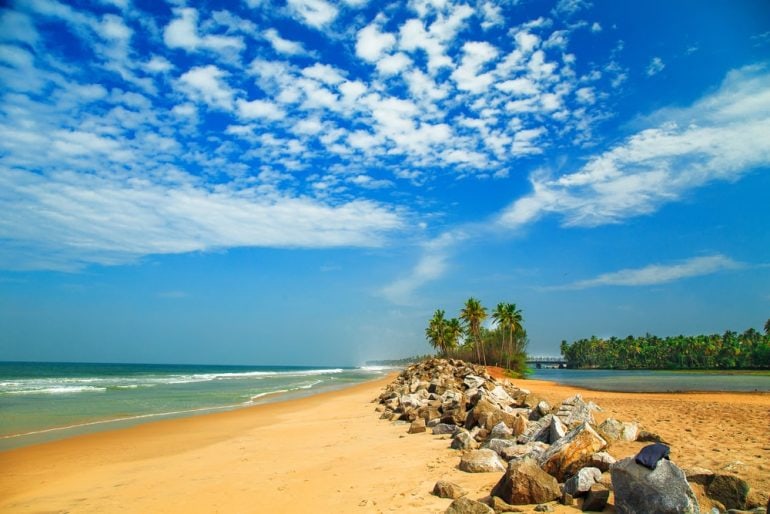 If you go looking, you will find infinite number of places our vast country has to offer and one such of them is Kappil Beach. It is quite closer to the 'Hippie Abode' Varkala beach and yet is untouched. You can find beautiful sea on the one side and calm backwaters on the other as you drive down to this destination. Look out for birds, pristine water and overall calm if that's why you have travelled all the way here!
4. Edakkal Caves
One of the most important destinations from this list, this one you cannot miss for its sheer uniqueness and history. These caves have pictorial writings on the walls that date back to 6 thousand BCE, making it the only place in South India with proofs dating back to the Pre-historic civilization of the Neolithic man. It is on a height and is quite a good climb with many stairs but if you are an enthusiast of the past and want to see something spectacular, do not miss this on your Kerala trip.
5. Silent Valley National Park
Last but definitely not the least, Silent Valley National Park is Heaven on Earth in this God's own country that you are invited to visit. With very minimum number of tourists visit this place making it one of the most unexplored destinations in the area. You can find rarest of the rare flora and fauna in this widespread tropical forest of India. Pssst…this destination is also in talks to be made a UNESCO World Heritage Site. Wouldn't visiting this be awesome and something you could add to your bucket list? If you ask me, definitely yes!
If you've been to either of these destinations, you would know what I am talking about…and if not, what are you waiting for? Pack your bags and go explore the heaven that is Kerala.
Written by: Jinal Patel
A true explorer at heart, travelling is the one thing that keeps me alive! With advertising as my profession, everything around me inspires me to create something beautiful. When I'm not doing the above, I am busy eating and dancing my way to the moon!