Reading Time:
9
minutes
'Who explores the world? – Girls!'
Jeanne Baret (July 27, 1740 – August 5, 1807) was the first woman to have completed a voyage of circumnavigation of the globe. She joined the expedition disguised as a man, calling herself Jean Baret. This tells us a lot about the kind of challenges she would have faced to fulfil her dream. A couple of centuries later, Baret is celebrated for her pioneering ways. Recently, Google celebrated the French botanist and explorer's 280th birth anniversary with a doodle. Jeanne has opened doors and inspired many women travellers to explore the world all by themselves.
However, there is still an element of amazement that revolves around girls who choose to travel alone, especially in India. But exploring the world all by yourself is an experience in itself. Travelling alone is one of them, and no one should ever stop you from doing so. And if you have been planning on a solo trip for long, now is the time to go for it!
Here are some destinations for solo female travellers in India that you can explore alone without any hassle: –
1. Shillong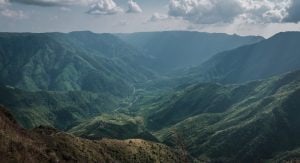 Shillong, formerly known as Yeddo or Lewduh, is the only hill station in the country that is accessible from all sides. So, no matter where you are in the country, Shillong must be on your list of solo travel destinations. The name Shillong is derived from U-Shyllong which refers to a powerful deity. The city has also been honoured with the moniker of 'Scotland of the East' owing to a number of reasons. The hilltop is located at an altitude of 1,491m above sea level. A great pick for solo female travel destinations, exploring this city during monsoon is truly breath-taking. The famous waterfall – Cherrapunji is in full flow this time of the year. Shillong must be a part of your India tour packages.  Also, most of the population here belongs to the Khasi tribe, who are predominantly Christian. Another fascinating feature of the Khasi culture is that this is a matrilineal society. This means that the mother is the head of the family while the youngest daughter owns all the assets. Also, the mother's last name is passed on to the children. Such an amazing place for a solo woman traveller to explore!
2. Udaipur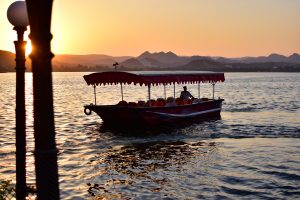 Proudly flaunting its epithet – 'Venice of the East', Udaipur is a city that everyone must visit. And with such a rich history, culture, and folk arts, you might forget about your travel partner. So, why not explore Rajasthan – one of the most women-friendly states in India all by yourself. Udaipur offers you a remarkable historical spectacle that will leave you spellbound. With its impeccable architectural beauty and entrancing cultural vibrancy, Udaipur is a city that you must include in your solo trip destinations. While the palaces, museums, and cultural shows give you a sneak peek into the grandeur of the city, the lakes and the stunning view of the Aravalli hills soothes your eyes and soul. Quite a destination, we tell you!
3. Ladakh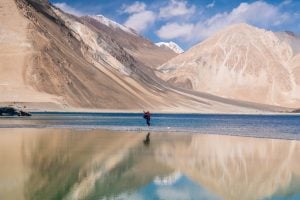 This high-desert Himalayan town is home to the 17th-century Leh Palace and various Buddhist monasteries. Also known as Trans-Himalaya (the lands beyond the Himalayas), Ladakh offers a dreamlike landscape that is enveloped by the sky-piercing peaks of the Zanskar and Karakoram ranges. On the other hand, there are the crystal-clear icy waters of Shyok, Zanskar, and Indus rivers gushing down to offer you a spectacular view.
Ladakh is quite safe for women, making it one of the best places for solo female travel. An evening in this surreal landscape is all you need to quench your thirst for the unknown. There is so much to explore and do in Ladakh that you'll long to stay a little longer. The soothing silence, unbelievable panoramas, historical sights, and the vibrant and quaint Buddhist culture; there is so much that makes Ladakh a great place for solo trips for women. However, exploring this stunning place requires a lot of preparation. Be sure that you have a look at these packing tips for women before stepping into Ladakh.
4. Goa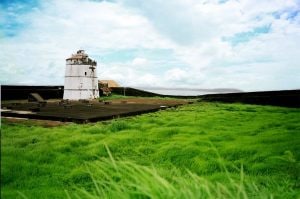 A former Portuguese colony blended perfectly with Indian cultures, Goa represents a unique amalgamation of both traditions and architecture, making it one of the best places for solo female travel. The Goan experience comprises of some sunshine, sandy beaches, estuaries, promontories, and susegad. For years now, Goa has always been a preferred travel spot for many. First the hippies, the returning expatriate Goans, then the Germans which were followed by the pilgrims visiting Catholic and Hindu shrines. And now, Goa is quite a trendy pick for solo female travellers from all across the globe. In fact, it is also one of the most women-friendly states in India. A lot of credit goes to the Portuguese rule which isolated it from the rest of India for 451 years. No matter what kind of a solo traveller you are – a backpacker, an advanced haggler, or someone who lives with the locals, Goa is bound to bestow you with a memorable experience.
5. Munnar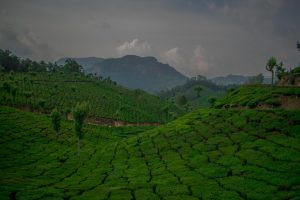 An idyllic hill station located in the Western Ghats of Kerala, Munnar holds an old-world charm and is a great choice for solo trips for single women. If you are someone who loves to spend some time in the lap of nature, Munnar is definitely the place to be. With the green belts of verdant forests and pastures along with the expansive tea estates, you will find yourself in a whirlpool of rejuvenation. This is probably one of the many reasons why the British rulers chose Munnar as a preferred summer resort during colonial times. From taking a dip into the crystal-clear lakes to hiking your way up and enjoying the surreal vista; from getting a glimpse of the endemic wildlife to letting the cold breeze soothe your face, you can do it all here. Munnar has so much to offer that you would never miss having a travel partner. So, if you are planning on solo trips for females soon, Munnar would be a great pick. However, if you are a bit skeptical, you can go for women only tours which will also help you find like-minded people with whom you can enjoy this place even more.
Travelling solo can be a liberating and life-altering experience. At the same time, it calls for responsible planning as well. Be sure to pack all your essentials for a hassle-free stay. At the same time, have a look at some of the packing tips for women. Always remember to travel with caution and not with fear! We are sure these trip recommendations for single women will satiate the wanderlust in you.