Reading Time:
6
minutes
It's been a year now and each of us is directly or indirectly affected due to pandemic. Every single person on earth is fighting for survival. We are also familiar with how each profession is badly impacted. None of us ever thought that the world would pause. We never imagined that an invisible virus would be so severe. It had overcrowded the hospitals and was trying to weaken the medical system's backbone.  
The New Positive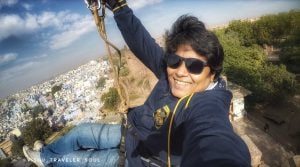 The whole world was clueless about the Novel Corona Virus. Unexpectedly, we were forced to stay at home. Schools, offices, transportation and everything was shut down. The whole world was LOCKED DOWN with no clue of how long it may last. The "Being Positive" was the New Negative and "Being Negative" was the New Positive. Not only professionally, but the virus also affected us physically, mentally, and emotionally. We all got exhausted, didn't we? We found our daily routine challenging, yet we all STAYED OPTIMISTIC and KEPT MOVING. 
We engaged professionally and personally with just one click. From the workplace to work from home, online grocery shopping to schools, hobby classes to the gym, everything was just a click away. Pandemic has unlocked a few doors, but many are still locked. 
Like many of you, even I'm waiting behind one such locked door. But I believe I'm not alone. That one door leads to the tourism industry. Not only I but my colleagues, friends and family were doubtful about the sustainability of the tourism industry and experience this travel adventure again. Initially, it was impossible to accept that we won't be going across places that we loved to visit. A person who has been working in the tourism field and travelling across the globe for years can't accept staying at home for such a long time. My relatives and people around me started saying that 'tourism will not resume in the coming years. It's OVER. You better look for a new job for your guaranteed income'. And such words hurt me.
The New Normal
I'm a Tour Manager. One of the most important skills that a tour manager has is to find an alternate solution. That's what many of us did. We got engaged in small scale businesses for survival. Some enrolled as frontline volunteers, but none of us resigned from our job. We instead found some substitute for our survival. Thank you to all those who show concern towards the tourism sector. But NO THANKS, I'm not leaving the travel and tourism industry. Just because it has come to a standstill doesn't mean it is dead. This lockdown has made us realise that you can still enjoy watching movies without spending on costly popcorn. Schools, workplaces and gyms have adapted to the new normal, but tourism can never be replaced. 
No matter how great the documentaries you shoot, one can't have that amazing feeling of gazing at the Eiffel Tower in Paris. One can't satisfy the taste buds by just watching the cuisine of different places on the screen. One can't feel that scary moment when your rollercoaster twists upside down at full speed. One can't experience the happiness of standing right beside their favourite Disney character Mickey. For all such great experiences, the person has to travel. You can bring home any destination but can't feel them. 
Travel is an emotion which we all are desperately waiting to live. Ask your heart what is the first thing your heart wants to do once this is over? The answer is TRAVEL, whatever be the distance. Aren't your feet tickling to go on a vacation? Isn't your passport feeling lonely? Ain't your shoes willing to leave shoeprints all over the world? Doesn't your travel bag want to wheel around? The camera is too waiting to capture those beautiful moments. Your Instagram account is annoyed because you aren't posting anything new or going live! 
I am sure every Tour Manager must be missing their favourite moments on tour. Be it having their favourite cuisine, gala dinner with DJ Dance, waking up early even after being late at night, sometimes cheating on diet and sometimes skipping meals, facing challenges, searching the lost items of the guests or searching for the missing guest. Rushing to the next destination while running late and managing things well, celebrating anniversaries and birthdays and clicking the best moments, playing games during long journeys and sharing information, tackling some challenging people and sometimes age tantrums.
Won't Give Up
No matter what comes our way, we're always on our toes. Even though it seemed like a monotonous job of travelling to the same destination, the pandemic has made us realise that we love our job as Tour Manager. We learn and fall in love with the place, and we bid adieu with a promise to come again. 
Tourism will welcome us with arms wide open. It will bounce back with tremendous energy and force. It will grow like never before. I promise that I will keep travelling before I run out of time. I'm eagerly waiting for the message "Your next tour is…" 
Co-written by Tour Managers Vishu Shah and Pranjal Jadhav