Reading Time:
6
minutes
Beer lovers rejoice! It's time for the tall and giant beer mugs to brim and overflow with beer as Oktoberfest is here. What's better than a festival dedicated to beer? As far as cultural festivals go, Oktoberfest is a beer vacation that runs for 16 consecutive days, starting from late September till early October. This year will be Munich's 186th Oktoberfest, where millions of people will gather to drink (heavily) and be merry! Have you booked your ticket to the beer heaven with an endless flow of Steins, Pretzels, dancing, traditional dress and true Bavarian fun? Time to brush up your Oktoberfest knowledge with these unique facts about this legend-wait for it-dary beer festival.
It's not a beer festival!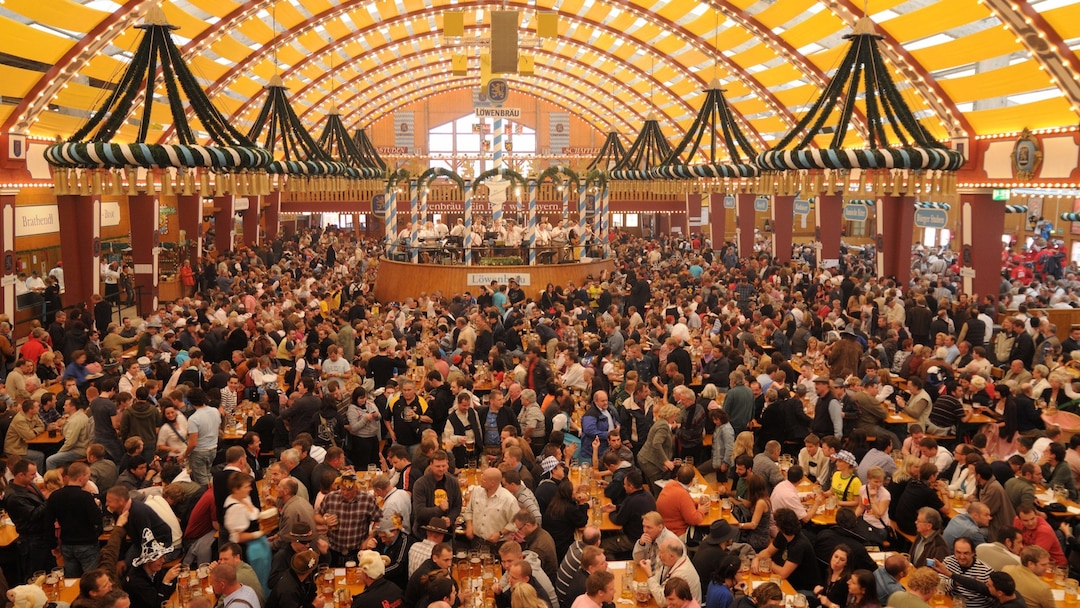 Yes, that's totally ironic to what we just said above but facts are facts! Contrary to popular belief, Oktoberfest – or "Wiesn", to the locals – is not a beer festival, but the anniversary celebration of the wedding between Bavarian Crown Prince Ludwig and his wife, Princess Therese of Saxony-Hildburghausen. When the love birds hitched in 1810, the royals commemorated the event with a public party where not a single drop of the liquid gold was spilled! It wasn't until 1819 that the horse races were replaced by beer vendors.
Oktoberfest is called October but starts on September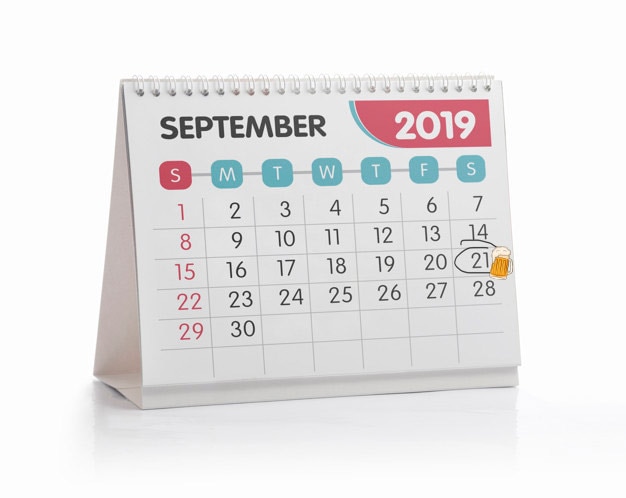 You cannot say 'Wake me up when September ends' if you are anticipating the Oktoberfest eagerly! Because the fest actually starts in September itself. The name "Oktober" is misleading because most of the festival happens in September…In 1810, the event took place during one week of October. Along the years, it was extended and the starting date was changed to September because the weather is warmer and more pleasing. Therefore, it's easier to attract more visitors to stay even longer and enjoy the beer (and festival) throughout the night. The right time to book this interesting Germany tour!
Oktoberfest doesn't serve beer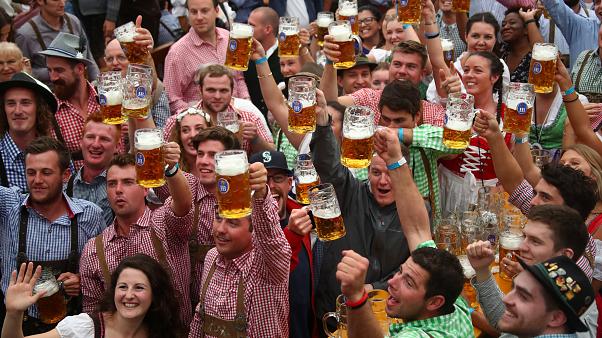 No no, don't close this window just yet! The festival doesn't serve 'beer', per se, but the appropriately named Oktoberfestbier. Served in 13 huge drinking tents, and made by just six Munich-based breweries, these special tipples are unique to the event, and calling them anything less than their given namesake could see you in trouble with the devoted local patrons.
Are you strong enough to chug this?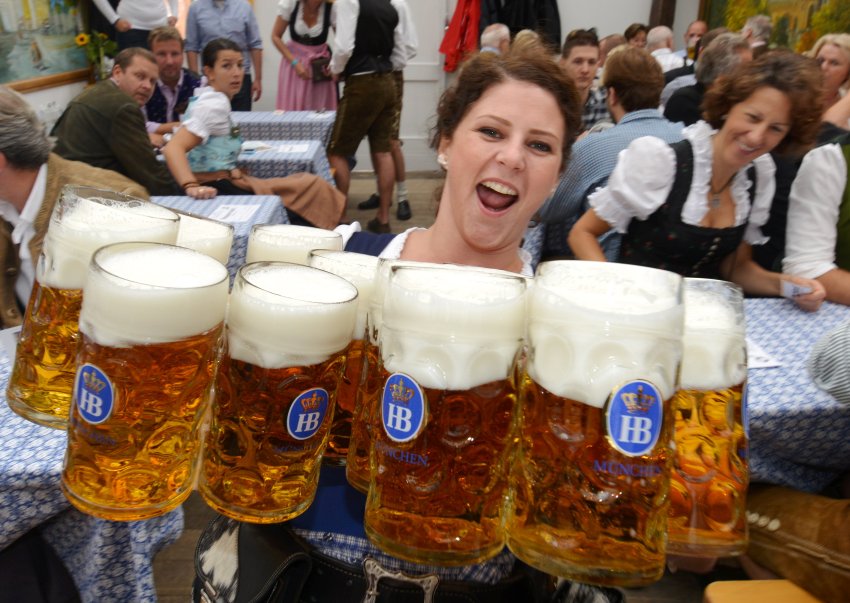 Not only are they exclusive to the party, these VIBs (Very Important Beers) pack a punch. Served in the classic 1-liter beer stein, the average Oktoberfestbier delivers a whopping 6% ABV, making these golden-amber lagers stronger than your average brew. Nevertheless, these strong beers are consumed in their olympic-sized pool load – with 6.4 million litres bought at last year's event.
No drinking without consent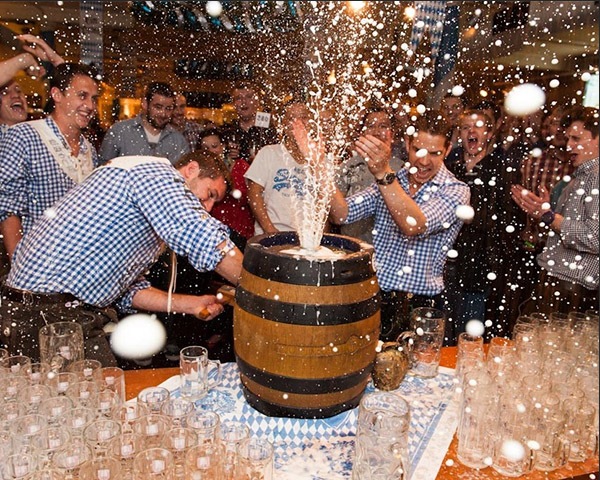 You'd think that this helluva of a beer celebration would be a very casual affair, but you'd be wrong. Since 1950, the festivities only begin when, at noon, 12 guns sound a salute and the mayor cracks open the first beer barrel, yelling "O' zapft is!" ("It's tapped!" in the Austro-Bavarian language). The mayor then hands the first beer to the Minister-President of the State of Bavaria. Also, don't be surprised to find yourself sharing a toast (or "Prost!") with a few fresh-faced school kids. The legal drinking age for beer and wine in Germany is 16 years old, and just 14 if you're accompanied by an adult.
Lost and found anyone?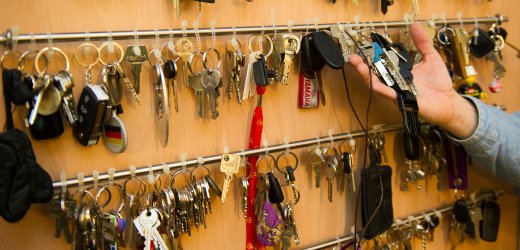 All that beer can leave your vision blurry! The Oktoberfest Lost and Found turns up some pretty memorable forgotten items-roughly 4,000 of them per year.
In years past, lost items included 350 cell phones, 520 un-reclaimed wallets, over 1,000 passports, 370 pairs of glasses, 425 sets of keys, 1300 items of clothing, and at least one set of dentures. Even 48 children were lost, then found. Add to that a lost Viking helmet, crutches and electric wheelchair too. Bizarre!
Record-breaking Balancing Act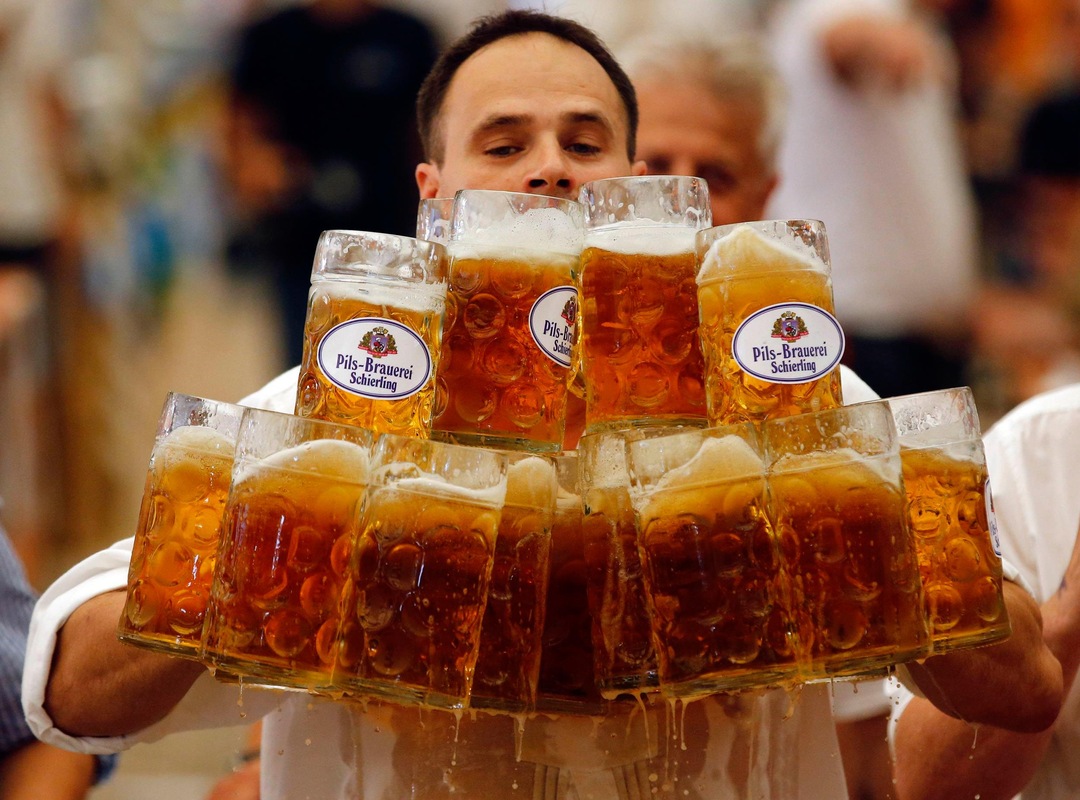 In November of 2008, Bavarian waitress Anita Schwartz broke the record for most beer steins carried at once. Schwartz balanced 19 full beer steins — 5 in each hand and 9 positioned on top of these — and walked 40 metres without spilling. She even set them down on the table without losing a drop. If the number of steins alone isn't enough to make you cheer, consider this: each full mug weighs roughly 3.2 kg or 5 pounds. To set this Guinness record, Schwartz carried a total of 45 kg or 90 pounds in her arms alone.
Banned from the revelry
When it comes to breaking the rules, Oktoberfest officials are pretty serious. In 2006, socialite heiress Paris Hilton arrived at the Oktoberfest grounds clad in a traditional Bavarian dirndl to promote a regional brand of canned wine. (The Oktoberfest grounds do also offer a wine tent.) Locals cried out against the profiting damsel-in-their-dress and Hilton was subsequently banned from the event.
Meanwhile, former Germany goalkeeper Jens Lehmann incurred a penalty of a different sort. The soccer player was seen attending Oktoberfest just hours after his Stuttgart team had lost an embarrassing match to Cologne.
Music and Beer goes hand in hand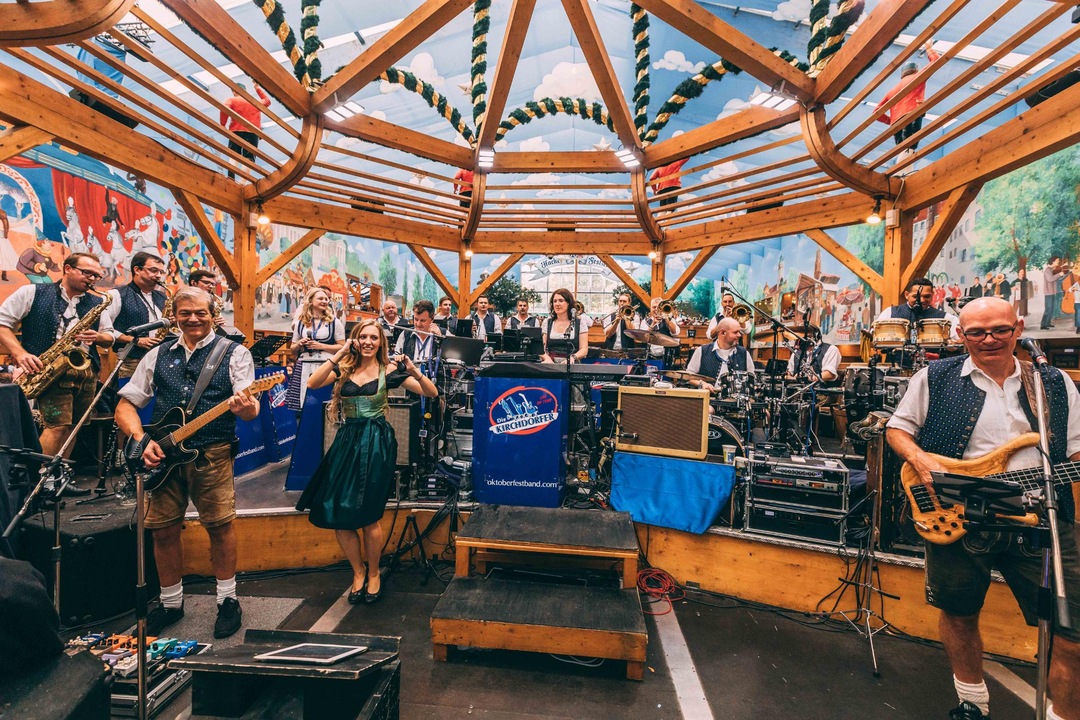 Believe it or not, there's much more to Oktoberfest than booze. Music is a very important factor in the celebrations, with every alcohol tent featuring brass bands playing a mix of reworked chart hits from the likes of the Black Eyed Peas alongside traditional German classics. If a song and dance isn't your thing, you can head for the Armbrustschützenzelt tent. A popular pavilion for locals and internationals alike, you can spend your time inside drinking Paulaner brewhouse's Oktoberfestbier, practicing your bow and arrow skills in the annual crossbow competition.
The mug is NOT a souvenir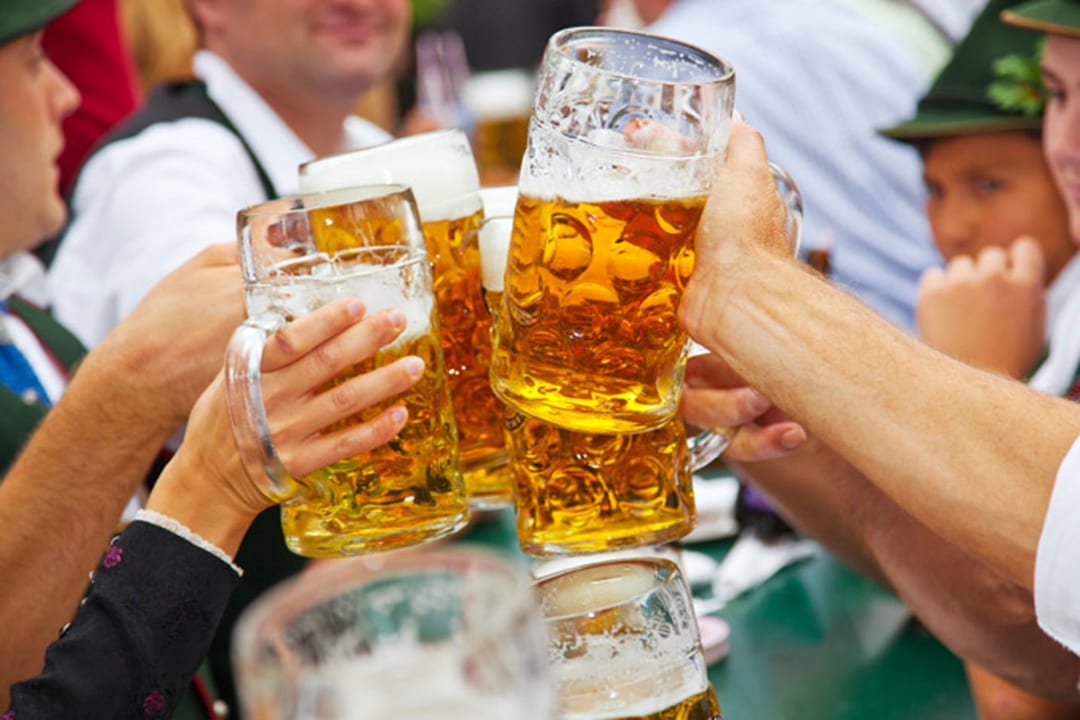 Every year, festival-goers and patrons itching for free memorabilia attempt to make off with official Oktoberfest beer mugs. The one-litre glasses, make for a fantastic souvenirs but are actually the property of the beerhall or tent landlords. Security guards are specially positioned near marquee entrances, and told to look out for mugs leaving the tents. More than 2 lakh glasses are recovered every year by the security staff. You can likely be charged for theft as a penalty for treating yourself to a Bavarian piece of hardware. For those less keen on incurring a criminal offence, these same steins are available for purchase on the Oktoberfest grounds.
Written by: Aashima Kadakia
Creative ninja and a true follower of 'Work, Save, Travel, Repeat', I love to travel, experience places and bring back stories for a lifetime. Born and brought up in Ahmedabad, I like to visit the same old places, the same cliched tourist spots and destinations, but choose to see the unexplored in the old places. Always inclined towards the mighty mountains in their debate with the beaches!