Reading Time:
7
minutes
Shying away in the northeastern corner of India, Arunachal Pradeshis a land of plentiful travel opportunities. Home to picturesque mountains, untouched passes, peaceful lakes, and renowned monasteries, Arunachal Pradesh is an amazing destination for an amazing holiday. If you want to learn about the tribes of Arunachal Pradesh, its culture, and its magnificent beauty, then Arunachal Pradesh is the place for you. Its amazing flora and fauna, found in a unique ecosystem of glaciers, high-altitude meadows, and subtropical woods contribute to the state's beauty. This northeastern state is adorned with unspoiled terrain, and the festivals of Arunachal Pradesh are a must-see for any nature lover and traveller. A treasure trove of culture, natural beauty, ancient history, and friendly people, Arunachal Pradesh is a must-visit destination.
As far as tourism is concerned,there are so many places to visit in Arunachal Pradesh with so many things to do, from observing animals to praying at spiritual sanctuaries. Besides that, the state is widely recognised for its unique tribal culture and traditions. Here is all you need to know about Arunachal Pradesh's tribes and traditions and how each tribal community has developed its distinct culture.
The Culture of Arunachal Pradesh
Arunachal Pradeshis extremely diverse since the state is home to 26 major tribes and sub-tribes. Each tribe has its own customs and traditions. Arunachal's most significant tribes are the Adi, Galo, Aka, Apatani, Nyishi, Tagins, Bori, and Bokar, among others.
The sun and moon are the governing deities of the principal tribes who practise the Donyi-Polo religion (the name stands for sun and moon). The Tibetan-influenced Monpa and Sherdukpen tribes live mostly in the West Kameng and Tawang areas. The Khampti and Singpho tribes are found in the Lohit area. All four major tribes are Buddhists, of two separate sects (Mahayana and Hinayana). The other tribes are mostly adherents of old beliefs, with animal worship being particularly prevalent among them.
Festivals dominate Arunachal's cultural lifestyle. Because agriculture is the backbone here, people often celebrate festivals as a way of thanking the Almighty for a bountiful crop. These celebrations also highlight the creative abilities of the various tribes. To enjoy the state's cultural events, go to the Ziro neighbourhood, which is extremely famous for festivities.
In terms of linguistic richness, the state is unique in Asia. Over 50 dialects are spoken here, with the majority of them falling under the Tibeto-Burman linguistic structure.
History of the Tribes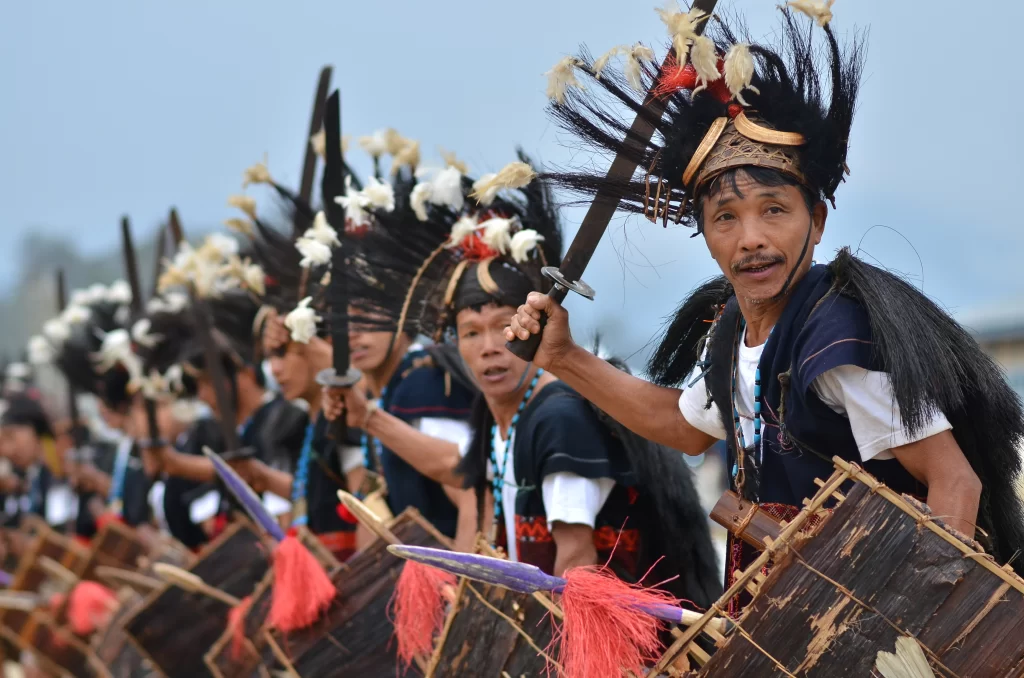 The origins of the tribes that now reside in Arunachal Pradesh are unknown. Whatever little is known has been passed down through oral traditions from generation to generation. It is usually assumed that the tribes that today inhabit this territory originated in Burma (modern-day Myanmar) and Tibet, where Mongoloid tribal groups with comparable customs still exist.
Several inter-tribal feuds occurred during these migrations, resulting in the clans dispersing over the area. In addition, catastrophic disasters in the area compelled the tribes to adapt to the nature of their geophysical environment.
Tribes of Arunachal Pradesh
When you decide and book your Arunachal Pradesh tour package, don't forget to experience its culture that is endowed with numerous attractions, fauna, and spiritual shrines, as well as several tribes. It comprises 26 major tribes, of which there are over 100 sub-tribes. Adis, Apatanis, Buguns, Hrusso, Singphos, Mishmis, Monpas, Nyishi, Sherdukpens, Tagins, Khamtis, Wanchos, Noctes, Yobin, and Khambas and Membas are just a few of the tribes you may learn about in Arunachal Pradesh tourism. They are the major tribes of Arunachal Pradesh, which are found in the vast territory of Arunachal Pradesh. The Tribal people are accomplished artisans who specialize in basketry, weaving, smithy work, ceramics, wood carving, painting, and other crafts. In reality, women play an important part in such works of art, while men work in the field. While each tribe is distinct from the other, there are a few features common to the principal tribes of Arunachal as well.
The Cuisine of the Tribes
Arunachal Pradesh's tribal cuisine has an unparalleled variety. The various dishes that are part of their diet speak for themselves, not only to the local culture but also to the diversity of local cuisine. In Arunachal Pradesh, alcoholic beverages such as apon and rice beer made from fermented rice and millet are popular drinks. There are many types of rice beer with different tastes. The staple food is rice with fish, meat (lucta), and lots of green vegetables.
Major Tribes of Arunachal Pradesh
Arunachal Pradesh's culture is particularly unique since it is made up of 26 different tribes and sub-tribes. Each tribe has its own set of traditions and customs. Arunachal Pradesh is home to three distinct cultural groups.
The first groups of Arunachal Pradesh's inhabitants are the Monpas and Sherdukpens of Tawang and West Kameng districts. They adhere to the Lamaistic school of Mahayana Buddhism.
The second group of tribes in Arunachal Pradesh includes Adis, Akas, Apatanis, Bangnis, Mijis, Mishmis, Nishis, and Thongsas, who worship the Sun and Moon Gods.
The Octes and Wanchos tribal clans of Tirap district make up Arunachal's third tribe. They practise fundamental Vaishnavism and live in a tight village culture headed by a hereditary chief.
Arunachal Pradesh, which is markedly different from the country's commercial tourism spots, is ideal for those seeking rejuvenation and serenity in the midst of the Himalayas. Aside from its magnificent natural beauty, what makes this region really magical is its lively and distinct culture. In today's increasingly westernised world, Arunachal Pradesh is a proud state in India that is still keeping its old history and traditions, with each tribal community having its own culture, customs, language, and folklore.