Reading Time:
10
minutes
Mysore is one of those cities in India that is the epitome of royalty and heritage. The city has beautifully accepted modernization while retaining its old world charm. During your visit to this place, you will get to know the layers of history and heritage that reflects in its monumental places, street life and architectural beauties. Whether you are on a family vacation or on a romantic trip, there are countless things to do in Mysore. Here's a specially curated list of things to do in Mysore for your next trip to this sandalwood city:
Experience Royalty and Grandeur at Mysore Palace
Mysore is famously known as the city of palaces, and Mysore Palace is one of the landmark places in this historic city. The palace is a quintessential Indo-Saracenic style edifice that imbibes the essence of the royal family of Mysore. This palace is still the royal residence and is considered one of the best places to visit in Mysore. The intricate design and illuminated corridors of the palace magnify its beauty and showcase the excellent craftsmanship of the foregone era.
Location: Sayyaji Rao Road, Agrahara, Chamrajpura
Witness the Architectural Beauty of Jaganmohan Palace
Jaganmohan Place has huge cultural significance as it used to be the royal residence of the King of Mysore. The palace is the perfect example of architectural panache that is admired by people who have a keen interest in history. Today, the palace is transformed into an art gallery that attracts numerous tourists and art lovers. You can find some of the rare artefacts of South India in the art gallery which is surely a fascinating thing. Other than this, the palace also has an auditorium where cultural dance and music festival is hosted. You must include in marvellous place in your Mysore sightseeing package.
Location: Jagan Mohan Palace Road, Chamrajpura
A Soulful Experience at Chaamundeshwari temple
Any trip to South India is incomplete without a visit to its famous temples. In Mysorean culture, Chaamundeshwari Temple is a Hindu shrine that holds huge spiritual significance. The temple is located at Chamundi Hills in Mysore. It is not only a place where people worship the fierce form of Shakti but it is also regarded as an architectural marvel. Every door, corridor, and pillar of the temple is carved with a unique ancient design that reflects the rich Indian culture. If you want to cover monumental places in one day in Mysore, then the best thing to do is to visit this place. Due to its fine construction and religious significance, Chaamundeshwari Temple attracts a lot of tourist attractions in Mysore.
Location: Chamundi Hills
Tonga Ride
Next on the list is a very fascinating Tongan ride. This is where Mysore will surprise you with its street beauty, which you can explore by sitting on a tonga. It is a horse-drawn carriage that is most common near Mysore Palace. Earlier, this vehicle graced the roads of Mysore in all parts of the city, but today, modern-day transport has taken over.
Tourists and honeymooners love to take an exhilarating ride on the Tongas to see the heritage locations around the city. If you want to have a city tour that covers all the Mysore attractions, then you must take the tonga ride.
Location: Near Mysore Palace
A Quite Time at Shivanasamudra Waterfalls
Shivanasamudra Waterfalls tops the list of top 10 places to visit in Mysore and rightly so. These twin waterfalls entertain tens of thousands of tourists every year. Enveloped by the tranquillity of nature, it is a waterfall that looks magnificent when it plunges down the Deccan Plateau. Gaganachukki and Bharachukki are the names of these waterfalls. The waterfall has a soothing sound that instantly calms your mind and connects your soul to nature. You can also take a dip in the sparkling water or stroll around with your partner. This place is ideal for people of all ages, as you can consider it a picnic spot for the family, an adventurous place for friends, or a romantic getaway for couples.
Location: Near Bangalore Mysore highway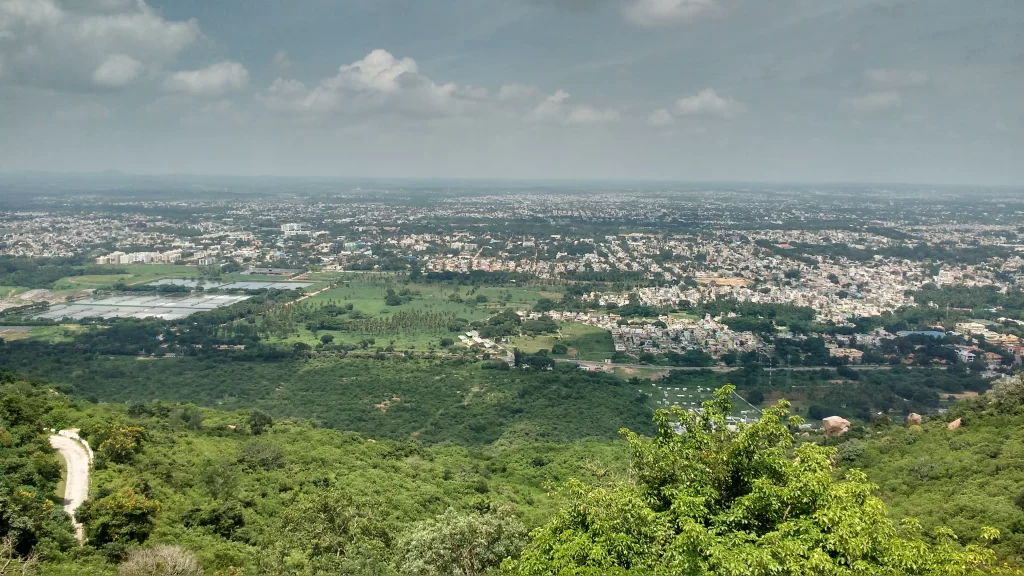 Gambol around at GRS Fantasy Park.
If you want a well-balanced trip where you cover the historical places but also look forward to the excitement and thrill of an amusement park, then you must go to the GRS Fantasy Park. This is amongst the most adventurous places in Mysore where you can have a gala time with your loved ones. Perfect for a fun time with kids or friends, GRS Fantasy Park has ginormous slides, a playground, and water activities that add to the adventure. The water rides are the favourites amongst children who love to play in this theme park in Mysore.
Location: Off, KRS Rd, Metagalli, Mysuru, Karnataka
Rejuvenate Your Mind and Body at Chunchanakatte Falls
It's interesting to know that Mysore is surrounded by a lot of natural beauty. If you are looking for tourist attractions in Mysore, then Chunchanakatte Falls is certainly the place to be. The waterfall comes out of the Cauvery river and has a scenic environment. You can click some beautiful pictures as the background is spectacular and looks beautiful on camera as well as in person. Make sure to plan your trip in a way to spare an entire day for this place, as you will not want to leave once you reach here. The region is full of greenery and a clear blue sky and has a small temple of Lord Kodanda Rama. People visit this temple to feel a sense of calmness and pay their homage to Lord Kodanda Rama.
Location: 68 km from Mysore near the Mysore Hassan Highway.
Nightlife in Mysore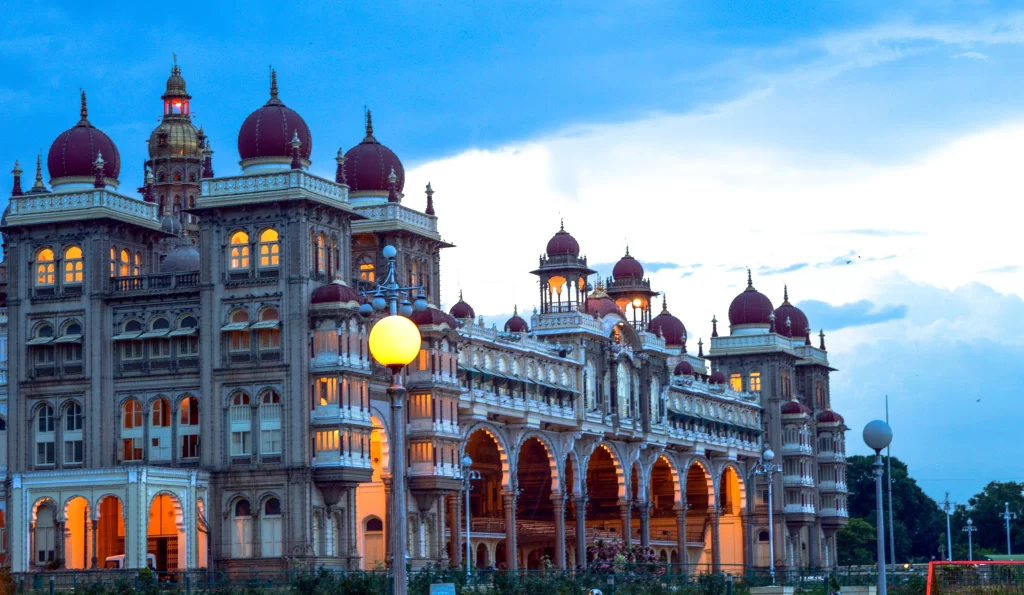 The streets of Mysore tell the story of its culture, heritage, and history. It's rather interesting to know that night walks are organized in the city. So, if you are looking for things to do in Mysore at night, then book a slot for this night walk. This is the perfect way to explore the city on foot, where you can spot landmark locations and get to know the city in its most glorious way.
The walk starts at 7 pm and covers the local market of Mysore, historical places, and many more locations. If you are worried that seeing these places on foot is a bit taxing, then you must know that you can walk at your own pace and you will be in the company of other tourists as well. It is a rather enriching experience that you can have with your friends and family.
Location: Tour starts at Town Hall.
A Visit to Sandalwood Oil Factory
There is a reason why Mysore is called the City of Sandalwood. If you are an avid explorer, you must visit the Sandalwood Oil Factory in Mysore which is owned by the government. The aroma of sandalwood is very familiar to any Indian and gives a sense of familiarity. When you visit this place, you can smell the sandalwood scent that is mixed in the air. The factory is very old and is famous for making the world's most famous sandalwood soap. It was very interesting to see the process of soap manufacturing and sandalwood harvesting in the factory. You can also pick up some sandalwood products that you can gift to your loved ones.
Location: Ashokapuram, Mysore
All about Silk in the Silk Factory
Popular touristy places are covered by many, but very few have the curiosity to visit off-beat artistic places. If you are one of those people who love to explore something new, then the Mysore silk factory is the right place for you. Learn about the craftsmanship of making six yards of elegance in the Karnataka Silk Industries Corporation factory. A tour of the factory will educate you about the process of making silk sarees, which are very famous all around the country. Karnataka silk sarees are considered to be one of the finest silk qualities all over India. You can also buy silk products as a memory of your Mysore trip.
Location: Mananthavady, Mysore
Mysore is a place that will leave you mesmerised and longing for yet another trip. There is so much to explore and so many things to do in Mysore that it cannot be summarized. However, the above-mentioned things must be included in your Mysore trip to make the most of it.