Reading Time:
11
minutes
Founded in 600 BC by the Celts of Northern Italy, conquered by Romans in 222 BC, and named Mediolanum throughout the roman reign, Milan has it all – from culture to art to fashion to history to mystery and more.
Though Milan might not be the first destination tourists consider while looking for travel packages for Italy, it has more than its share of history and attractions. There are a million things to do in Milan despite being less touristy than Rome, Florence, or Venice. Milan not only boasts an abundance of diverse and stunning architecture, but it also offers the best of the world – fashion, art, and food. The city is no stranger to fashion. It is home to your favourite brands – Armani, Versace, Ferré, Prada, Bottega, and Veneta. And once you get there, you will find the city never refuses to mix modern art, ancient architecture, and good old Italian food.
Let's explore more about this magical city, Milan.
Food in Milan
Who cares about mood when you have food!!
One thing you are going to love about Italy is how special each region is with its cuisine and culture. Located in the Lombardy region of Italy, Milan is a food universe. There are so many amazing places to visit in Milan that will surely soothe your growling stomach. An authentic Milanese cuisine
From creamy risotto to fluffy michetta dipped in warm minestrone served with fresh pesto holds a special place in Milanese traditional cuisine.
Served with a dollop of whiskey or laced with white wine, minestrone was especially loved by the genius inventor and vegetarian Leonardo Da Vinci. And despite all the pomp and posh of pasta and pizza, Italy never disappoints meat lovers, in fact, Milan's most iconic dishes are meat, meat, and more meat. Ossobucco and Cotoletta alla Milanese are two meat stars you will find at most restaurants in Milan.
Milan boasts an impressive number of 56 Michelin-starred restaurants. A Michelin star guide is a globally-accepted food rating system, and having so many wonderful restaurants of that stature, the culinary expertise of Milan is a testament in itself.
Here are a few remarkable places to visit in Milan for a great food experience:
Seta by Antonio Guida – A 5-minute drive from Duomo di Milano, Seta sits at the central location and is one of the most talked-about fine dining destinations in Milan.
Il Luogo di Aimo e Nadia – With a menu based on sublime regional Italian cuisine, which is revolutionised with an innovative twist, the food at this restaurant will not only tickle your taste buds but bedazzle you with its presentation. Simply, il bacio dello chef!
Felix Lo Basso Home&Restaurant – Headed by Felice Lo Basso, it is a creative open kitchen known for its ever-changing single menu inspired by northern Europe. This Italian restaurant received its first Michelin in 2022. Known for his inventive and elaborate dishes, the chef, at times, creates his reinterpretations of recipes from his native place, Puglia.
Ristorante Dal Bolognese – Within walking distance from Milan Cathedral, Dal Bolognese serves drool-worthy traditional Italian cuisine with vintage elegance. This restaurant, with its elegant atmosphere and an internal courtyard for outdoor dining, brings Rome to Milan and is often visited by celebrities.
Chinatown – In case you crave some yummy soupy noodles after your supper, taking a tour down the streets of Chinatown is one of the best things to do in Milanfor all Asian food lovers. Bordering the monumental cemetery of Milan, Chinatown comes to life when the sun goes down. With its local gift shops and authentic Chinese food, Chinatown is like a warm fussy corner in the high-fashion streets of Milan.
Shopping and Business in Milan
A city that inspires wanderlust, Milan is a hubbub for the business minds of the world as well. Known as Borsa Italiana, Milan is the host to Italy's only stock exchange. It welcomes you with an unusual sight of a middle finger sculpture made by famous artist Maurizio Cattelan, with all the other fingers obscenely chopped off, standing right in front of Palazzo Mezzanotte – the headquarters of Borso Italiano. It has become a symbol of outcry against capitalism and high finance. It is one of the top places to see in Milan.
Since we are on to business, let us talk about shopping because shopping is a serious business. Isn't it?
Second to Paris in fashion and design, Milan houses some of the world's most renowned fashion and independent brands. Whether you are a fashion enthusiast or not, shopping is one of the top things to do in Milan.
These fashion streets are top attractions in Milan:
The Golden Rectangle, Or Quadrilatero d'Oro –
Formed by Milan's most elegant shopping streets, it is a fashion Mecca located in the centre of the Italian city of Milano. There are many flagship stores in this quadrilateral, including high-end brands and major fashion houses. In short, what is Rue Saint-Honoré is to Paris, Quadrilatero d'Oro is to Milan. And even if your budget does not stretch, you can always whip up your aviators, grab your purses and strut through the streets like crème de la crème.
Via Torino –
In contrast to The Golden Rectangle, Via Torino offers more shopping options having smaller boutiques and shops. The street offers more affordable fashion choices for purchasing.
Touristy places to visit in Milan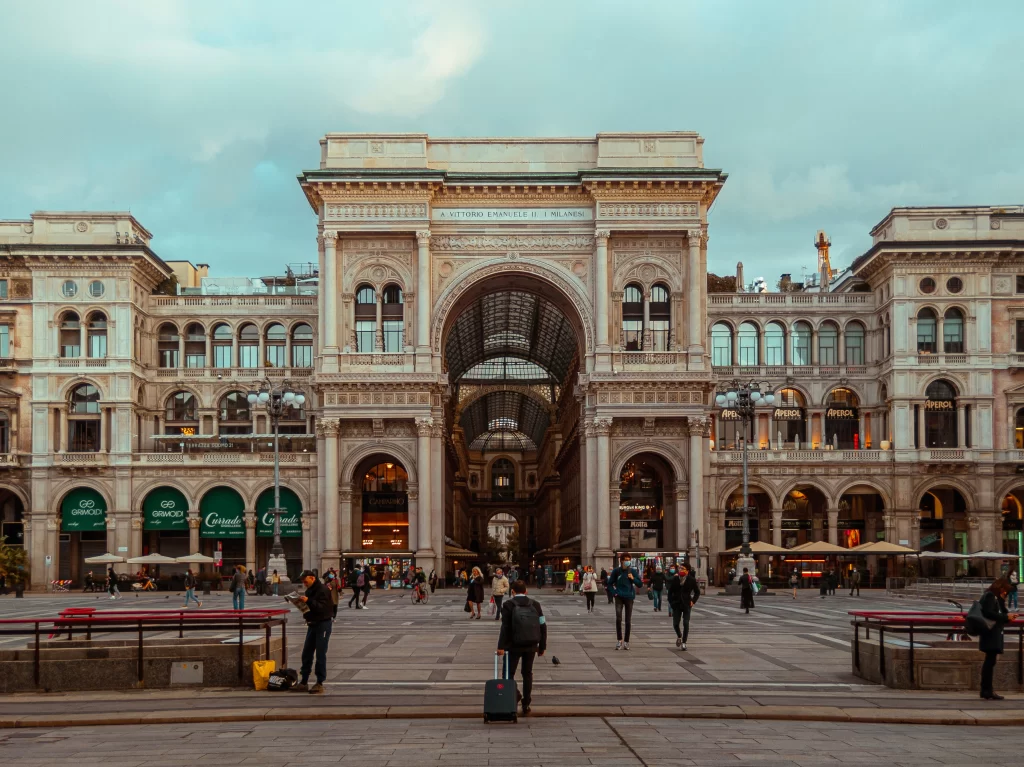 Often underrated and compared to its more popular sisters Rome, Florence, and Venice, Milan has a lot to offer.
Fast-paced and modern, Milan has deep roots in the past with its museums and buildings that offer both ancient and contemporary architecture.
Santa Maria delle Grazie
Home to Leonardo Da Vinci's painting of the Last Supper, located in the refectory of the Santa Maria Delle Grazie, it is a UNESCO World Heritage Site and one of the most famous attractions in Milan.
Home to one of the world's best paintings, Santa Maria is not only rich in its history of housing famous artists, but its architectural structure was also designed by famous Italian sculptor Guiniforte Solari. Checking it out is marked among the top things to do in Milan for art lovers and artists of all kinds.
Milan Cathedral
A 20-minute drive from Santa Maria stands in the centre, and a high street of Milan is the giant Duomo di Milano. The infamous Milan Cathedral is technically the largest church in Italy and is on top of the list of places to visit in Milan for many travellers. Considered the number one in Milan attractions, no trip to Milan is complete without at least walking through the piazza and admiring the centuries-old craftsmanship.
Galleria Vittorio Emanuele II
Neighbouring Milan's Duomo, covered by an arching glass and cast iron dome roof, and housed within a four-story double arcade, the Galleria is the oldest shopping gallery in Milan, Italy. Also, due to a myriad of shops and some of Milan's oldest restaurants, the Galleria is nicknamed "il salotto di Milano", or Milan's drawing room. A visit to this place will make you know Milan in the best way, where fashion & food meets.
Teatro alla Scala
One of the most famous opera houses in Italy, La Scala has hosted concerts for over 200 years. Regarded as one of the leading opera theatres globally, La Scala houses a magnificent museum you can visit year long which contains historical paintings, statues, costumes, and other documents that will take you on a journey to the theatre's past.
Sforzesco Castle  
Built at the peak of the Renaissance period, this medieval castle houses precious art treasures made by Michelangelo, Canaletto, da Vinci, and many more renowned artists. It is like a private powerhouse for all artists and art devotees worldwide. Less trafficky than other museums and galleries, you can take a 15-minute walk from the Piazza del Duomo, whistling and taking in the general splendour of the main city.
Navigli
Experience Venice in Milan. Yes, you read it right! Built in the 11th century as a defense against Roman attacks, the canal welcomed a flux of commerce, transport, and agriculture. Today, this place comes to life at night with boats gliding down the river, and people hopping from one shop to another with a fresh scoop of gelato clutched in their hands.
Ca' de l'Oreggia
दीवारों के भी कान होते है।
Be very wary of what you share, and with whom, for you never know who is listening. This Indian idiom cannot be truer in Milan. This place features a giant ear protruding out of the wall next to the door of Palazzo Sola Busca. One of the more unusual yet interesting attractions in Milan, even though it no longer works, this ear was originally the sole intercom for the city. Legend has it that if you whisper your desires or dreams clearly to this ear, one day, they could come about for you.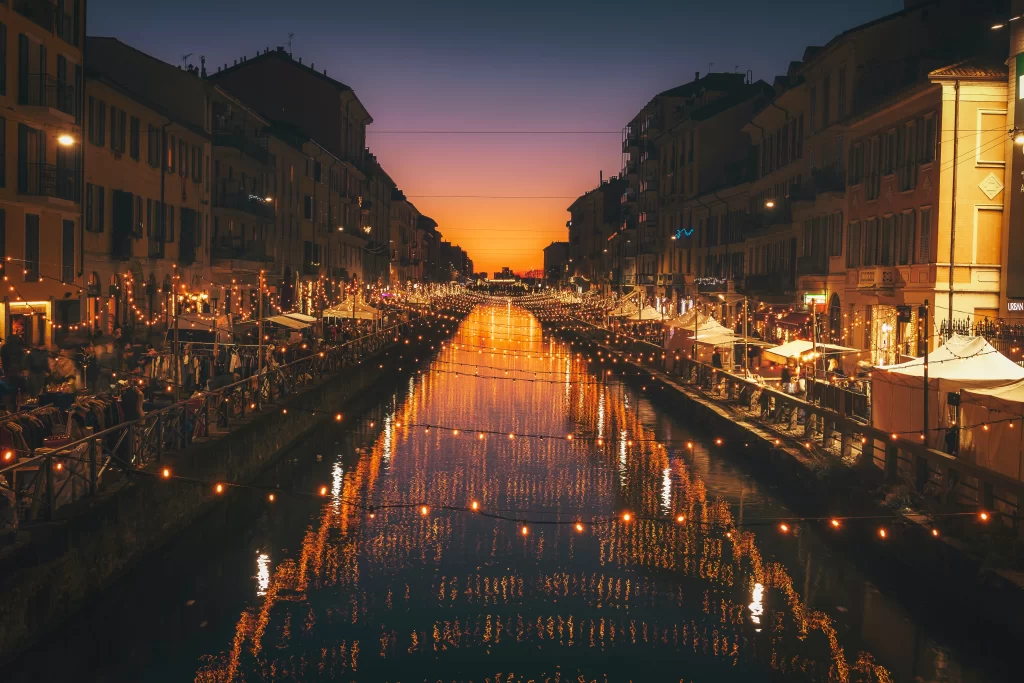 Of all the wonders of the world in Italy, it is no secret that Milan houses the most.
But Milan does not end here. Now that you have gone and read all the touristy places to visit and amazing things to do in Milan, let us not forget that there is a whole pandora waiting to be discovered behind those shiny doors and back streets. So, plan your trip to Milan soon to have an experience of a lifetime.