Reading Time:
9
minutes
Dubai is one of the most popular tourist destinations in the world. When it comes to Indian travellers, this Persian city is easy to reach, explore, and fall in love with! Why you ask? Because there are so many places to visit in Dubai! The grandeur ambience of this Emirati city has such a unique charm that you will surely come back for more. The best part about choosing a Dubai tour packagefrom India is that you will be able to visit several religious places. Did you know that Dubai hosts several Hindu, Sikh, and Jain temples? That's right! A metropolitan city that celebrates all cultures and traditions, Dubai is the place to be. Here are 8 Hindu temples inDubai that you should be a part of your travel itinerary the next time you vacation in this city:
1. Shree Krishna Haveli 
One of the oldest Hindu temples inDubai, Shree Krishna Haveli was constructed in 1958 after HH Sheikh Rashid Bin Saeed Al Maktoum granted land for this holy place in Al Fahidi (restored historical neighbourhood). A lot of Indian tourists visit this temple before going for a desert safari in Dubai as Mangala or the first darshan of the day is considered very auspicious. The aarti begins at 7 am every morning, so you can plan your visit accordingly. In case, you have other places to see, then you can attend the evening aarti at 7.30 pm.
2. Shiva Temple 
Right next to the Dubai Museum in Al Fahidi is the Shiva Temple, one of the most revered Hindu temples in Dubai. The best time to visit this place of worship is during Shivratri when there are celebrations organized by the temple authorities for everyone to enjoy. The deities presiding in this Hindu temple in Dubai are Shiva Lingam and Nandhi. In order to maintain proper social distancing, the duration for offering your prayers has been limited. So, it is best to visit this temple at 7 am in the morning or 6 pm in the evening when the aartis are performed.
3. Shirdi Sai Baba Temple 
As part of the Shiva temple in Al Fahidi, the Shiridi Sai Baba temple of Dubai allows devotees from various cultural backgrounds to pay their respects to both deities together. After offering your prayers to the Shiva Lingam, you can also pay homage to Sai Baba's deity in the same Indian temple complex in Dubai. There is provision for wheelchair access, so senior citizens and people with disabilities can easily pay their respects as well. The Shiridi Sai Baba temple in Dubai is open from 6 am to 12 pm in the morning and 5 pm to 9 pm in the evening.
4. Sindhi Guru Darbar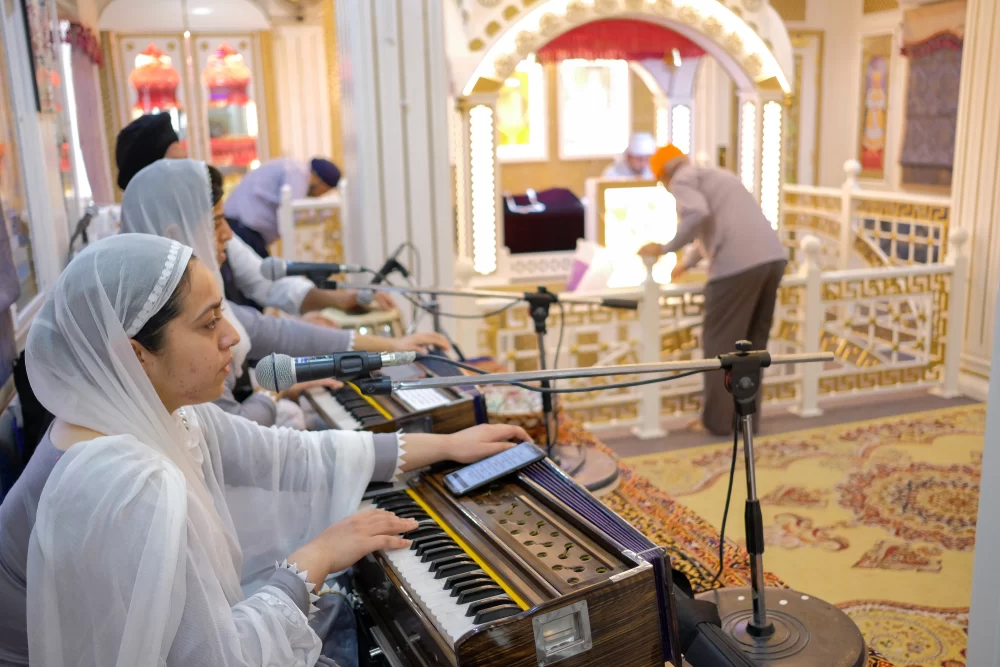 If you are on a Dubai honeymoon package or a family vacation, visiting the Sindhi Guru Darbar is highly recommended. This is because of the pure tranquility that you will experience at this Sikh temple situated in the heart of the Al Fahidi area. The blessings of Sri Guru Granth Sahib Ji will help you achieve your dreams in the most meaningful way. The portals of this temple are open from 6 am to 12 pm during the day and 5 pm to 9 pm at night.
5. ISKCON Dubai
One of the most iconic Hindu temple chains in Dubai is ISKCON. Located in Karama, this place of worship hosts several events and conferences that are attended by ISKCON leaders from all over the world. In fact, you can enjoy a sattvik meal at the premises of ISKCON or Krishna temple in Dubai at their restaurant, Govinda. There are so many activities being organised in this temple complex that you can spend at least half a day here! It is open to the public from 5 am to 7.30 pm every day, so you plan your visit accordingly.
6. BAPS Hindu Mandir, Abu Dhabi 
If you are visiting Abu Dhabi from Dubai, then the Swaminarayan temple can be on your bucket list. Officially known as BAPS Hindu Mandir, this temple in Abu Dhabi is 94 km from Dubai approximately. You can book a cab or take a bus to this holy place, and it will only take you an hour to reach by road. International events and Hindu festivals are celebrated with the same gusto every year. Since this temple complex is still under construction, you need to check with your travel agency before planning your visit in 2022.
7. Dubai Jain Derasar 
Situated at the Musalla Towers in Bur, Dubai, this jain temple is a ghar derasar. This means that it is a home temple where Jain devotees can pray in peace. It is only the Shwetamber Jain temple in this city, so you should surely pay a visit on your next vacation. Very accessible from the Al Fahidi metro station, this Jain temple in Dubai is home to Lord Vimalanatha, Lord Parshwanath, and Lord Sumatinath, the three most revered Tirthankars in Jainism.
8. The Hindu Temple, Dubai
The newest Hindu temple in Dubai is set to open its door at the festival of Diwali 2022. Situated in the heart of Jebel Ali, the architecture of this temple will have elements of both Hindi and Arabic styles. However, it is important to note that all the designs are based on Indian temple architecture and Hindu shastras. Set to be one of the most beautiful Hindu temples in the Middle East, it is going to be a tourist attraction open to people from all religious and non-religious backgrounds.
Things to Do in Dubai 
After taking the blessings at the various temples, you can explore this city with your friends or family members. Mentioned below are 4 of the most exciting things to do in Dubai on your next vacation:
Get Adventurous at the Desert Safari 
It is almost impossible to vacation in Dubai without enjoying a desert safari ride! Enjoy the Arabian sand dunes with a mouth-watering traditional meal and fall in love with Emirati hospitality. There are a number of companies offering desert safaris, so it is best to choose one with the highest customer ratings.
Cruise at the Dubai Marina 
You can book a private yacht or take a group tour cruise and spend some time at the Dubai Marina for a lazy afternoon at sea! The sheer beauty of the marina will make you forget all your worries and make the most of your trip. You can even book a speedboat tour and take a glimpse of all the landmarks in this city.
Spend a Day at Aquaventure Waterpark 
Situated within the luxury resort Atlantis The Palm, this waterpark is the perfect place to bring you aquaphile. You can visit the Lost Chambers which is home to more than 65,000 sea animals with a one-day pass that is applicable across this waterpark. Easily accessible from the main city, this themed park is just what you need to make your trip memorable.
Visit the Tallest Building in Dubai 
Who vacations in Dubai and does not visit the Burj Khalifa? Nobody! This is because it is the most iconic building in this city with an observation deck called "At the Top" which will blow your mind. The sheer magnificence of the Burj Khalifa is the main reason why thousands of tourists visit it on a daily basis. Get some green screen photographs or stand on the glass floor, there are so many activities to do at this building that you will need at least a few hours to explore all the places open to the public.
With so many temples in Dubai and places to visit, your vacation is going to be a journey of a lifetime. Don't wait too long to book your travel package!