Reading Time:
9
minutes
You've probably experienced paragliding, skiing, and perhaps scuba diving when you think about adventure sports. However, many individuals are hesitant to go on extreme excursions such as skydiving. But if this is something you've always wanted to do, there's some good news for you. You don't have to travel all the way to Spain or another foreign country to enjoy this; there are many spots in India where you can have a safe skydiving experience. Now you don't have to spend hundreds of dollars to do what you like as the cost of sky diving in India is very reasonable.
There was a time when extreme adventure activities like skydiving were deemed dangerous and impractical. A person leaping out of a flying aeroplane has since been regarded as a sport that increases adrenaline levels by an increasing number of adventure sports in India. With adequate preparation, everyone can enjoy the sport. Skydiving may be both safe and fun if you obtain the proper training. Skydiving is a popular adventure activity among die-hard fans.
Types of Sky Diving
1. Tandem Jump
Tandem skydiving is the best option for beginners in India. You will be tethered to an experienced instructor throughout this jump, and they will run the apparatus and perform the move. These skydivers are essentially students who do nothing but participate in the sport. The passengers are shown how to evacuate while maintaining appropriate posture and elevating their legs. This is a terrific way to get your first taste of skydiving with a safe and experienced diver. The traveller does nothing except enjoy the ride.
2. Static Line Jump
You leap from 3.000 feet above the earth in this style of skydiving. It takes six hours of training and preparation for such a jump excursion. However, as you fall, you are still linked to the aeroplane, and the parachute is designed to open after a certain amount of time. As a result, the skydiver is not required to take any action during this time. However, following that, you must do exactly as instructed and adhere to all safety precautions during this fall. If you are the faint-hearted kind, avoid it or go tandem jumping, as it is a tough activity that takes a strong head and a strong spirit.
3. Accelerated Free Fall
Accelerated Free Fall, or AFF, is the best method of skydiving for beginners. It is an amazing skydiving course in India for learning skydiving and receiving instruction to understand how to manage the body in the air and utilise the parachute to land. The teacher assists you in jumping. They initially hold you and then gradually release you till you are on your own. The diver receives a licence after completing post-jump instruction.
But if you think that you will need a passport to go skydiving in another country, don't worry about it! We have your back, as in this blog, we've some best places in India for skydiving. Yes, you read it right! Booking for this adrenaline-rush sport with a travel company in India like Veena World will give you cost-effective packages.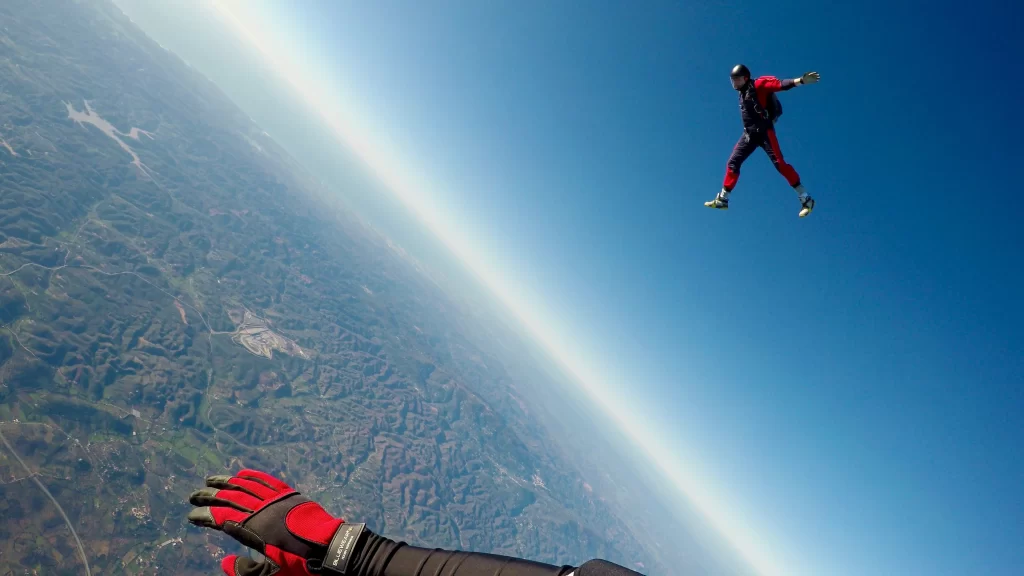 1. Aamby Valley City, Maharashtra
If you love adventure and if you are looking for skydiving places in India, come to Aamby Valley for one of the most amazing experiences of your life. Many Mumbaikars are known to visit this location. Trained American and European instructors utilise the best equipment to guarantee that every skydiver has a safe experience. You may enjoy the wonderful scenery of the Aamby Valley Estate while diving.
Cost

Monday to Thursday – INR 25,000
Friday to Sunday – INR 30,000
Timings– 8 a.m. to 10 p.m.
2. Deesa, Gujrat
On the lakefront is Deesa, a vibrant city near Ahmedabad in Gujarat that is one of the best places to skydive in India. This adventure destination is one of the greatest in India for adrenaline seekers. The location also features a certified drop zone, which is one of the top five skydiving destinations in India. And it's a great place for both novice and expert divers. To provide you with the greatest experience possible, the Indian Parachuting Federation and the Sports Authority of Gujarat host skydiving camps in Deesa, Gujarat.
Cost

Tandem Jump – INR 33,500
Static Line Jump – INR 16,500
Accelerated Free Fall – INR 37,500

Timings- 7 a.m.
3. Mysore, Karnataka
Just a few hours from the Silicon Valley city of Bengaluru in Karnataka is the city of Mysore, which is set at the base of the Chamundi Hills and tops the list of finest skydiving locations in India. Prior to all three types of jumps and falls, the skydiving camps here provide professional instruction for 2-3 days. Tandem leaps, fast free falls, and static jumps are the three types of jumps that are interesting, right? This Christmas season, abandon the conventional trips and try something entirely out of the ordinary. Choose Mysore as your skydiving location in India for a fantastic experience. Skydiving Prices in Mysore, India start at Rs 35,000 for tandem jumps and escalate based on the type of jump, hours, and venue.
Cost

Tandem Jump – INR 33,500
Accelerated Free Fall – INR 25,000
Timings- 10 a.m. to 6 p.m.
4. Narnaul, Haryana
This spectacular skydiving location is located in Narnaul, Haryana. This is one of the top skydiving locations in India, with a freefall from an estimated height of 10,000 feet. From above, the city's many ancient landmarks, blue lakes, and green fields appear to be simple dots of colour on the surface. As you get closer to the ground, the scene will become clearer. The instructors and divers here are highly qualified and provide the finest possible experience. Tandem and tandem free jumps are available here. To assure the highest level of safety, all equipment is maintained and tested by a qualified FAA parachute rigger.
Cost

Tandem Jump –INR 27,500
Static Line Jump – INR 18,500
Timings- 10 a.m. to 5 p.m.
5. Dhana, Madhya Pradesh
When visiting Madhya Pradesh, Dhana is the place to go for tandem jumps, where an instructor will accompany you as you leap out of an aeroplane. Because you will be strapped together, this is a comparatively safer option for newbies who are concerned about their descent. The linking straps will be placed so that one person will hover above the other throughout the drop. Most tourists to Dhana come to enjoy skydiving camps, and the tandem jump requires no ground training.
Cost

Tandem Jump –INR 37,500
Static Line Jump – INR 24,000
Timings- 10 a.m. to 5 p.m.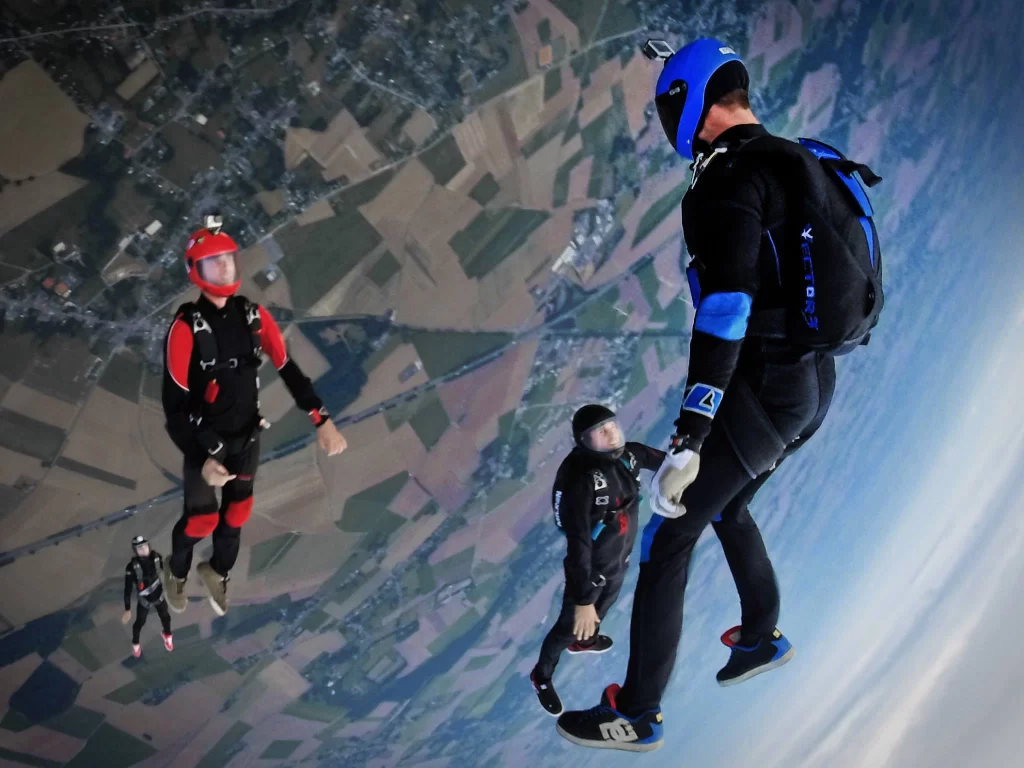 The thrill of an unaided or aided flight from the sky is worth experiencing. Skydiving allows you to realise your fantasy of flying like a bird. Have you made up your mind about where you want to go? Do not hesitate to visit the nearest skydiving location to your home. You never know, you could end up having the trip of a lifetime.