Reading Time:
8
minutes
Ladakh is unlike any other region on the planet. From world-famous monasteries in Leh Ladakh to picture view, this place cannot be described in words. Visiting Leh and Ladakh may be a wonderful experience because these regions are rich in natural beauty. There are several attractions in Leh, Ladakh that are breathtakingly beautiful. Ladakh is definitely worth a visit, with its own qualities that are a combination of Indian, Tibetan, and Buddhist linings.
There are numerous tourist places to visit in Leh Ladakh, which is regarded as one of the most beautiful, quiet, and happy locations in the world. Leh is a treasure mine of captivating landscapes, stunning natural vistas, and liveliness, with rivers like the Indus, Zanskar, and Shyok tumbling here with the Himalayas as its backdrop.
Amongst the countless tourist attractions that people include in their Leh packages is the famous Shanti Stupa. Located 4267 meters above Leh, it provides a panoramic view of the surrounding snow-capped Himalayas. It is roughly 5 kilometres by driveable road from Leh city, or else it may be accessed by ascending 500 stairs. The Shanti Stupa is situated in such a way that it can be seen from anywhere in Leh.
A set of steps leads to the first floor, which displays a Dharmachakra (a white stripe of the Indian national flag with two deer on each side) with a central figure of the Lord. The second level displays the birth of Buddha, the defeat of devils in meditation, and the death of Buddha, as well as several little pictures of Buddha meditating, all embossed in brilliant colours.
The white dome, The Stupa (Chorten) is erected on the Changspa, a high hill facing the Leh Palace, and offers spectacular dawn and sunset vista. It becomes more lovely at night when lighted with white light. It was constructed by Ladakhi and Japanese Buddhists. It was created to encourage world peace and prosperity as well as to honour Buddhism's 2500-year history.
The Shanti Stupa in Leh is one of the city's outstanding monuments. It is a white-domed monument created in 1991 to celebrate 2500 years of Buddhism and to encourage global peace. It is one of the city's biggest attractions, and many people like visiting it. It is a two-level structure that appears interesting with all the features. Because the Shanti Stupa is positioned on a high peak, the view from the top is just breathtaking. People visit for two reasons: one, it is a holy place; and second, the views from the summit are spectacular. Shanti Stupa is located roughly 3600 meters above sea level and is a popular destination for adrenaline seekers. It is delightful to visit this great sight, but there are a few things to keep in mind.
History of Shanti Stupa, Leh
Nichidatsu Fujii, better known as Fuji Guruji, had the initial concept for the creation of Shanti Stupa in 1914. The stupa is also known as Sanchi Stupa in Leh was built by Japanese and Tibetan monks working together under the guidance of Bhikshu Gyomyo Nakamura and Kushok Bakula, the then Llama of Ladakh.
The Shanti Stupa project was part of the "peace pagoda mission," which aimed to build pagodas all across the world. The stupa's construction began in 1983, with funds provided by the Indira Gandhi administration. The Shanti Stupa was formally opened in 1991 by the then Dalai Lama, Tenzin Gyatso after construction was finished in 1984.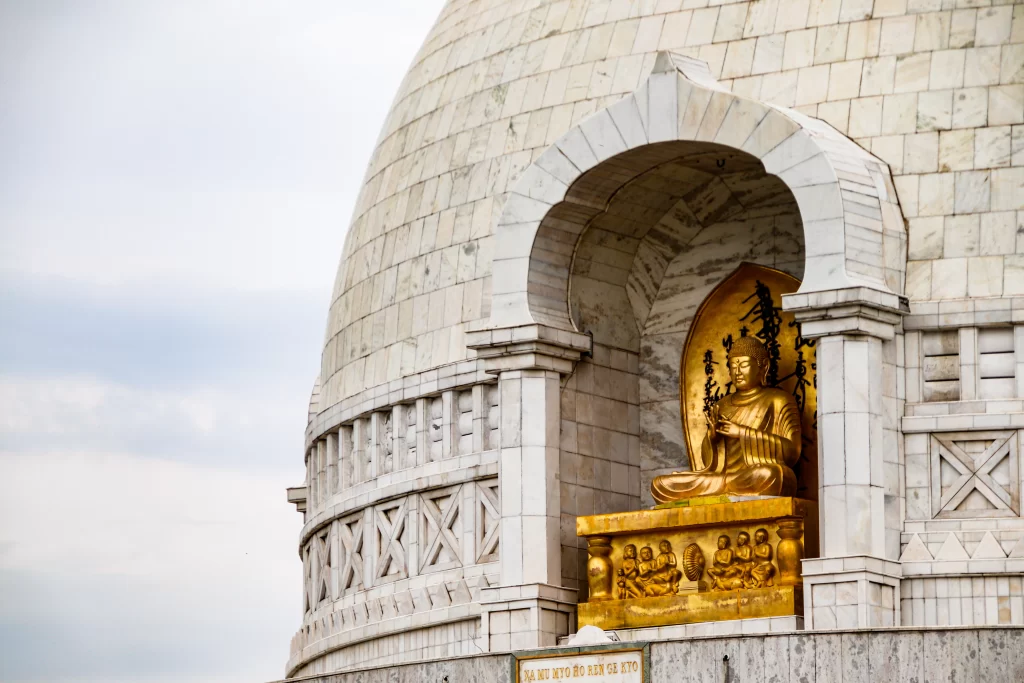 The Architecture of Shanti Stupa, Leh
The Buddhist stupa serves as a landmark for the sacred space that represents the great Gautam Buddha's burial mound, and India has some of the oldest stupas in Buddhist culture. The architecture of Chantis Stupa mimics the architecture of a much older stupa. Its architectural style is very different from typical Ladakh architecture, making it a unique and popular attraction in the region.
To reach Chantis Stupa, climb 500 steps and you will find Buddhist cairns on both sides. The structure is milky white; the height is two stories, and there is a dome at the top. The dome, or mound, is reminiscent of the earthen mound used to cover the remains of the Buddha. The square railing at the top of the dome shows the fence around the hill and is a sign of a sacred place. Above the square building is a central pillar with an umbrella. This is called "Chatra" and represents the fulcrum of the universe where God ascends from heaven and becomes accessible to humankind. The walls of Chantis Tuppa are painted with colourful reliefs depicting the milestones of Gautam Buddha's life, including his birth, the fight against the devil, victory over injustice, and death. Inside, there is a huge meditation hall where you can sit, chant the Lord's name, meditate, and find peace of mind.
Important Tips to Remember
As previously stated, reaching Shanti Stupa requires a 500-step ascent. You must dress comfortably and use appropriate footwear.
As the term "Shanti Stupa" suggests, maintain decorum since the Shanti Stupa signifies peace and serenity.
Keep hydrated, too, because the Shanti Stupa is 500 stairs up.
The stupa's lights are kept on at night, so the view is amazing and should not be missed.
It's evident that you can't miss the breathtaking scenery, so bring your camera.
Smoking is not permitted around the Stupa.
It goes without saying that you must remove your shoes before visiting the Shanti Stupa.
How to Reach?
1. By Air:
Since Leh Airport is a military airport, the control process needs to be performed several times here. If you have an e-ticket, please bring a copy. If you do not have these, you may be denied admission to Leh. This airport is connected to Chandigarh, New Delhi, and Srinagar.
2. By Railway:
The nearest train stations from Leh are Pathankot and Chandigarh. However, these two locations are 800 km away from Leh, so it will take three days from here to Leh. This route is rarely used for Leh.
3. By Road:
If you want an exciting trip, choose only the way to Leh. Tourists usually arrive at Leh, 473 km from Manari, by bicycle or car. Some come from Srinagar, 434 kilometres away from here. There are also public buses in the city that are not very expensive. You can also hire a taxi if needed.
Shanti Stupa Leh Timings: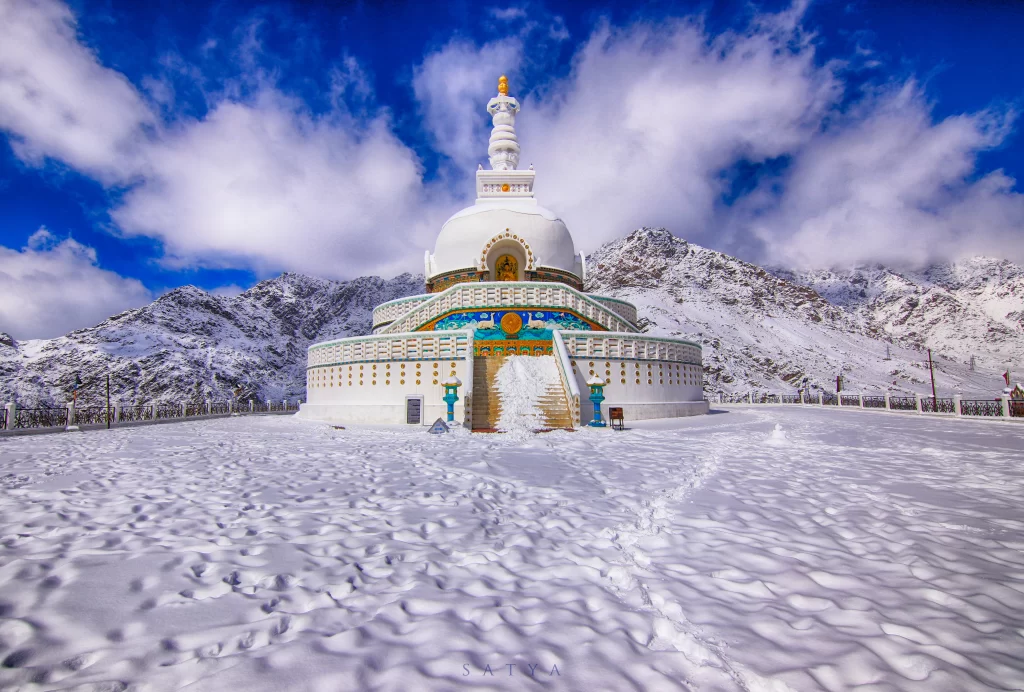 05:00 AM to 09:00 PM. (Open all day)
Is this already getting you excited? We certainly don't blame you! That is the allure of the Shanti Stupa in Leh, Ladakh. Planning a vacation in advance has its own advantages. While you pick which of these destinations to visit, we believe that planning a vacation to Ladakh won't take long! So, pack your luggage and get ready to leave! It's time to treat your inner traveller!