Reading Time:
8
minutes
The Santa Claus Village in Rovaniemi is 'Santa's official North Pole residence'. Located within the Arctic Circle, the village is open year-round for all to see Santa and his elves.  It's the land of the Northern Lights where the winter lasts half the year. It had been disclosed within the 1920s that Santa lived in Lappland and in 1950, Eleanor Roosevelt was the first official visitor to the village; the cabin built in her honour stands to this day. Santa Claus Village opened in 1985 and is now a key part of the itinerary for Finland.
The Santa Claus Village in Finland coaxes you to set your holiday spirits soaring high. From meeting Santa Claus privately to riding a sleigh with his reindeer, you name it and Santa Claus Village has it. The winter wonderland of Rovaniemi is surely to be on many bucket lists owing to its dreamy igloos, glass homes, lodges, and treehouse hotels that will make you want to stay in the Arctic corner forever. The Santa Claus Village offers its visitors a superfluity of fun activities, including ice skating with snowmen, snowmobile rides or cruises under the midnight sun or a visit to the Santa's Secret Forest.
Go souvenir shopping and plan a visit to Santa's Main Post Office thereafter. There are programme service companies, cafes and restaurants in the Santa Claus Village. From the wide-eyed huskies that welcome you to the city to the elves who give a masterclass in decorating gingerbread, Santa's Village is truly a beautiful holiday destination.
Things to do in Santa Claus Village
Here are some amazing attractions which you must visit and things you should experience in Santa Claus Village in the North Pole:
Santa Claus Office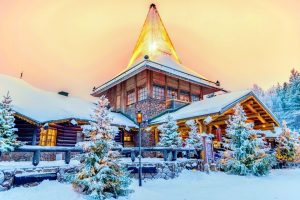 Santa Claus Office in the village is the official place to meet Santa Claus in Rovaniemi. The tall centre tower is brightly lit, and the Arctic Circle line runs right through the middle of it. The building incorporates a shop, however, an outsized portion of it is dedicated to the experience of meeting Santa Claus. The queues here are long but go through a magical path through caves and Santa's workshop. Each group is given around 5-minutes with Santa to make them believe that it is true. The Santa Claus Office experience is, of course, free of cost but there are charges for photo and video packages. Visitors aren't allowed to film or click pictures of the whole Santa experience themselves.
Christmas House Santa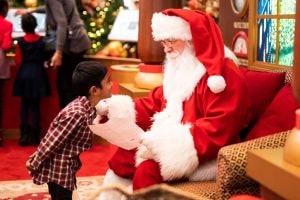 Christmas House Santa is another spot in Santa Claus Village for visiting Father Christmas. This Santa experience is for those that don't wish to wait in the queue for the Santa experience at Santa Claus Office. Christmas House is a large gift shop that additionally includes some Christmas exhibitions. These exhibitions are a beautiful showcase of how Christmas celebrations pan out around the world.
Arctic Circle Husky Park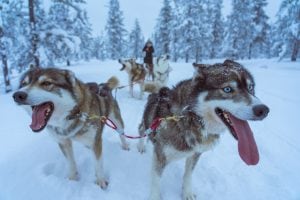 Feel the night of winter sparkle with thousands of shining stars and magical lights roaming across the sky. Looking at the northern lights in a spectacular Finnish wilderness is a thrilling experience as you sit back on a sledge pulled by a team of huskies. Going on aurora hunting with professional guides is an adventure in itself. The Arctic Circle Husky Park contains a stable of 100 Siberian Huskies who are jumping at the chance to race around the path. The Santa Claus Village husky rides run daily throughout the year. You will be able to book shorter rides with no prior reservation. If you wish to book longer rides, it's best to book those rides in advance.
Arctic Circle Snowmobile Park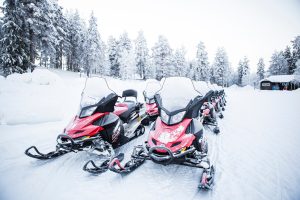 The Arctic Circle Snowmobile Park is a highly engrossing mini-snowmobile experience at Santa Claus Village in Lapland. The park has a mini-snowmobile circuit ride that allows children to learn to drive a snowmobile. Arctic Circle Snowmobile Park additionally offers a longer and more involved Lapland snowmobile experience. These snowmobile adventures vary in length from 30-minutes to full-day programs. If you have got a passion for snowmobiles, you can also consider Santa's House of Snowmobiles. The Arctic Circle Snowmobile Museum is the perfect exemplification of the history of snowmobiles in Lapland. Santa's House of Snowmobiles is at the end of the park, close to Husky Park.
Santa Claus Reindeer Sleigh Rides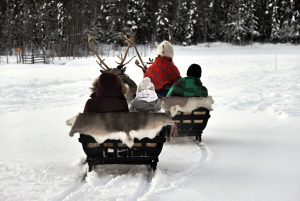 Get into the Christmas spirit, folks – Santa Claus reindeer sleigh rides are amongst the most popular activities in Santa Claus Village in Rovaniemi. It offers sleigh rides with Santa's reindeer and you can choose the length of ride from 400 m and 1 km. The longer reindeer rides will take you on a loop through the snow-clad forests surrounding Santa's village. The 400-meter ride runs on a short track close to the edge of the village around several buildings. If there's no snow, the Santa Claus reindeer experience runs on wagons instead of sleighs. However, throughout the summer months, there aren't any rides. That said, it is still possible to meet the reindeer for a little fee.
Best Time to Visit Santa Claus Village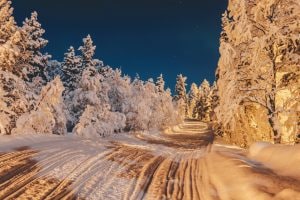 Santa Claus' Christmas Village is open year-round. To experience the Northern Lights, the best time to visit Santa Claus Village is between October-November and March-April. The remaining of the year is either too bright or usually cloudy. If you wish to have a full-on winter Christmas experience, head to Santa's Village in December-January when temperatures drop and the snow starts to accumulate.
The Santa Claus Village in Finland is a beauty that will make you want to 'Deck the halls', wish 'Peace on Earth', and gleefully exclaim, 'Tis' the season'. Let your Finland tour package be a thematic one this time!