Reading Time:
10
minutes
After working consecutively day in and day out, meeting deadlines, and managing work and home, an individual's heart, and soul ache to be set free. What better way to relax, calm your nerves and enjoy the serene beauty of hills, waterfalls, camping, etc., than planning a trip to Mussoorie and Rishikesh?
If you are wondering which one to visit first, we'd say choose what your heart desires. To make things even better, both these destinations are easy to reach thanks to transport facilities like Rishikesh to Mussoorie via bus and vice-versa, as well astrain from Rishikesh to Mussoorie.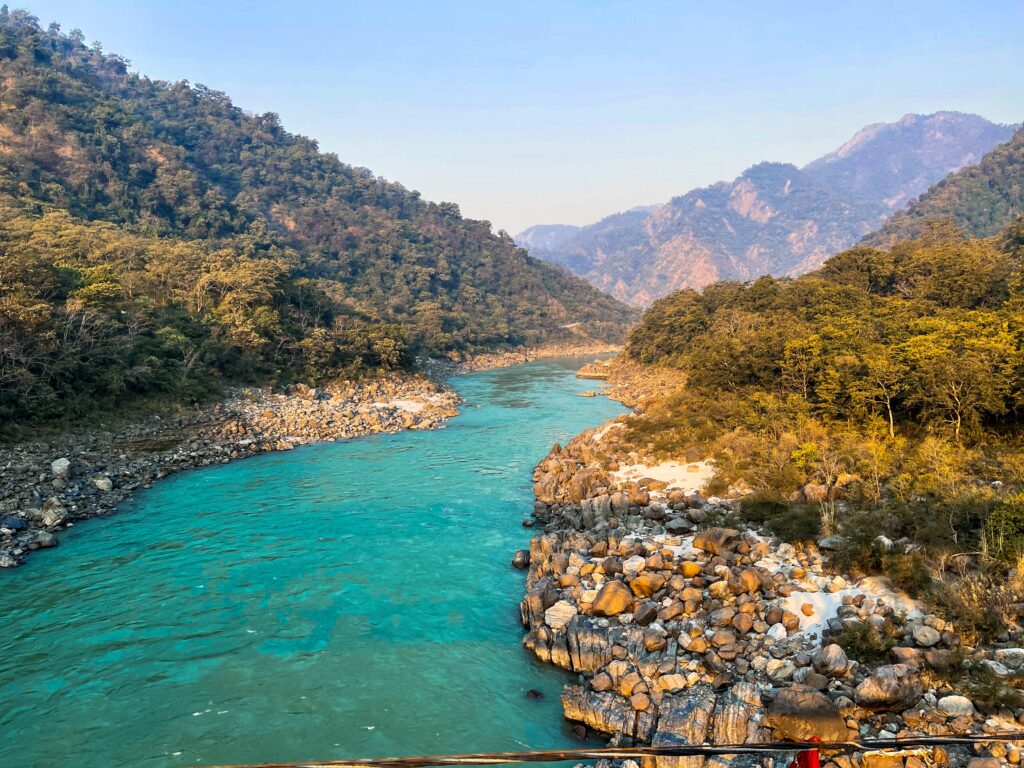 About Rishikesh
Everything about Rishikesh will make you fall in love with it. It willcapture your heart with its beautiful balanceof faith and excitement, peace and sheer joy, Hindu culture, mythology, and spirituality. There are many things to engage yourself in Rishikesh, whether you're searching for an adrenaline-pumping adventure or a calm haven away from the regular rush of city life.
Top tourist attractions to visit in Rishikesh
1. Triveni Ghat
A trip to Rishikesh is incomplete without feasting your eyes on the evening Ganga Aarti on the Triveni Ghat. Bhajans, drums, and bells accompany the Aarti. It is a sacred ghat and bathing site 1.5 kilometres from Rishikesh railway station. It is where Ganga, Yamuna, and Saraswati meet. Pilgrims visit Triveni ghat before visiting other Rishikesh temples because, according to the common belief, anyone who bathes at Triveni Ghat will be saved from their evil sins.
2. Jumpin Heights
 In addition to offering visitors a spiritual boost, Rishikesh also lets them experience the thrill of extreme sports like Flying Fox, Bungee Jumping, and Giant Swing. The Jumpin Heights is the most fantastic representation of such a provision and is a must-see for adventure seekers. Because of its safety measures, qualified instructors, and location, it is one of the most recommended locations to come for adventure sports in Rishikesh.
3. Rajaji National Park
 It is one of India's oldest ecosystems, and it is situated between the Shivalik Mountains and the Indo-Gangetic Plains. It is the second tiger reserve in Uttarakhand and owing to its exceptional setting, it is also home to some stunning flora. The deep forests are home to a wide variety of creatures, from sloth bears to Bengal tigers, and a vacation here will gratify any wildlife aficionado. Engage in exciting activities like JeepSafari and staying in the cottages.
4. Ram Jhula
 A notable landmark in the city of Rishikesh is Ram Jhula. It connects Shivananda Ashram with Swargashram and is 450 feet long. It is an iron suspension bridge that crosses the holy Ganges. Additionally, Ram Jhula provides a magnificent sight of the Ganges River and the temple-filled city of Rishikesh in the evening with the lighting of diyas and Aarti.
After exploring this beautiful 'Centre of Yoga' in India and the land where the Ganges river flows brighter than you could imagine, you can step further on your journey by taking a bus from Rishikesh to Mussoorie.
About Mussoorie
A prominent hill station that is only 35 kilometres from Dehradun and 74 kilometres from Rishikesh. Mussoorie, prominently known as the "Queen of the Hills," is a city that draws visitors from all over the world, both newbies and seasoned mountaineers, all year long. It provides a variety of tourist attractions and is located in the Garhwal mountain ranges of Uttarakhand.
In the early morning, you will wake up to a magnificent view of the mountain ranges. The hills around the hill station are covered in dense deodar, and cedar woods, rivers, and waterfalls enliven the landscape, and charming shrines dot the mountainside. Once at Mussoorie, you can walk to Gun Hill, the second-highest peak there, or ride the ropeway there, or you can stroll down Mall Road and shop for souvenirs and eat at clean restaurants.
For families living in Delhi, Chandigarh, and other nearby cities, Mussoorie is an ideal location and a fantastic weekend vacation alternative. Weekends in Mussoorie typically grow busy as a result. In your Rishikesh to Mussoorie itinerary, add some of the scenic places of Mussoorie which will take your breath away, like the Kempty Falls, The Mall Road, Camel's Back Road, Company Garden, Happy Valley, etc. Let's further dive into the stuff that makes them the favourite of every traveller.
1. Lal Tibba :
Every hill station has a peak that provides beautiful views of the valleys and mountains around it, and Mussoorie is no exception. You will be captivated by the vistas of peaks like Kedarnath, Badrinath, and Bandarpoonch after you reach the peak, which is situated at Depot Hill, close to the Landour area. Unquestionably, Lal Tibba, the hill station's highest peak, should be visited once in Mussoorie. Lal Tibba has a telescope installed for the use of visitors. By consuming snacks, coffee, and tea from the café at Lal Tibba, travellers can make themselves feel re-energized.
2. Kempty Falls
 It is one of Mussoorie's most prominent tourist destinations and is a 1,364-metre-high waterfall around 15 kilometres from the city's centre. A British commander created Kempty Fall to have tea parties, but it quickly gained popularity among residents and visitors as a beautiful place to picnic. One of the best things to do in Mussoorie is to take a cable car down to the base of the flowing fall and soak in the cold water and wash out all your worries.
3. Happy Valley
Around 5000 Tibetan refugees live in Happy Valley, commonly known as "mini-Tibet." It is a popular tourist destination in Mussoorie. Many Tibetans arrived here in 1959 when the 14th Dalai Lama sought sanctuary in Mussoorie, and ever since, this valley has been their home.
A nice green environment surrounds the community. The Shedup Choephelling Temple is perched on a rock at the valley's highest point. It is a spectacular example of Tibetan architecture and a top tourist destination in Mussoorie. There are several Buddha statues and prayer wheels at this temple. Beautiful paintings are carved into the walls, panels, and ceiling of the temple's meditation hall. A fantastic panoramic view of the Benog Hill circuit can be viewed from the temple. The immense natural beauty that this place exudeswill spellbind every observer. Happy Valley has countless tourist attractions, including gardens, temples, and woodland estates. It is essential to visit this place that resembles paradise.
How to reach Mussoorie from Rishikesh
By train: As Mussoorie doesn't have any railway station so you won't find any direct Rishikesh to Mussoorie train. Many trains run from Rishikesh to Dehradun. Dehradun railway station, which is located 36 kilometres away from Mussoorie, is the closest railroad station. After reaching Dehradun, you can go to Mussoorie by taxi or by bus.
By bus: Dehradun will always be the connecting point for reaching Mussoorie from anywhere if you travelby bus or train. There are many government-operated as well as private buses that can help you get a bus from Rishikesh to Mussoorie. You can buy the bus ticket online for Rishikesh to Dehradun, or from the Rishikesh bus station, board a bus operated by the Uttaranchal Transport Corporation. From the Gramin Depot, a bus to Dehradun departs every 15 minutes from 5 am to 7:30 pm.
Dehradun and Mussoorie are separated by around 30 kilometres, which can be travelled in 33 minutes.
In the same manner, if you think of travelling to Rishikesh after exploring Mussoorie, the same process is followed. Reach Dehradun from Mussoorie and take a bus from Mussoorie to Rishikesh or a train as your heart desires.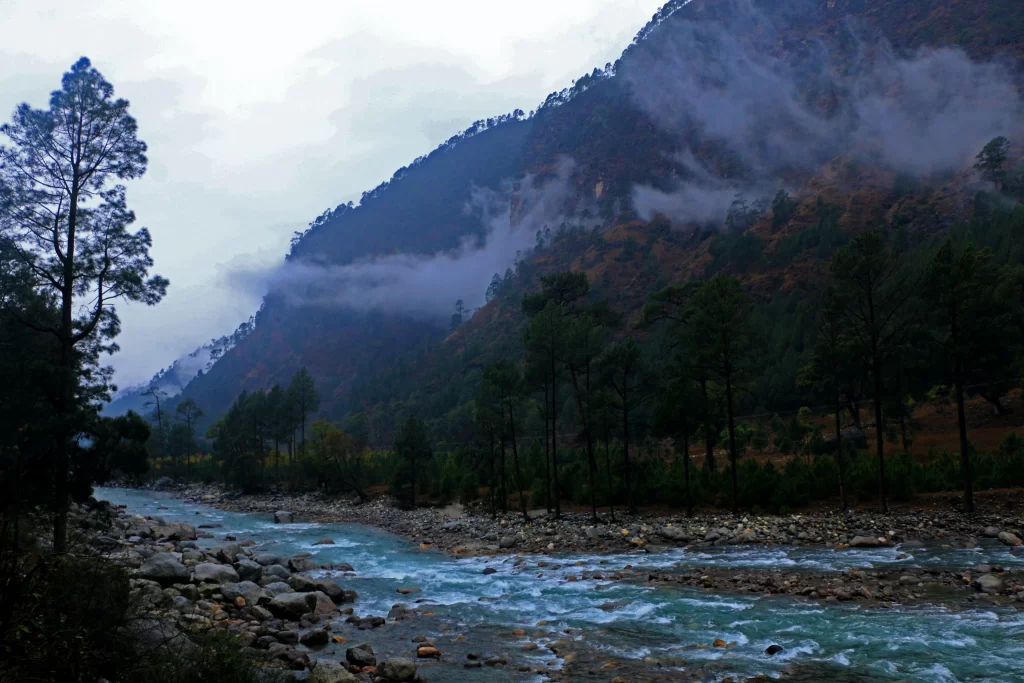 So what are you waiting for? All you have to do is free up your mind, pick up your luggage, and set on an expedition for the Rishikesh to Mussoorie tour with family, friends, or both. You don't need to take an extended leave from the office to go on a trip to Mussoorie and Rishikesh because anyone will only need a week to explore the temples, ashrams, cafes, restaurants, awestruck places, and sceneries they have to offer.One thing is for sure; a Rishikesh to Mussoorie trip has all the makings of a memorable vacay!