Reading Time:
10
minutes
The Lake District in the state of Uttaranchal abounds in natural beauty, and we all know it by the name of Nainital. The town, which served as the United Provinces' summer capital during British rule, is rich in colonial history and is home to several colourful neighbourhoods of villas and bungalows. This charming village is stretched out over a forest valley, where homesick British people used to throng. Naini Lake, surrounded by hills and said to be one of the emerald eyes of Shiva's bride, draws boaters in droves.
The highest peak, Naina Peak (also known as China Peak), is accessible by foot or horseback and offers mesmerising views of the snow-covered Himalayas. Take the aerial lift up to Snow View, where there is a modest marble shrine honouring Dev Mundi, to enjoy a fantastic view with family members of all ages.
Now, after viewing so many places, your stomach will make rumbling sounds to be filled with delicious food. While unravelling the local areas, you will come across many restaurants and cafes in Nainital offering mouth-watering pastries to Punjabi food. Some famous names in the list are Zooby's Kitchen, Nanak Restaurant, Cafe De Mall, Sakley's restaurant, etc. So when you plan your Nainital tour package, don't forget to miss out on these best restaurants in Nainital. Moreover, Nainital attracts many visitors looking for peace and calmness, who want to get laid back in a lakeside view cafe with their loved ones and spend quality time in the best hotels in Nainital.
Let's explore the best places to eat in Nainital: –
Cafe LakeSide, Nainital
One of the best restaurants in Nainital to take anybody and everybody's breath away. What makes it a must-visit place? It is a lake view cafe in Nainital. Dining in the presence of a beautiful lake surrounded by mountains in front of your eyes is a sight to behold. You will get Indian, Continental, and Italian food at this restaurant. Satisfy your taste buds with well-prepared fried fish, momos, and butter chicken. This restaurant is known for its delicious waffles, pancakes, and biscuits. Your lunch will taste better with great cold coffee, hot chocolate, or rose tea, and you'll definitely return here.
Boat House Club, Nainital
This location is famous for the filming of several Bollywood romantic date sequences. You will undergo a feeling as though you have been transferred away from the craziness of everyday life as you take in the spectacular view of the lake and the gorgeous mountains. This place exudes an air that is calming and relaxing to the senses. In addition, This eatery is unrivalled when it comes to serving high tea and provides lip-smacking pastries.
Café Chica, Nainital
Café Chica is a charming cafe hidden in the hills in a quiet neighbourhood close to the High court, away from the hustle and bustle of Nainital. It provides some lovely and magnificent views of the surrounding area. It is housed within a historic building and offers guests a one-of-a-kind adventure. Try some unique dishes, such as the Ham and Cheese croissants and the Thai Chicken Salad. You must make your bookings in advance, as they avoid juggling many clients at once.
Simply put, the cuisine served here is incredible. The cuisine is delicious, and with such scenic scenery, it tastes much better. Not to mention You will not be able to leave without trying their spaghetti, soups, and salads.
Nanak restaurant, Nainital
This cafe is one of the best restaurants on mall road in Nainital to offer you vegetarian eateries. A Punjabi restaurant providing breakfast, lunch, and supper with cuisines, including North Indian, Punjabi, Chinese, and south Indian. The setting is pleasant, and there are enough seats for a large family. Make reservations for your tables in advance because June and July are typically quite busy months to hop in the restaurants without having seats reserved. You will repeatedly return because of the great meal and the kind service they give.
Sher E Punjab, Nainital
As the name suggests, the food they offer, like butter chicken, kadai paneer, chicken biryani, etc, will virtually take you on the tour of visiting and eating while sitting in the lush green fields and farms of Punjab. You'll fall in love with this eatery because of the great food and traditional Punjabi-style ambience you will get here.
Cafe de Mall, Nainital
Cafe de Mall is a charming cafe that offers a breathtaking view of Lake Naini. This place provides dishes from Italian, French, Chinese, and Indian culinary traditions. They provide culinary options for vegetarians and non-vegetarians, and their seafood is excellent. You should come here if you want to enjoy the weather while munching on some snacks and sipping steaming coffee while taking in the magnificent scenery of the lake.
The Sakley's Restaurant and Pastry Shop, Nainital
Sakley's is more of a landmark than merely a paradise for foodies and dessert lovers. It lives up to its reputation as the greatest and best restaurant on mall road in Nainital. Come in for a memorable dining experience, where the must-haves include chicken steak, roast lamb, spinach pasta, and a tasty selection of pizzas. Moreover, it is just a walkable distance from some of the best hotels in Nainital.
The Embassy Restaurant, Nainital
The Embassy Restaurant is a fast-food restaurant that serves a range of Indian, Chinese, and Continental meals, in addition to pizzas. It is a popular destination for both natives of the area and visitors. It is close to many of Nainital's most well-known and reputable hotels, such as the Lakeside Inn and The Lake Resort. The pricing here is far lower than one would expect. In addition, the restaurant's spotless interiors and appealing design are perfectly matched by service that is both efficient and courteous. It helps to make the restaurant a preferred location and the first choice of those who are discriminating.
Panorama, Nainital
The restaurant Panorama is widely regarded as one of the best in all of Nainital. This location boasts an elegantly rustic interior design and a breathtaking panorama of the Nainital valley. The meal is incredible and will leave your taste senses in utter ecstasy. Even if the costs are a little bit on the higher side, it is unquestionably well-spent money.
Chandini Chowk, Nainital
A restaurant that is entirely vegetarian and serves only veggie meals to satisfy the dietary preferences of vegetarians. It serves a variety of different cuisines to its patrons. They have managed to bring Delhi's energy all the way up to Nainital. The Old Delhi-inspired atmosphere is this location's most significant selling point. It looks similar to Delhi's renowned Red Fort from the outside. Bunkers with a traditional hamlet setting will be found within, which is unusual in and of itself. This location is a great favourite among travellers because of its distinctive vibe and feel.
Zooby's Kitchen, Nainital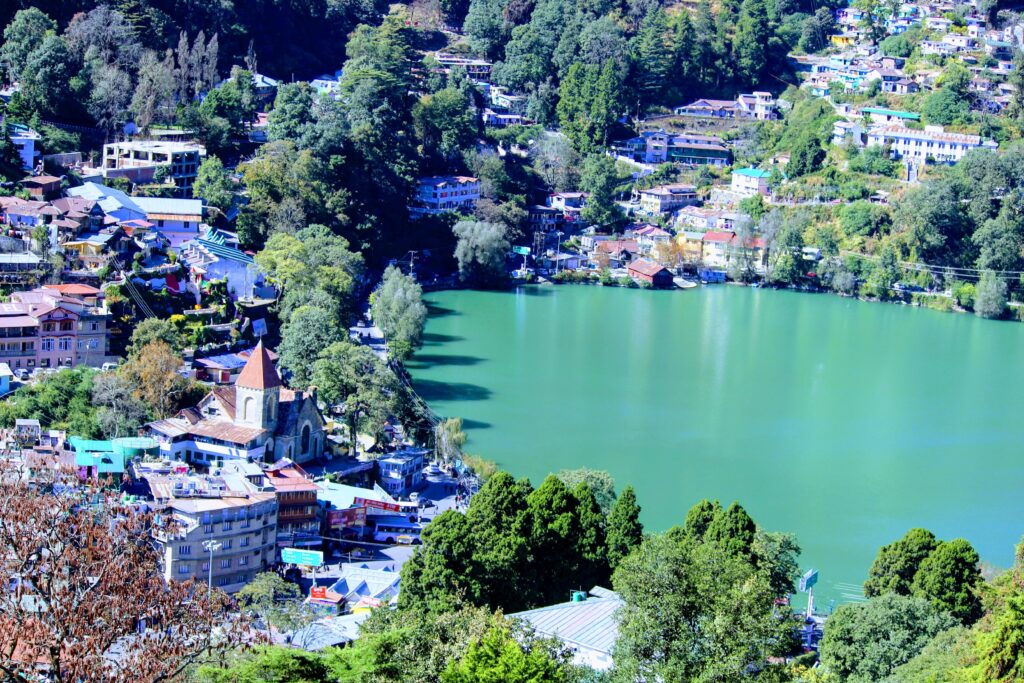 Are you looking for a lake view cafe in Nainital? Here is one more for you. Here at Zooby's Kitchen, Nainital, enjoy dining while taking in the captivating Naini Lake and the continuously bustling Mall Road. It is one of the well-known and famous restaurants in Nainital to enthral you with a serene and calm view of the lake in the evening accompanied by birds chirping, twinkling lights of the restaurant with delicious meals, a great atmosphere, and music. Come here with your special someone for a romantic dinner at a romantic place.
The Naini Lake, stunning mountain vistas, and exceptional weather have earned the city the moniker "City of Lakes." Nainital is a complete package in itself. If you're searching for the best food in Nainital, you have many options, including cosy cafés, seductive pastry shops, and some extremely appealing dining establishments. You can choose to spoil yourself with super delectable sweets from Sakley's Restaurant and Pastry Shop, a great English breakfast at Cafe Chica, organic Mexican, Lebanese, and more from the cuisine of Garden Valley Resort, or delectable Mughlai dishes at the renowned Embassy Restaurant. There is a lot to keep foodies interested in this lake town, for Nainital is a food haven.