Reading Time:
8
minutes
Tucked away in the Aravalli hills of Ajmer, Pushkar is a perfect tourist destination for a weekend getaway or a full-fledged vacation. Once you visit this beautiful city, the scope of coming back for another trip is very high. It is suggested to have a Pushkar sightseeing tour in your itinerary in order to truly explore the city in its true element. Besides this, it is advised to stay in a well-reputed property where you can relax comfortably. Here are 13 resorts in Pushkar, Rajasthan that will make your vacation memorable: –
1. Palace Resort Hotel
One of the most popular resorts in Pushkar, Palace Resort Hotel is known for its sand dune-view rooms, top-notch amenities, and peaceful ambience. Another appealing feature of this resort is that it is a pet-friendly property; you can bring your little puppers and kittens to vacation with you in the city of Pushkar without any hassles! Many honeymoon packages in Rajasthan include a stay at Palace Resort Hotel because it is ideal for newlyweds to spend quality time with each other.
2. Gulaab Niwaas Palace
If sand dunes fascinate you then Gulaab Niwaas Palace is the perfect resort for staying in Pushkar, Rajasthan. The sheer beauty of Pushkar Lake can also be admired from your room's private balcony too! Gulaab Niwaas Palace is among the top-rated resorts in Pushkar because it celebrates the culture of this Rajasthani city in the best possible way. The regal architecture of this property will make your vacation nothing short of a royal affair!
3. Dera Masuda | A Luxury Resort in Pushkar
A boutique property that is best for couples and families alike is Dera Masuda – A Luxury Resort in Pushkar. Expect a view of the Aravali range with Savitri Temple's aarti sounds from your room. Managed by the Masuda royal family, this luxury resort is a sight for sore eyes. The most appealing feature of Dera Masuda is that it takes you back to the days of the Masuda kingdom without taking away modern amenities essential for making your vacation simply memorable.
4. Kanj The Pushkar Bagh Resort
Set in the outskirts of Pushkar city lies a 4-star property that is renowned for its architecture, activities, and accommodation. Kanj The Pushkar Bagh Resort has a become tourist destination in Rajasthan as it offers large groups of friends and friends exciting things to do. This includes camel safaris, indoor games, outdoor activities, spa services, and many more! Ever wanted to attend a wedding just for the feels? This luxury resort organised mock weddings in which you can eat authentic Rajasthani delicacies and dance till dawn. Even if you don't want to spend a night here, it is one of the best resorts in Pushkar for a day outing.
5. Pushkar Retreat Resort 
While checking out Pushkar tour packages on a budget, you should ensure that the accommodations listed on their itineraries have positive reviews. Pushkar Retreat Resort is one of the most popular 3-star hotels in Pushkar with excellent service and amenities. All the rooms are well-maintained and guests are served continental-style breakfast. EV car owners are in for a treat because this property has its own charging station.
6. Garden of Dreams, Pushkar By Barasingha Luxury
A six-room boutique property in Pushkar that will make you come back for more is Garden of Dreams by Barasingha Luxury. Touted as one of the best mid-range resorts in Pushkar, this is a wonderland that will make you forget all your troubles instantly. Situated in Ganhera village, Garden of Dreams is ideal for people who want to relax and unwind. Make sure to have a little picnic in any of their gardens with scrumptious tea snacks. It is one of those resorts in Pushkar that will make you and your loved ones experience luxurious amenities at affordable prices.
7. Aaram Bagh Resort 
Literally meaning the "Pleasure Garden" or "Garden of Rest", Aaram Bagh Resort is a heritage property in Ganehra Village, Pushkar. The architectural design of this 4-star hotel is so unique because it depicts civilizations from all over the world such as Greek, Arabian, Persian, Chinese, Egyptian, etc., that you can marvel at in dedicated suites.
8. The Westin Pushkar Resort and Spa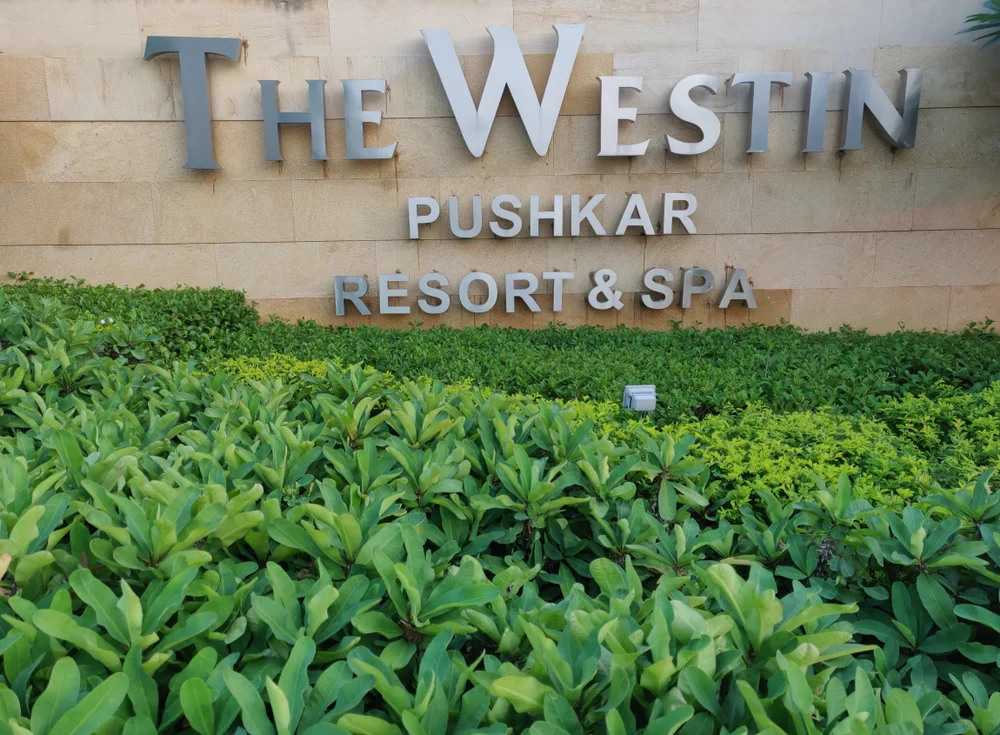 When it comes to hospitality at its finest, the Marriott chain of hotels has won the lottery all over the world. The Westin Pushkar Resort and Spa has villas with private pools and other luxury amenities in them. So, you can only imagine the opulence that this property has to offer! Along with this, you can enjoy a spa or hit the fitness center, depending on your personal preference. It is among the most popular luxury resorts in luxury, so it is recommended to make your bookings in advance.
9. Pratap Palace Resort 
The influence of Mughal art and architecture has influenced several Rajasthani cities and towns. Pratap Palace Resort brings out this amalgamation of Mughal-Rajasthani heritage all over its property. Pratap Palace Resort is listed as one of the most highly-recommended resorts near Pushkar since it's away from the hustle and bustle of the main city. The staff members will be happy to provide you with a private taxi or rented car to explore Pushkar and other nearby regions.
10. Bhanwar Singh Palace Resort  
The grandeur of the Rajpur dynasty has been known far and wide. But if you truly wish to experience it, then Bhanwar Singh Palace Resort is your best bet! Stop your search for 5-star resorts in Pushkar because this property has everything that you need for a splendid vacation. Located near the Ajmer-Pushkar bypass, Bhanwar Singh Palace Resort is ideal for tourists who are planning to travel across the state of Rajasthan and wish to stay in resorts that are close to the highway.
11. Jagat Palace Resort
A restored fort that will make you fall in love with Rajasthani heritage is Jagat Palace Resort on Ajmer Road in Pushkar. This 700-year-old property boasts 82 deluxe rooms with world-class amenities and jharokhas (private balconies) that will make feel like royalty for sure! Devour local delicacies and enjoy a view of the Nag Parbat or Snake Mountain and commemorate the wonderful times gone by with your friends and family at one of the most beautiful resorts in Pushkar, Rajasthan.
12. Clarks Safari, Pushkar 
Clark Safari is on the recommended list of resorts in Pushkar with private cottages, an outdoor pool, orchards, celebration lawns, and so many other facilities. This is mainly due to its oasis-like ambience in the middle of the Thar Desert. Guests have the option of devouring mouth-watering dishes at its restaurant, enjoying international liqueurs at the bar, taking a stroll through the orchards, and what have you! Staying at this luxury property is an experience in itself and you better not miss out on it.
With a variety of luxury resorts in Pushkar at your disposal, it is high time that you planned your trip to the City of Temples!