Reading Time:
9
minutes
Portugal is one of the most fascinating tourist destinations in Europe. Whether you plan a budget-friendly trip or a luxury vacation, it is essential to spare some time to try out Portuguese foods in different cities and towns. It is best to check out Portugal tours that allow you to customize your itinerary so that can devour the most popular dishes. The availability of meat, seafood, and cheese in this country can be reason enough to plan a vacation! From the spicy chorizo sausages to the delicate custard tarts, Portugal will make your palette dance in glee. Here are 15 food items that you need to try on your next vacation to this European country: –
1. Caldo Verde
One of the most easily available Portuguese foods is a simple cabbage soup that will make your soul dance in joy! Caldo Verde might seem like a basic dish for some but its smoky flavour will surely blow your socks off. Considered to be among the best Portuguese food items due to its authentic taste and fuss-free preparation, Caldo Verde is a must-try on your next vacation to Portugal.
2. Croquettes
While trying out different European foods, you might have come across croquettes. Although the birth of this snack was in France, the Portuguese version is a revelation in its own right. You will find a number of street food places and restaurants serving piping hot croquettes filled with beef, pork, cheese, and other stuffings. These little morsels are straight out of heaven and have made their place in Portuguese cuisine seamlessly.
3. Bifanas
The love for sandwiches in Portugal is simply beyond comparison. You can find so many varieties in and around Lisbon, Porto, and other cities, that choosing one can be a daunting challenge for sure. Bifanas is a famous Portuguese food item made of pork in garlic and white wine stuffed between the yummiest roll of bread that you would have ever tried. It is one of those Portuguese foods that you just cannot miss!
4. Pastel de Nata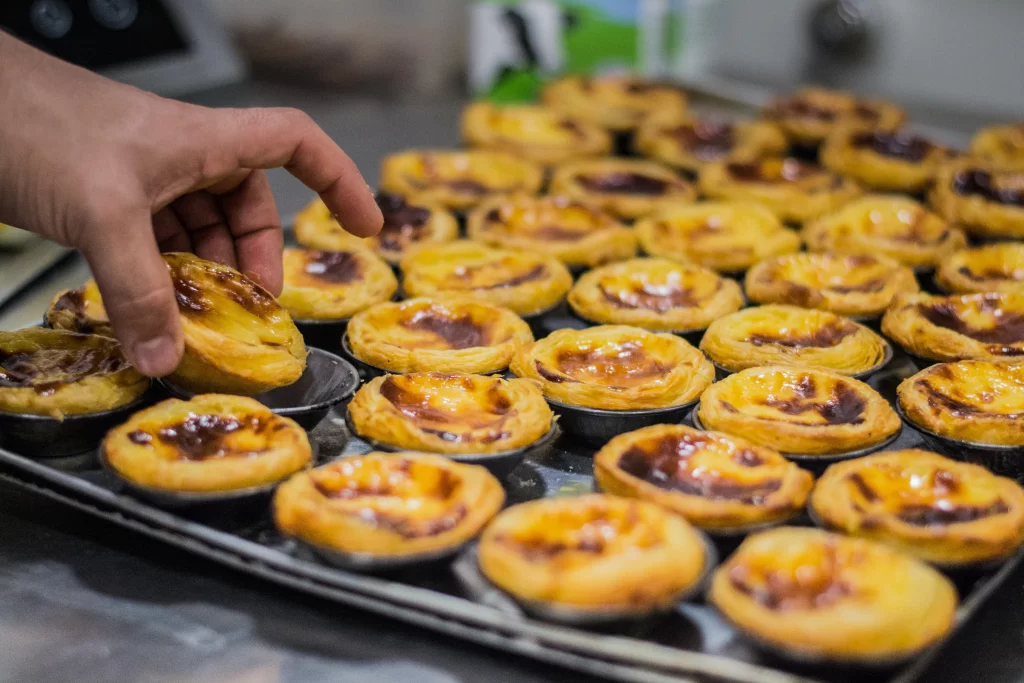 Pastel de Nata is an egg tart that has won over the tummies of millions of Portuguese folks for generations. It is believed that these beauties were first in the 17th century cooked by monks at the Jeronimos Monastery in Lisbon. Since then, Pastel de Nata has been an integral part of the cuisine in Portugal. Enjoying a cup of coffee with these crispy egg tarts on your vacation in Portugal sounds nothing short of a dream, doesn't it?
5. Polvo à Lagareiro
While talking about popular Portuguese foods, it is important to note that the availability of seafood in this country is massive. Due to this reason, a lot of traditional and modern Portuguese food items are made using different sea animals. Polvo à Lagareiro is a boiled and roasted octopus delicacy served with punched potatoes. The literal meaning of this dish is "octopus in the lagareiro-style" as it takes inspiration from Bacalhau, the Portuguese people's national dish.
6. Bacalhau
Codfish is consumed by most Portuguese folks on a regular basis. As a result, it has become a part of their cultural heritage. Bacalhau is a Portuguese national dish made of dried and salted codfish that you can find in every eatery across the country. Its unique flavours are not lost in the variations available at different restaurants and cafes. So, you will be able to relish its savoriness to your heart's content!
7. Arroz de Pato
Portugal has invented one of the finest duck dishes in the world and they deserve to get applause for it. Arroz de Pato is prepared using the juiciest duck that is shredded and stacked on duck stock rice, and then baked to perfection. The garnishing of spicy Portuguese sausage called chorizo makes this a masterpiece. Arroz de Pato is undoubtedly one of the most delicious Portuguese dishes and you need to get your hands on it.
8. Sardinhas Assadas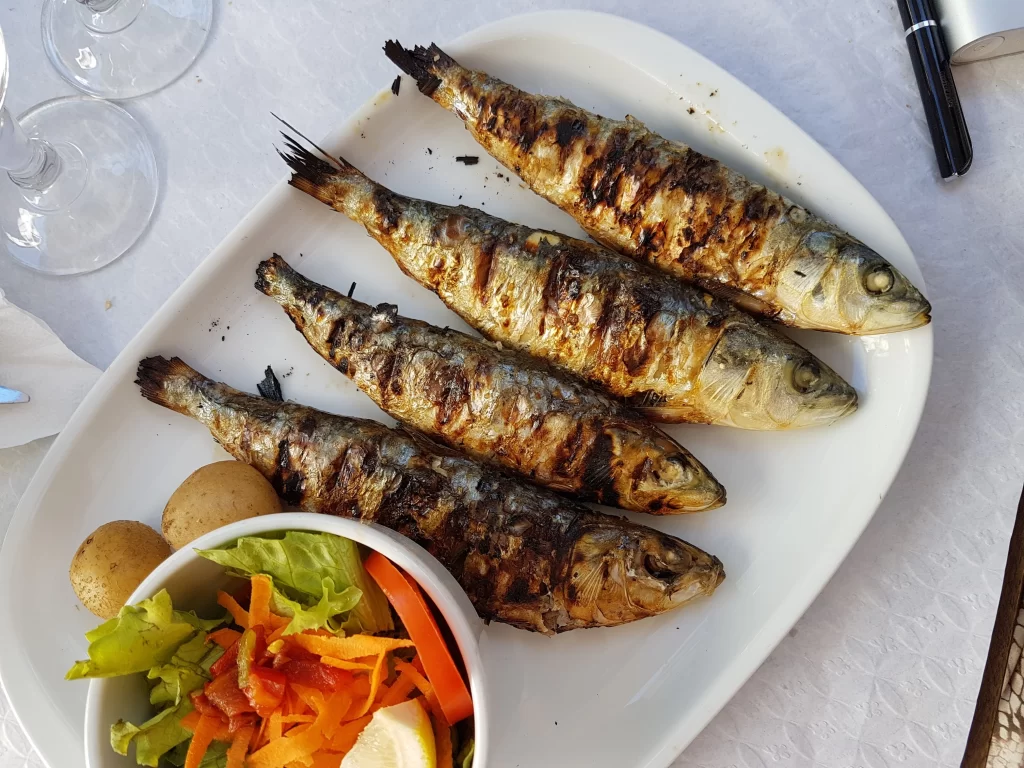 While walking around the coastal area in Portugal the aroma of grilled sardines will make your mouth water instantly. Sardinhas Assadas or grilled sardines are a favourite among the locals that they like to eat with some cornbread and baked potatoes. If you are vacationing in Portugal during the San Antonio Festival, then you will be able to devour the plumpest sardines!
9. Francesinha
If there was an international culinary festival dedicated to sandwiches, then Portugal would have won it without a doubt! Francesinha is yet another sandwich that will make you forget every fast food chains that should not be named. It is a sandwich made with bread, linguica (Portuguese sausage), ham, and steak or roast beef. But the story does not end there. This beauty is then drenched with melted cheese, a fried egg, and beer and tomato sauce. Wipe your drool and continue reading.
10. Açorda
The most appealing characteristic of Portuguese cuisine is that it highlights the flavours of the most basic-sounding dishes. Açorda is a stew prepared with soaked bread, garlic, coriander, and a poached egg. A generous drizzling of olive oil on top makes this one of the most beloved Portuguese foods. You can two variations,  Lisbon açorda and Alentejo açorda. The main difference between the two is the type of bread used, so you might as well try both of them.
11. Prego 
Did you think that we were done with sandwiches? Nope. Prego is a beef sandwich that happens to be among the most famous Portuguese food items for good reason. Grilled beef in a garlicky marinade that is topped on a crispy Portuguese bread roll just cannot go wrong. You can even ask for additional condiments but the traditional version is enough to satisfy your palette.
12. Sapateira Recheada
Are you a big fan of crab meat? Portugal is the place for you! Sapateira Recheada is a delicacy served in seafood restaurants and taverns all year round. Made with crab meat, mayonnaise, shallots, mustard, boiled egg, and paprika, Sapateira Recheada serves as the perfect appetizer for seafood aficionados. You can even dip some bread in this stuffed crab dish and turn it into a hearty meal.
13. Portuguese Piri-Piri Chicken
The small town of Guia on the Algarve coast is the reason why people all over the world enjoy Piri-Piri Chicken today. Officially known as Frango no Churrasco com Piri-Piri, it is impossible to visit Portugal and not gobble up the real deal. If you are living under a rock and do not much about this dish, then let us enlighten you. It is prepared with butterflied chicken pieces marinated in garlic, olive oil, lemon juice, white wine, paprika, and piri-piri spice. There are several grill houses in Portugal where you can enjoy this delicacy with a variety of condiments and side dishes.
14. Salame de Chocolate
Ever heard of salami chocolate? That's right! The level of experimentation with food in Portugal is just amazing. As weird as this might sound, Salame de Chocolate is one of the yummiest Portuguese foods that you will get to try on your next vacation. To clarify things, this dessert does not have meat in it. Salame de Chocolate is made of dark chocolate, nuts and cookies.
15. Cataplana de Marisco
Seafood is so readily available in Portugal that you can resist trying one or two dishes. Cataplana de Marisco is a Portuguese dish made of shrimps, clams, mussels, peppers, garlic, and onions. It is cooked in a copper pan called cataplana that allows the ingredients to steam properly. You can relish this traditional dish in the coastal towns and villages.
Delectable experiences await you in Portugal! Plan your trip right away!