Poland might not have been on the tourism radar in the early years, but a lot of things have changed over time. This European country has emerged as a proud and independent nation after surviving centuries of conflict. In recent years, Poland has gained huge popularity among tourists of different age groups and interests. With breathtakingly beautiful landscapes, vibrant culture, rich history, and mouthwatering food, this is definitely one of the top 5 countries in Europe for tourism.
Known for being home to delicious pierogi, former pope John Paul II, and Europe's most ancient old-growth forest, Poland has a lot more to offer than you might think. Whether you are a nature lover or a history buff, a foodie or an admirer of medieval architecture, this country will not disappoint you.
Must-Visit Tourist Attractions
Poland is the 9th largest country in Europe by land area, which also means that you will need plenty of time to visit all the major attractions this place has to offer. It has something for everyone, whether you are interested in exploring the outdoors, taking a historical tour, or enjoying the vibrant nightlife. There are so many beautiful places in Poland that you will always find yourself running out of time, no matter how long your trip is.
For your convenience, here is a list of some famous tourist places in Poland that you should not miss on your trip:
1. Wieliczka Salt Mine
This 13th-century salt mine is one of the world's oldest and longest-working salt mines. The commercial operations were stopped in 1996, and since then it has been a popular tourist attraction. Currently, this salt mine is home to four chapels, corridors, and statues. The fascinating thing is that all of them have been carved out of the rock salt walls. The original shafts and passageways have been reopened so that tourists can explore all the pits and chambers.
The Chapel of St. Kings is one of the major attractions inside the salt mine. It is a chamber with a height of 12 meters where everything, from the decorative chandeliers to furniture, is made of salt. Another important thing is the Erazm Baracz chamber which houses a lake with high salt content (it is said to be saltier than the Dead Sea). The last point of the Wieliczka salt mine tour is a museum that gives a clear insight into salt mining and the life in the mines.
2. Auschwitz-Birkenau Camps
The Auschwitz I and the Auschwitz II–Birkenau concentration camps are something every history buff needs to see. This is a place that gives a glimpse into the times when over 900,000 Jews were brought here from German-occupied countries. Although the Nazis destroyed the gas chambers and crematoria before leaving the country, some remnants can still be seen here.
3. Warsaw Old Market Place
Dating back to the 13th century, Warsaw Old Market Place is the oldest part of the capital city and is definitely one of the most famous places in Poland. Approximately 85 per cent of the area was destroyed by the Nazis during World War II but like other parts of the country, it has been restored to look exactly like it did when it was originally built. Another great thing about the most popular square in Warsaw is that this is the place where you can witness a beautiful mix of medieval architecture, Gothic & Renaissance buildings and beautiful merchant houses.
This marketplace is home to a number of cafes and restaurants where you can enjoy a drink or devour a meal. Another attraction this place has is the main branch of the Historical Museum of Warsaw. This awe-inspiring museum has a massive art collection that gives you a peek into the history of the city and country.
4. Malbork Castle
Malbork Castle was built in the 13th century by the Teutonic Knights, a religious order that served as a crusading military unit. Originally, this structure started as a small fortification, but it expanded over time to become a massive structure. This castle was the largest Gothic building in Europe at some point in time, and it is still the world's largest castle by land area. Offering a peek into the glorious past of the country, Malbork Castle is one of the most popular tourist attractions in Poland.
5. Lazienki Park
Covering an area of 76 hectares, this is one of the largest urban parks in the country. Consisting of large ponds formed from the old canals, Lazienki Park was originally built as a bath park for a nobleman in the 17th century. Now, the Palace on the Isle as well as the gardens around it, are open to the public. In today's times, this has become one of the best places to visit in Poland.
6. Crooked Forest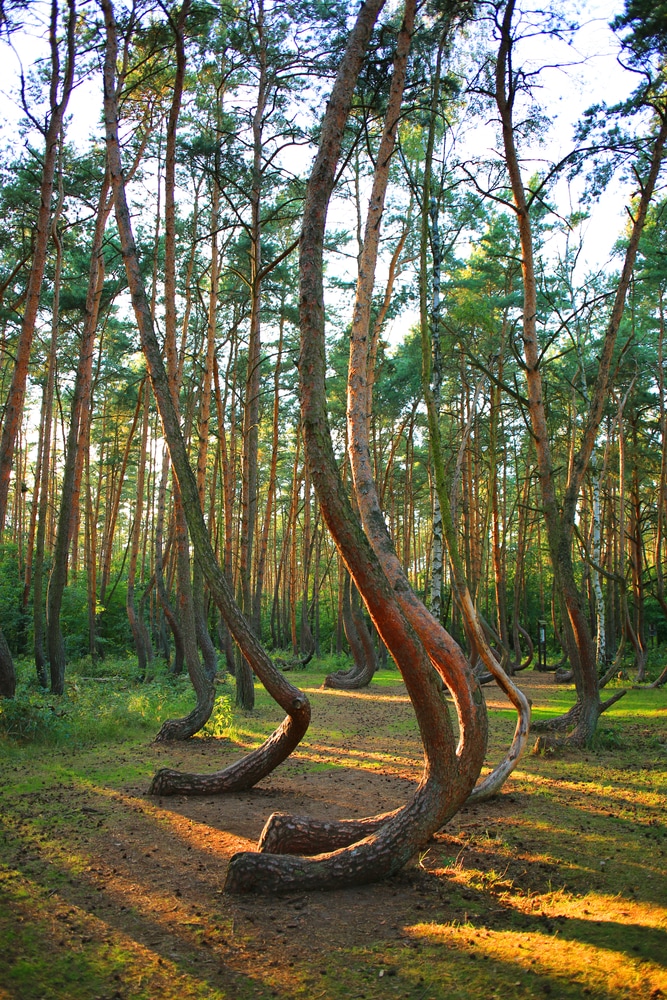 Located right outside the small town of Gryfino, the Crooked Forest is a natural marvel. As the name suggests, this place has a number of pine trees standing on their own but growing at a 90-degree angle at their base. These trees were planted here in the 1930s and, approximately 10 years after the plantation, they started growing with angled trunks. The strangest thing is that the rest of the forest has pine trees that are perfectly healthy and hold the usual shape. When you head out for sightseeing in Poland and are somewhere near Gryfino, you should definitely visit the Crooked Forest to witness this mysterious yet beautiful place.
7. Wawel Royal Castle
As mentioned earlier, Poland is a country with a rich history and it boasts a number of beautiful castles. The Wawel Royal Castle is another example of medieval architecture. This is also one of the first places in Poland to be declared a UNESCO World Heritage Site. In the 16th century, King Sigismund I the Old (a member of the Polish royalty) lived here. He was very fond of artistic things, and this castle-turned-art museum is the biggest proof of his huge interest in art. Here, you can find a large collection of paintings and other curatorial work. If you have some interest in art, this is a place you should not miss.
8. Morskie Oko Lake
Located in Tatra National Park, Morskie Oko Lake is one of the most beautiful places in Poland. Surrounded by towering mountain peaks, this is a place where you can spend some quiet time admiring nature's beauty. The one thing that makes this lake special is that it is the largest and the 4th deepest lake in the Tatra National Park.
9. Krakow Cloth Hall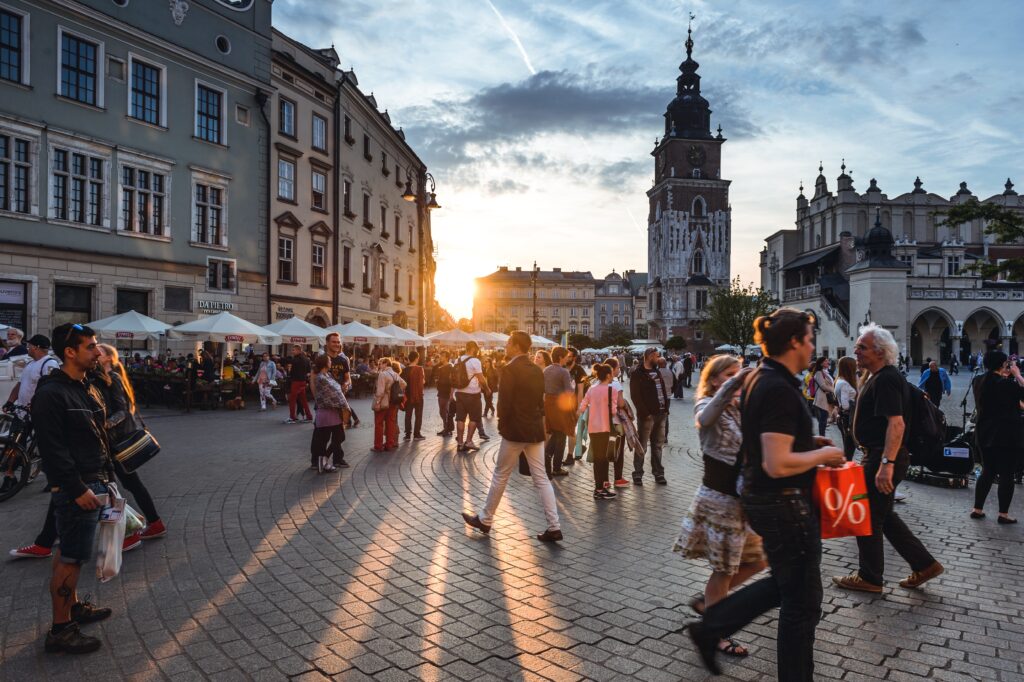 Krakow Cloth Hall has always been the main center of international trade in Poland. During the 15th century, a variety of things were traded here including salt, textiles, leather, silk etc. In the 19th century, this place was renovated and used as an event center. Currently, the main floor of the building houses small stalls and galleries that sell souvenirs and artefacts.
10. Ostrow Tumski
This island is one of the oldest areas in the city of Wroclaw. Located on the Oder river, this island houses a number of prominent monuments, including the Cathedral of Saint John the Baptist, the Holy Cross, and Saint Bartholomew's Collegiate. All these structures are great architectural marvels and make this place one of the must-visit tourist attractions in Poland.
11. Slowinski Sand Dunes
Located in the northern part of the country, the Slowinski Sand Dunes are part of the Slowinski National Park. This national park has been named after the Slovincians who once lived there. Formed in the shape of waves, these sand dunes are the major attraction of this place. Their form changes with the season, and this is why they are known as shifting or moving dunes.
Now that you have enough reasons why Poland needs to be your next holiday destination, it is time to start planning. However, planning a trip can get a little bit overwhelming when you do everything on your own. Veena World offers a wide range of well-curated Poland tour packages that you can choose from and enjoy your trip to the fullest.