Reading Time:
16
minutes
The festival season of India has officially begun! With Ganpati celebrations coming to an end after 10 glorious days, it is now time to celebrate the auspicious festival of Navratri. As most of you know, Navratri which means 'Nine Nights' in Sanskrit, celebrates the 9 forms or Avatars of Goddess Shakti. Each day of this festival is dedicated to a different Avatar that symbolizes certain values, ideals and qualities of the Goddess. The 9 days of Navratri are divided into 3 sections that each represent the different forms of Goddess Shakti; the first 3 days are dedicated to Durga (destroyer of evil), the next 3 days are dedicated to Lakshmi (Goddess of Prosperity) and the final 3 days are in honour of Saraswati (Goddess of wisdom and art). The festival begins on the first day of the Hindu calendar month, Ashwin and continues for 9 Nights, ending on the 10th day that is celebrated as 'Dussehra' or 'Vijayadashami'. It usually falls during September/October as per the English Calendar and the 10-Day period is considered to be one of the most auspicious phases of the year.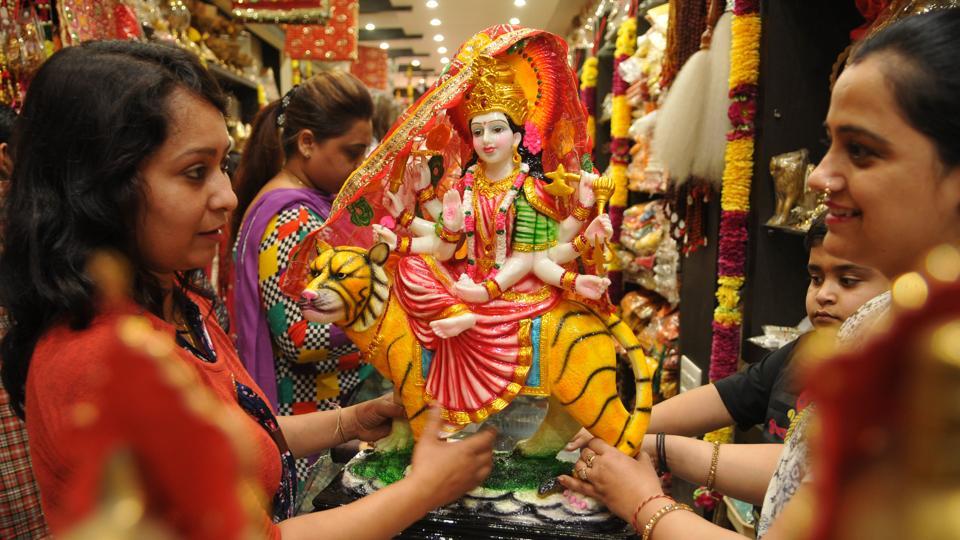 Most of us associate Navratri with devotion, colours, fun, celebration, enjoyment but more importantly, we associate this festival with dance! Who can forget the riot of colours, music, culture, tradition and sheer fun when we dance to the tunes of Garba or Dandiya? These traditional dance forms play an important role in the 9 days of the Navratri festival. You could say, Navratri is in a way incomplete without the rhythmic beats and exuberant dance steps of Garba and Dandiya! The dance form of 'Garba' or 'Raas Garba' can be traced back to the Gop culture of Saurashtra and Kutch in Gujarat. The Gopis often danced around Lord Krishna as a form of worship and their emotions towards Krishna were often expressed through gestures and elaborate steps of the dance form.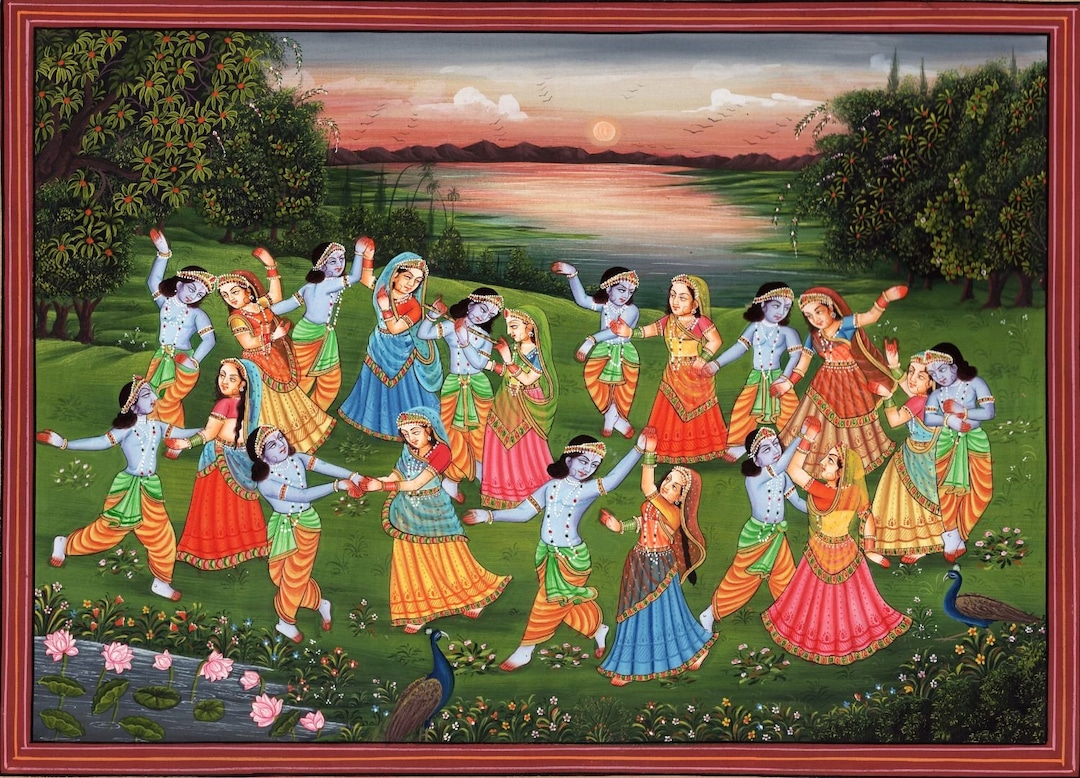 When we think of Navratri Garba or Dandiya, the very first destination that pops into our head is Gujarat! This western state overflowing with culture and heritage is said to be the origin of these colourful and popular dance forms. Navratri is one of the most widely celebrated and popular festivals of the country but Navratri in Gujarat is an experience of a lifetime! Most of the cities, towns and villages come down with a dancing fever that is unlike anything you may have ever seen. So, book your Gujarat trip package in such a way that you get to enjoy 'Gujarati Garba' and 'Gujarati Dandiya' along with the sights and sounds of the incredible state.
There are several cities that offer amazing sightseeing along with incredible 'Garba' and 'Dandiya' celebrations. Vadodara (cultural capital of Gujarat), Kutch, Bhavnagar and Ahmedabad are some of the most sought-after places to celebrate the nine-night dance festival, perhaps the longest in the world. Especially for women, for the ones who love to dance, for the ones who enjoy the rich culture and for the ones who live life to the fullest, Veena World presents a Gujarat tour plan that will let them take advantage of the Navratri celebration in Gujarat. Read on and plan your Gujarat trip during the auspicious and festive season of Navratri!
Day 1
The splendid Gujarat package for Gujarati Dandiya and Gujarati Garba unfolds at the largest city of Ahmedabad. The day is dedicated to local sightseeing that lets you take in the wonderful sights and sounds of Ahmedabad. Some of the amazing sights that you can encounter as part of your journey are as follows: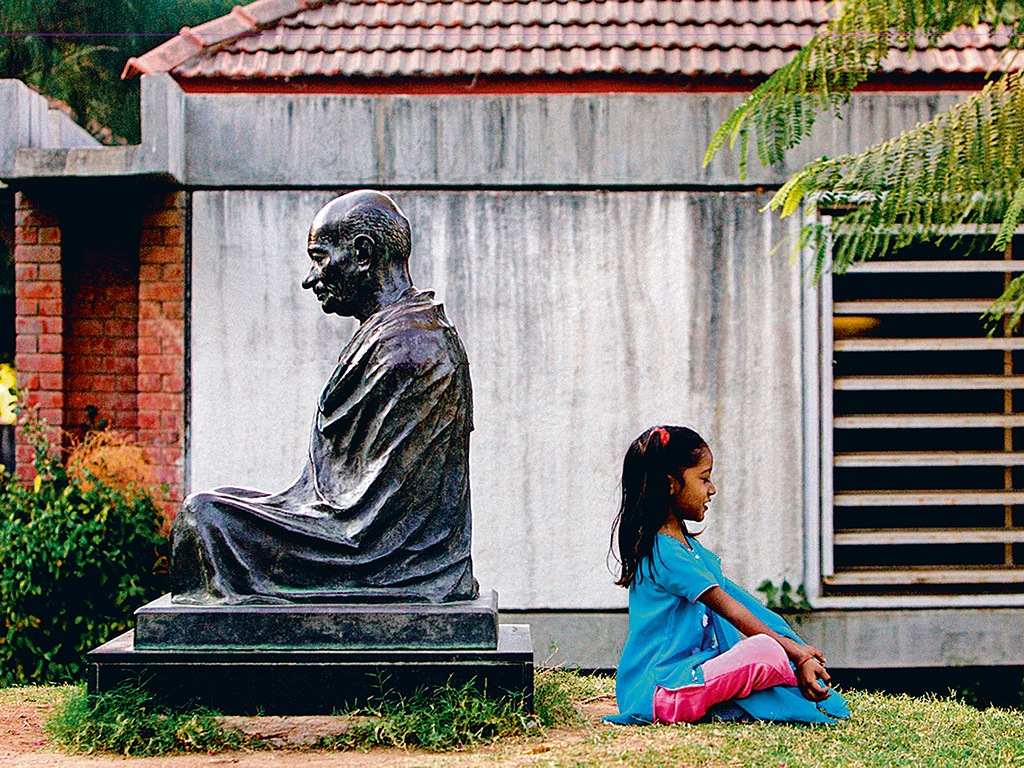 One of the most iconic sites in Gujarat, Sabarmati Ashram is a must-visit when you plan any Gujarat holiday packages. Sabarmati Ashram was one of the chief residences of Mahatma Gandhi after he returned from South Africa to India. Gandhi along with his wife, Kasturba and many of his disciples lived here and worked for the freedom movement and upliftment of society. It was from this 'Ashram' that Mahatma Gandhi began his legendary Dandi March on 12th March 1930 against the unfair salt tax (also known as 'Salt Satyagraha'). Acknowledging the importance of this Ashram towards India's freedom struggle, the Indian Government declared Sabarmati Ashram as a national monument. Today, Sabarmati Ashram features the Gandhi Smarak Sangrahalaya (museum), cottages of Gandhi and other prominent members and several relics, paintings and archives from Mahatma's time in the Ashram.
A short distance away from the Ashram lies a beautiful promenade that runs along the Sabarmati River! This is the Sabarmati Riverfront that boasts of wonderful walkways that are useful for walking, jogging and cycling. There are 2 levels, one by the water's edge that gives direct access to the river for activities such as boating and one level above that can be used to host a variety of city public features. With a tagline that states 'Reconnecting Ahmedabad to its River', the Sabarmati River Front aims to redefine the identity of Ahmedabad city and strives to achieve environmental improvement, the betterment of social infrastructure and sustainable development. A beautiful tourist attraction, Sabarmati Riverfront deserves to be a part of your Gujarat tour packages.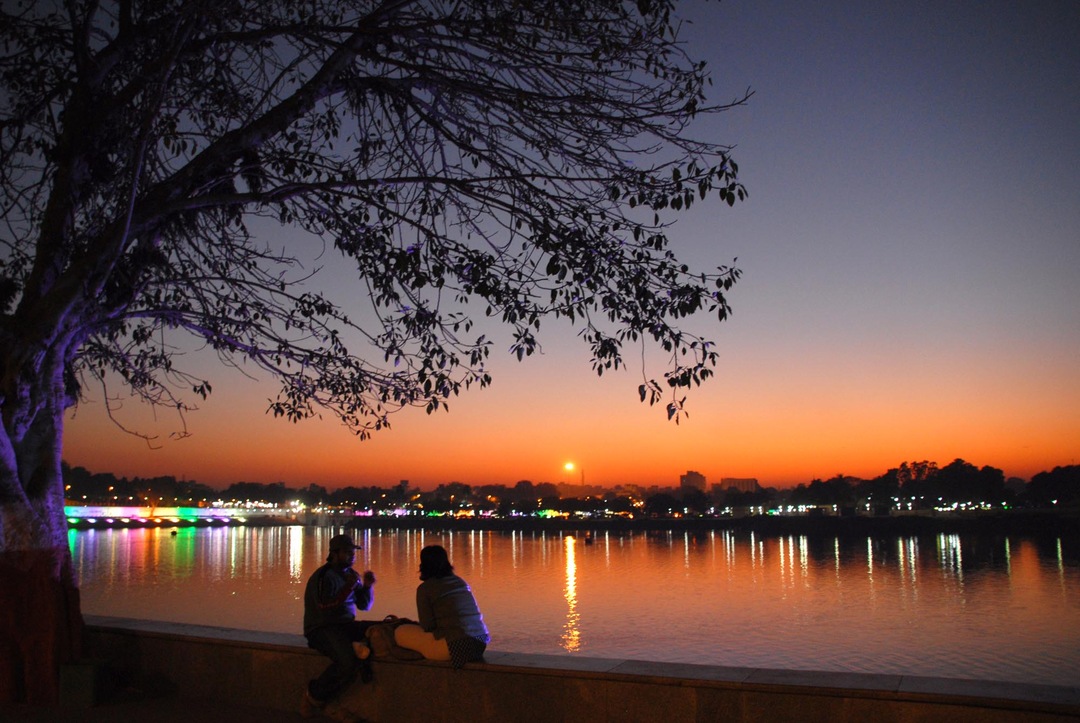 Welcome to the second largest lake in Ahmedabad, Gujarat! Kankaria Lake is located in the Maninagar area of Ahmedabad with a lakefront that has many public attractions such as zoo, natural history museum, toy train, Nagina Wadi (artificial island in the centre of the lake), tethered balloon ride, Water Park, food stalls and several entertainment facilities such as water & light show and open-air theatre. The lake that measures almost 2.5 km in circumference has been an integral part of the city's identity since the past 500 years and continues to do so, even today. A lake that not only serves as an entertainment hub but also forms part of the cultural heritage deserves to be a part of any Gujarat travel packages.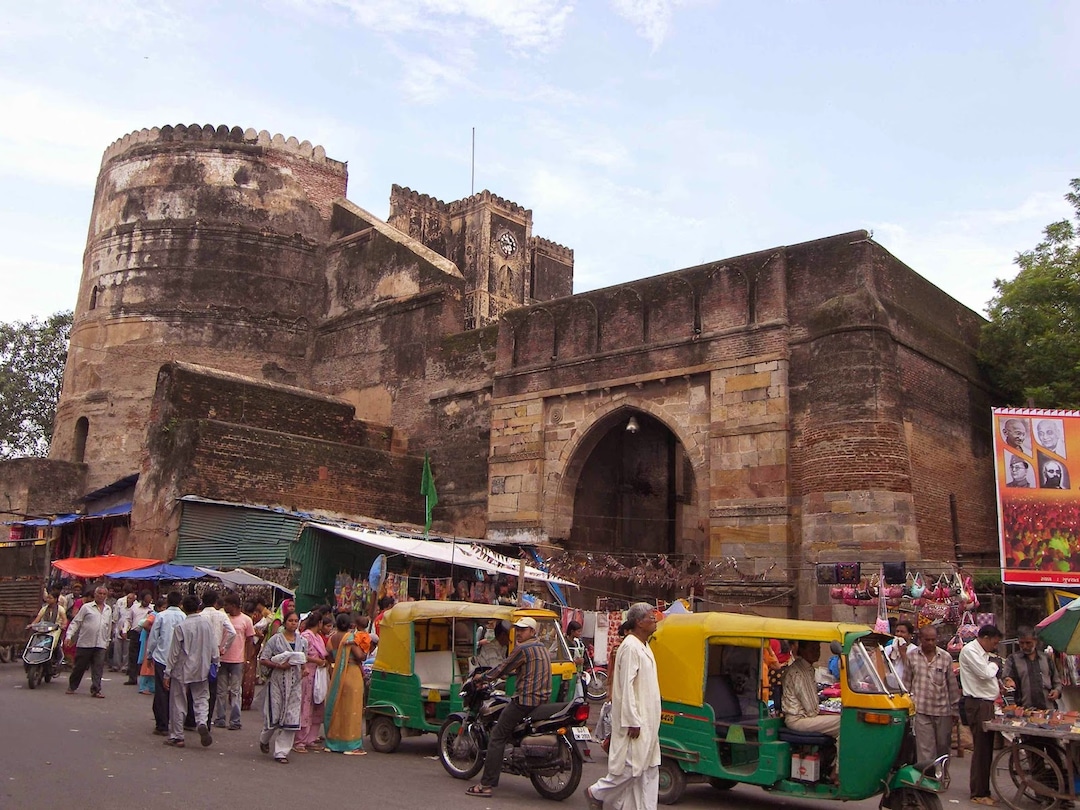 Gujarat tour packages would be incomplete without including the many exquisite forts and palaces that add to the rich heritage of the state. One such fort that deserves special mention in any Gujarat tour package itinerary is the Bhadra Fort of Ahmedabad. Believed to be named after Goddess Bhadra Kali (a form of Laxmi), this fort was constructed in the year 1411 AD by Sultan Ahmad Shah, the founder of Ahmedabad city. At Bhadra Fort, you will encounter various well-carved royal palaces, mosques, mighty gates and a large open space (Royal Square) that was used for royal processions and polo games. Today, the fort venue is mostly used for flag hoisting ceremony during Independence Day and Republic day. In 2014, the fort was renovated in order to act as the cultural centre of the city.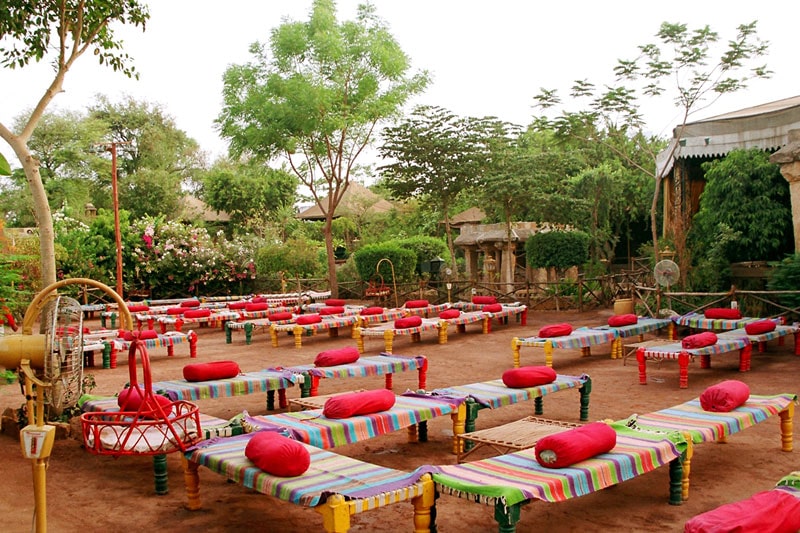 A wonderful theme-based restaurant that highlights the concept of a traditional Indian village and offers delicious cuisines from Gujarat and Rajasthan. Rajwadu is an extremely popular restaurant in Ahmedabad that often features in many Gujarat tour packages since it provides an authentic atmosphere and insight into the ancient culture and lifestyle of the villages in India. The restaurant is spread over an area of 12,000 square yards and provides traditional hospitality along with classic village interiors, splendid works of art, Rajwadi Khatla (traditional seating with wooden table and wooden charpoy in Gujarat) and a serene environment away from the hustle-bustle of the city. Not to mention, the lip-smacking Gujarati and Rajasthani fare that draws in locals and visitors from all over the world to this unique establishment!
Garba Night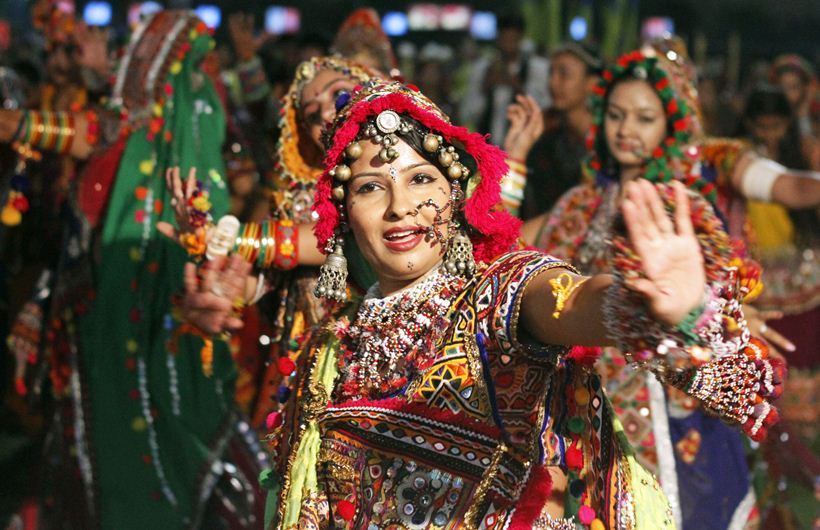 The evening is set for an exciting amount of fun as you indulge in one of the main experiences that brought you to Gujarat in the first place – Garba! Dress your traditional best and sway to the beats of Gujarati Garba. Garba is mostly played by hand whereas Dandiya is played using small wooden sticks. In a traditional Navratri Garba or Dandiya performance, an earthenware pot is placed in the centre and anointed with betel nut, coconut and silver coins. This holy shrine becomes the focal point of the Garba/Dandiya circle and people celebrate by dancing in concentric circles around the shrine. End the day on a high and rejuvenate yourself for yet another day of dance, excitement and sheer happiness.
Day 2
On the second day of the Navratri special tour, head to the epicentre of all-things-good-and-traditional in Manek Chowk, Ahmedabad. The city square is multi-faceted in such a way that it combines various aspects of culture, heritage, food and architecture, all at one place. Definitely a must-visit as part of many Gujarat tour packages!
Manek Chowk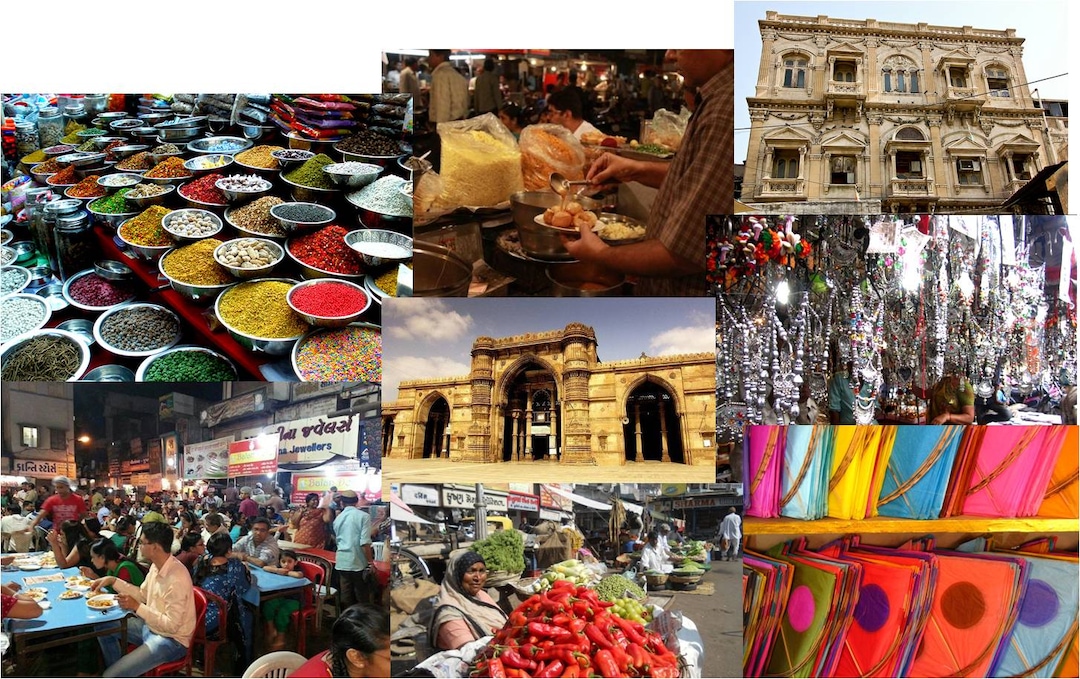 A city square that changes its face every few hours! Manek Chowk is a well-known market square of Ahmedabad city that has managed to withstand the test of time and flourished in spite of many new-age restaurants and cafes popping up all around it. The effervescent square located right at the heart of the city starts off by being a vegetable market during the day, goes onto become a jewellery market post noon and finally settles on being a street food market by night. Locals swear by it and travellers recommend it as one of the choicest places to hang out in Ahmedabad. The main reason behind visiting Manek Chowk is exploring its many shops for traditional attire worn during Navratri Garba and trying on lip-smacking delicacies that the market square is famous for!
Dandiya Night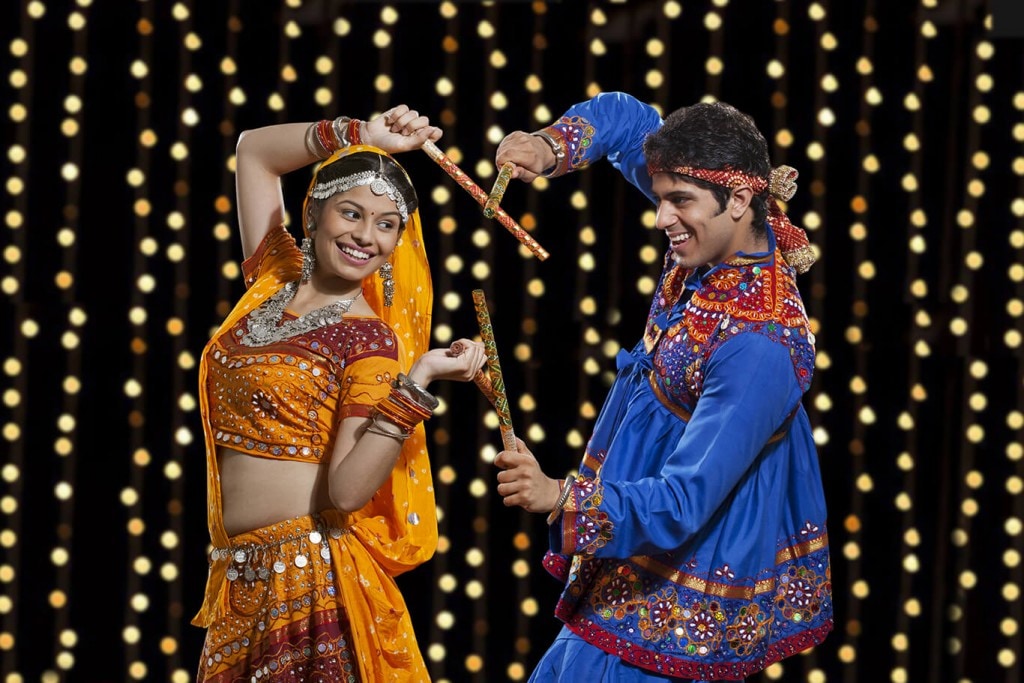 It's time to show off your lovely dance moves and graceful poise in one of the most memorable nights of the Navratri Gujarat trip. Dandiya is a traditional Gujarati dance-form that is performed using small wooden sticks. The music and style are very similar to that of Gujarati Garba whereas the dance steps are said to resemble the mock sword-fight between Goddess Durga and the demon king, Mahishasura (Dandiya sticks represent the swords). The Dandiya Raas originated as a devotional performance in honour of Goddess Durga and both, Dandiya and Garba are performed for 9 continuous nights as a mark of tradition and respect towards the deity. Today, Dandiya has gained worldwide recognition as one of the most popular and cultural dance forms of not just Gujarat but the entire country.
Day 3
The final day brings memories, mixed emotions but most of all, it brings contentment! The satisfaction of having celebrated Navratri at the very destination that celebrates this festival with such enthusiasm, pomp and flair. The best is saved for last, as you make one final trip to the world-renowned, Akshardham Temple in Gandhinagar, the capital of Gujarat.
Akshardham Temple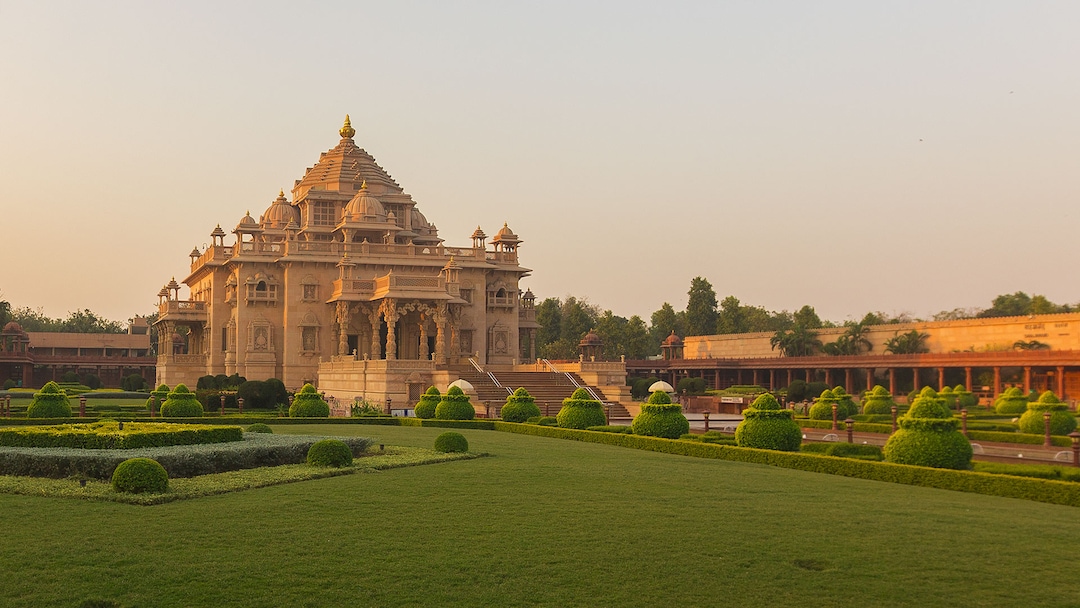 Also known as 'Swaminarayan Mandir', Akshardham which literally means 'Divine Abode of God' is a Hindu place of worship that celebrates devotion, spiritual education and unification. The temple has been entirely built from pink sandstone with intricate carvings that depict spiritual art, architecture, devotional messages and Hindu traditions. The temple is an honourable tribute to Bhagwan Swaminarayan (1781-1830) as well as the avatars, sages and the many gods and goddesses of Hinduism. The temple itself is a beautiful structure with well-manicured lawns surrounding the main temple and spread over 23-acres of temple premises. Over 4000+ volunteers from around the world helped in building this temple complex which was inaugurated on 30th October 1992. Akshardham temple is also found in New Delhi and several cities of USA and Canada.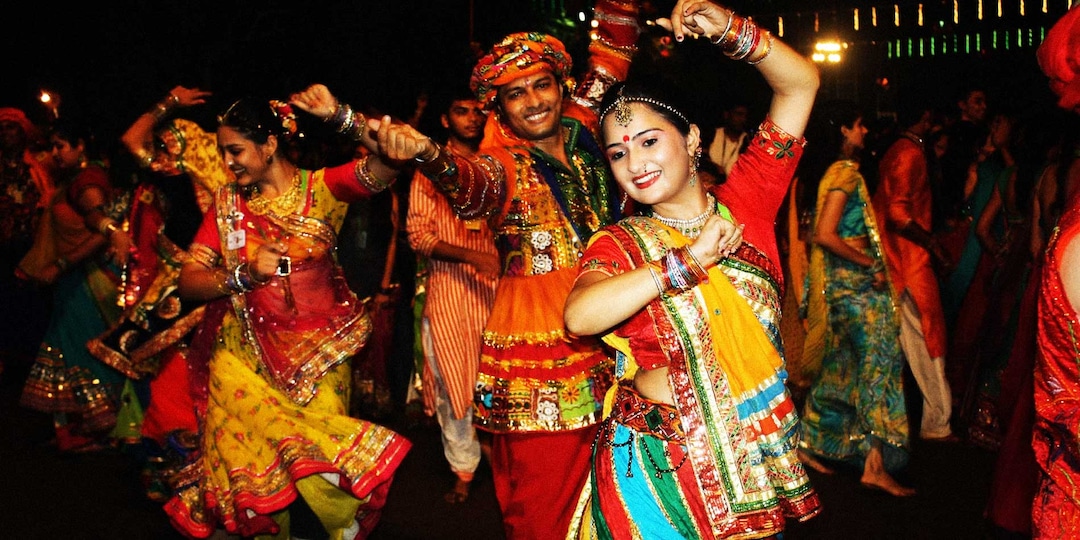 Now that you have all the required Navratri festival information, it's time to plan your Gujarat trip and celebrate Navratri Garba, Gujarati style! Get ready to sway in style and demonstrate energetic dance steps as you enjoy one of the best dance festivals of India. Gujarat is a colourful state enriched with eloquent heritage and vibrant culture! With this tour, get a chance to experience the legendary Navratri festival at Ahmedabad and enjoy traditional 'Garba' & 'Dandiya' nights. What's more? You can also enjoy delicious Gujarati fare and explore the sights of Ahmedabad city, on this festive tour. So, pack that colourful 'Chanya Choli' (that you rarely had the opportunity to wear) and simply enjoy to the fullest as you dance into the night at Gujarati Navratri!
*Feature Image Courtesy – thebetterindia.com