Reading Time:
9
minutes
Looking for the best places to visit in Himachal Pradesh? Head to Mcleodganj. You will be pleasantly surprised at what this spiritual Himalayan town has to offer. There are many things to witness and do here in terms of culture, serenity, and adventure that attract backpackers and youngsters looking for a quick getaway in Himachal. In that respect, Mcleodganj has many areas around it; these are places that must be visited at least once in a lifetime. The beauty and charm of this hill station are big reasons why it's included in several Himachal Pradesh tour packages.
Mcleodganj is nestled in the lap of the Dhauladhar mountain range and is often known as "Little Lhasa" for its Tibetan population. It is the second home to his holiness Dalai Lama and Tibetan refugees. The presence of His Holiness attracts a lot of tourists and pilgrims to the town of Mcleodganj. It is also worth noting that the exiled government of Tibet is also based in Mcleodganj only. It has one of the most mesmerising landscapes in the entire Himachal Pradesh and attracts a lot of tourists throughout the year. People come here for various reasons like spirituality, volunteer programs, Himalayan experiences and adventures, and photo and excursion opportunities in this religious small town cum hill station in the Himalayas.
Here are some of the best places to visit in Mcelodganj: –
1. Namgyal Monastery
Namgyal Monastery, also known as the 14th Dalai Lama's monastery, is a sacred place that is believed to be the abode of Dalai Lama. It is one of the most visited tourist places in Mcleodganj known for its sheer charm and rituals that involve various Buddhist practices such as Kalachakra, Vajrakilaya, Guhyasamaja, Yamantaka, and Chakrasamvara take place. This monastery is a great place for meditation which tourists are welcome to be a part of. The serenity and ambience of this place lend peace and calm to the visitors, making it one of the best places to visit in Mcleodganj.
2. Dharamkot
Dharamkot is a quaint and untouched village that's among the best places to visit in Mcleodganj. There's a festival fair that is organised here every year which adds to the vividness of Dharamkot.  A few cafes en route to Dharamkot see the crowd dwindling, and peace is on the offing as you get closer. If you are looking for absolute relaxation, this town is the perfect place for you to head to with spellbinding views of the Dhauladhar range to greet you every morning. It's also home to the Dhamma Sikhara Vipassana Meditation Centre and Tushita Buddhist Meditation Centre where you can have a peaceful and refreshing yoga retreat amidst the goodness of nature and blissful weather!
3. Naddi View Point
Searching for the top 10 places to visit in Mcelodganj? Witness the beauty of snow-covered peaks by visiting the Naddi view point. It is one of the most scenic tourist places in Mcleodganj that offers a splendid view of the hilly areas and lets you witness the beautiful sunset and sunrise. People love to have a meal in the lap of this beautiful valley which is full of green vegetation that creates an atmosphere of tranquillity all around.
4. Dal Lake
Yes, it's a namesake of the one in Kashmir and yet, it is distinct in its own right. The Dal Lake in Mcleodganj is a small lake close to a beautiful village called Tota Rani. This mid-altitude lake takes a greenish-hue and has varieties of fish inhabiting the water. A small shrine dedicated to Durveshwar Mahadev causes Dal Lake to be considered sacred, and a festival fair held here every year makes it a famous place in Mcleodganj. The lake is surrounded by deodar trees that elevate its beauty.
5. Triund Trek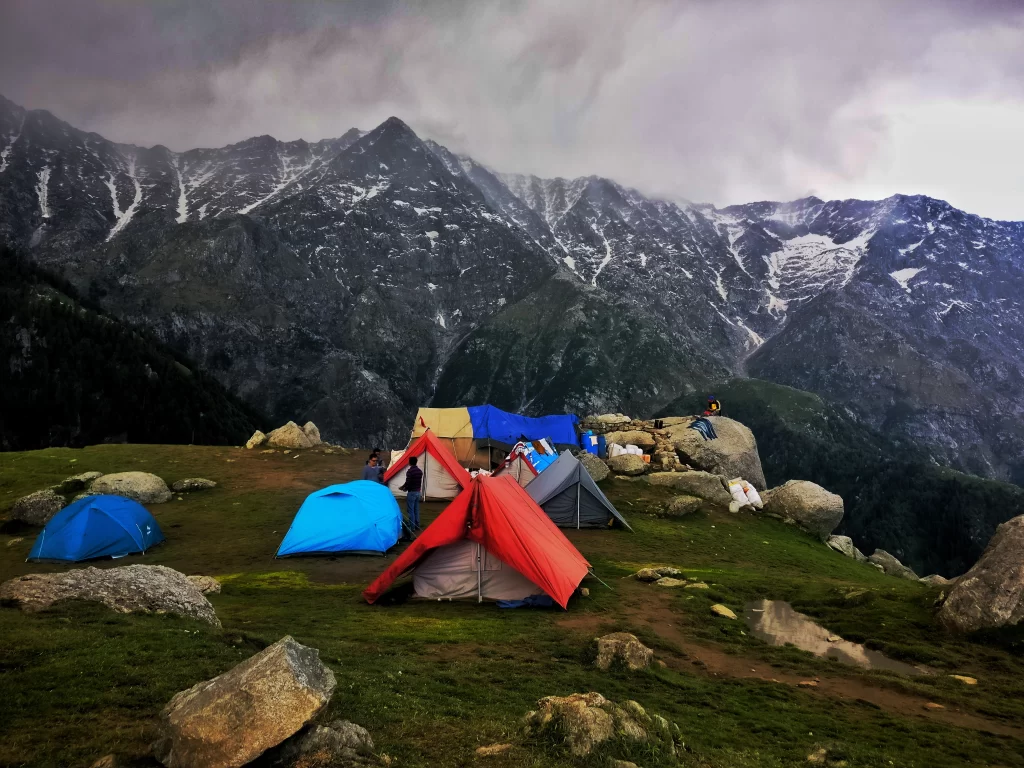 Counted among one of the top trekking trails in the country, Triund is a charming destination in Himachal Pradesh. The trek from Mcleodganj to Triund takes you through scenic landscapes and rocky terrains and is blessed with a view of the Moon Peak-Indrahar Pass. Picture snow-engulfed Dhauladhar Mountains on one side and the Kangra valley on the other – sounds breathtaking, doesn't it?! Often described as the crown jewel of Dharamsala, the evening sky will compel you to camp overnight and soak in the comforting embrace of the Himalayas. The journey begins at Galu Devi Temple in Dharamkot and takes 7-8 kilometres to reach Triund. The Triund trek, for all the sights it offers, is one of the best places to explore in Mcleodganj.
6. Naam Art Gallery
Located close to Mcleodganj in Dharamshala, Naam Art Gallery is one of the most famous places that is frequently visited by art enthusiasts. Those with a creative inclination towards art can unwind and enjoy themselves while viewing a variety of artwork as well as spiritual artworks. This place instils a sense of calm and relaxation among the visitors who can be seen spending long hours at a stretch here. The Naam Art Gallery has on display some excellent works of European artists like Elsbeth Buschman (water colours and acrylics) as well as Alfred W. Hallett (oil paintings).
7. Tibetan Museum
The Tibetan museum in Mcleodganj is a famous spot for photographers, historians, and just about any tourist who is interested in exploring the works of the Dalai Lama. The motto of the Tibetan museum in Mcleodganj is to increase awareness about Tibet's occupation, China's human rights violations, and how Tibet surmounted all other challenges. It is one of the 10 best places to visit when in Mcleodganj. The ancient Tibetan culture and architecture are depicted here through beautiful paintings kept in the museum. Owing to the manner in which this museum preserves Tibetan culture, it is considered one of the best places to visit in Mcleodganj that can be visited in one day as it is located at a distance of only 2 kms.
8. Illiterati Books and Café
Among the best places to visit in Mcleodganj, Illiterari is a book café that is most well-known and sought-after for its scrumptious burgers and mesmerising décor. Far away from the city bustle, Illiterati Cafe is situated on the Jogiwara road, a calm and peaceful place to relish time in solace. The bookstore cum cafe is ornate with wooden stoves, a vast genre of books and an out-of-this-world view that captures the mountains. Apart from the books, there are several board games that travellers can enjoy at the café. If you are someone who loves café hopping and wants to indulge in reading amidst the mountains, then Illiterati Books and Cafe is one of the best places to visit in Mcleodganj.
9. Sunset Café
Imagine watching an amazing sunset while munching on some delicious snacks amidst the snow-covered mountains – sounds rather intriguing, right?! Well, Sunset Café is the place to go in Mcleodganj. This café is a small eatery tucked in the highlands that also serves as a rest spot during the GalluDevi waterfall trek. The cafe is appreciated for its simple menu, which includes snacks like Maggi, masala chai, coffee, bread with an egg, smoothie shakes, and so on. It's well-known for providing a serene view of the Dhauladhar hills, particularly around sunset. Visitors here can enjoy the tranquil ambience and quiet music, and be in complete awe of the beauty of the hills.
With such spirituality, adventure, and serenity, Mcleodganj is truly one of the best places to visit in the Himalayas. Don't wait any longer; let the adventure unfold as you take this spellbinding journey!