Reading Time:
18
minutes
"The desert wears… a veil of mystery! Motionless and silent, it evokes in us an elusive hint of something unknown, unknowable, about to be revealed. Since the desert does not act, it seems to be waiting – But waiting for what?" – Desert Solitaire by Edward Abbey
The desert is truly an enchanting place to be in! And when it forms an integral part of the glittering metropolis of Dubai, the desert experience is bound to be even more exclusive and entertaining. The Desert Safari Dubai has become one of the most thrilling and must-do adventure activities of recent times, featuring in almost all Dubai tour packages from India. It packs a punch as it combines all the necessary ingredients required to have an incredible experience; fun, excitement, thrill, adventure, culture, traditional charm are simply a few elements of this 'not-to-be-missed' Arabian adventure!
When you look for Dubai holiday packages, for yourself or your family, there are always certain elements that you factor in, to make your journey more comfortable, smooth and hassle-free. Transport, accommodation, sightseeing, food, activities and most importantly the 'budget' that helps determine your final trip. On the one hand, it is important to ensure that your trip is value for money and the expenses do not go overboard. But, on the other hand, the budget should also not be a roadblock standing in the way of your wonderful memories! Is it not possible to combine a remarkable experience like the Desert Safari Dubai and still manage to place it comfortably in your spending limit? The answer is, 'Yes… it is very much possible'! Which is why we have a list of 12 affordable Dubai hotels that are located not too far from the renowned 'Desert Safari' experience of Dubai.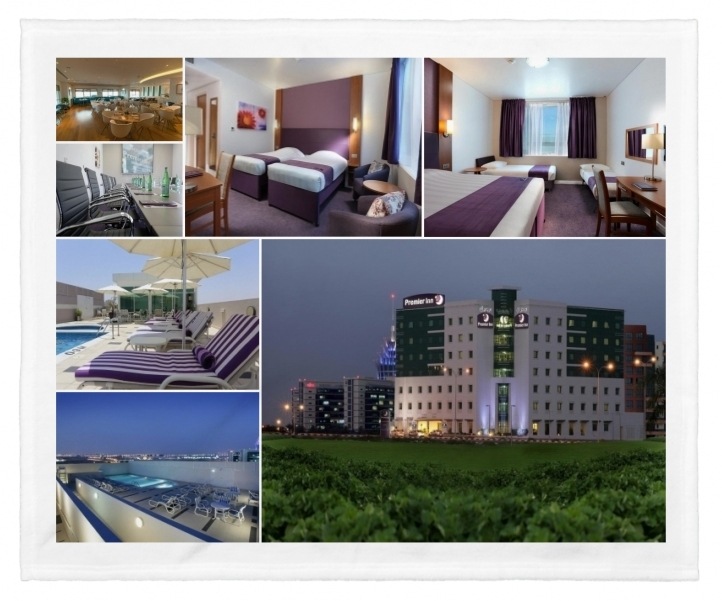 This 3-star hotel located at Dubai Silicon Oasis City boasts of being one of the smartest value choices among all Dubai hotels. The Silicon Oasis City is a free trade zone and technology park that incorporates a healthy mix of the living and working community. The hotel is ideal for a leisure stay or a business visit, as it is centrally located in the city and easily accessible from Desert Safari Dubai, shopping malls, business districts and several Dubai tourist places. It is well equipped with comfortable deluxe rooms, swimming pool, FREE Wi-Fi, well-appointed gym, coffee shop and multi-cuisine restaurant. So, try the Premier Inn as part of your Dubai holiday package, for a comfortable and smart stay!
Average Price Range – Rs. 4000 to Rs. 6000 per night
USP of the Hotel – Free shuttle buses every day to Al Mamzar Beach Park
A well-appointed 3-star hotel where fun, comfort and style all come together to create an experience that is unique and memorable for the traveller! This hotel is suitable for families, leisure vacationers, solo travellers and business guests, who walk in to take advantage of the hotel's facilities, stylish & inspiring décor, luxurious rooms and the close proximity it offers to several Dubai attractions. Experience the best 'Ibis Styles' hospitality as you relax and rejuvenate at this hotel. Enjoy delicious meals and snacks at any of the 3 stylish restaurants or head off to Desert Safari Dubai, one of the best things to do in Dubai. When it comes to comfort & hospitality, Ibis hardly goes wrong!
Average Price Range – Rs. 6000 to Rs. 8000
USP of the Hotel – Sumptuous Breakfast Buffet (Recommended by travellers)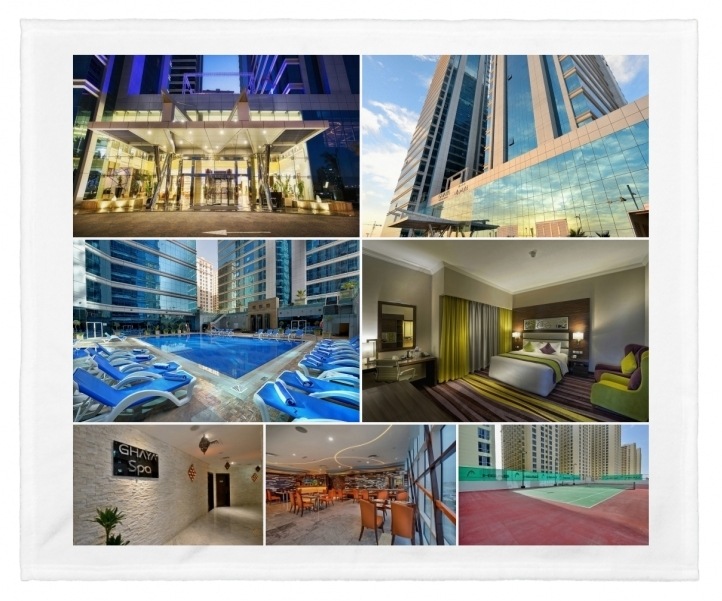 This hotel can be best described as an ultramodern getaway designed to offer the best of comfort and hospitality to its guests. Blessed with perhaps one of the best locations in the city, this hotel is in close proximity to Dubai attractions such as Miracle Gardens, the newly-opened Me'aisem City Center Mall, Dubai Motor City, Autodrome and Jumeirah Golf Estates. The hotel is equipped with 765 hotel rooms, suites, serviced apartments, 9 meeting rooms, 1 ballroom, gym, outdoor pool and a luxurious well-appointed spa. Take your pick and enjoy the best of luxury, hospitality and comfort that would surely be hard to find in many other Dubai travel packages!
Average Price Range – Rs. 5000 to Rs. 7000
USP of the Hotel – Free shuttle buses to Mall of the Emirates, Jumeirah Beach Resort and Ibn Battuta Mall on a daily basis.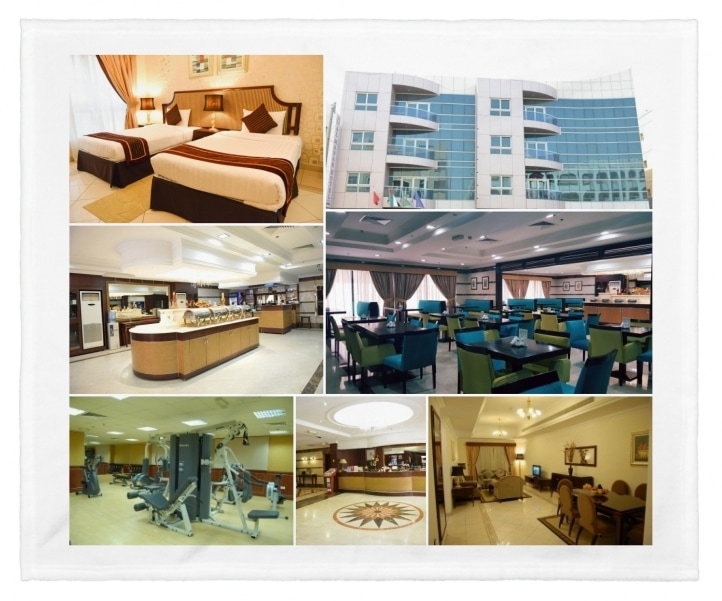 Surprised to find an apartment hotel on this list? When the facilities provided are as good as or even better than many Dubai hotels, then why not make your stay memorable and comfortable with this option? Al Manar Hotel Apartment, smartly located in the heart of Dubai city, is like your luxury home away from home. The apartment hotel has 85 modern apartments and spacious studios that are well-decorated and fully furnished with a wonderful private balcony. Other services that make your stay perfect at this hotel are outdoor terrace swimming pools, well-equipped gym, spa and sauna services, full-fledged business centre and an in-house travel desk. Experience true luxury living, the most sought-after element in almost all Dubai tour packages!
Average Price Range – Rs. 4000 to Rs. 6000
USP of the Hotel – 5 mins distance from Dubai International Airport, Modern gym equipped with latest Nautilus equipment & Professional Staff (Recommended by travellers)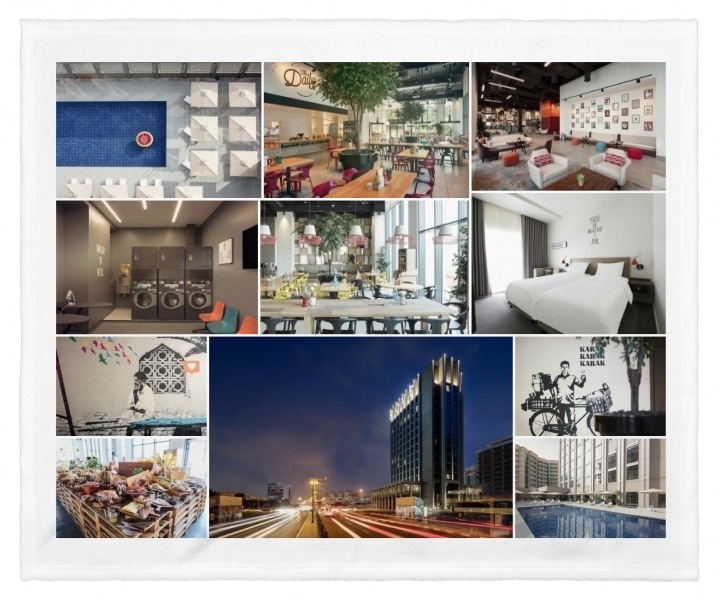 Located in Dubai's Healthcare City, this hotel property is a part of Rove Hotels, a Dubai born-and-bred global lifestyle brand. Designed especially for the modern day traveller, this hotel focuses on fuss-free hospitality, comfort and convenience of their guests, whom they fondly refer to as 'Rovers'. The best part, this hotel is affordably priced and centrally located with an easy access to public transport. Although, that doesn't mean the hotel compromises on quality! All rooms are super spacious, equipped with ultra-modern amenities and high-speed internet. The facilities also include a 24/7 fitness centre, outdoor swimming pool, multi-cuisine restaurants and 24/7 meeting room services. A particular favourite of couples, this hotel can be the perfect fit for your Dubai honeymoon package! So, get ready to rove around Dubai and experience the best hospitality among several Dubai tour packages from India.
Average Price Range – Rs. 5000 to Rs. 7000
USP of the Hotel – Free shuttle service to Dubai Mall and Kite Beach on daily basis & Self-service Laundromat!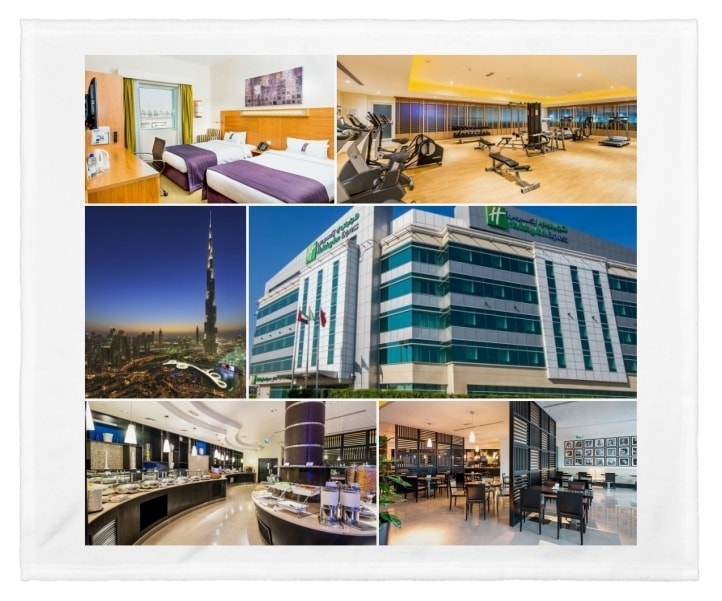 Conveniently located opposite Terminal 3 of Dubai International Airport, this hotel offers an ideal stay for business guests, travellers in transit and leisure travellers. True to the brand, this hotel provides at-par accommodation facilities, modern amenities, 24 hrs. Business Centre services, 24 hrs. Fitness Centre, multicuisine restaurants and 5 rooftop meeting rooms that not only satisfy your needs but also optimize your stay. The hotel is a short walk from the Emirates HQ metro station and is a short drive away from major Dubai tourist places.  Explore some of the best attractions and popular things to do in Dubai while you stay at this hotel – Dubai Mall, Burj Khalifa, old Souks, Dubai Creek, Dubai Festival City and Deira City Center. This hotel proves to be a smart choice for travellers who look for the best location and good value!
Average Price Range – Rs. 4000 to Rs. 7000
USP of the Hotel – Free shuttle service to Dubai International Airport & Express Start Breakfast (available with Grab & Go option)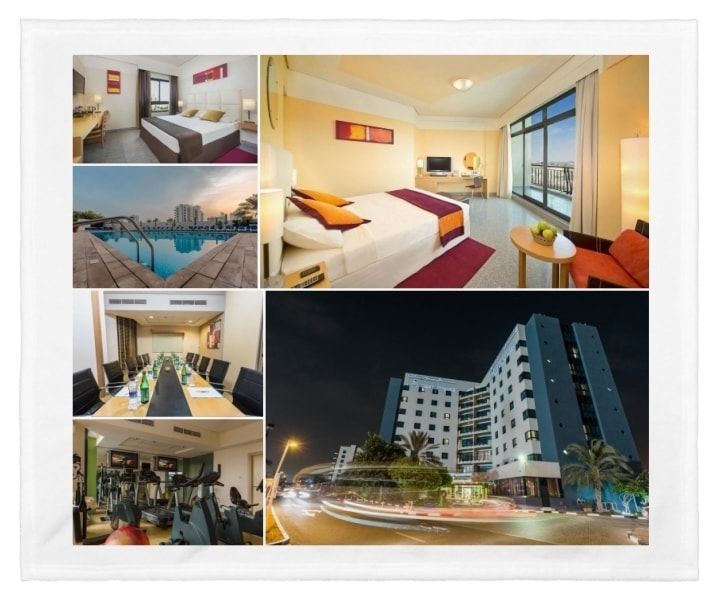 A hotel that prides itself on being one of the best budget hotels in Dubai without compromising on quality and comfort. (A perfect fit for any Dubai tour packages!) The hotel is located in Al Jadaf, a prime location with close proximity to Wafi Mall, Dubai Festival City, Dubai Creek and Dubai Cultural Village. Savour traditional Arabian hospitality in any of their 328 stylish rooms, 3 lip-smacking dining venues, 3 private meeting rooms, temperature-controlled outdoor swimming pool and state-of-the-art gym. Most of Dubai's iconic landmarks and the Dubai international airport are located just 10 minutes away from the hotel! With such convenience, comfort and hospitality, this hotel makes its way into the heart of the business, leisure, solo as well as honeymoon travellers. So, make your Dubai honeymoon package extra special by including this 3-star leisure hotel as part of your Dubai experience!
Average Price Range – Rs. 5000 to Rs. 7000
USP of the Hotel – Free shuttle services to Burj Khalifa, Dubai Mall, Deira City Centre Mall, Wafi Mall, Festival City Mall and Al Jadaf Metro Station.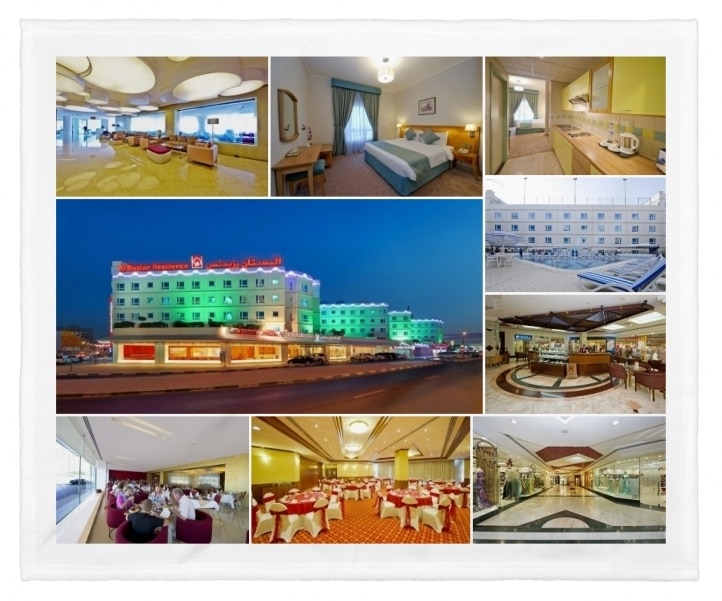 Another apartment hotel makes its way into our list and we are not surprised it has! With plush, fully furnished apartments, the hotel has successfully managed to offer guests with a unique blend of traditional Arabic hospitality, contemporary design and modern amenities. Located in the Al-Qusais residential district, the hotel is a short distance away from Al Nahda metro station and the Dubai Creek Golf & Yacht Club. A favourite pick for tourists and business travellers who often include it in their Dubai tour packages, it is particularly popular in the MICE industry having catered to corporate needs for a long period. It offers 640 spacious, well-appointed apartments and suites with a private kitchenette, living room and dining space in each apartment. Couples, in particular, have also taken a liking towards this hotel as it finds its way into their Dubai honeymoon package!
Average Price Range – Rs. 5000 to Rs. 7000
USP of the Hotel – Al Bustan Centre Shopping Mall (connected to the hotel) & 2 Tennis Courts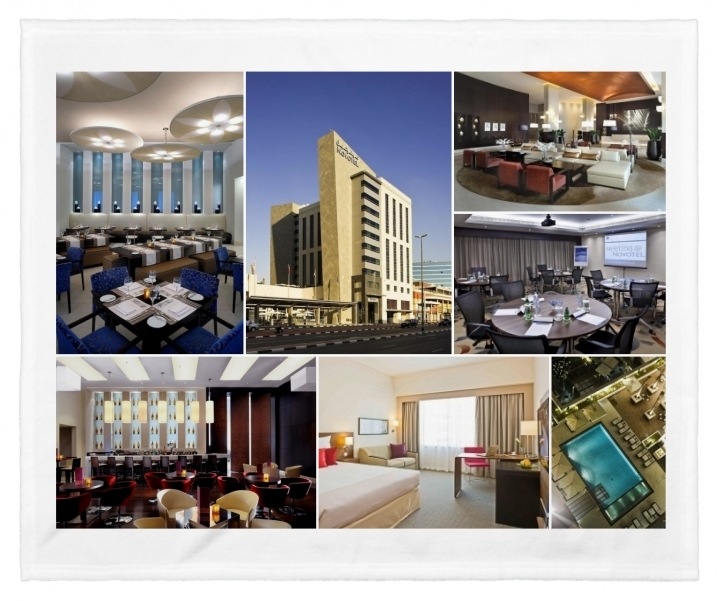 This is a 4-star hotel property located right opposite the Deira City Centre shopping mall and is well-known for its historical architecture. Being centrally located from the city's many tourist and business destinations, this hotel is often the preferred choice for travellers and is often included in their Dubai tour packages. A bankable and trusted brand name in the hotel industry, the hotel does not disappoint even a bit when it comes to their tastefully decorated 188 spacious hotel rooms, meeting rooms, multi-cuisine restaurants, outdoor temperature-controlled swimming pool and fitness centre. The hotel is located a short distance away from the international airport and is the perfect place to enjoy Dubai tourist places such as Gold Souk, Spice Souk, Dubai Heritage Village and Dubai Creek. So, plan your Dubai holiday and make this amazing 4-star hotel, a part of your Dubai travel packages right away!
Average Price Range – Rs. 5000 to Rs. 7000
USP of the Hotel – Free shuttle services to Dubai Beach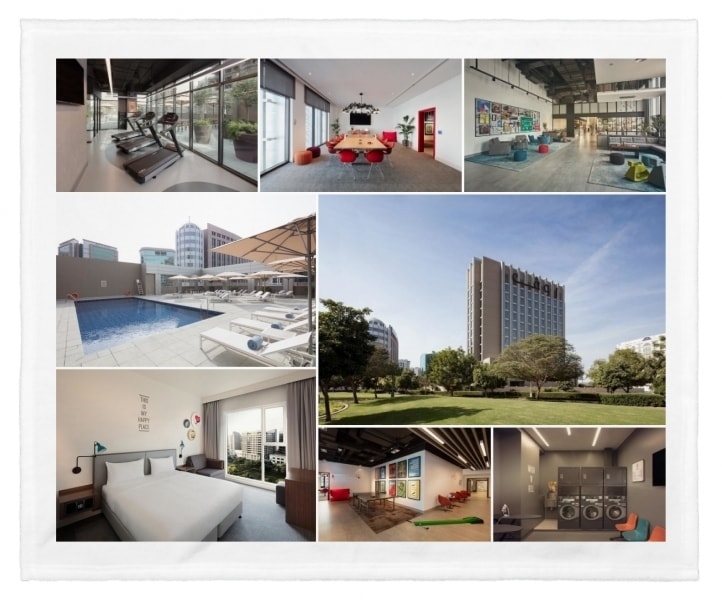 Another Rove on the list! This time, its Rove City Centre, located just 10 mins away from Dubai international airport. The hotel presents itself as a perfect destination for the modern traveller that looks for hassle-free and comfortable Dubai holiday packages. The hotel is equipped with spacious well-appointed rooms, modern amenities, free Wi-Fi and other leisure options such as outdoor pool, fitness centre and lots of free games in the common areas. Explore nearby attractions such as the City Centre Deira, Spice Souk, Dubai Creek and Al Seef from this hotel property. Enjoy the amazing experience of Desert Safari in Dubai and unwind at the relaxing stretches of the desert! With Rove City Centre, comfort and convenience are a top priority as you take in the wonderful sights of Dubai and let all your worries and stress melt away! A perfect choice for couples who are looking for a fun, quirky getaway to enjoy their honeymoon. Make it a part of your Dubai honeymoon package and experience the best for yourself!
Average Price Range – Rs. 4000 to Rs. 6000
USP of the Hotel – Free shuttle ride to Dubai Beach and Dubai Mall & Self-service Laundromat!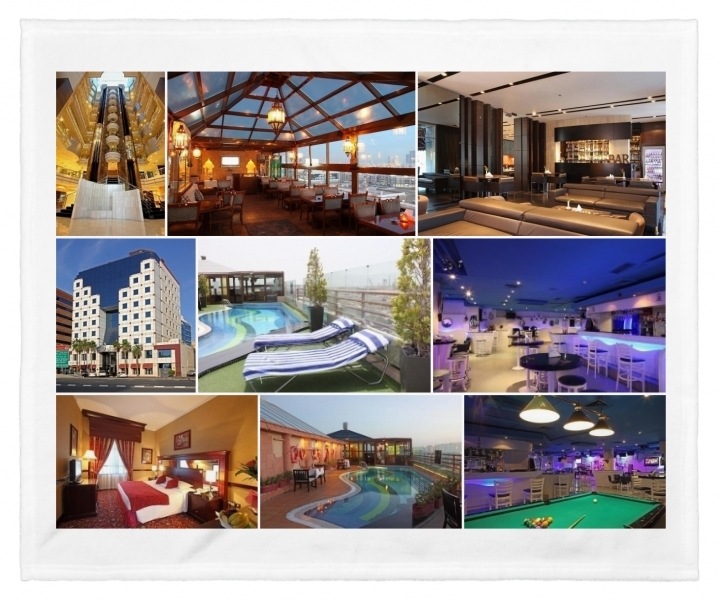 True to its name, the hotel provides a panoramic view of the sea, sky and shore! Sea View Hotel is located in Bur Dubai, just 15 mins away from the international airport. The hotel is also considered to be an architectural icon of the city owing to its design which combines modern as well as traditional elements. Friendly and professional staff complemented by the top-notch hospitality and well-appointed rooms are some of the unique characteristics of this hotel. Along with 107 elegant guest rooms, the hotel also has 6 restaurants, an outdoor pool, a nightclub, fully equipped fitness centre and a sun terrace that offers far-reaching views of the sea. Make your way to the Textile Souk, Dubai Heritage Village, Dubai Museum and Grand Mosque which is located at a short drive away from the hotel. Your Dubai tour packages could be even more memorable with an amazing stay and mesmerizing ocean views at Sea View Hotel!
Average Price Range – Rs. 4000 to Rs. 6000
USP of the Hotel – Free shuttle ride to Jumeirah Beach, Nightclub & Sun terrace with ocean view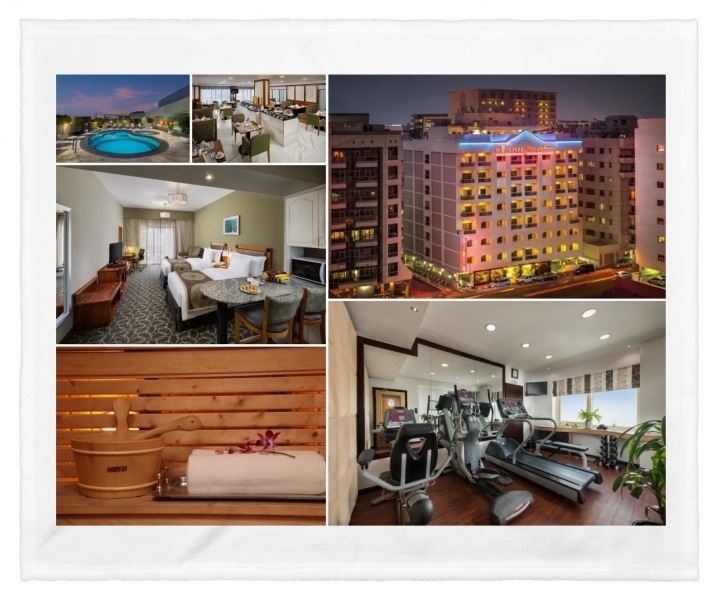 This sleek apartment hotel located in Bur Dubai is a breath of fresh air located in the heart of the city! Just a short distance away from city attractions such as Burjuman Mall, Dubai Museum, Meena Bazar and Dubai Gold Souk, this hotel provides a trendy and comfortable respite with its well-appointed apartments, kitchenettes, sofa-beds and private balconies with scenic city views. The fitness centre, business centre, outdoor swimming pool, coffee shop and multicuisine restaurant, add to the perfect charm and refined hospitality of this hotel. The Savoy is well-renowned for being a value-for-money smart hotel with quality service levels, excellent comfort and unmatched hospitality. So, make sure to experience the best of this city and have an incredible stay at 'Savoy Park Hotel Apartments'!
Average Price Range – Rs. 4000 to Rs. 6000
USP of the Hotel – Free shuttle service to the nearby beach and local shops, Outdoor Pool with Sauna & Jacuzzi
Go dune bashing, enjoy desert activities, feast on traditional Mediterranean fare, witness belly dancing and soak up the unique charm of the desert, as you truly experience one of the most popular things to do in Dubai (Desert Safari, of course!) while comfortably staying in hotels that do not attempt to burn a hole in your pocket!
*Please Note: All prices mentioned in the blog are average prices for a standard double room during the peak winter season, suitable for several Dubai tour packages from India. The price may be higher or lower depending upon your period of travel, no. of travellers, choice of rooms, extra services availed etc. These are simply suggestive options and guests can opt for a number of other hotels depending on their choice and comfort. After all, to each his own!