Reading Time:
10
minutes
Chikmagalur, nestled in the vast Western Ghats, is one of the best hill stations in Karnataka for a peaceful escape. Lush green mountains, scenic hiking paths, gushing waterfalls, and enigmatic temples. This never-ending list of the greatest places to visit in Chikmagalur will entice you to arrange a trip to Karnataka's tranquil and beautiful hills. There is no better spot to retreat into nature than the beautiful hills of Chikmaglur. Take in the fresh air and take in the beautiful scenery.
Imagine waking up to the rich, warm, and exotic aroma of the coffee, as well as vistas of luscious green hills, deep woods, or the sound of a playful waterfall. That's Chikmagalur for you! This charming hill village, located at a height of 1090 metres, is also known as the "Coffee Land of Karnataka." Beautiful pathways, lush meadows, breathtaking waterfalls and lakes, fascinating animal sanctuaries, and architectural marvels dot the length and width of Chikmagalur, satisfying all types of visitors. Exploring this hill station will do the trick if you are looking for a little adventure, want to boost your adrenaline, or wish to unwind and let go of that everyday tension. So, keep reading to learn more about the top 10 tourist places in Chikmagalur.
1. Muluyanagiri
Mullayanagiri is a mountain summit in Chikmagalur that is 20 kilometres from Chikmagalur and 23 kilometres from Baba Budangiri (by road). With an elevation of 1950 m, it is Karnataka's tallest mountain and one of the must-see attractions in honeymoon places in Karnataka. Mullayanagiri, the tallest hill between the Himalayas and the Nilgiris, is one of the top hiking destinations in Karnataka. The peak is named after Tapasvi Mullappa Swamy, who is supposed to have meditated in a cave near the summit. It is one of the greatest locations to visit in Chikmagalur for adventure-seekers since it allows them to participate in sports such as mountain biking, hiking, and road biking.
2. Baba Budangiri
The Baba Budan Mountains, in the Western Ghats of India, is located north of the Karnataka district of Chikmagalur. Baba Budangiri is a mountain in the Baba Bdan Mountains, famous for the shrine of the sacred Sfihazrat Dadahayato Karandal (also known as Baba Bdan). It is a popular pilgrimage site for both Hindus and Muslims and is frequently crowded with visitors, making it one of the most famous places to see in Chikmagalur. This famous mountain range is also known as the Dattagiri Hill Mountains because the temple here is associated with the Hindu god Guru Dattatreya. This adventure sport has recently gained a lot of popularity through the sharing of movies and social media. India has several safe and certified skydiving destinations with excellent instructors and adequate infrastructure for equipment, but the main skydiving destinations considered by civilians are outside India. The Baba Budangiri Hills are noted for their distinctive forest range, as well as mountaineering and trekking. There is a wonderful trekking track between Mullayanagari and Baba Budangiri. In addition, all adventurers can go into the jungle to witness the old Deviramma Betta shrine.
3. Seethalayanagiri
Seethalayanagiri should be on your Chikmagalur agenda if you are searching for ways to connect with nature, seeking peace and tranquilly, or enjoying the high that trekking provides. It is a gorgeous, green hill with a height of 1524m that is simple to climb from a designated parking area and is one of the best places to visit in Chikmagalur. Furthermore, this is one of those places where the journey is just as spectacular as the destination. The scenery around you will take your breath away as you drive over the serpentine roads across Chandra Drona Hill to Seethalayanagiri. When you reach the peak, you will see beautiful wildflowers and vibrant orchids. You may also seek heavenly blessings at the Seethala Mallikarjuna Swamy Temple, which has a Shiv Linga that is always surrounded by water.
4. Kemmangundi
One of the famous places in Chikmagalur, Kemmangundi, a hill station in Tarikere Taluk, is surrounded by beautiful meadows. The Karnataka rulers made the hill station their summer getaway. Why not, with its majestic hills, verdant valleys, and eye-catching landscapes? The Raj Bhavan, a well-known guest home, is an excellent vantage point for viewing stunning sunsets and sunrises. Another popular site here is the Z Point, where you can enjoy panoramic views of the valley. It is one of the must-visit places in Chikmagalur.
5. Bhadra Wildlife Sanctuary
The tiger is India's national animal, and it is on the verge of extinction. Tigers, on the other hand, have found a safe refuge owing to the Bhadra wildlife sanctuary. Project Tiger includes this refuge. Aside from tigers, this environment is home to a variety of animals. Jeep safaris are organised by the government. So, if you enjoy safaris, this is a must-see destination. And who knows, you could even spot a tiger if you're lucky!
6. Hebbe Falls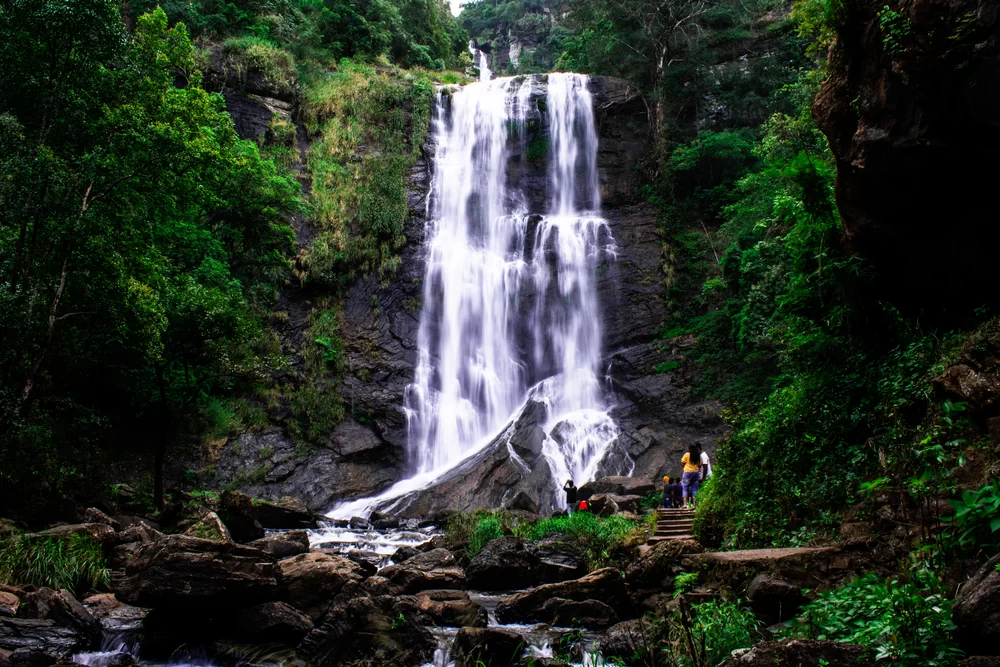 Every nature enthusiast will enjoy seeing rushing rivers fall forcibly, which is why a visit to Hebbe Falls in Chikmagalur is something you should not miss. The enormous falls, known as Dodda Hebbe, are one of the two stages into which the falls have been separated, while the lesser fall, known as Chikka Hebbe, is the other. The Hebbe Falls is surrounded by scented coffee plantations and lush greenery, making it an ideal spot for a picnic with family and friends.
7. Hornadu Annapoorneshwari Temple
The Hornadu Annapoorneshwari Temple is located on the banks of the magnificent Bhadra River. It is a well-known temple in the hill town and one of the most frequented locations in Chikmagalur. The shrine is devoted to the goddess of food, Devi Annapoorani. It is a renowned tourist attraction in Chikmagalur and should be on your Karnataka tour package.
8. Jhari Waterfalls
The Jhari waterfalls are among the top Chikmagalur tourist attractions and are well worth a visit. Buttermilk Falls is another name for the Jhari Waterfalls. It is located near Attigundi, about 12 kilometres from Baba Budangiri. It offers its guests a tranquil setting as well as scenic beauty. Jhari is one of the most prominent tourist destinations in Chikmagalur, India. You may now unwind and enjoy your day in nature. It's an ideal location for artists and photographers to appreciate nature's gift.
9. The Coffee Museum
The Coffee Museum is in the Karnataka district of Chikmagalur. This exhibit explains how coffee is prepared in greater detail. In terms of historical explanation of coffee, this museum provides a highly extensive account that covers all of the procedures of how coffee is created, from picking up coffee beans to grinding coffee beans. This museum not only provides knowledge on the history of coffee, but also about the geography, botany, and traditional and technical elements of coffee. The Coffee Board of India came up with the concept to open the museum and educate people about their favourite drink. Because the museum includes everything about coffee, from its inception to its expansion, it serves as both a pleasurable and instructive tour. It actually takes you on a tour of India's coffee world. On both sides of the museum, pots with beautiful deep red coffee berries greet visitors. There are also life-size posters on the museum's walls with intriguing coffee facts. The following image shows a coffee map of India, which illustrates both classic and unconventional coffee-growing places in the country.
10. Hirekolale Lake
Hirekolale Lake is one of the most beautiful spots to visit in Chikmagalur, surrounded by the majesty of the Western Ghats highlands. This stunning man-made lake is awe-inspiring for all visitors to Chikmagalur and should not be missed when visiting Chikmagalur tourist attractions. It was created to provide water for drinking and irrigation to the town of Chikmagalur. The lake is surrounded by beautiful scenery and provides a peaceful refuge for individuals who want to spend time with friends and family. Hirekolale Lake offers the most mesmerising views of the landscape at the time of twilight when the greatest number of travellers flock here. It is a delight for photography lovers who are looking to add an idyllic sunset shot to their travel albums. One can also appreciate the exceptional views of Mullayanagiri Hills from Hirekolale Lake.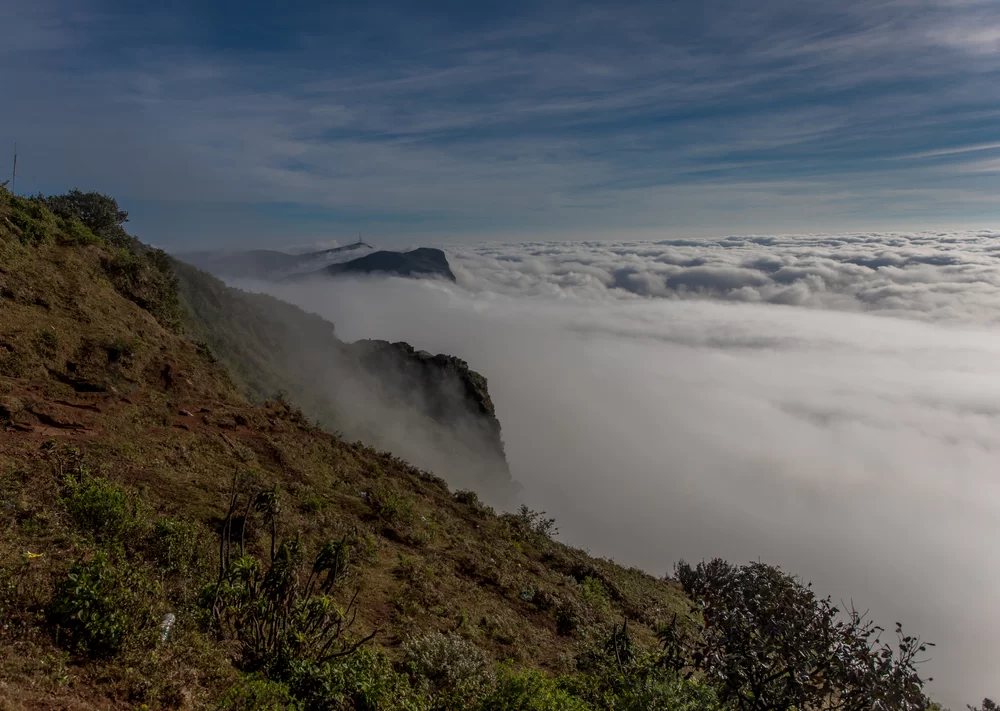 With all that it houses, Chikmagalur is a vacationer's heaven. Throughout the year, it has cool and pleasant weather. The location requests your visit for a wonderful journey, offering a plethora of activities for nature lovers and adventure enthusiasts alike. Although Chikmagalur may be visited throughout the year, the ideal time to come is from September to February (winter season).