Reading Time:
8
minutes
On the day of Maha Shivratri, devotees across the country are seen visiting Shiva temples. Devotees chant Om Namah Shivaya and Har Har Mahadev and offer special prayers and flowers to lord Shiva's Jyotirlinga.  The celebration of Maha Shivratri centres around the union of Lord Shiva and Goddess Parvati. Maha Shivratri is the grand celebration of the marriage of Shiv and Shakti. Shiva represents destruction and Shakti represents fertility, love and beauty. The duo of Shiva and Parvati is considered to be the epitome of love, power and togetherness.
Significance of Maha Shivratri?
Several people tell stories and folklore describing the origin of the Maha Shivratri festival. Many devotees celebrate the night of Shiva on the day before the new moon, once a year before the arrival of summer. Maha Shivratri falls in the Phalguna month of the Hindu calendar. It marks a remembrance of overcoming darkness and ignorance in life. Unlike other Hindu festivals, Maha Shivratri is celebrated during the night. It is believed by many devotees that Shiva performs the heavenly dance of Tandava, which represents creation, preservation and destruction. Others believe that it is an annual occasion to get over past sins and restart a virtuous path for liberation.
Maha Shivratri is celebrated as the anniversary of Lord Shiva and Goddess Parvati. Other people celebrate it as the day when Shiva saved the world from the pot of poison. Another set of people believe that this day marks when Brahma and Vishnu got involved in an argument about their supremacy.
How is Maha Shivratri celebrated?
According to the rituals many devotees observe fasts and are also seen worshipping the Shiva Linga (iconic representation of Shiva). Shiva devotees perform Rudra Abhishek or special ordination to the Shiva Linga. They bathe the Shiva Linga with water, curd, sugarcane, syrup, milk, honey, etc. Datura flowers and fruits are also part of the religious offering. Many unmarried women pray and observe a fast on Maha Shivratri. This is a tradition followed by Hindu women who wish for a partner as compassionate as Lord Shiva. Annual Dance festivals are held at major Hindu temples such as Konark, Khajuraho, Modhera, Chidambaram and Pattadakal. The event is known as Natyanjali which means worshipping through dance.
Located in the Garhwal region of the Himalayan Mountains, Panch Kedar is a sect of 5 temples dedicated to Lord Shiva. Panch Kedar is said to be parts of Lord Shiva's body that are situated in 5 places in Kedarnath.
People who go to Panch Kedar usually search for the best tour packages that include all five temples. On a Panch Kedar yatra, you will get to visit Kedarnath, Madhmaheshwar, Tungnath, Rudranath, and Kalpeswara Temple. All five shrines are on a spherical trek and it takes 14 days to visit all these shrines of Lord Shiva.
Kedarnath Temple: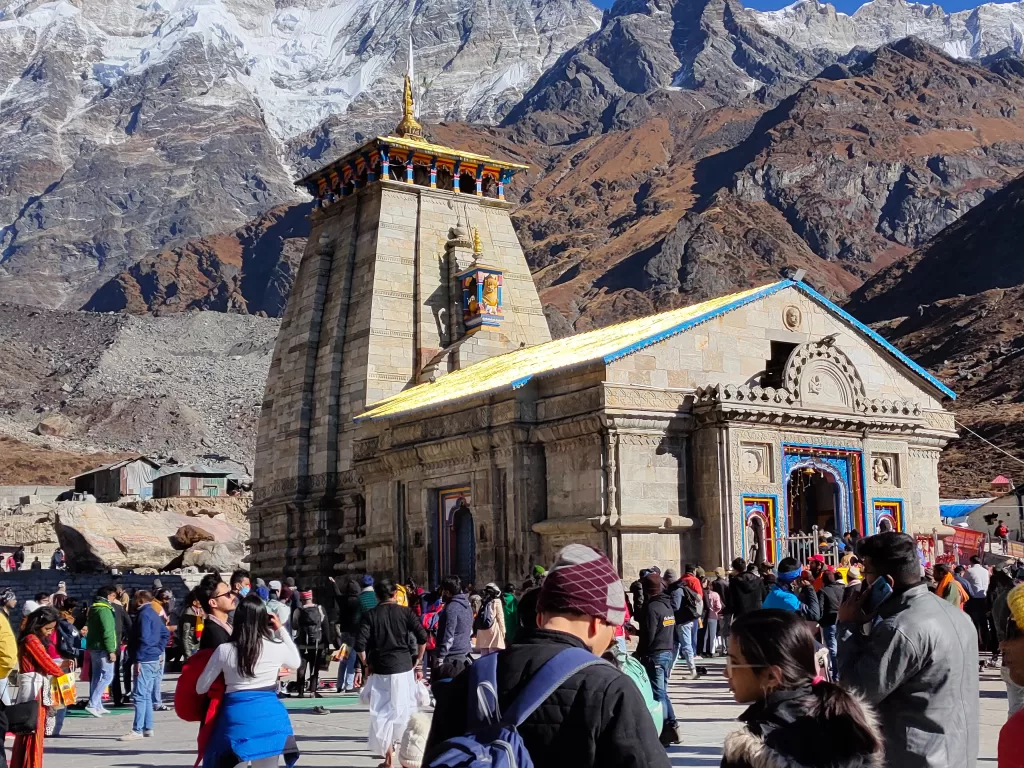 This temple is 1200 years old and is located in the Garhwal region of the Himalayan Mountains, near the Mandakini river. Kedarnath is a part of the chota char dham pilgrimage which includes Badrinath, Gangotri, and Yamunotri. It is one of the 12 Jyotirlingas sacred to Hindus. Traditionally people first visit Kedarnath, Tungnath, Rudranath and then Madhyamaheshwar and Kalpeshwar.  It is believed that Shiva took the form of a bull called Nandi and later Nandi's navel and stomach surfaced in Madhyameshwar. Pandavas built that temple and all other Panch Kedar temples to worship Shiva.
Badrinath Temple:
Badrinath Temple is considered a part of both chota char dham and char dham yatra. Badrinath temple is located near the Neelkanth peak. A divine tale states that Badrinath was the realm of Shiva. It is said that Vishnu tricked Shiva into leaving the site and established himself instead. Badrinath Temple is one of the most-visited Shiva temples in India.
Gangotri Temple:
It is dedicated to the goddess Ganga who is believed to have come on earth to absolve the sins of humankind. The river Ganga originates from a glacier called Gangotri and is called the Bhagirathi river. Gangotri Temple is the highest temple of Goddess Ganga and is one of the char dhams located in the state of Uttarakhand.
Yamunotri Temple:
Yamuna, the second most holy river in India, originates from Yamunotri. It is situated in the Uttarkashi district of Uttarakhand. It is the first stop in the char dham pilgrimage. Many people believe that bathing in Yamuna cleanses all sins and protects a person from an untimely and painful death. It was built in 1839 and besides Yamuna devi, the idol of Ganga devi is also housed in the revered temple of Yamunotri. Surya Kund is a hot water spring near this temple where devotees boil rice and potatoes in the kund and accept it as a Prasad of devi.
Amarnath Temple:
Many people across India go on the Amarnath yatra on Shivratri. It is one of the four major pilgrimages of India, devotees are seen trekking through the Himalayan Mountains in Kashmir to the holy cave shrine of Shri Amarnath ji. It is considered a sacrosanct place by Hindus. Located in the state of Jammu and Kashmir, devotees visit this site to worship Lord Shiva's Lingam formed of ice. Devotees of Shiva believe that Shiva narrated the story of the creation of the universe and the secret of immortality to Devi Parvati in the Amarnath cave.
Somnath Temple:
The name Somnath has its own significance according to Hindu mythology. It is believed that Chandra Dev worshipped Lord Shiva as Somnath which means the Lord of the Moon. The Somnath temple is home to the first of the 12 jyotirlingas i.e. the devotional shrine of Lord Shiva. Surrounded by the Arabian Sea, it is situated at a spectacular location on the Saurashtra peninsula and showcases amazing Chalukyan-style architecture.
 How do people celebrate Maha Shivratri in different states?
Large congregations of devotees gather to offer prayers and tribute to Lord Shiva. Maha Shivratri celebration in India is done in different ways in different parts of India. Many devotees in Tamil Nadu on Maha Shivratri walk barefoot for 14 km to reach Annamalaaiyar temple which is called Girivlama or Giri Pradakshina. Special events and fairs take place on the occasion of Maha Shivratri in major Jyotirlinga Shiva temples such as the ones in Varanasi and Somnataha. Shivratri yatras are held in Andhra Pradesh and Telangana.  Shobha Yatras are organised by various Hindu organisations in Punjab. Many people in Odisha fast on this day and get food after Mahadipa rises at the top of Shiva temple.
There are many places to visit on Maha Shivratri and Mandi is one of the most-visited places among them. Maha Shivratri International fair is celebrated every year for a span of 7 days in Mandi. It is believed that a large number of Hindu gods and goddesses, said to be more than 200 deities are invited to Mandi from 81 temples. The Bhoothnath Temple in Mandi located in Himachal Pradesh is said to host the biggest celebration of this festival in the country.