Reading Time:
9
minutes
Travelling to the Gulf is an exciting prospect for people who live for luxurious resorts, fine dining, and cultural exuberance. The sheer brilliance of architecture in cities like Dubai is a reason why people from all over the world love to spend their vacation days there. When it comes to the Palm Islands, Dubai, you can plan a visit that will make your Dubai honeymoon package or family vacation simply unforgettable! An archipelago consisting of three artificial islands, namely, Palm Jumeirah, Deira Island, and Palm Jebel Ali, the total area is equivalent to 800 football fields. But the only island open for tourists is Palm Jumeriah Island in Dubai. Mentioned below is noteworthy information about the construction, the best time to visit, top attractions, and places to visit nearby the Palm Islands, Dubai:
4 Interesting Facts to Know about Palm Jumeirah
A lot of people know that Palm Jumeirah Island has the best hotels and resorts in Dubai. But there are several facts that you can learn about below
1. Eighth Wonder of the World 
Not all wonders on this planet are from the medieval or early-modern era. The Palm Islands, Dubai are considered the 8th wonder of the world because it is one of the largest megaprojects in history. The construction of the Palm Islands in Dubai was worth billions of dollars because a lot of rocks, sand, and construction materials were transported to the archipelago. It is also said that Palm Jumeirah has been sinking at a rate of 5 mm every year!
2. Palm Tree Shaped Island 
The island of Palm Jumeirah in Dubai makes a shape of a palm tree that can only be seen from space. The irony of this statement is that there are not many palm trees planted on this island! Nevertheless, it is a unique characteristic that makes this place worth visiting at least once in your lifetime. The primary regions of this island are categorized as Crescent, Spine, Trunk, and Fronds. Every area is developed in such a way that tourists and residents are able to make the most of this island's beauty.
3. First Monorail in Dubai 
Another fun fact about Palm Jumeirah or the palm tree island of Dubai is that it is well connected to the main city with a monorail. It is an environmentally friendly transportation system that is preferred by tourists and residents of Palm Jumeirah, Dubai. The timings of this monorail are from 9 am to 9.45 pm respectively. So, if you are on a Dubai tour package and wish to take a ride on this monorail, please plan your travel itinerary accordingly.
4. Storm-free Island 
The cost of building a shield to protect the island of Palm Jumeirah in Dubai is exorbitantly high mainly because it involves geotextile fibre and sand to build breakwaters. This architectural genius has made the entire island free from typhoons and storms all year round! So, weather-related delays will not be an issue on your next trip to Dubai's palm tree island.
Best Time to Visit
The right time to visit the island of Palm Jumeirah in Dubai is during the winter season when the weather conditions are pleasant. If you are planning a trip to Palm Jumeriah, it would be best to look for a holiday package in the months of November and December. Besides this, you can also plan a trip in early March to mid-April when the climate is perfect for travelling to different parts of Palm Jumeirah. The summer months of May, June, and July are known for their scorching heat. Thus, it will be a little draining to explore this beautiful island. There are so many things to do in Dubai that it would be a waste not to have a gala time on your holiday. Do not take a chance and choose an appropriate time to vacation in this city.
5 Things to Do at Palm Jumeirah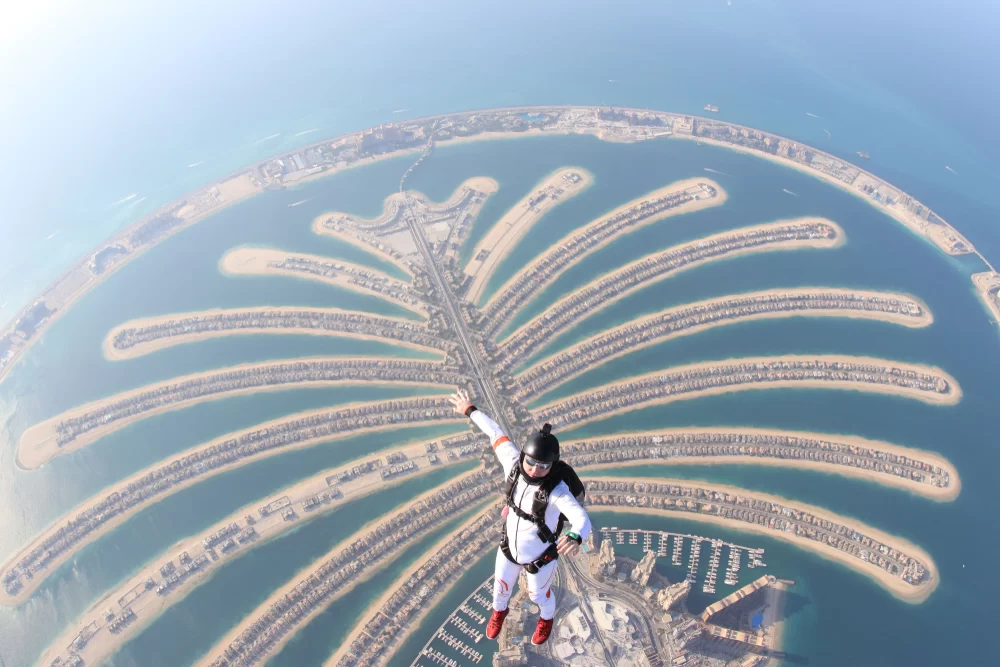 It is almost impossible to vacation in Dubai's Palm Jumeirah Island and have a dull time. Tourism is taken very seriously here, so you will find a lot of things that appeal to you. Here are five options to choose from or try all of them:
Marvel at Burj Al Arab 
As one of the tallest hotels in the world, Burj Al Arab is nothing less than an architectural spectacle. The shape of this building resembles the sail of a boat. It is among the best places to visit in Dubai undoubtedly. If you are lucky enough to spend a day at this 5-star hotel, then do make the most of the luxurious services offered to all patrons. From getting a spa treatment to spoiling yourself with an elegant high tea at Skyview Bar and Restaurant, your time at Burj Al Arab will be memorable for sure.
Have a Picnic at AI Ittihad Park
Next up is a green oasis on the island of Palm Jumeriah, Dubai call Al Ittihad Park. Situated right in the middle of the Golden Mile buildings 2 and 3, this park is the perfect place to spend time with your loved ones. You can have a fun picnic, walk along with the flower garden, or even sit quietly and take in the beauty of this park, the choice is yours! If you feel like splurging a little, then the Golden Mill Galleria, located adjacent to this park, is just what you need to have a full-fledged shopping spree.
Take a Tour of the Lost Chambers Aquarium 
Bring out the child in your and explore the Lost Chambers Aquarium in Palm Jumeirah. An aquarium of the fictional island of Atlantis, this is a tourist spot that you cannot miss out on. There are so many varieties of sea animals that it will take out more than a day to observe all of them. The cost per person at the most popular place on the island of Palm Jumeirah in Dubai is Rs. 2500 approximately.
Relax and Unwind at Nasimi Beach 
Spending some time with your friends or family members at Nasimi Beach is just what you need on your next vacation to Dubai. There are so many beach shacks and fine-dining restaurants here that you can devour multi-cuisine delicacies all day long. It is important to follow certain rules set by the authorities. This includes wearing decent clothing at the restaurants at this beach. Respecting the traditions of this region is advisable.
Freefall at the Palm Jumeirah 
Get adventurous and try out skydiving at Palm Jumeirah on your next trip to Dubai. The exhilarating feeling of freefalling from the sky is worth every penny. You will get to see magical videos of the entire island after falling off a plane. It is the best way to let go of your inhibitions and free yourself from everything. Before skydiving, you will be provided with some useful tips from a trained instructor. The timings for this adventure sport is between 10 am to 5 pm every day.
Find the best of luxuries on Palm Jumeirah Island in Dubai on your next trip. So, do not procrastinate anymore and book your holiday package right away!