Reading Time:
9
minutes
Leh Ladakh, two tourist destinations in India that have piqued the curiosity of a lot of travellers across the world. The reason behind this interest is its unique topography, culture, and food. Set in the highlands of Kashmir, Ladakh is a union territory with several towns and villages between the Siachen Glacier and the Karakoram mountain range. Leh is one of the most popular places in this region due to its natural beauty, Buddhist stupas, and cultural heritage. Leh Ladakh tour packages from the city of Mumbai are easily available all year round. But it is imperative to choose the right one so that you can explore these places properly. It is best to find a reliable travel company that offers a comprehensive itinerary with some scope to make customizations if need be. A trip from Mumbai to Leh Ladakh would be like a dream come true if you love exploring the unexplored. Read this blog to plan your trip to Leh Ladakh from Mumbai:
Best Time to Visit Leh Ladakh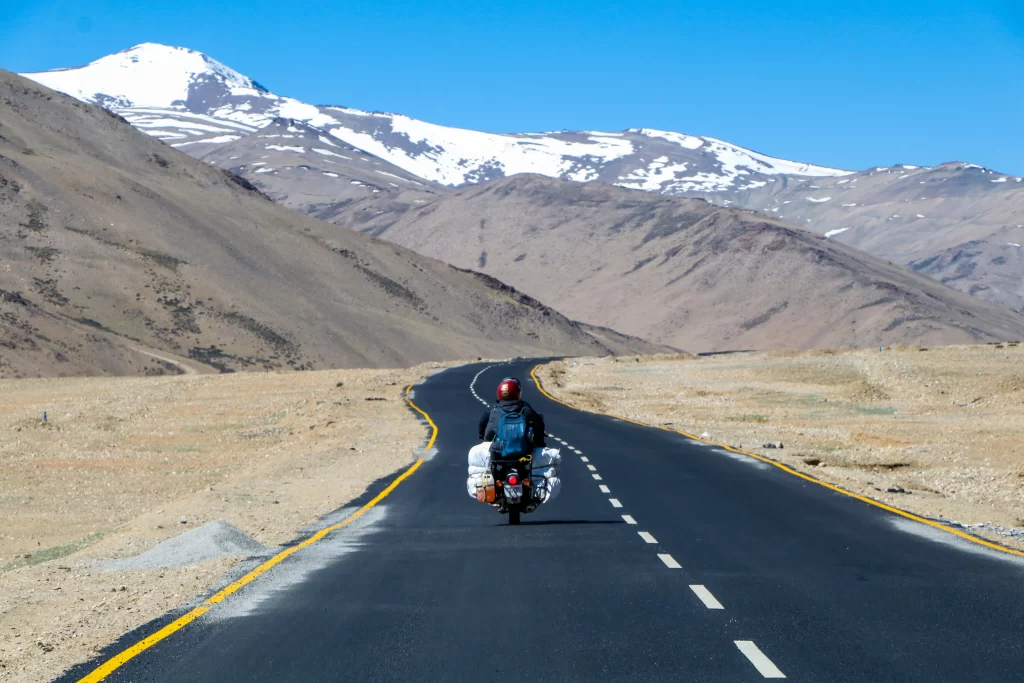 While planning a vacation from Mumbai to Leh Ladakh, it is important to choose the right time so that you can make the most of your vacation. So, you can check out Leh Ladakh honeymoon packages or family vacation deals based on the weather in the given months below:
April & May
The summer months of April and May are ideal for planning a family vacation in Leh Ladakh from Mumbai because the weather conditions are pleasant. One thing that you need to keep in mind is that a lot of roads are shut during this time of the year. It would be wise to fly down to Leh. Famous lakes such as Pangong Tso and Tso Morir, which are frozen during the winters, begin to melt, so you can catch a glimpse of crystal clear waters.
June to September
The months between June and September are ideal for people who want to beat the scorching heat of Mumbai. All roadways are open to the public, so you can plan a road trip to Leh Ladakh from Mumbai. As these tourist destinations are becoming popular, this is the time when you will find a lot of travellers exploring this region in large groups. Your Leh Ladakh trip from Mumbai can cost a tad bit more than the off-season during these months, so it is suggested to book a travel package in advance.
October to December 
The experience of a vacation from Mumbai to Leh Ladakh during this season is simply beyond comparison. This is the time when the entire region is in all its glory. You will get to enjoy snowfall, attend festivals, and connect with the locals. If you search for the best time to visit Leh Ladakh online, then the months between October and December will be recommended by most travellers.
January to March 
If you love the winters to a point where minus degrees temperatures feel perfect for a vacation, then you can plan a trip to Leh Ladakh in January, February or March. People who are keen on exploring this mountainous area can hike up the Chadar Trek, which is only possible when the Zanskar River is completely frozen! It is an experience of a lifetime and might take you back to Leh Ladakh from Mumbai for more.
How to Reach Leh Ladakh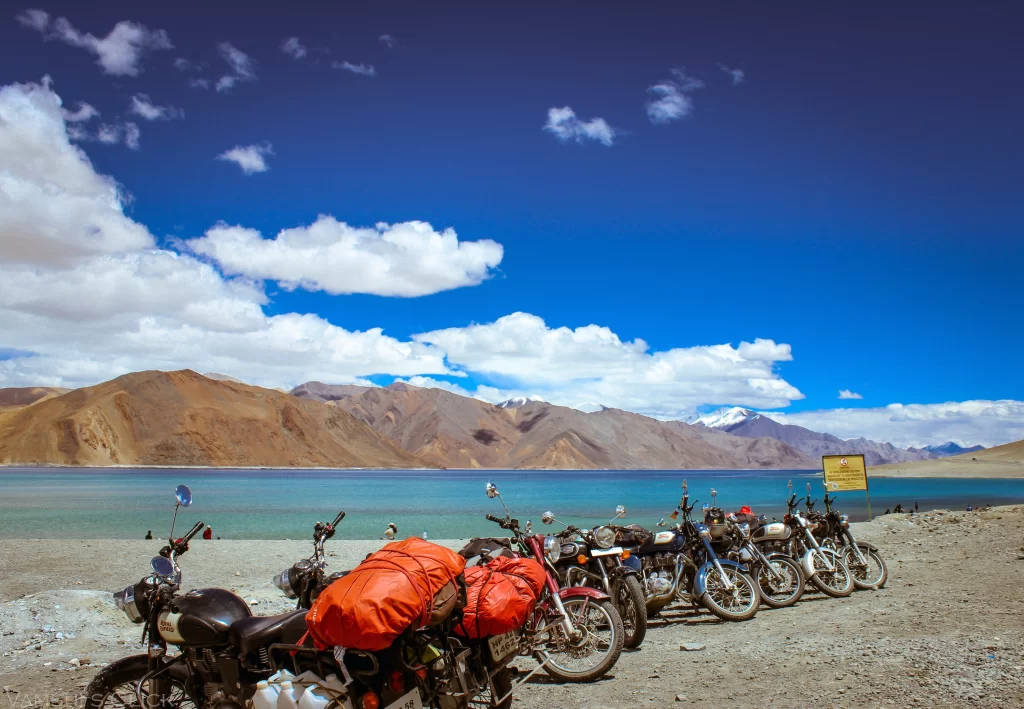 A common query among tourists while planning to have a vacation in Leh Ladakh is whether they should take a flight from Mumbai or get adventurous on a road trip. Here is detailed information about how to reach Leh Ladakh from Mumbai:
Air 
The fastest way to reach Leh Ladakh from Mumbai city is by taking a flight. The duration of a non-stop trip from Chhatrapati Shivaji Maharaj International Airport to Kushok Bakula Rimpochee Airport in Leh is 2.15 hours. This will help you save a lot of time, especially if you book an early morning flight from Mumbai to Leh, Ladakh.
Train 
Since there are no direct train routes from Mumbai to Ladakh, you will have to book a ticket from Chhatrapati Shivaji Terminus Jammu Tawi Railway Station. This journey will take around 1.5 days without any delays. Another option for Mumbaikars is to book a train ticket from New Delhi to Jammu Tawi Railway Station so that you can cut short your travel time. In both cases, you will have to hire a private taxi from the railway station to Leh.
Road 
One of the most memorable road trips you have is from Mumbai to Leh Ladakh. Although the time duration would be nothing short of 4 days, the journey will stay with you forever. The distance from Mumbai to Leh Ladakh by road is 2339 km, so you can only imagine the places you will see en route. A lot of solo travellers prefer a Mumbai to Ladakh bike trip that begins from Rohtang Pass in Manali. Riding up to this enchanting Kashmiri treasure on a rented or personal bike is something that you cannot compare with anything else in the world! So, you can reach Kullu via flight from Mumbai and then plan a road trip to Ladakh.
4 Packing Tips for Your Vacation in Leh Ladakh 
The weather conditions in Leh Ladakh can get rough during the winter season. It is recommended to have a checklist in mind while packing for your trip. Go through these 4 tips to learn more about the right way to pack for your vacation in Leh Ladakh:
1. Pack the Right Clothes 
It is essential to keep winter clothing such as jumpers, jackets, warmers, mufflers, caps, and socks for your trip to Leh Ladakh from Mumbai. The temperatures can get very low, so you should be prepared. If you do not like wearing bulky clothes, then you go for light layering, so that you are protected from the cold breeze in this part of the country.
2. Keep a Medical Kit Handy 
A lot of people can suffer from altitude sickness in Leh Ladakh, so it is better to carry certain medications, aromatherapy oils, etc. Along with this, those who have asthma and other breathing issues should consider carrying an oxygen cylinder to be on the safe side. Regular medications for viral and bacterial infections should always be part of your medical kit as well.
3. Carry Essential Documents 
There are some areas in Ladakh that fall under the restricted category where proper documentation is required for entry. If your travel itinerary includes such places, then it is important to carry an entry pass, an identification card, and any other document that is required.
4. Get a BSNL Sim Card 
As soon as you enter the Ladakh district of Jammu and Kashmir, the chances of your sim card not working properly are very high. Therefore, it is suggested that you take a BSNL sim card for your mobile as it gets the best connectivity in Leh Ladakh.
Now that you know everything about a trip to Leh Ladakh from Mumbai, what are you still waiting for? Book your travel package right away!