Reading Time:
11
minutes
The concept of pod hotels is not new as it has been introduced much before and has been widely used in many parts of the world. Build with a sheer motive of providing a secure and comfortable place to sleep; recharging the electronic gadgets and the bare minimum necessities to help a traveller stay on a budget, the pod hotels have replaced the idea of single private room accommodations up to a major level.
Located in Andheri East, the urban pod in Mumbai is the first pod hotel in India. This hotel features modern capsule spaces namely pods in the variants of classic, private, ladies and differently-abled. All the available pod room in Mumbai comes with complimentary breakfast.
These capsule hotels near Mumbai airport or train station also offers a quick nap package for those who want to book a place for a few hours to sleep or shower. These nap packages start from Rs. 250 (the price could vary).
Features of Pod Hotel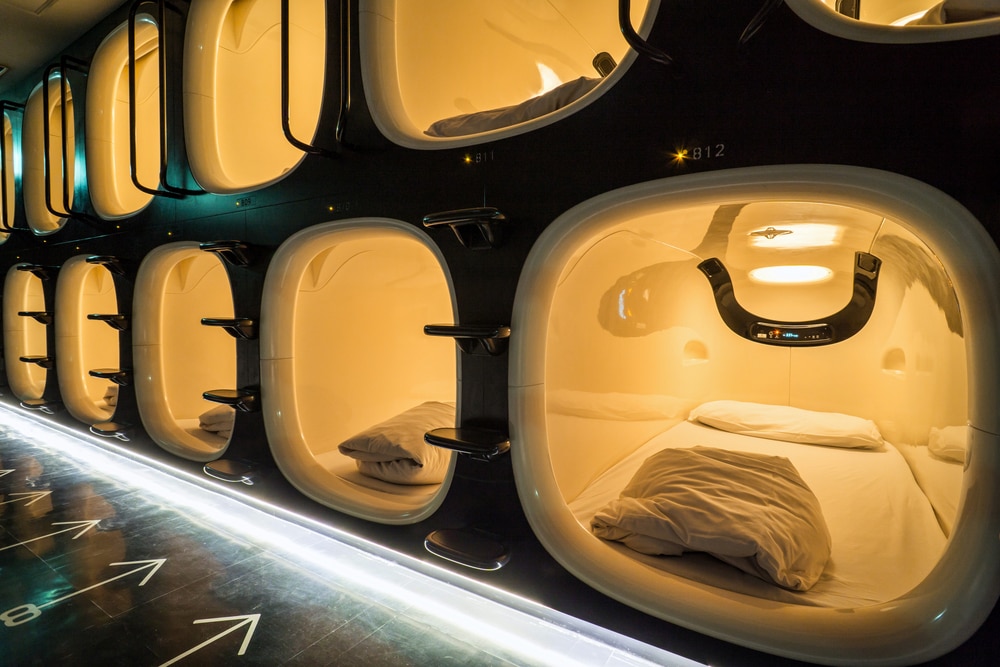 A major feature of pod hotels in Mumbai is being able to secure secure accommodation without any prior booking. Located around major railway stations in metropolitan cities these hotels targets individuals looking for low budget hotels near Mumbai airport or railway stations. These pod hotels provide guests with private enclosed spaces, beds and basic amenities for a much lesser price than the hotel rooms. The concept of various value-added services has also garnered major popularity in the recent few years for pod hotels.
A standard capsule hotel Mumbai room is a fibreglass unit with a bed and a mattress. These capsule spaces are usually stacked on one another and placed in line along the corridor. Blankets, sheets and pillows are provided along with an inbuilt TV unit for entertainment. In addition to curtains for privacy, the unit also holds power outlets and Wi-Fi support. Some of the standard features provided with each pod room in Mumbai are: Free Wi-Fi, Iron Boarding, 24 Hours Reception, Free Business Centre Usage, Free Locker, Free Toiletries and Luggage Place.
On booking a capsule hotel in Mumbai, you also get a complimentary breakfast, towel, toiletries, bottled water etc. The futuristic pods in India will also be equipped with more advanced features, although free Wi-Fi is made available to the guest throughout the hotel. Keeping in mind the space limitations, the guests are provided with a common toilet facility. Guests can also avail free lockers and an iron boarding during the stay. The hotels also provide a business area where people can meet their guests.
Types of Pods Accommodations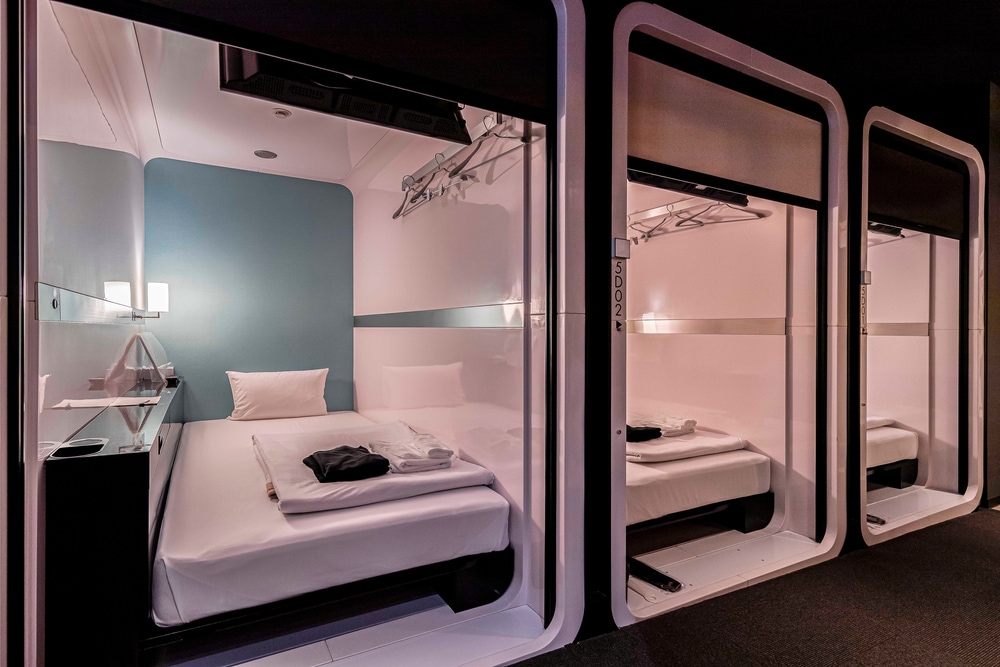 Urban pod in Mumbai is a next generation smart staying space that caters to all types of travellers' needs. Whether it be a business traveller or a leisure traveller, the Urban pod provides the new age smart travellers with a fuss-free and convenient living experience.
The pods have intricately designed interiors and exteriors for the ultimate comfort for guests. The urban pod also provides a café inside the hotel with a complimentary breakfast for the guests staying there. Other travellers can also enjoy quick bites and lounge around to simply have a nice time with the community.
Though the concept of capsule hotels in Mumbai is more popular among solo travellers, couples can also book the pod as per their preferences. There are premium suite pods specially designed for couples allowing them to stay together in a single pod. Couples, who are planning for booking their Mumbai honeymoon packages on budget, can choose premium pod suites for accommodation. It is a couple-friendly space that allows you to have the finest staying experiences.
Classic Pod
A classic pod at Mumbai pod hotel comes up with complimentary Wi-Fi, inbuilt satellite TV, power sockets, USB ports, and lighting. The pod spaces are also fully secured to provide personal safety to the guests.
Each pod provides the following facilities to its guests:
Full privacy within the pod
Spacious spaces to fit one perfectly
Comfort factor within the space
Baggage lockers outside the pod
Common bath facilities
Free sheets, towels (disposable), toiletries, beds etc.
Ladies Pod
The Ladies pod stay in Mumbai is a unique space exclusively designed for female guests only. The space is provided with the most advanced safety features to enhance the privacy of female travellers. The standard facilities provided at a female pod are as follows:
Spacious enough to fit one comfortably
Full privacy inside the pod
Free baggage lockers outside the pod
Common baggage lockers
Free bedding and disposable towels and toiletries
Satellite TV
Complimentary Wi-Fi
Power Sockets
USB ports inside the pod
Mood Lightings
Personal Safety Features
Private Pod
Private pods are specifically designed for people who need privacy or don't want any external disturbance. The room is provided with a personal space within the pod to avoid any outer disturbance. People can select from a wide range of affordable private pods for basic night accommodation which offers a quiet escape to its guests in comparison to conventional hotels.
Here are a few features provided by the private pods:
Spacious enough to fit one comfortably
A personal space within the pod
Common shower facilities
Satellite TV units
Power Sockets
USB ports
Mood Lighting
Personal Safety Features
Differently Abled Pod
A differently abled pod stay in Mumbai has been specifically designed to fit two people with space for wheelchair movements. This space is more spacious in comparison to the other pod space. The standard features of the differently abled pod are as follows:
A queen-sized bed for comfortable rest of two people
Spacious space which fits two people easily
Common bath facilities
Spacious enough space allowing movement of wheelchairs within the pod
Satellite TV units
Complimentary WiFi
Personal Locker
Storage space for Luggage
Marble top study table
Advantages of Staying in a Pod Hotel in Mumbai
Being one of its kind, the Mumbai pod hotels are the next generation smartest way of accommodation catering to both your business and leisure needs. For people who are planning to book their Mumbai tour packages, pod hotels are the best way to save some extra money while you explore the beautiful city of Mumbai. Here are a few advantages of pod spaces that will help you rethink about your conventional staying options.
Extra cost saving
With half the prices of a conventional hotel room, savings are guaranteed with Mumbai pod hotels. The pod hotel Mumbai price ranges from Rs. 999 for 12 hours to Rs. 1999 for 24 hours with bed and shower facilities included. Thus when you are travelling solo and don't want to splurge in luxury staying hotel rooms, then pods spaces are a good deal.
Convenient location
The location of a pod hotel in Mumbai addresses a convenient spot for all types of travellers. A pod hotel is generally located in a prime location like nearby railway stations or airports, in order to bring more convenience to the travellers. Being located in such prime locations it's easier for travellers to find these spaces easily. Moreover, you don't have to rely on any commutation or even long walks to reach them which will save a lot of precious time of your holidays. With fewer transportation expenses, you will surely save on some extra money from your trip.
24 hours check-in
The most spectacular feature of a capsule hotel in Mumbai is that it is based on a 24-hour front desk assistance format. Therefore even if you have reached the dead of a night you can still avail some of the finest staying places. This is especially important for people who want to save some extra money by flying during some odd hours, as they don't have to worry about missing the check period of the hotel.
Hygienic beds and bathrooms
As pod staying spaces witness a regular flow of travellers checking in and out, the room is sure to get dirty. But keeping the hygiene factor in mind, each pod space is cleaned and sterilized on a daily basis. Also, many elements provided while staying are one-time usage like towels which are replaced after every checkout. The common shower facilities are also cleaned thoroughly on a regular basis. For toiletries, there are individually packed soaps and disposable towels provided by the hotel at the time of check in. A pod being limited space, there are common dressing rooms provided for the guests to get ready.
Quiet environment
A capsule hotel in Mumbai offers a quiet environment to its guests so that they can relax and rejuvenate for their next day's hustle. Therefore guests can experience a sound sleep just like at the comfort of their home. However, pod spaces are made free from any loud noises but the lounge area is kept open for any social interaction needed. Furthermore, the pods are soundproof so there are fewer chances of external noise disturbances. Therefore you can enjoy your own peaceful cocoon at a fraction of the price.
It's futuristic, surreal and cost-effective all rolled into one! You really can't ask for more than that.