Reading Time:
10
minutes
Mt. Fuji is one of the most famous landmarks in Japan and stands at an astonishing elevation of 3776 meters. It's an iconic destination that attracts myriads of people every year for an unforgettable mountain climbing experience. What makes it more interesting? This graceful conical mountain is known to be the tallest mountain in Japan. It has huge spiritual significance in Japanese culture where shrines and temples are located. Many visit this sacred mountain to just have a glimpse while others plan to reach the summit to enjoy the breathtaking view. Furthermore, there are countless things to do around Mount Fuji to have a great travel experience.
In short, your Japan travel package is incomplete without a visit to Mount Fuji.
Where is Mount Fuji?
An active volcano, Mount Fuji is located approximately 100 km from Tokyo, the capital of Japan. Its close proximity to Tokyo makes it a very accessible travel destination for local as well as international visitors. You can plan a trip to Mount Fuji for an entire day or take an overnight haul to make the most of your trip. For centuries, this mountain has been known to be one of the three sacred mountains in Japan, along with Mount Tate and Mount Haku. It straddles the border of Yamanashi and Shizuoka Ken, near the Pacific Ocean coast.
Top Things to do in the Mountainous Heartland: Mount Fuji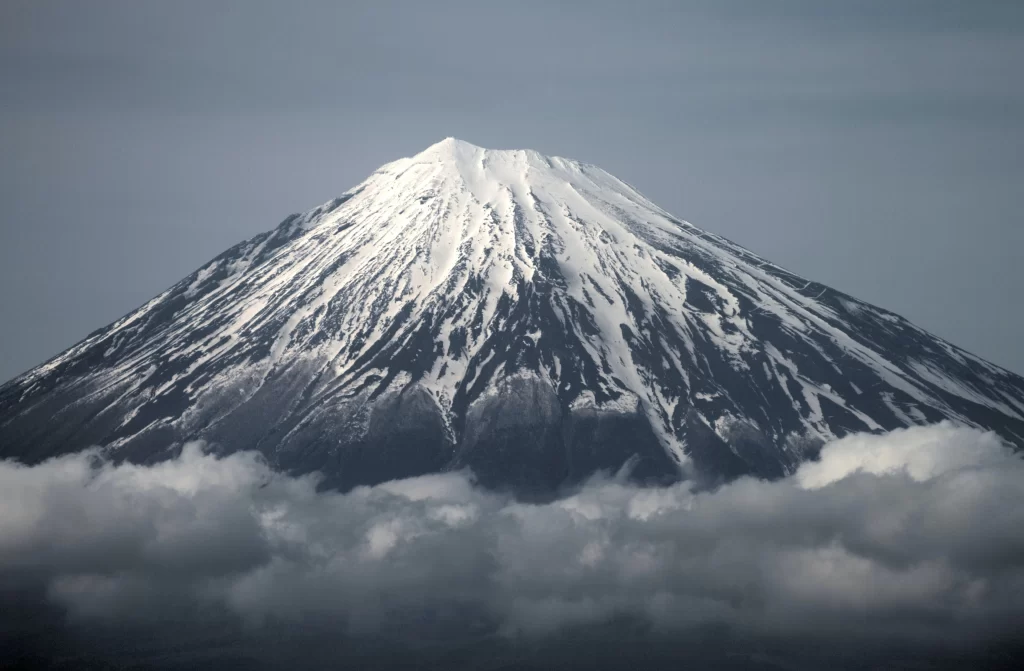 Gorgeous sightseeing places around this recognizable mountain peak in Japan have a lot more to offer. There are numerous tourist spots that await you to make your Japan visit memorable. Let's see the top things to do near Mount Fuji volcano:
Climb Mount Fuji 
Climbing Mount Fuji sits right at the top of the list for all the right reasons. If mountain hiking is on your bucket list, then climbing Mount Fuji will give you the utmost satisfaction. However, should you wish to climb this ginormous mountain in Japan, make sure to do thorough preparation as it is not for the faint-hearted. The official climbing season is from early July to mid-September. The majority of the snow melts during this season, making it slightly easier to reach the top of Mount Fuji.
Visitors can take different trails, such as the Yoshida, Subashiri, and Gotemba trails, to reach and climb Fuji Mountain. Stations are located along trails for the convenience of mountain climbers. It usually takes 6-7 hours to reach the top and 4-5 hours to descend. It's truly a magical experience to walk in a disciplined manner (in a long straight line) along with thousands of other hikers to reach the destination—the top of Mount Fuji. You can also halt in the mountain huts located at different stations. But make sure to pre-book your slot to avoid inconvenience. It's also important to wear suitable clothing to cope with the cold winds and freezing temperatures.
Best Time to Visit: July to September
Visit Lake Kawaguchi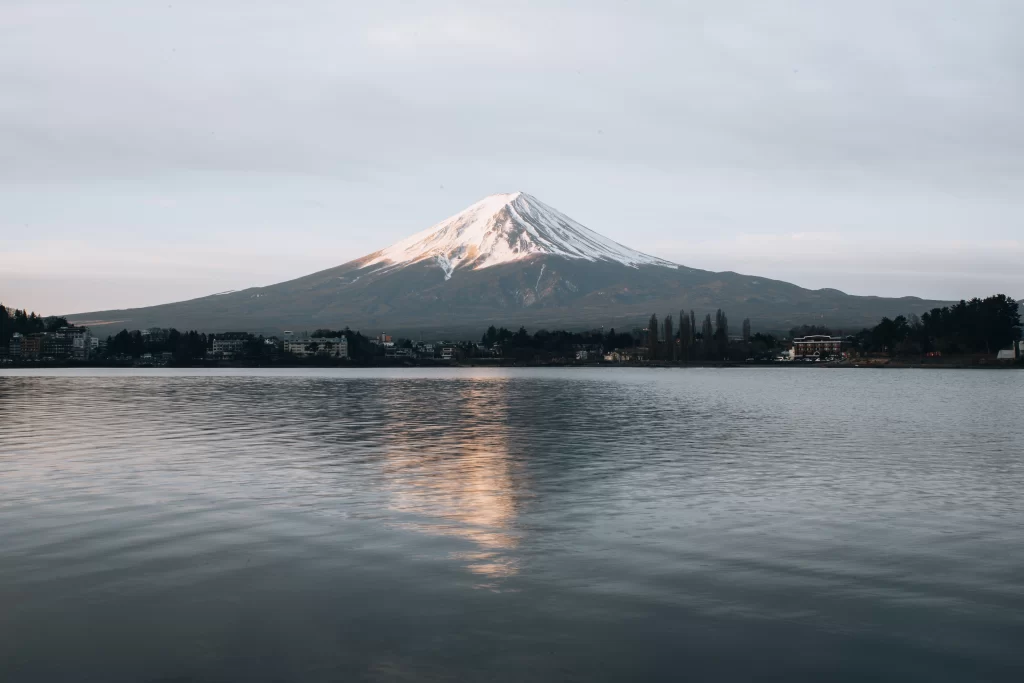 Located at the foot of Mount Fuji, Lake Kawaguchi is a designated world heritage site. This lake is part of the famous "Five Fuji Lakes" and offers a bewildering view of the sacred mountain. It's a treat to see the reflection of Mount Fuji in this second-largest lake, Fujigoko. The lake area has marvellous views of the mountain and landscape all around, which makes it a popular tourist spot. You can click pictures standing at any spot and be sure that the photos will turn out great.
Several accommodation options are available in the area. So, you can plan a leisure trip to this place and stay in one of the hotels or guesthouses to make the most of your trip. If you wish to stay here, do not miss the sunrise from the back of the Fuji mountains and its reflection in Lake Kawaguchi. Take a stroll on the lake banks to capture the beauty of the sunrise.
Best Time to Visit: All Year Round
Itchiku Kubota Art Museum
The Itchiku Kubota Art Museum is next on the list, and it is dedicated to Kubota Itchiku, the artist who revived Tsujigahana silk dyeing on Kimono during his era. The exhibition displays the artist's Kimono decorated with the Tsjigahana silk dyeing technique, which allows you to get a glimpse of Japanese culture and art. Since the museum is located at a very close distance to Lake Kawaguchi, you can easily dedicate a few hours to admire his masterpieces. Speaking of, do not miss the "Symphony of Light," an unfinished masterpiece that depicts Mount Fuji on 80 kimonos combined together. This art piece is displayed on the pyramid-shaped main building.
The building itself is an architectural marvel that is comprised of Okinawan coral and limestone. If you are lucky, you can also witness the occasional events hosted at the outdoor stage near the waterfall. Besides this, you can find artworks from different parts of the world by Kubota himself that are displayed for visitors.
Best Time to Visit: All Year Round
Fuji-Q Highland
Fuji-Q Highland is one of the most famous amusement parks in Japan that is located at the foot of Fuji Mountain. If you are an adventure lover and like to ride on sky-touching rollercoasters, then this is the perfect place for you. The park boasts some of the world's best rollercoasters including Fujiyama, Dodonpa, Takabisha and Eejanaika. This amusement park is a great place for a family outing as it has numerous rides suitable for children, plenty of gift shops and restaurants serving delicious cuisines. You can spend several hours in this park and create fun memories with your family. The amusement park welcomes visitors from around the world who are here to have a thrilling time.
Best Time to Visit: All Year Round
Oshino Hakkai
Oshino Hakkai is a set of eight ponds in a tiny village named Oshino near the Fuji Five Lake region. The naturally occurring ponds are located between Lake Kawaguchiko and Lake Yamanakako. An interesting aspect of these ponds is: They are fed by snow melt from Mount Fuji that passes through porous lava layers accumulated over the past 80 years. As a result, dazzling spring water emerges from Mt Fuji's underground water. Locals worship this sacred spring, which holds high regard in Japanese culture. An interesting fact about this collection of eight springs in the shadow of Mount Fuji is that its part of a property that is a recognized world heritage site.
Here, you can drink the clear water directly from the source. Moreover, the ponds are very deep and boast aquatic life. This place is quite crowded, as several people visit here every day to spend the entire day close to nature. You can find numerous souvenir shops, local vendors, and restaurants around the area. It's best to explore the area on foot and enjoy a relaxing day.
Best Time to Visit: All Year Round
Fujiyoshida Sengen Shrine
If you are a passionate explorer who wants an insight into the Japanese culture and beliefs, then visit Fujiyoshida Sengen Shrine. It is dedicated to the Shinto goddess Konohara-sakyua Hime and is located near Mount Fuji. Locals have a strong association with this place, which explains their fondness for Mount Fuji as a spiritual place. The shrine is the trailhead for the Yoshida Trail, which is one of the most famous trails to reach the summit of Fuji. Local people stop here to pay their respects and take blessings from the goddess for a safe climb. Many people come here to visit the shrine even if they do not have any plans for mountain hiking. It's a must-visit place if you are fond of Japanese culture and its practices.
Best Time to Visit: All Year Round
Mount Fuji is as famous as Japan's bullet train. It's a must-visit place that has its own charm and is crowned as the "Sacred Symbol of Japan". Numerous places near the mountain including botanical gardens, ski resorts and an amusement park make it a destination that has something for everyone.  In your next trip to Japan, include a trip to Mount Fuji and its surrounding places to have a fun-filled holiday.