Nainital is a beautiful and quaint hill station which is nestled amidst dense pine forests and towering Himalayan peaks. Named after the goddess Naina Devi, this town offers a perfect amalgamation of tradition, natural beauty, and history. With some traces of British character and a touch of the ages-old Kumaon culture, Nainital is truly the treasure trove of the region and is equally popular among domestic and international travellers alike. Located at an altitude of 1938 meters above sea level, this hill station also boasts a number of beautiful lakes that add a different charm to its natural beauty. Nainital is also fondly called the Lake District of India.
Famous Lakes in Nainital
Let's dive deeper and discuss the most famous lakes in Nainital:
Naini Lake
The name of this town, Nainital, has been derived from Naini Lake, which is also one of the major tourist attractions in the town. Commonly known as Nainital jheel among locals, this beautiful, freshwater lake is surrounded by seven hills. Popularly known as 'Sapta-Shring', these hills are named Ayarpata, Deopata, Handi-Bandi, Naina, Alma, Lariya-Kanta, and Sher-Ka-Danda. This crescent-shaped lake is 1.432 km long, 42 meters wide and has a maximum depth of 30.3 meters. Situated in the heart of the city, Naini Lake is unarguably the best spot to enjoy the sunset while admiring natural vistas. Other than this, this place also offers a number of activities like boating, parasailing, yachting, etc.
Bhimtal
Located at an elevation of approximately 1375 meters and with a surface area of 47.8 hectares, Bhimtal Lake is Uttarakhand's second-largest lake. This 'C' shaped lake has been named after the legendary character of Mahabharat, Bhim. Revered for its aesthetic natural beauty, Bhimtal is among Nainital's major tourist attractions. This scenic spot sees a huge influx of tourists every year because it houses an aquarium that has been built on an island at the centre of the lake and a huge dam. The 150-metre-long and 14-metre-high dam was built on the Bhimtal Lake during British rule in 1883 and has 12 gates in it. Originally, it was used for irrigation purposes in the village, but now it serves as a major source of drinking water for the locals. You can either take a boat ride that gives glimpses of some of the most stunning landscapes in the backdrop or explore the aquarium. Another thing you can do is indulge in adventurous activities like kayaking and exploring the lake on your own.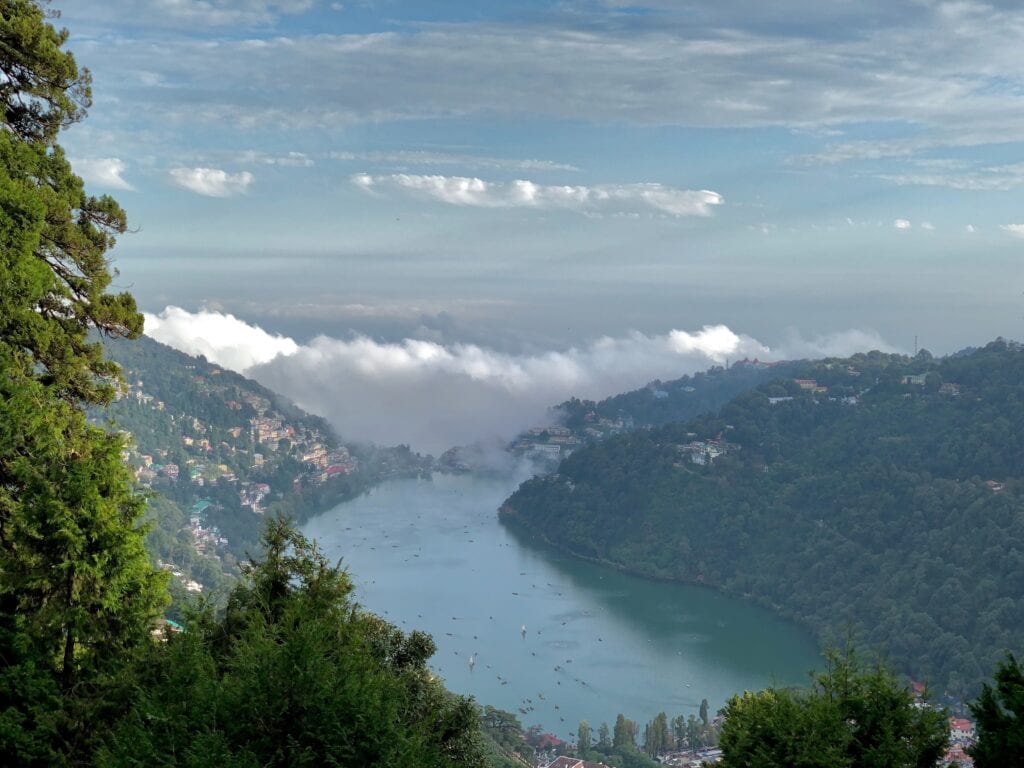 Khurpatal
This is a small high-altitude natural lake in a village named Khurpatal, which is just 10 kilometres away from Nainital. Surrounded by lush green deodar, pine, and cedar trees, this emerald-coloured lake is a hidden gem and has not been explored much by tourists. This lake has got its name due to its trowel-like shape, as it is called 'Khurpa' in the local language. Khurpatal is also home to a variety of fish, which makes it a perfect destination for activities like angling and fishing. This is a place you should not miss on your trip to Nainital, as it gives you a chance to spend some time away from the hustle and bustle of everyday life and admire the natural beauty.
Naukuchiatal
Naukuchia is a small hill station near Nainital, which is home to a beautiful lake named Naukuchiatal. The name Naukuchiatal translates to the lake of nine corners. The distance from Nainital to Naukuchiatal is approximately 25 kilometres, and it is also one of the most famous lakes in Nainital. Situated at an elevation of 1,220 metres above sea level, this placid lake is fed by an underground perennial spring. With a length of 983 metres, a width of 693 metres and a depth of 40.3 metres, Naukuchiatal is among Nainital's deepest lakes.
Harishtal
Harishtal is a less-explored and totally untouched lake, located in Okhalkanda Block in Nainital. Since the village housing the lake does not offer good connectivity from other parts of the hill station, very few people manage to get to this place. However, the road leading to the village is not in great condition, but the view you get after reaching here does not let the journey go to waste.
Sattal
Sattal is one of the most famous lakes in Nainital and, as the name suggests, it is a cluster of seven interconnected freshwater lakes. Located at an altitude of 1370 meters above sea level, this group of lakes is set amidst dense forests of oak and pine trees. Sattal Lake is one of the few unpolluted freshwater biomes in the country and is known for its rich flora and fauna. This group of seven pristine lakes is home to a large number of fish and migratory birds. Some common species of migratory birds include the red-billed blue magpie, kingfishers, blue-throated and brown-headed barbets, etc. Offering splendours of nature, this idyllic spot is also among the major tourist attractions in Nainital. Sattal Lake is a perfect destination for all kinds of travellers. Whether you are a newlywed couple planning a romantic getaway or a nature lover looking for an offbeat place, this is the right place to be.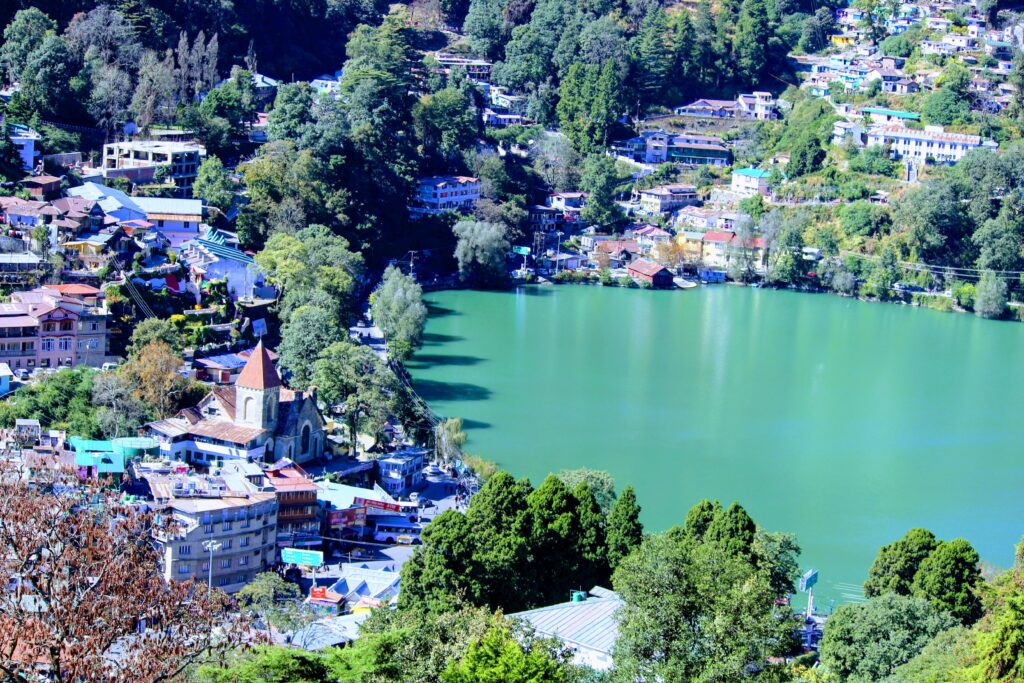 Sariyatal
Sariyatal is a stunning lake located approximately 10 km away from Nainital and is a major tourist attraction. The lush green and picturesque surroundings and the immense serenity this place offers make it even more popular among tourists. The area around this scenic lake is endowed with thick vegetation, and the striking, magnificent backdrop also ensures that you get some Instagram-worthy pictures. The shape of Sariyatal Lake resembles the shape of a heart, and when golden sun rays touch its turquoise water, the view you get is second to none. This place is also famous for housing the Himalayan Botanical Garden, which is also open to tourists.
The list of famous lakes in Nainital is never-ending, and if you are looking forward to spending some quiet time while admiring nature's beauty, this is the perfect place to head to. Other than these beautiful crystalline lakes, this quaint hill station in Uttarakhand has a lot more to offer. To plan a fun-filled vacation, explore Veena World's extensive range and choose an all-inclusive Nainital tour package as per your preferences.