Reading Time:
10
minutes
Japan is located on the Asian continent and is recognisedfor its distinct culture and traditions. It is a country located on an isolated island, which is likely what separates it from the rest of the world. Japan is known for its cherry blossom gardens, art, and poetry, among other things. It is home to more than ten popular tourist destinations, including Mount Fuji, which is one of the most popular. There are many other places to visit in Japan that are worth exploring. The country is also recognized for its natural beauty, parks, temples, festivals, cuisines, historical monuments, and entertainment venues. It's no surprise that thousands of tourists visit the country each year.
You will need to apply for a tourist visa for Japan from India if you wish to visit the country and see its natural beauty. Read this blog to know how to get a Japan visa from India.
About Japan Visa
A Japan visa is a legal permit that allows its holder to travel to Japan. It is granted to foreign citizens who want to visit Japan for a specific period of time. It is also granted to foreigners who are passing through Japan on their way to another country.
A Japan visa is provided in India by the Japanese Embassy and Consulates. However, Japan's embassies and consulates have delegated visa application operations to VFS Global Services, which is the country's official partner. The company facilitates the Japanese embassies and consulates in processing visa applications, documents, and collecting fees.
Who should apply for a Japan visa from India?
All Indian citizens interested in visiting and staying in Japan must apply for a Japan visa from India. They will only be permitted to enter Japan if they have a valid Japan visa for the purpose of their trip, whether it is for just several days or several months. Even transit travellers who will be in Japan for a few hours or days while planning to travel to another country must get a transit visa.
Types of Japan Visa
There are four different types of Japanese visas for Indian tourists. They are as follows:
1. Short-term visa
This type of Japan visa is for Indian citizens who wish to visit and stay in Japan for no more than 90 days. It is given to those who want to go to Japan for a variety of reasons, including tourism, attending conferences/seminars, meeting friends/family, signing contracts and research, and so on. During their stay in Japan, people holding this type of visa are not permitted to work for a living.
There are two categories of short-term Japan visas:
Single Entry Short-Term Visa: This type of visa permits its bearer to visit Japan only once. It is given to Indian students who are visiting Japan as tourists.
Multiple Entries Short-Term Visa: This form of Short-Term visa entitles its holder to multiple entries into Japan. It is given to Indian nationals who are well-known in their fields or who seek to travel to Japan for commercial purposes.
2. Long-term visa
This type of Japan visa is provided to Indian citizens who plan to visit Japan for more than 90 days. It is given to individuals who wish to go to Japan and stay for the purpose of studying, training, or job.
3. Medical visa
This sort of Japan visa is for Indian citizens who have to travel to Japan for medical checks or treatment. It entitles its holders to travel and stay in Japan solely for the purpose of receiving medical treatment. People who will be accompanying medical patients to Japan are also eligible for a medical visa.
4. Transit visa
Indian nationals who need to travel across Japan on their way to another country are granted this sort of visa. It is given to passengers who have a layover in Japan before continuing their travel to their final destination. This visa allows bearers to stay in Japan for a maximum of 15 days and authorizes only a limited number of activities, such as sightseeing and leisure.
How to Apply for Japan Visa from India?
The process of applying for a Japan visa from India is quite simple. A candidate can submit an application for a Japan visa at the closest VFS Global visa application center in his or her state or union territory. Here are the steps for Indians to apply for a Japanese visa below:
Visit the VFS Global's official website for Japan.
Click the 'Apply for a Visa' option from the menu bar.
Scroll down to the 'View more' button under the 'Begin your application' box and click on it.
Download the application form by clicking on the 'Download' link.
After downloading the application form, fill it out thoroughly.
Visit the closest visa application center in your state's jurisdiction.
Fill out the Japan visa application form and bring it to the center with the other necessary documentation.
Pay the visa fees.
When the applicant receives the Japan visa, he or she will be notified via email.
Documents Required for Japan Visa from India
All candidates must submit a few documents to the VFS Global visa application center in order to apply for a Japan visa. Consider the following list of documents that must be presented while applying for a Japan visa from India:
A valid passport that has at least two blank pages is required.
Past or previous passports (if any)
Application form for a Japan visa that has been duly signed
One photograph in colour (not older than 6 months)
Japan Visa Photo Requirements
The photo that is included on the visa application form must meet the following criteria:
The photograph must be 45mm × 45mm (2 inches x 2 inches) in size and have a white background.
The image must be in colour.
Also, the image should be easily recognizable.
The photo must be taken within six months of the application being submitted.
The candidate should not be wearing any helmet and the photo must be clear.
How long does it take to get a Japan visa from India?
From the day the Embassy or Consulate gets your application form, the average processing time for a Japanese Tourist Visa is five business days. This duration may be extended if they need to send your application to the Ministry of Foreign Affairs in Tokyo for further investigation or if they need more documentation. As a result, you must begin the application early before the time you expect to travel in order to avoid delays.
Best Time to Visit Japan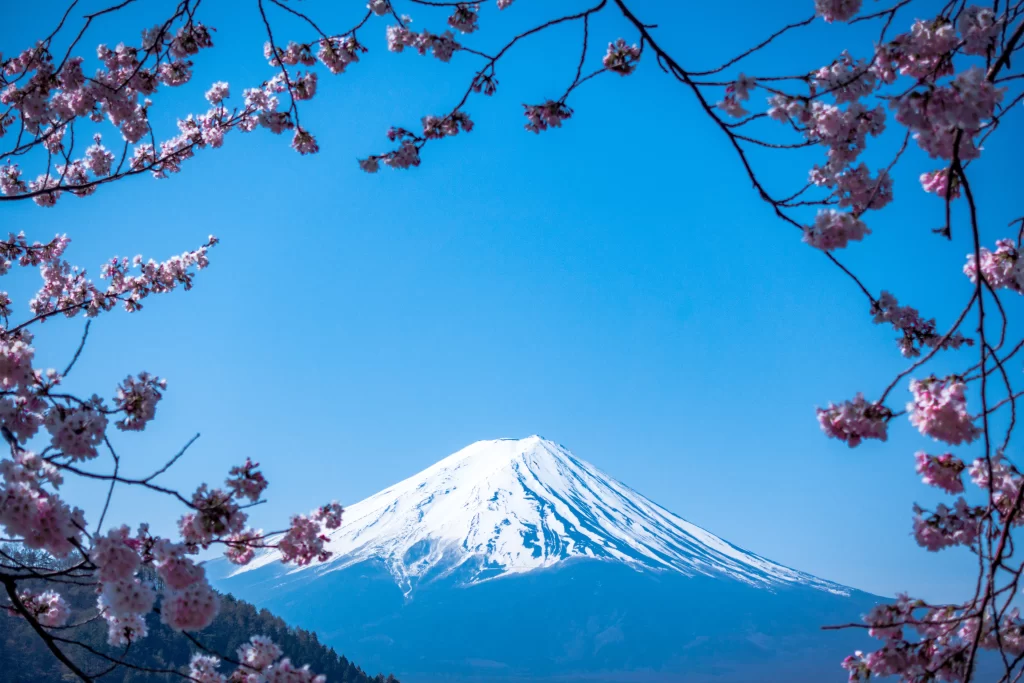 Spring (March to May) and fall (September to November) are the ideal time to visit Japan.  This is when Japan is at its most beautiful, with delicate cherry blossoms and vivid scarlet leaves providing a striking contrast to the surroundings. Keep in mind that it may be very crowded at this time.
Hikers and outdoor enthusiasts will find ideal weather during the summer months (June to August), but only in the Japanese Alps and Hokkaido's magnificent national parks. The temperature is hot and humid everywhere else. The rainy season lasts from late May through the middle of June or July.
Travel to the north of Japan in the wintertime for a unique experience (December to February). Although it is snowing, the residents lighten the days with a range of festivals and celebrations. It's also a good idea to consider Japan's national holidays. Residents are busy during Shogatsu (Japanese New Year), Obon (mid-August or mid-July, based on the region), and Golden Week (April 29 to May 5).
Japan is a beautiful country with much to offer tourists. So now you've learned how to get a Japan visa from India, don't miss out on your chance to visit this beautiful country. If you haven't booked your Japan tour package already, book now to get the best deals. Also, explore various world tour packages to travel to many beautiful countries in the world. Bon Voyage!