Reading Time:
10
minutes
If you are searching for romantic holiday packages, then Kashmir beckons!Its snow-capped mountains, gorgeous valleys, and clean, almost sacred surroundings are a perfect escape. Kashmir truly is a "Paradise on Earth". However, the stunning state is much more thanits immaculate beauty. All the foodies and foodie travellers out there, you'd agree with us when we say that Kashmiri cuisine steals the show. Kashmir is not just famous for its people but also for its food, along with its culture and scenery which are rich yet simple, varied yet evoking a unique identity.
The picturesque state of Kashmir is not only known for its beauty and peace but also provides traditional vegetarian and non-vegetarian meals. Kashmiri food is moderate in flavour and rich in spices with heavy usage of cardamom, fennel, ginger, cinnamon, cloves, and saffron. Kashmiri cuisine, influenced by the Mughals, is largely non-vegetarian, with mutton, chicken, or fish as primary components, although there are a few vegetarian delights as well!
The crown of the nation has numeroustourist places in Jammu and Kashmirto satiate the travellers and isalso an address to treat your taste buds. The mouthwatering specialities of Kashmiri cuisine will leave you satisfied and your palate yearning for more.
History of Jammu & Kashmir Cuisine
Jammu and Kashmir pridethemselves on being flavorful and diversified. With its diverse cuisine, the union territory is an ideal destination for culinary tourism, attracting foodies from all over the world. Jammu and Kashmir cuisine is divided into two categories: Jammu cuisine and Kashmiri cuisine, each of which is distinct in its own way.
The cuisine of Kashmiri Buddhists and Pandits, the valley's Hindus, was the first major influence. The cuisine was later inspired by the civilizations that arrived with Timur's invasion of Kashmir from the region of present-day Uzbekistan. As a result, it has been heavily impacted by the cuisines of Central Asia, Persia, and the North Indian plains. The origins of current Kashmiri cuisine may be traced back to Timur's fifteenth-century conquest of India and the migration of around 1700 talented woodcarvers, weavers, builders, calligraphers, and cooks from Samarkand to the valley of Kashmir. The Wazas, the successors of these cooks, are the master chefs of Kashmir. In essence, Kashmiri food has developed over hundreds of years.
Let's take you on a Jammu and Kashmir food trail: –
1. Mutton Rogan Josh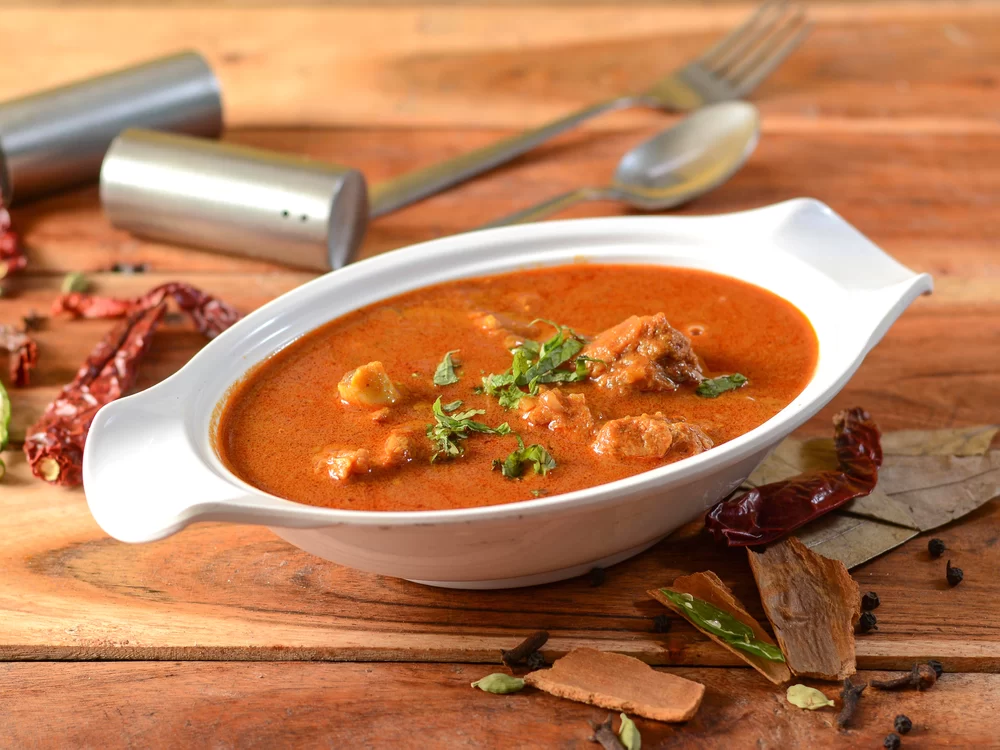 Rogan Josh, an aromatic lamb meal, is one of the signature dishes of Kashmiri cuisine. It is one of the most famous foods in Kashmir and a must-try dish for any lamb or meat lover. It was introduced in India with the advent of the Mughals. It is a highly nutritious, low-fat meal that is robust with the flavours of caramelised onions, numerous spices, and yoghurt. Try it with rice or naan and you are sure to ache for more.
2. Paneer Chaman
If meat doesn't float your boat, then you should definitely have some cottage cheese. But not a basic cottage cheese recipe! Paneer Chaman is a famous Jammu and Kashmir cuisine dish in which paneer is gently cooked in milk as it absorbs cardamom flavours. You will get the right combination of spices as well as a richness that cannot be described in words.
3. Rista
Rista is a classic and regal Indian dish in the listof famous foods of Jammu and Kashmir. The meal consists of meatballs cooked in hot red gravy. Mutton, cardamom powder, salt, and ginger powder are commonly used to make meatballs.
Other components for the meal, including asafoetida, onions, saffron, red chilli powder, fennel, cloves, cinnamon, mustard oil, and bay leaves, are briefly sautéed in a pan and covered with water. While the gravy is boiling, the meatballs are added to the pan and the mixture is simmered until the meatballs are thoroughly cooked.
4. Kahva
Imagine being on a Jammu and Kasmir honeymoon packageand having a hot cup of Kahva with your partner in a shikara – dreamy, isn't it? When in Jammu and Kashmir, it is customary to have kahva tea. It is a well-known aspect of Jammu and Kashmir's culture and cuisine. Kahva is a herbal green tea that is made with saffron spices, almonds, and walnuts. Because kahvah is prepared in every home, there are at least 20 different variations. Some people like to add milk to it as well. It's also known as Maugal Chai in various villages and towns. It is among the main stays in the food of Jammu and Kashmir.
5. Yakhni Lamb Curry
Yoghurt is used in several traditional Kashmiri foods and Yakhni Lamb Curry is no exception. It's a well-known name in Kashmiri cuisine. The lamb is cooked in a sauce comprising of yoghurt, mawal flowers, onion paste, and dried mint leaves. The aromas of black and green cardamoms as well as fennel will warm your appetite right away. Serve this unique Kashmiri delicacy with rice to savour. It's also available in vegetarian form. Al Yakhni, the vegetarian variant of the meal, is cooked with bottle gourds or lauki as the main ingredient.
6. Dum Olav
While booking your Jammu and Kashmir tour package, there's a dish that is very unlikely to cross your mind – you may think you've tried dum aloo but you haven't till you've tried the original Kashmiri Dum Olav or Dum Aloo.
The baby potatoes cooked in yoghurt gravy with a few spices are very delicious. The concoction of spices such as dry ginger powder and fennel boost the flavour of the potatoes and bring the dish to a higher level. This dish goes nicely with roti or naan. Dum Olav, a simple yet tasty meal, is a must-have when it comes to Kashmiri dishes.
7. Kaladi Kulcha
The Kalari Kulcha is a food item that tops the lists of every street food vendor and restaurant and is one of the most famous dishes of Jammu and Kashmir. Kalari is a thick cheese prepared from goat or cow's milk that is eaten with kulcha, veggies, and chutneys. The meal has recently been enhanced and served as a burger with the Kalari stuffed within the bun.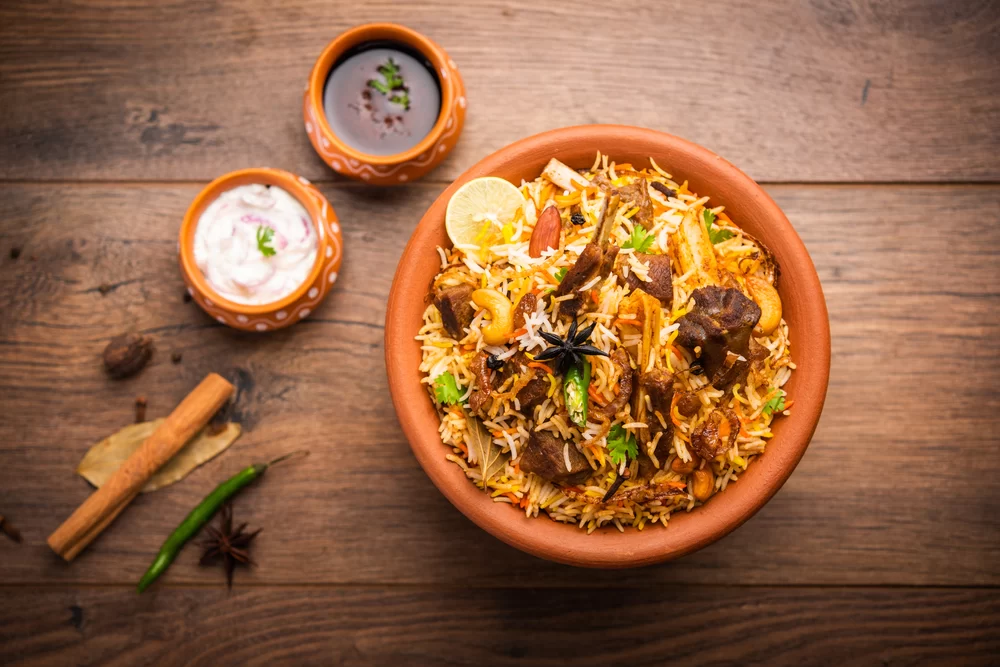 8. Mirchi Korma
Among the several curry dishes of Kashmiri cuisine, the royal korma occupies a distinct position. A Kashmiri Wazwan isn't complete without Mirchi Korma. It's extremely hot and delightfully flavoured with dried Kashmiri red chillies and ground spices. This flaming red hot curry is created with little chunks of beef and flavoured with soaking red chillies. They must be steeped in hot water before being de-seeded and mashed into a smooth paste. Mirchi Korma is one of the greatest curry recipes, with the typical flavour of red dried chillies. It is a must-try for every mutton fan. This meal offers several health advantages, including heart protection, stomach upset treatment, and aid in the treatment of colds, nasal congestion, and digestion.
9. Phirni
Phirni is a popular Kashmiri dessert. Phirni is a sweet, tasty, and creamy milk pudding prepared from semolina with three primary ingredients: milk, sugar, and semolina. Everything else is entirely optional. Dry fruits, coconut powder, and sugar are cooked in milk and flavoured with green cardamom. After all of these components have been boiled, semolina is added to thicken the consistency. In addition, sweet condensed milk is added to improve the flavour of the dessert. The Phirni is then ladled into lovely dessert plates and topped with a generous amount of dried fruits and a few strands of saffron. The feast ended with the presentation of this lovely bowl of Phirni.
10. Nadru Yakhni
You'd never consider a lotus to be appetising, would you? It's time to get started! With Nadru Yakhni, Kashmiris have perfected the art of making lotus stems. You may bite into the crunchy stems while sipping the thick yoghurt that is mixed with bay leaves and a touch of ginger. That's amazing!
Not only do you realise how much you're missing the snowy mountains and breathtaking valleys of the mesmerising north, but you also realise how much you're missing the enticing delights of Kashmiri food. The wonderful flavour will satisfy your taste buds but will undoubtedly leave you wanting and yearning for more. We know you can't stop fantasising about the delectable dum aloo and succulent rogan josh. So, don't put it off any longer; bring that mouth-watering Kashmiri food to your dinner table right now, or better yet, visit the Paradise and experience heaven in situ. Whether you want to book family, solo, or honeymoon tour packages, Veena World has it all.