Reading Time:
7
minutes
There's something distinctive about every place. Some places have the best mountain ranges, some have beautiful lakes, some boast of their majestic oceans, and then comes Dubai which has everything. Situated on the coast of the Persian Gulf, Dubai is one of the world's most popular tourist destinations. Starting out as a small fishing village, Dubai witnessed tremendous growth and became a cosmopolitan metropolis.
Dubai was always more than just skyscrapers and islands. The city had its focus on tourism and hospitality. With one after another architectural marvel, Dubai soon had a whole assortment of man-made wonders, ideal for a diverse range of travellers. Whether you are on your honeymoon with a honeymoon package to Dubai or vacationing with your family, Dubai has something for everyone.
There is a myriad of things to do in Dubai and plenty of fun activities that can make your experience a memorable one but exploring these man-made marvels will definitely add to the overall experience.
Fact #1: It has the world's tallest building
 Do you know what is the most interesting fact about Burj Khalifa, Dubai? It is as tall as 3 Eiffel Towers perched on top of each other. It is not just another skyscraper. People all around the world, visit Dubai to witness the grandeur of the majestic specimen of fine architecture. Before its inauguration in 2010, Burj Khalifa was known as Burj Dubai. Burj Khalifa is not one of the tallest buildings but the tallest building in the world with a height of 828 metres. It has a total of 163 floors that took 10,000-12,000 workers during construction. Even today, it takes 36 workers 3 to 4 months to clean the entire exterior. Yes, just the exterior of Burj Khalifa. Burj Khalifa is one of the most popular places to visit in Dubai that must not be missed at any cost.
Fact #2: It is home to the largest mall in the world
One of the most interesting facts about Dubai is that it has a habit of being the first one to do everything and the Dubai Mall is a fine example. With over 1200 stores, over 120 cafes and restaurants, and 26 cinema screens, the Dubai Mall is one of the largest malls in the world. The mall caters to the interests of travel across different age groups. It has a dino park, trampoline park, an ice skating rink, a VR park, and so on. It is a mall like no other and an ideal place for families.
Fact #3: It has the largest suspended aquarium
As mentioned before, one of the most amazing facts about Dubai is that it will always be ahead of the game. The Dubai Aquarium Tank is the largest suspended aquarium in the world with a capacity of 10 million litres. It is at the ground level in the Dubai Mall and has a vast collection of more than 33,000 aquatic animals from over 200 species. With over 300 sharks and rays, including one of the largest collections of Sand Tiger Sharks in the world, Dubai Aquarium Tank is another fun place for tourists.
Fact #4: You can witness the world's biggest picture frame here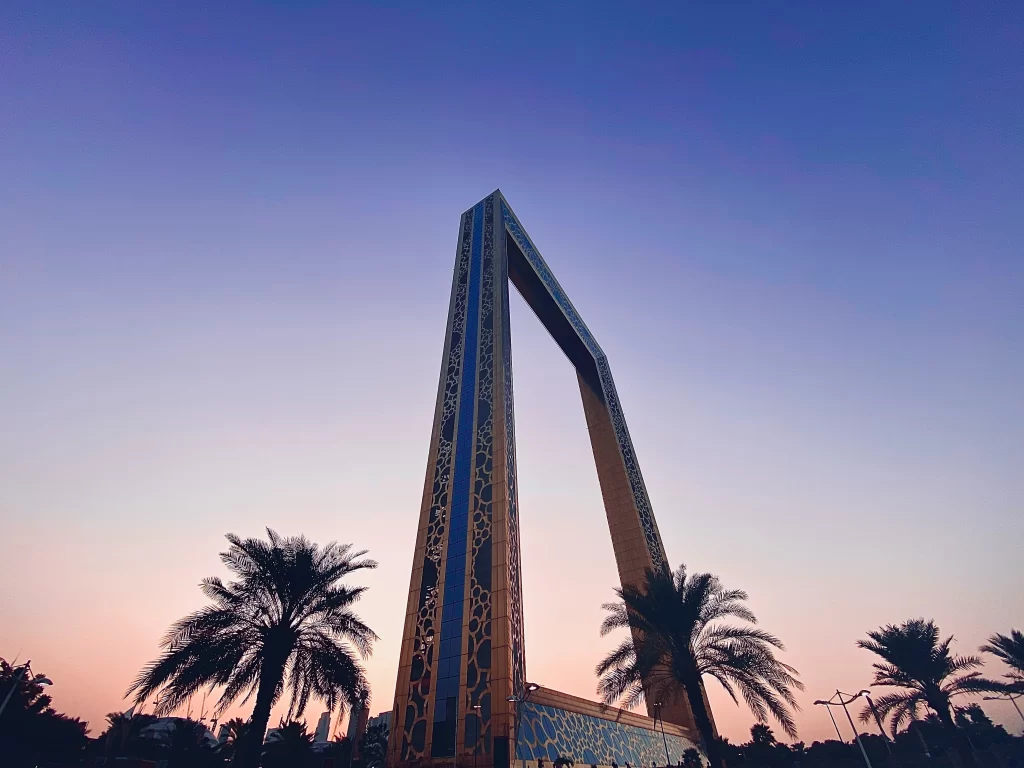 Can anything beat the beauty and magnificence of this frame? Fun fact about this Dubai Frame: An architectural marvel, the Dubai Frame holds the record of being the biggest picture frame in the world. This 150-metres-tall and 93-metre-wide picture frame in Zabeel Park is another attraction, popular amongst tourists. No matter whether you are with your family or with friends, this place makes for a perfect tourist destination and an Insta-worthy backdrop.
Fact #5:  Owns the largest man-made islands
One fun fact about Dubai is that it has the largest artificial island in the world, Palm Jumeirah. Constructed in 2007, Palm Jumeirah was a joint project by Van Oord and Boskalis, two Dutch specialist companies. Palm Jumeirah is an archipelago of artificial islands which includes Palm Jebel Ali and Palm Deira and both these islands stretch Dubai's shoreline by 320 metres. What makes it a popular destination for tourists? From luxury boutique hotels to amusement parks to residential apartments, Palm Jumeirah is a haven for tourists.
Fact #6: Has the largest airport terminal in the world
 When you think Dubai cannot be anymore grander, the City of Gold will surprise you. Another amazing fact about Dubai, it also has the biggest airport terminal in the world. How big? Well, it has a 5-star hotel, a swimming pool, a jacuzzi, a gym, and two zen gardens. Waiting at the airport, in itself, would be a leisure activity.
Fact #7: It held the title of the crane capital
This is a slightly bizarre yet unknown fact about Dubai. Dubai held the title of the crane capital of the world as it had about 25% of the world's cranes, working in the era of the real-estate boom in Dubai. The cranes were an integral part of the construction industry all across Dubai. This fact about Dubai explains the outstanding architecture throughout Dubai.  This fact testifies to Dubai's history of rapid growth and development.
Fact #8: People here own gold-plated cars
Another quite interesting fact about Dubai is that people in Dubai own cars made of gold, for real. Luxury cars ranging from Lamborghini to Ferrari, the affluent gentries in Dubai own gold-plated cars which, in itself, is quite amazing. These dazzling cars are an exciting sight on the roads of Dubai and if you are an automotive enthusiast, the roads of Dubai are a feast for the eyes. Book your Dubai tour package around the Dubai Auto Expo and you will not regret it.
Dubai is amazing, in every sense of the word and a once-in-a-lifetime experience that must not be missed. When you wish to see something larger than life, Dubai is the place for you.