Reading Time:
9
minutes
Indonesia is home to more than 17,000 islands, and most of them are yet to be explored. It is a place where you can witness natural beauty in its most glorious form. If you are someone who is looking for a travel destination that is not choked by over-tourism, then the Indonesian islands will surely fascinate you. Located in South Asia, Indonesia is a shining star when it comes to gorgeous beaches, diverse wildlife, mesmerizing volcanoes and stunning diving destinations. So, the next time you plan your Indonesia tour, including some of these islands to have an unforgettable experience:
Bali
For obvious reasons, Bali is the undisputed king of the best Indonesian islands. It is one of the most popular travel destinations that welcome huge numbers of people every year who come for a rejuvenating and exciting holiday. You can see thousands of stunning pictures of Bali all over the internet that do complete justice to this splendid destination. Traditional gamelan music, incense fragrance in tropical areas, and cascading waterfalls are some of the highlights of this tropical paradise.
Top attractions in Bali:
Pura Tanah Lot, Mount Batur, Uluwatu Temple, Pura Ulun Danu Bratan
Best activities to do in Bali:
Speed boat experience, white water rafting, scooter ride, sunset kecak fire dance show
Best food to try in Bali:
Nasi campur Bali, nasi jingo, ayam betutu, serombotan
Lombok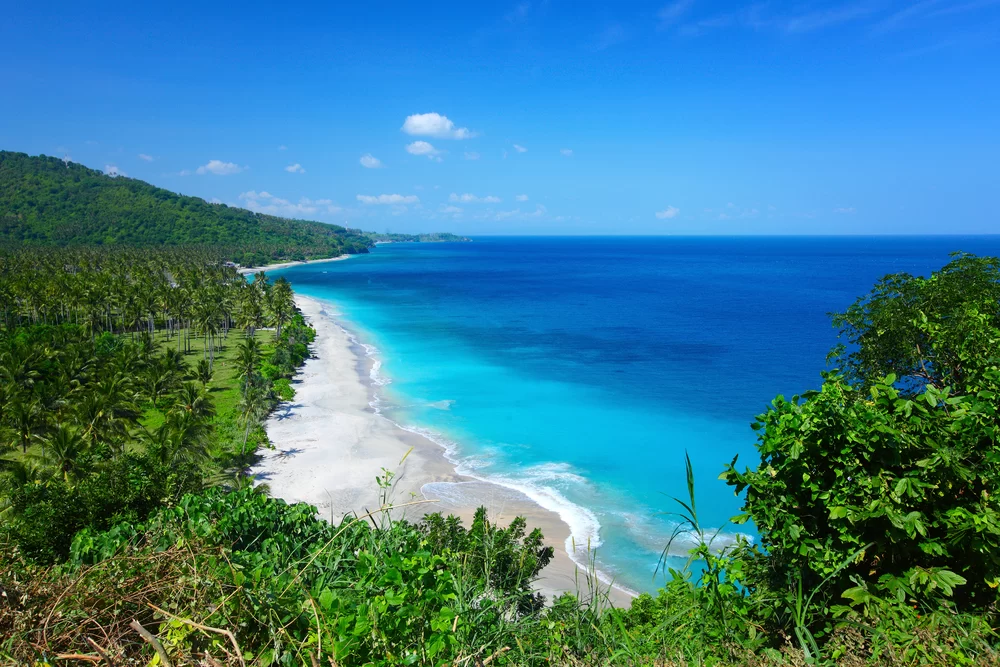 Lombok is yet another terrific Indonesian island that will surpass all your expectations of a perfect tropical holiday. The island is enveloped by turquoise beaches and coral reefs that accentuate its beauty. Located to the east of Bali, Lombok is a rather less explored Indonesian island. However, there is a lot to explore and soak in once you reach this hidden gem in Indonesia. Volcanic black beaches, surfing hotspots, lush tropical forests, and sparkling waterfalls are some of the acmes of this island in Indonesia. Whether you are looking for a laid-back holiday or a fun-filled one, Lombok will not disappoint you. This place also has the very unique and famous "pink beach". The name comes from the rosy pink sand that is present on the entire coastline surrounded by crystal clear water. Furthermore, if you are an avid food lover, try out traditional island cuisines that satisfy diverse taste palates.
Top attractions in Lombok:
Lombok waterfalls, benang stokel and benang kelambu waterfalls, senggigi coastline, tete batu rice terraces, gili islands
Best activities to do in Lombok:
Mount Rinjani Volcano trekking, Gili Kedis camping trip, Pergasinginan hill sunrise hike, surfing at Kuta Lombok
Best food to try in Lombok:
Plecing Kangkung, Ayam Taliwang, Sate Bulayak
The Mentawai Islands
If you are on a quest for a surfing paradise then Mentawai Island is the perfect spot for you. The island welcomes you with crystal clear water, coral reefs, and white sand beaches dotted by long palm trees. A trip to this Indonesian island is an experience in itself for adventure lovers. You can go snorkelling, surfing and other water sports activities to unleash your inner child.
A rather fascinating fact about Mentawai Islands is a chain of about 70 islands that are spread across 150 kilometres. There are also a bunch of shopping and entertainment options at this gorgeous destination. You can visit Plaza Andalas and Transmart Padang to shop your heart out. Kulu Kubuk waterfall, Siberut National Park and Karang island are some of the high points of this place.
Top attractions on Mentawai Island:
Pantai Mapaddegat, Awera island beach, Mount Kerinci, seven mountain lake
Best activities to do on Mentawai Island:
Mentawai surf charters, Discover Mentawais, Speedboat ride
Best food on Mentawai Island:
Nasi Goreng, Rendang, Peanut semi fredo
Flores Island
Next on the list of the best Indonesian islands to visit is Flores, which consists of a breathtaking landscape and wild beauty. It has a distinct culture and ancient weaving practices that are very fascinating to witness in today's era. It's one of the most alluring places in the archipelago that is famous for its volcanoes and three distinct colour-changing crater lakes. This island is located between the Savu and Flores seas, which almost seem like a mountain barrier that separates the two. The island receives plenty of torrential rain that makes everything lush and green. It is one of the best places in Indonesia for a relaxing and rejuvenating vacation.
Top attractions on Flores Island:
Kelimutu, Koka beach, Rangko cave
Best activities on Flores Island:
Diving, boat tour, and exploring Waerebo village
Best food to try on Flores Island:
Ubi Nuabosi, Jawada, Tapa Kolo
Sumbawa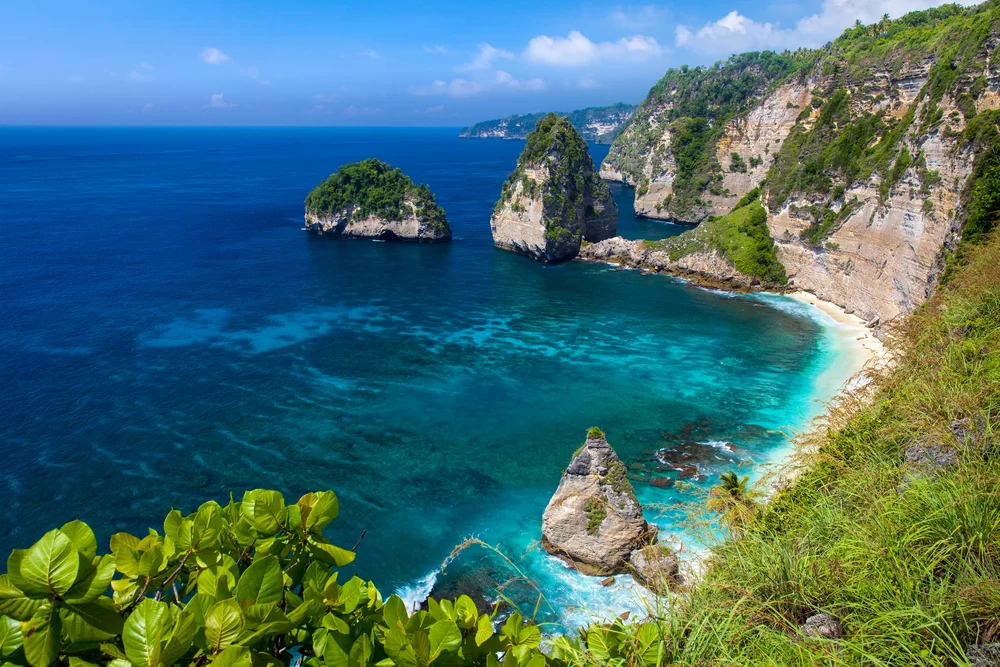 Sumbawa is an Indonesian island that is well-known for its wild terrain, waves and fine beaches. It is a perfect place for a couple, family or solo holiday if you want to explore the unexplored. A vacation on Sumbawa Island will give you a well-rounded experience with a perfect mix of fun and relaxation at the same time. You can spend your time here participating in water sports, exploring the traditional village and lounging on the beach. If you are lucky you can also see the traditional water buffalo racing and boxing match organized by the locals. During your trip to this place, don't forget to collect some hand-weaving art pieces to decorate your home or for gifting to your loved ones.
Top attractions in Sumbawa:
Satonda Island, Maluk beach, Mount Tambora
Best activities in Sumbawa:
Surfing, diving, camping tours, nature and wildlife tours
Best food to try on Sumbawa Island:
Gecok, Bubur palopo, Manjareal
Sumatra Island
If you are in quest of undiscovered places in Indonesia for a low-key vacation, your search ends at Sumatra Island. It is one of the best islands in Indonesia for travellers who want to skip the bustling and jam-packed beaches. It is the land of several active volcanoes, rough terrain, and calm beaches. This island has a prominent Saman culture that can be seen in colourful dresses, traditional cuisine, and Saman dances. It is an ideal place to lounge at beautiful beaches, try some fun water activities and explore some sight-seeing spots during your trip. You can also explore some of the delicious local foods that have a distinctive taste.
Top attractions on Sumatra Island
Lake Toba, Gunung Leuser National Park, Air Manis beach, Fort Marlborough, Lake Kerinci, Bintan Island
Best activities on Sumatra Island
Climb the volcano of Gunung Sibayak, Visit Tsunami Memorial Museum, watch bull-racing, taste the most expensive coffee in the world
Best food to try on Sumatra Island
Ikan Bakar, Tumis Bunga Betik, Pempek
The Togian Islands
The Togian Islands are a true tropical beauty that is spread across 120 kilometres. The island is blessed with triturate white sand beaches, primeval coral reefs, and a tropical rainforest. It is one of the most remote islands in Indonesia and is reserved for people who are up for off-beat adventures. For instance, here you can swim in clear blue water with numerous harmless jellyfish in Mariona Lake! If you are up for a one-of-a-kind adventure where you can explore a different side of the world where nature's beauty is still intact, then come to Togian Island.
Top attractions in The Togian Islands
Danau Mariona lake, Kepulauan Togian National park, Mount Colo
Best activities in The Togian Islands
Spearfishing, snorkelling, diving
Best food to try in The Togian Islands
Local Indonesian food
Indonesia has a lot to offer to travellers who come in search of unexplored places where they can feel closer to nature. These islands have a distinct culture, vibe, and places that set them apart. You can plan your Indonesia tour as per your liking and mood. However, make sure to cover some of the beautiful places mentioned in the blog to have a once-in-a-lifetime experience.