Reading Time:
9
minutes
Surrounded by the Arabian Sea on one side and land on the other side, Goa is one of the most popular beach destinations in India. From pleasant weather to stunning beaches, ancient churches to vibrant local markets, delectable seafood to happening nightlife, Goa gives you all the reasons to enjoy a fun-filled beach vacation. Despite being one of the smallest states in India, this place carries a vast spectrum of cultural practices, be it Portuguese, Maharashtrian or Konkani. And the best thing is, Goaoffers great connectivity to other parts of the country, be it by air, rail or road.
There is no denying the fact that Goa is just the right place to have an amazing time, whether you are a nature lover, a thrill-seeker or a party person. If you are planning to book a Goa trip package sometime soon, choosing the right hotel can be the most daunting task. Being the popular destination it is, you can find plenty of accommodation options in Goa that will definitely leave you spoilt for choice.
For your convenience, here is a list of some of the best beach-facing hotels in Goa(in no particular order, of course).
Novotel Goa Resort and Spa
Located at a distance of 4.4 kilometres, this is one of the best hotels in Goa near Calangute Beach. This luxurious hotel is known for its lush greenery and tranquil space. Featuring well-manicured lawns and an outdoor swimming pool, this property is equally popular among Indian and international tourists. There are 121 comfortable and spacious rooms which are tastefully decorated and offer stunning views. This hotel also houses a kid's club where you can leave your little ones to have some fun, a luxurious spa to offer yourself that much-needed relaxation and pampering along with a multi-cuisine restaurant that serves some delicious dishes. Other amenities you get with your accommodation include shuttle service, free high speed internet, conference rooms etc.
Double Tree by Hilton
This hotel definitely tops the list of besthotels in Goa near Baga beach. With spacious & comfortable rooms and a number of amenities, this hotel is synonymous with luxury. All the rooms are beautifully decorated and they offer stunning views of the lagoons. Whether you want to take a dip in the pool or devour some lip-smacking food, take a serene evening walk or hit the gym, you have everything here. This property has an on-site casino as well, if you want to have a fun casino night, you don't have to go anywhere. Other than this, a number of local attractions like the Calangute beach, Snow Park and Saturday Market are in close proximity to this hotel, making it one of the best beach-facing hotels in Goa.
Lazy Lagoon
Located on Baga Creek, Lazy Lagoon by Lemon Tree is another addition to the list of hotels near Baga beach in Goa. Situated in the heart of North Goa, the most vibrant side of the city, this hotel houses a number of modern and beautifully decorated rooms offering stunning views of the Baga River and Creek. And the best this about this property is that it is pet-friendly. You do not have to leave your furry friend behind, bring them with you so that they do not miss any of the fun you are going to have.
Sterling Goa
If you want to stay in South Goa near a beach, there can be no better option than Sterling Goa. This is a luxurious property near Varca beach which is absolutely a hidden gem in Goa. With white sand flanking into the turquoise water and dotted with palm and coconut trees,this pristine beach stands out among others. This hotel has 71 well-maintained and spacious rooms offering stunning views of Varca Beach. The basic amenities you get with your accommodation include swimming pool, laundry, travel desk, free high-speed WiFi, Gym etc. While staying here you can indulge in a number of sports and adventurous activities like aqua zorbing, paddle boating etc. that makes your stay as memorable as your entire trip. All these things are enough to make this one of the best hotels in South Goa near the beach.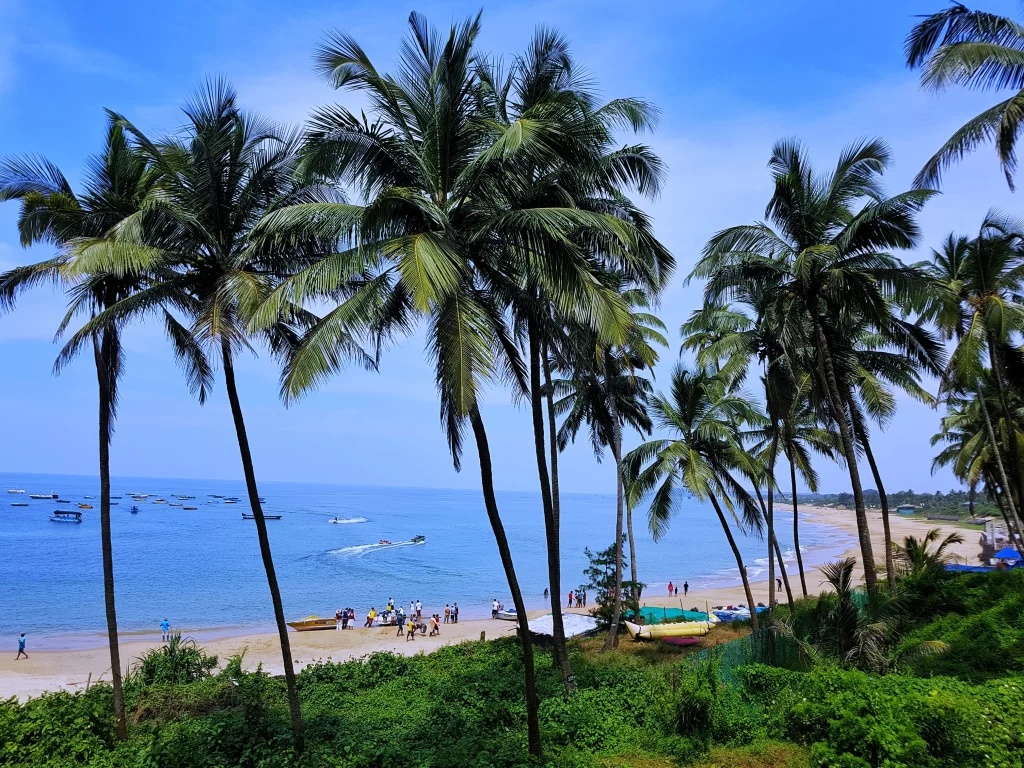 Santana Beach Resort
Away from the hustle and bustle, Santana Beach Resort is undoubtedly one of the best North Goa hotels near the beach. It is located at a walkable distance from Candolim beach and if you are someone seeking peace and tranquility, there can be no better option than this beach resort. Offering some scenic views, this breathtakingly beautiful property is at the quieter end of the beach but you can still find a number of restaurants, shops and cafes in close proximity. There are a number of spacious and comfortable rooms in 3 different categories, Standard, Suite and Deluxe. You can choose a room as per your preferences and budget.
The Park Calangute
If you are looking for a hotel near the beach in Goa, this property is something you should definitely consider. As the name suggests, this property is located on the Calangute beach, one of the most popular beaches in Goa. This seafront luxury boutique resort features a number of comfortable and aesthetically pleasing rooms along with other amenities like free Wi-Fi, an in-house restaurant, fitness center, swimming pool etc. There are 4 different types of accommodation options including deluxe rooms, luxury rooms, studio suites and deluxe suites. You can choose any of them based on your preferences.
Coconut Creek Resort
Coconut Creek Resort is a boutique resort, located just 200 meters away from Bogmalo Beach. With comfortable and aesthetically pleasing rooms and a number of basic amenities like 2 outdoor swimming pools, a terrace, shuttle service, an free internet, then this is a property you can consider. Given its location and the facilities offered with the accommodation, this is definitely one of the best hotels in Goa near the airport. The hotel offers a shuttle service to the airport so that you do not have to worry about catching your flight on time.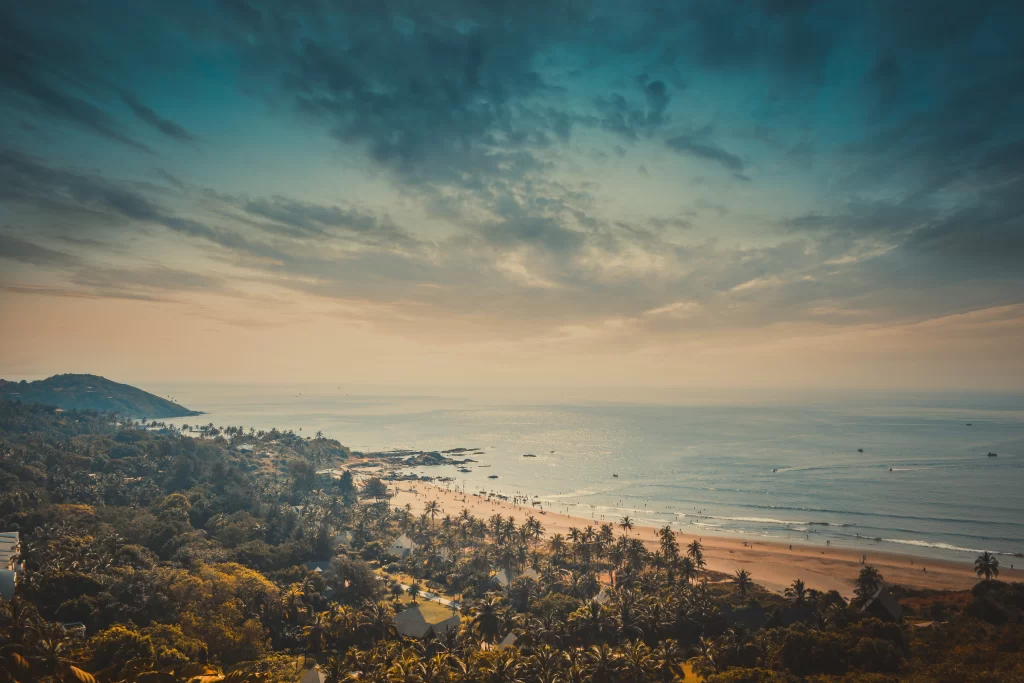 Caravela Beach Resort
Located on Varca beach, the Caravela Beach Resort is your go-to option if you are looking for accommodation offering stunning views of the Arabian Sea and away from the noisy beaches of North Goa. The serenity of this property is something that makes it one of the best hotels near the beach in North Goa. The best thing about this property is that you get access to a private beach along with a number of amenities like free parking, high speed internet, bicycle rental, swimming pool gym etc.
Choosing the right accommodation option is very important when planning a trip. This can get even more difficult if you are doing everything on your own. To avoid all that confusion and hassle, you can consider choosing an all-inclusive Goa trip package. Veena World offers a wide range of tour packages that are well-curated to meet the needs of every kind of traveller. If you are a newlywed couple planning your honeymoon, you can choose from a number ofGoa packages for couples. The best thing about these tour packages is that they let you enjoy your vacation to the fullestwhile leaving the travel planning to us.