Reading Time:
10
minutes
The most exotic vacation destination in Turkey is Cappadocia. Tourists are drawn to this location by its surreal surroundings. It is one of Turkey's most visited locations. Visitors from all over the world visit each year to view the spectacular volcanic rock formations and ride hot air balloons in Cappadocia. Cappadocia is a hot air balloon paradise with its surreal scenery and magnificent views. One of the few spots in the world where you may fly all year round, the area is well renowned for the hundreds of vibrant balloons that fill the skies every day. The landscape of Cappadocia is filled with peculiar rock formations, piston-shaped towers, and fairy chimneys, which is what makes a hot air balloon ride there so remarkable. A bucket list adventure is flying over Cappadocia at sunrise and exploring the area.
Every traveller in Cappadocia enjoys the hot air balloon ride. The mesmeric valleys may be seen from a thousand feet higher. Since hot air ballooning generally happens in the early morning, you can see the spectacular sunrise while you're in the air. It will undoubtedly be among your best moments ever.
A Quick Walkthrough
While on vacation in Turkey, taking a hot air balloon ride is a healthy activity to engage in. Everyone aspires to experience the air balloon ride above Cappadocia, which is one of their bucket list adventures. One of the most well-known balloon rides in the world is the one offered in Cappadocia. Tourists embark on this excursion to take in the beautiful sights of the area's unique rock formations.
The hot air balloon flight is more adventurous thanks to the amazing views and ideal weather all year long. Nowhere else will you discover a sky covered in hot air balloons. The sky looks wonderful. Along with you, over 150 balloons fly together. In Cappadocia, it appears to be a balloon festival around this time.
Best time for Hot Air Balloon Ride in Cappadocia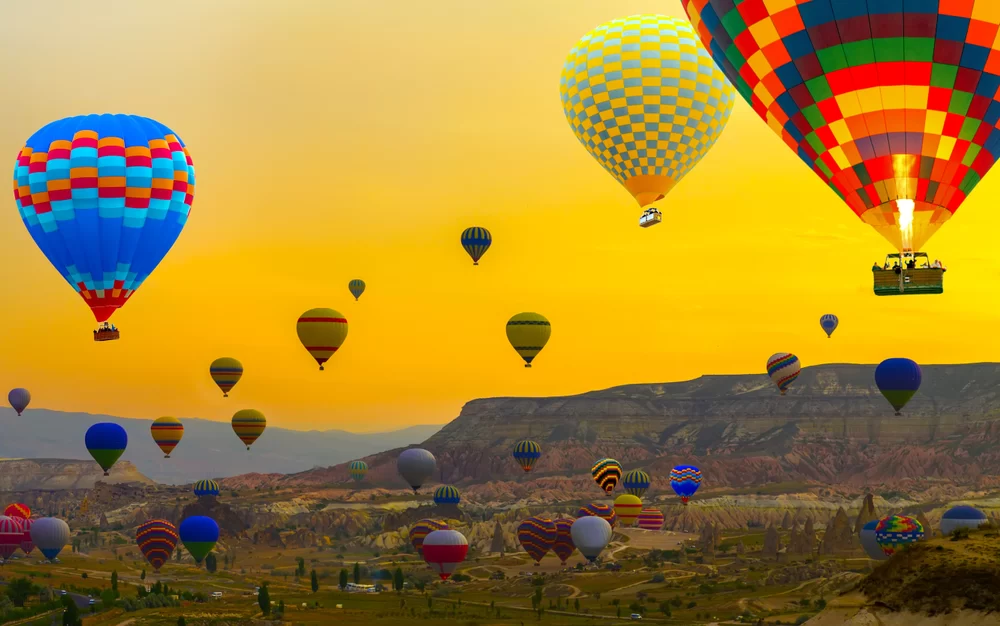 The benefit of taking a hot air balloon ride in Cappadocia is that you can do so throughout the year. It's because the climate is pleasant year-round here. The perfect time is from April to November because of the wonderful weather for hot air ballooning. Flight cancellations are less frequent at this time. You will be able to add one more excitement to your list of the top experiences as a result. The weather enhances the delight and fun of the hot air balloon journey. Cappadocia offers some lovely views for photographers and the eyepiece to enjoy.
Important Things to Know Before Going for Hot Air Ballooning
Turkey's Cappadocia is well-known for providing breathtaking views of the entire valley from a height of 1,000 feet. A glimpse of a magical vacation can be seen in the flying air balloons. The following things are important for you to understand before embarking on your great experience in Cappadocia:
Book the Ride in Advance
Booking your hot air balloon ride in advance is always a good idea. You can then schedule the flight to depart at the time that is most convenient for you. Some tourists prefer to book an early flight in order to see the captivating sunrise. However, some people reserve hot air balloon rides for the evening so they may see the sunset. By making reservations in advance, you can avoid the last-minute rush. In the event of bad weather, your ride may be rescheduled for the next day. Or else, you will get a refund.
Remember to Use the Camera Strap
We are aware that you might wish to use your cameras to record the scene as you take in the view. But what if your camera accidentally crushes your happy moment? You mustn't want it, right? So, you must use a camera strap to prevent this issue from occurring. You may both enjoy and record the moment in this way. You won't be dropping your camera from such an incredible height because your hands will be free.
Be Ready for Unexpected Weather Conditions
Check the weather forecast before making your hot air balloon booking. If it's raining or storming, your ride can be cancelled. Similarly to this, you should have extra jackets or warm clothing ready if you are ballooning during the coldest months. You can avoid the chilly waves in the sky in this manner. Even in the summer, you should bring an additional coat because it could get chilly up there.
Carefully follow the instructions.
The pilot and crew will give you instructions on how to take the essential safety precautions once you get to the take-off area for the Cappadocia balloon ride. You must pay close attention, carefully consider each piece of advice, and heed it the entire way. They will go over the dos and don'ts for your ride with you. Ask them any questions that come to mind if you have any.
The pilot and crew are both trained properly as well. They have completed the required training, successfully completed multiple flights, and had medical exams. Additionally, they have years of expertise in hot air ballooning.
Top Cappadocia Locations to View Hot Air Balloons
The captivating memory of your hot air balloon flight in Cappadocia, Turkey, will always remain in your heart. Additionally, just being here will allow you to see one of the most beautiful landscapes you've ever seen. It is now your time to take lots of pictures of the incredible hot air balloons that are floating above you if you find them to be fascinating.
In Cappadocia, there are several places to watch the best hot air balloon views. Following are a few of them.
Goreme Valley
One of the best places in Turkey to see gliding hot air balloons is Goreme. The balloon travels extremely close to you in this area. Goreme Hill is the perfect location for getting beautiful pictures as it offers a wonderful view of balloon flights taking off and flying off.
Rose Valley
Another place to observe hot air balloons in Cappadocia is the Rose Valley Viewpoint. You can see the sunset clearly from this location. Can you picture hot air balloons gliding over a beautiful sunset? What a breathtaking view that will be! This is a must-see location.
Love Valley
One of Cappadocia's most breathtaking spots to see hot air balloons is Love Valley. Only some people visit this location, so if you want to enjoy the fantastic view in solitude, go straight to Love valley. As a result, it is the ideal place for embracing the magical moment.
Red Valley
The sunrise and sunset sky views in Red Valley are remarkable. The breathtaking cityscapes are offered by the hot air balloons that fly above the Red Valley over the Goreme Valley. No wonder that during your visit to Red Valley the sky will be filled with glistening hot air balloons.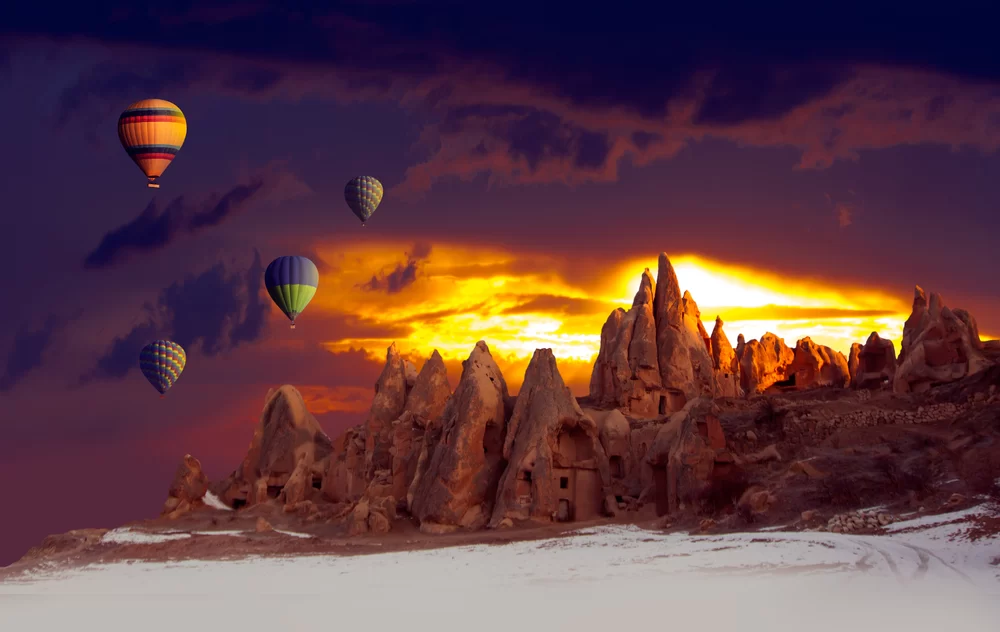 The price of a hot air balloon ride in Cappadocia may depend on the type of flight you want to do. It also depends on how many other passengers you have on the flight. There are various flight types, and their prices vary. One of the most expensive types of hot air balloon rides is the private flight. Of course, the unique experience they provide is the primary basis for their high price. Additionally, the prices for balloon rides depend on the companies. Each hot air balloon company charges differently for its services.
We hope this post has piqued your interest in the hot air balloon ride in Cappadocia. On your Turkey vacation, you can do a lot more than just go hot air ballooning. If you want to enjoy the pleasures of spending time off in Turkey, explore our Turkey travel packages and book the one best suited to your requirements.